1948 Chevrolet Fleetmaster news, pictures, specifications, and information

Tweet
The 1948 Chevrolet resembled its prewar counterpart but there were design changes such as a new hood ornament, updated emblem and a T-shaped vertical center bar in the grille.

The Fleetmaster station wagon was a popular offering for 1948. Built on a 116 inch wheelbase chassis, it was powered by a 216.5 cubic-inch Chevrolet inline six that developed 90 horsepower. Base price of the Fisher-bodied station wagon was $2,013. Total sales for 1948 were 10,171 units.

This car has been maintained over the years but never completely restored. It has been repainted (in 1968) and the wood re-varnished, but the interior remains original.
The 1948 Chevrolet Fleetmaster Station Wagon was the last true woody (structured wood) from Chevrolet and the only 1948 model Chevrolet that had a list price over $2,000.00 (base list price $2,103.00).

Ash provided the structural base, while mahogany was used for the panels. Leatherette was stretched over a wood frame to provide the roof. Approximately 10,171 were built between February 1948 and January 1949.

What led to the downfall of the woody? Most experts blame the required frequent maintenance needed, but often neglected, for the wood.

This fine example features the running gear of a 1986 Camaro Z-28, a 350 cid engine and an automatic transmission. (posted on conceptcarz.com)
Source - LeMay Museum
Early in 1942, automobile production was halted so that factories and workers could aid in war efforts. This would continue for four long years; when war time ceased, automobile production resumed. Many of the cars introduced during those first few years were basically pre-war cars that were given mild updating.

Perhaps GM's most attractive post-War 1940s vehicle were the Fleetmaster Woodies. It was a special vehicle that carried a rather hefty price of $2,103 plus options. The structural base was comprised of ash wood while mahogany was utilized in the construction of the panels. The roof was made of vinyl stretched over wood framed bows. With the high cost and labor intensive process, just over 10,000 examples were produced in 1948.

This example is a 1948 Fleetmaster eight-passenger Station Wagon. It was recently cosmetically restored and is finished in its original shade of Oxford Maroon. It wears its original sheet metal and re-freshened wood panels. The interior has been reupholstered. It has its correct wood-grained dash, original seven-day winder clock, and original working radio with hidden FM converter. It is fitted with options such as trim rings, bumper wing guards, and a rare heater. It has only 10,171 original miles.

In 2008, the car was brought to the Hilton Head Sports & Classic Car Auction presented by the Worldwide Auctioneers. It was estimated to sell for $110,000 - $130,000. Though the high bid failed to reach those figures, the lot was sold for $93,500 including buyer's premium.
By Daniel Vaughan | Nov 2008
Considered to be a very handsome vehicle, the Chevy Fleetmaster was introduced in the middle of 1941. One of the lowest quantities manufactured of any Chevy vehicles of all time, the Fleetmaster was a beautiful and very rare streetrod. Basically prewar designs, the Chevy Fleetline was in great demand and was a very popular seller.

On October 3, 1945 the Fleetmaster first rolled off the assembly line in very small numbers. At the time there was a shortage of critical materals, mostly sheet steel. Unfortunately a United Auto Works strike was called on November 21rst and production was unable to resume at a normal pace. The assembly lines halted completely and weren't resumed until March 13, 1946 when the strike was settled. Chevrolet became the first GM division to resume production on March 29th.

The 1946, '47 and '48 Chevy models were basically 'warmed over' versions of the 1942 models. This was following four years with no civilian passenger vehicles being produced. Chevrolet chose to serve up existing models, much like its competitors. The demand for new vehicles was extreme, and the paid-for factory tooling was already in place. The Master DeLuxe became the Stylemaster while the Special DeLuxe was rebadged as the Fleetmaster. The Fleetline morphed into the Fleetmaster subseries. There was no business coupe in the Fleetmaster lineup, but other than that, the body type remained the same.

Featuring low, wide grillwork and headlights the 1942 Chevy Fleetmaster was basically the same as the final prewar series with only a few significant mechanical distinctions. In 1947 the grille and beltline molding were further advanced, and at this time the Fleetline Aerosedan was once again Chevy's volume leader, surpassing the 1946 Stylemaster Sport Sedan. The headlights smoothly blended into front that meshed into the doors much like Buick's style.

For the 1948 model year only a few minor modifications in the trim were made. Unfortunately the demand for the Fleetmaster was ebbing, and additional changes were no longer necessary. In January of 1949 there finally appeared a 'true' postwar Chevrolet.
A total of 162,632 1946 Fleetmaster models were produced, 264,584 units in 1947 and 248,778 in 1948.
By Jessica Donaldson
| | | |
| --- | --- | --- |
| | | Convertible |
This car was displayed as part of the Historic Pace Car Collection at the 2006 Indy 500. The car is equipped with a six-cylinder engine and a manual transmission. The car also has power top and an AM radio.
WORLD RX AND 38 SUPERCARS GEAR UP FOR GREAT BRITAIN
Round two of the FIA World Rallycross Championship presented by Monster Energy – AUTOSPORT World of Great Britain – will take place at Lydden Hill this weekend as a record entry of 38 Supercars descend on the Kent-based race circuit. Lydden Hill also marks the opening round of the five-round FIA European Rallycross Championship (Euro RX), of which there are 23 drivers eligible to score points. Lydden Hill is steeped in rallycross history: the sport's inaugural race was staged at the track bac...[Read more...]
BOBBY UNSER INSPIRED INFINITI Q60 DEBUTS AT AMELIA ISLAND CONCOURS
The 19th annual Amelia Island Concours announced today that Infiniti will commemorate the event's Offenhauser celebration by wrapping a 2014 Infiniti Q60 Convertible in the same color scheme as Bobby Unser's 1968 Indianapolis 500 winning racecar. To accompany the inspired Q60 Convertible, Infiniti will also display Unser's Offenhauser-powered Indy winning car, courtesy of the Indianapolis Motor Speedway Hall of Fame Museum. The unique Infiniti Q60 convertible's wrap was created by the company...[Read more...]
BMW POWER 1-2 AT BRICKYARD GRAND PRIX
Woodcliff Lake, N.J. – July 27, 2013 . . . Ryan Dalziel and Alex Popow won the 3-hour GRAND-AM Brickyard Grand Prix in the No. 2 Starworks Motorsports BMW Riley, finishing 3.438 seconds ahead of the No. 01 Chip Ganassi Racing with Felix Sabates BMW Riley of Scott Pruett and Memo Rojas. The 1-2 finish added an exclamation point to the story of the debut race for the new BMW 4.5-liter powerplant. The victory moved Dalziel and Popow to the top of the Daytona Prototype driver point standings ...[Read more...]
Larini Show, Danish Power And The World'S Most Famous Highflyer
A highflyer congratulates the others: The winner's trophy for the opening round of the Scirocco R-Cup was handed over to motor racing legend Nicola Larini by none other than world record breaker and stratosphere jumper Felix Baumgartner. The Volkswagen brand ambassador, whose 39-kilometre parachute jump made history, congratulated the 1993 DTM Champion on the podium in Hockenheim, as did Volkswagen Board Member for Development Dr. Ulrich Hackenberg. Larini had just managed to become only the sec...[Read more...]
EPIC COLLECTION OF VINTAGE AUTOMOBILES AND MEMORABILIA EXEMPLIFIES CLASSIC ERA OF HOLLYWOOD STYLE
The curtain will rise on an epic collection of vintage automobiles and memorabilia, June 27th to 29th as RM Auctions presents the esteemed private collection of Mr. Art Astor. A California native and 50 year broadcasting veteran, Astor is a renowned entrepreneur and passionate collector, having built one of the country's most impressive and diverse collections of vintage automobiles and pre and postwar memorabilia. Encompassing over 250 vehicles, Astor's remarkable fleet of classic car...[Read more...]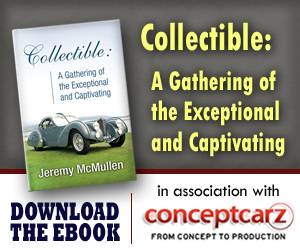 Chevrolet
Monthly Sales Figures
Volume
October 2014
155,965
September 2014
153,873
August 2014
185,930
July 2014
175,155
June 2014
188,567
May 2014
205,010
April 2014
181,648
March 2014
179,681
February 2014
153,913
January 2014
119,089
December 2013
153,493
November 2013
145,089
(More Details)
© 1998-2014. All rights reserved. The material may not be published, broadcast, rewritten, or redistributed.