1940 LaSalle Series 50 news, pictures, specifications, and information

Tweet
This very unusual 8-door 'woodie' station wagon was constructed by special order on a 1940 LaSalle commercial chassis. The chassis was delivered to Meteor Motor Car Company on February 6, 1940. Meteor, located in Piqua, Ohio, was one of the largest funeral car and flower car coachbuilders of the era. The firm was acquired in 1954 by Wayne Works of Richmond, Indiana and merged with Miller in 1956 to become Miller-Meteor.

This is the largest wood-bodied passenger vehicle known to have been built on a non-truck chassis and is the only 8-door woodie wagon known to exist. 1940 was the last year for the LaSalle, which had been introduced by GM as a companion car to Cadillac in 1927. The 1940 LaSalles were powered by a 322 cubic-inch V8 producing 130 horsepower.

This wagon originally served at Meadow Brook Hall and was used to take staff to town on their days off and to drive guests around the estate. It was donated in 1950 to the Pontiac Boys Club and eventually was obtained by the present owner, who resides in California.

A full restoration of this 8-door woodie was just completed. Fittingly, its showing at the 2007 Meadow Brook Concours d'Elegance is its inaugural appearance as a fully renovated show vehicle.

LaSalle woody wagons are very unusual and only a very few were believed to be built. This unique vehicle consisting of 8 passenger doors was constructed by the Meteor Motor Company of Piqua, Ohio on a commercial chassis of 159-inches stretched out to 189.5-inches. Powered by a 332 cubic-inch flathead V8 this car is believed to have been ordered by Mrs. Matilda Dodge for use at her home: Meadow Brook Hall in Auburn Hills, Michigan.
During the first two decades of the 1900's, Cadillac was the leader in the U.S. luxury-car market. It wasn't until around 1925 when Packard Automobiles began replacing Cadillac as America's new favorite in the premium automobile market when Cadillac realized that they needed to step it up.

With the bottom-end Cadillac priced at $3195, many consumers were unwilling to spend such a significant amount when the top of the line Buick cost $1925. In the years following World War I, Packard's smart new group of lower-priced high-quality 'pocket-size' vehicles were responsible for basically running away with the luxury market, and consequently, much of GM's business.

Conceived as a baby Cadillac with a bit more added style, the La Salle series was introduced on March 5, 1927. To present a youthful, dashing image completely opposite from the staid and proper Cadillac, the La Salle series was meant to be a stepping stone in a perceived gap between Cadillac and Buick in GM's lineup. Priced just above the Buick, the La Salle was designed to be a complete model line that would adequately fill out GM's product roster. The name La Salle was chosen in reference to the famed French explorer that Cadillac had been named after, as one of his compatriots.

Wanting the La Salle to be considerably more stylish than the Cadillac, President of GM Larry Fisher hired a young stylist from Cadillac's California distributor to aid in the design of the new junior series. Harley Earl was given the job as a consultant to design the first La Salle. Though assumed to be only hired for this specific task, Earl went on to become the company's director of design until he retired some 30 years later. During Earl's time at Cadillac, he influenced the entire industry in the areas of both styling and marketing strategy.

The original La Salle produced in 1927 became the first mass-production vehicle to consciously 'styled' in the modern sense. Considered to by the most fashionable American automobiles of its day, the LaSalle was the first of the smaller and more maneuverable luxury vehicles. The LaSalle was also the pioneer in the automobile color industry. Up until this point all vehicles were produced in only black Japan enamel, the only finish available to dry quickly enough to stand up to the pace of mass production. The introduction to DuPont Chemical Company's fast-drying, polychromatic duco finishes in '24 supplied automobiles with a stunning array of colors. La Salle became one of the first cars to take advantage of this modern advancement.

The Series 350 was introduced in 1934 and was considered to be more like an Oldsmobile than a Cadillac. Borrowing an L-head straight eight from the Oldsmobile division to replace the traditional Cadillac V-8, the new series shared the same 240.3-cubic-inch (4-liter) displacement. A completely redesigned chassis was introduced with a much shorter, 119-inch wheelbase. Since the beginning of the La Salle, the double-plate type clutch was utilized until before replaced with a single-plate clutch. Hydraulic brakes were also newly adopted into the series adding yet another first to GM's repertoire.

Independent front suspension now reduced the unsprung weight problem that had been an issue since 1933. Cadillac was able to reduce the price of the LaSalle base models by $650 with these cost cutting new innovative features.

Considered to be the automotive industries fashion leader, the La Salle was equally impressive from its design side. The new design styling for the 1934 model was considered to be dramatic and eye-catching. High-set headlamps in bullet-shaped pods were placed on both sides of a tall, narrow vee'd radiator, along with curvy 'pontoon' fenders at both the front and rear. Wheels were encased in smart chromed discs while hood vent doors gave to 'portholes'.

The La Salle featured bumpers that emulated the shape of twin slim blades separated by two bullets, similar to the '27 Cadillacs. Trunks were absorbed into the main body on all models and spare tires moved inside the vehicles. The LaSalle Series 50 featured a four-door sedan, a new five-passenger club sedan, a two-seat coupe and a rumble-seat convertible coupe in its 1934 lineup. All models showcased Fleetwood bodywork and rear-hinged front doors. Cadillac's standard of quality and luxury were still rated as outstanding despite the money-saving measures. For the 1934 Indianapolis 500, the '34 LaSalle was chosen as a pace car for that year.

Unfortunately the following year's sales dipped far below expectations, even though they doubled the previous year's total. A total of only 7195 models were produced for the 1934 year.

Not much styling was changed for the 1935 LaSalle Series 50. Updates included two-door and four-door 'trunkback' sedans joining the line with an industry trend. Fisher's new 'Turret-Top' construction was introduced to replace the original closed body styles. This update required steel to replace the traditional fabric inserted into the roof. Horsepower was up from 90 to 95 with a slightly higher compression ratio. Very few mechanical changes were made for the '35 model.

Due to the release of Packard's new One-Twenty, about the same size as LaSalle, though slightly lighter and 16% more powerful and costing $450 less, LaSalle sales suffered.

The following year Cadillac responded to the competition by reducing the little-changed Series 50 by $320, though even this wasn't enough to stimulate sales significantly. Packard's One-Twenty continued to thrive, and outsold the LaSalle by better than four to one for 1936.

Time to try a new approach, Cadillac next introduced a new 'compact' Series 60 that same season.
By Jessica Donaldson
ROCKERBOX MOTOFEST MOVES TO ROAD AMERICA DURING AHRMA VINTAGE MOTORCYCLE CLASSIC WEEKEND
ELKHART LAKE, Wis., February 13, 2014 -- Wisconsin's premier motorcycle show, The Rockerbox Motofest, featuring an eclectic mix of Euro, Japanese and American vintage café racers, choppers, sport bikes, racing machines, super motos, scooters, and sidecars is making an official move for the future. Instead of its usual Milwaukee home, the event is making the trek 60 miles North to America's National Park of Speed as part of Road America's American Historic Racing Motorcycle Association (AHRMA) ...[Read more...]
POTEET, CIZEK EARN TOP AWARDS AT GOODGUYS 16TH PPG NATIONALS
Columbus, OH – Tennessee's George Poteet and Nebraska's Ron Cizek collected the top two awards at the Goodguys 16th PPG Nationals in Columbus, Ohio last weekend. Under brilliant sunshine and in front of record crowds, Poteet's vintage NASCAR-inspired '69 Torino won the Goodguys 2013 Optima Batteries Street Machine of the Year while Cizek's popular Ridler award-winning '40 Ford coupe collected the Goodguys 2013 Classic Instruments Street Rod of the Year title. For Cizek, it's the second ma...[Read more...]
Texas-Sized Charlie Thomas Collection Brings $7.4 Million At Dallas Auction
• RM Auctions' sale of the Charlie Thomas Collection generates $7.4 million, with 100 percent of lots sold • Top sellers include a 1946 Chrysler Town & Country Roadster for $143,000 and a 1954 Packard Caribbean Convertible for $132,000 • Sale captures attention of global collector car community with bidders representing eight countries around the world and 31 states across the U.S. • RM wraps up its 2012 calendar with its annual London, England sale, October 31, followed by the John Staluppi ...[Read more...]
Pebble Beach Concours d'Elegance Introduces Its First Sport Customs Class
One-off Sport Customs designed to turn heads while tooling down Main Street USA will roll onto the 18th fairway of Pebble Beach Golf Links for the 2012 Pebble Beach Concours d'Elegance on August 19. This year, for the very first time, the Pebble Beach Concours d'Elegance is hosting an entire class dedicated to Sport Customs. 'These are one-of-a-kind cars built in the US, on modified American production chassis with American engines by individuals, designers and craftsmen,' explains auto...[Read more...]
RM Auctions Lifts Gavel On Charlie Thomas' Texas-Sized Collection of Automobiles
• RM Auctions further expands its 2012 calendar with the addition of 'The Charlie Thomas Collection', a single-day, single-vendor sale to be held in Dallas, Texas, October 20, 2012 • Auction features a superb assortment of more than 150 collector cars, all offered without reserve • Sale further consolidates RM's reputation as the specialist for private and estate collection auctions RM Auctions, the world's largest collector car auction house for investment-quality automobiles, is delighted...[Read more...]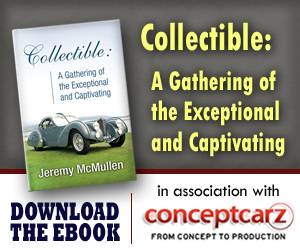 © 1998-2014. All rights reserved. The material may not be published, broadcast, rewritten, or redistributed.