1954 Dodge Power Wagon news, pictures, specifications, and information

Tweet
According to a 1951 Dodge Truck press release, 'The basic design of this four wheel drive vehicle was created to fulfill military needs for a small, fast, powerful and rugged vehicle, capable of traveling equally well on the road or off the road. The civilian version of this newly and well-named 'Power-Wagon' has been styled with a pleasing appearance, but the rugged driving units such as: engine, clutch, transmission, transfer case, front and rear driving axles remain the same as on the military units.'

Mounting a standard civilian cab, military type fenders, a radiator cowl and a hood to the existing military platform gave the Power Wagon its unique and aggressive look. This look would be unchanged from its introduction in 1946 until domestic production ended in 1968. Units were produced for the international market through 1972.

This Power Wagon was purchased by Dodge Truck Marketing for the introduction of the newly redesigned Ram trucks in 1994.
In 1945 Dodge introduced the Power Wagon which stayed in production until 1968. During its production life span, it received very few changes. The design and idea was inspired from World War II, where large and capable four-wheel drive trucks had proven their worth on the battle field. This was the first civilian, mass produced 4X4 truck ever created. Shortly after its introduction, the Willys 4T was introduced.

The Power Wagon sat atop a 126 inch wheelbase. The pickup portion of the truck was eight-feet long and 4.5 feet long. Under the hood was a 230 cubic-inch six-cylinder flathead engine matted to a synchromesh transmission. The 230 engine was later replaced with a 251 unit. The tires were 9.00 x 16 in size and mounted on Budd wheels.

Production of the Power Wagon was low, with less than 100 being produced during its 1945 through 1968 lifespan. Many were used as school buses or fire trucks.
By Daniel Vaughan | Aug 2013
Advertised 'as the truck without competition', the Dodge Power Wagon was a truly formidable beast. Designed and constructed to fit a specific nitch in the market, the Power Wagon was 'the truck that needs no roads'. Capable of undertaking the most demanding of jobs, the Dodge Power Wagon won over American troops with its manly durability and tasteful design. Also called the Civilian Power Wagon, the truck became a symbol of the American west and quickly loved by ranch hands, farmers and firefighters alike for its rugged determinacy. The Power Wagon was capable of fighting fires in towns by night, or tilling the fields by day.

Launched in 1946 as model WDX, the new addition to Dodge's lineup was a multipurpose vehicle created drawing from Dodge's recent experience building four-wheel-drive trucks in WWII. Nostalgic GI's longed for the same capable off-roader that they had driven during the war.

Pioneering the four-wheel-drive scene in America, the Dodge Power Wagon and the Willys Jeep were the only two factory-complete general-use 4x4's available in the U.S. Introduced in January of 1946 the Power Wagon was advertised as a one-ton general purpose truck for use on normally unmanageable terrain. Surely Dodge executives could not imagine that market that exists today for this type of vehicle. The Power Wagon remained on the domestic scene through 1968, despite 'War surplus' looks and L-head powerplants. Under a U.S. government program the vehicle would continue another ten years in production.

This wouldn't be the first time 4x4's were introduced, but it would be the first time that a vehicle was introduced for public use. In the past they had always been restricted to commercial or military use. Firms like Marmon-Herrington had been known to convert light trucks to four-wheel drive, for use by business or agencies beginning in the 1930s.

Many GI's fell in love with the capability of multi-axle drive during their service time when they had the opportunity to get behind the wheel of four and six-wheel-drive vehicles. Many GI's wrote to Dodge and requested such a vehicle. Dodge introduced their military truck accompanied by a sales brochure reading 'The Army truck the boys wrote home about… now redesigned for peacetime use.'

Even before the introduction of the Power Wagon, Dodge's military 4x4 roots ran deep. Beginning in 1934 Dodge had built a ½ ton cargo truck for the Army that featured the world's first drive system that could be controlled by a lever in the cab conveniently shifted in and out of four-wheel drive mode. Using numerous commercial truck parts Dodge designed and built ½-ton 4x4 military trucks in a variety of styles in 1940 while fulfilling an Army contract. Named the T202 series, these trucks had a 'civilian' look thanks to the stock front-end sheet metal. Riding on a 116-inch wheelbase, these ½-ton trucks with 201-cubic-inch 79 horsepower six-cylinder engine looked very similar to current trucks driving around on U.S. roads. Optional on general-market trucks was a four-speed transmission that was included on the military models.

Dodge replaced the T202 with the T207-series Trucks the next year. This lineup was still ½ tons, but sported a military-specific hood, grille, and fenders. Powered this series was a 218-cubic inch six of 85 hp borrowed from Dodge's ¾ and one-ton commercial models. Some mechanically upgraded T211s and T215s used a 92 hp 230-cubic-inch L-head six.

Replacing the T207 series was the ¾ ton T214 trucks. Wider and lower that their predecessor, these models featured more stability and sturdiness than the T207/211/215 models. Inspired by previous military truck design, this series used simple cantilever front fenders, but with outer front corners now slightly rounded off. Lower and flatter was the hood and top of the radiator grille, and shallow hood side panels contained six horizontal louvers.

This series was available in a variety of body types from ambulances to command cars, all on wheelbases ranging from 98, 114 and 121 inches with 9.00x16 eight-ply high-floatation type tires. Powertrain options consisted of a one-speed transfer case, the 230 six and unsynchronized four-speed transmission. A total of 255,195 T214's were produced.

Dodge's marketing group saw a nitch in the civilian car and truck market following WWII and a ready market for the rugged, multipurpose truck they had created for wartime use. The company also hoped for very low operating costs thanks to the majority of engineering development costs already paid for by Government orders for the previously built military trucks.

The wheelbase was easily stretched to 126 inches. The ladder frame was constructed extra heavy and extra durable for rough use and side rails were placed inside channel-type reinforcement. Seven cross members were implemented, with the front one being fully boxed. The axles were fully floating in the front and rear, along with semi-elliptic springs, with 11 leaves in front and 14 at the rear. Shock absorbers were double-acting hydraulic standard on the front, but completely optional for the rear. Power Wagons came with a long frame length that accommodated the Braden winch that was a factory option.

The inside of the Power Wagon remained basically the same from the 1939 design with fenders and the six-louver hood sides retained from the T214. New Cowl-mounted parking lights were added, and larger headlights were mounted farther away from the grille. Taller and more rounded than before, the top panels of the hood and top of the radiator surround were picked up from a three-ton cargo truck that Dodge had built for the Chinese army during the war. Resting on top of the radiator was the radiator filler cap. The grille on the Power Wagon was huge, and shaped from heavy round steel bars. Trucks built without a winch received an additional sections of this grillework, which protected the lower portion of the radiator.

Lacking a rear bumper, front bumpers were also constructed in an aggressive military style. For trucks built without the winch, a deep one-piece bumper was standard. A two-piece unit linked at the top by an angle-iron reinforcement left a space for the winch cable to be utilized.


The Power Wagon was advertised originally as a three-person truck, but the levers in the middle made it a very tight fit for more than two passengers. A deluxe cab option added a variety of extras that include a dome light, vent-wing windows on the doors, armrest on the left door, and dual interior sun visors. Initially the Power Wagon lineup included a pickup, a chassis cab, chassis with windshield cowl, and chassis with flat-face cowl. Incredibly roomy, the pickup box was 96.06 inches long, 54 inches wide and 22.25 inches high with a 58 cubic foot capacity. The floor of the cab was made of hardwood reinforced with steel skid strips. To help with taller loads were external pocks that could accommodate 234 stakes. A spare tire was housed on the right side of the cargo box ahead of the rear fender.

Owners were able to easily mount special aftermarket bodies thanks to the chassis-cab and chassis-cowl jobs. Many different uses were made up from the Power Wagon chassis fitted with nine-foot stake platforms including school buses, firefighting mobiles, 'woody' station wagons an tow trucks. The standard paint color of the Power Wagon was Seawolf Submarine Green with other options being Red, Dark Blue, and Dark Green. Cab color could be added, though it cost extra, with the basic paint scheme being painting black the fenders, running boards and bumpers. Power Wagons were available in any standard Dodge truck colors.

Powering the Power Wagon was the reliable 230-cubic-inch L-head six that pumped out 94 horsepower. Featuring a 3.25-inch bore and 4.63-inch stroke the compression ratio was 6.7:1 and produced 94 hp at 3,200 rpm and 185 lb-ft of torque at 1,200 rpm. Extra-sturdy carburized gears were found in the four-speed transmission.

Up upgrade from the wartime model, a two-speed transfer case was nestled behind the transmission with a 1:1 ratio in high and 1.96:1 in low. The overall ratio was 73.12:1 with the transfer case in low range, the transmission in first gear, and 5.83:1 final-drive gear in place. Only the direct ratio could utilized when the front-wheel-drive mode was cut off.

Unsure what to name this new aggressive beast, some early documents suggest it was referred to at first as the 'Farm Utility' before it eventually received the simple name, Power Wagon. The name Power Wagon was also the name of a truck magazine in the early 19th century that was published for nearly 50 years.

With a product that was without competition, Dodge was very confident that their Power Wagon would do well in the U.S. market. Built for continuous operation under extreme conditions, the Power Wagon was priced at a base price of $1,627, around $551-$591 more than typical Dodge two-wheel-drive one-ton pickup. The rugged truck had an available towing apparatus that started with a simple additional cost pintle hood, which was a heavy-duty unit mounted on the frame's rear cross member. A draw bar was another option that could be adjusted to various heights simply to make off-center towing. These two options made it very easy for the Power Wagon to become towing capable.

Monroe Auto Equipment Company of Monroe, Michigan offered a hydraulic lift kit in 1949 along with a complete line of agricultural and road-building tools for the sturdy truck. The kit included a hydraulic pump and valve unit on the front of the engine, a control lever mounted in the cab, and a three-point implement hitch at the rear.

Dodge tried to influence farmers in the versatility of the Power Wagon as a conventional tractor capable of taking on all farming jobs. The sturdy truck could easily tow a three-bottom 14-inch plow, and available implements were a rotary hoe, terracing blade, harrow, plow, cultivator, a lift-time scoop, earthmover, buzz saw, posthole digger, double-disc harrow and spring-tooth harrow.

Jeep was also competing for the farming business and had a Agrajeep for sale during the early postwar period. The Agrajeep sported a three-point one- or two-bottom plow, drag, and disc. In 1950 Crosley debuted their tiny Farm-O-Road, priced at $800, their unpopular machine had six forward speeds and two reverse for plowing and other farm capabilities.

Thanks to a two-side power take-off alongside the transmission, the Power Wagon was able to be used as a portable power source. Either forward to the winch or rearward through the tail shaft power could be transmitted. The rotation was controlled by a single lever inside the cab, and when the rotational direction matched that of the engine the power take-off operated at 61.5% of engine speed, and 47.5% of engine speed when rotating in opposite direction. At the center of the rear cross member was a pulley drive mounted on a pillow block that the tail-shaft used to power.

For an additional cost, a mechanical governor was available to maintain the speed of auxiliary equipment powered by the tail shaft or pulley drive. Belt driven from the water pump shaft, the governor featured a speed control setting inside the cab. To restrain engine speed during on-road operation, this option was only offered as a package with another governor built into the carburetor.

Available for a nominal fee was a radiator overflow tank. Designed to maintain proper cooling when the truck was just slowly plodding along, or while operating stationary equipment, engine-cooling features were designed. These featured included a thicker than normal radiator and a partially shrouded 19-inch diameter six-blade fan.

A serious beast with capable towing power, the 1940 and 1950s Dodge Power Wagon was equipped for gross vehicle weight ratings of 7,600 and 8,700 pounds. For carrying the heavier loads the Wagon was equipped with extra cost 1,600 pound-capacity front and 3,000 pound-capacity rear springs and larger tires. For the eight-ply tires standard size was 7.50x16 with 9.00x16 available.

A multi-functional capable vehicle, Dodge created a 1964 sales manual that listed 75 different types of business uses for the beast-like vehicle. These ideas ranged from pole setting to well drillers and many more, as possible uses for the truck. Dodge marketing also came up with a 'Wheels Across South America' color and sound film that documented one man, explorer Armand Denis, traveling through unexplored, road-less jungles with three different Dodge vehicles. Denis used a one-ton panel truck, a four-door sedan, and the Power Wagon in his 1949 expedition. The three vehicles each had a radio phone that was used to communicate while in the jungle. This free film was sponsored by to 4,000 different Dodge dealers.

For its 23 year production run the Power Wagon didn't change very drastically, though it did have several improvements over the years. In 1951 the pickup box style was revamped with three stake pockets and sides ribbed for a more strength, and a new look. With a special length of eight feet that was distinctly Power Wagon, the new box was inspired by the other Dodge pickups of the era. The Power Wagon also received the centrally mounted gauges from the Dodge B-Series light trucks.

In the 1950s a boost in horsepower took the 230 engine up to 113 horsepower by 1957. In 1961 the engine was replaced by another dependable Dodge truck six, this one displacing 251 cubic inches from its 3.44-inch bore and 4.5-inch stroke. An L-head design, the 251 had an entirely different, longer block, and had a compression ratio of 7.1:1 gross hp at 125 at 3,600 rpm, and torque peached at 216 lb/ft at 1,600 rpm.

In 1956 the four-speed transmission was synchronized, and a switch to key starting was made the following year. Standard tire size eventually became the 9.00x16 10-ply tires. The Maximum GVW was upped to 9,500 pounds in 1957. 12-volt electrics replaced the former six-volt system, and power steering and brakes joined the options list.

In 1961 changes for the Power Wagon included the deluxe cab options becoming standard equipment. In 1962 lock-out front hubs became available. The majority of 1960 output of the Power Wagon was assemblies for export wagons. Power Wagons were included in the Military Defense Assistance program in 1962 when the U.S. government sent military equipment to friendly foreign governments. Until the end of Wagon production in 1978 the trucks continued to be produced for this program.

Unfortunately by 1968 the 1959-vintage cab Power Wagon was looking decidedly aged when compared to the competition. A total of 95,145 Power Wagons were produced through its production span with the best year for the Wagon being 1957 when 8,706 models were sold. By 1968 the price for a pickup had nearly tripled to $4,634.

Dodge used the Power Wagon badge on a variety of four-wheel-drive variants of their more modern conventional trucks in the late 1950s, and continued to do so until 1980. A Power Wagon concept truck was debuted 1999, and reminiscent of the 1940s original. Not wanting the name to die, the designation Power Wagon returned once again in 2005 to an off-road option package that included a front-mounted winch, on Dodge Ram 2500 pickups.

Sources:
http://en.wikipedia.org/wiki/Dodge_Power_Wagon
http://www.dodgepowerwagon.com/
http://www.legacypowerwagon.com/Dodge-Power-Wagon-History_ep_42-1.html
http://auto.howstuffworks.com/1946-1968-dodge-power-wagon.htm

By Jessica Donaldson
For more information and related vehicles, click
here
ROCKERBOX MOTOFEST MOVES TO ROAD AMERICA DURING AHRMA VINTAGE MOTORCYCLE CLASSIC WEEKEND
ELKHART LAKE, Wis., February 13, 2014 -- Wisconsin's premier motorcycle show, The Rockerbox Motofest, featuring an eclectic mix of Euro, Japanese and American vintage café racers, choppers, sport bikes, racing machines, super motos, scooters, and sidecars is making an official move for the future. Instead of its usual Milwaukee home, the event is making the trek 60 miles North to America's National Park of Speed as part of Road America's American Historic Racing Motorcycle Association (AHRMA) ...[Read more...]
POTEET, CIZEK EARN TOP AWARDS AT GOODGUYS 16TH PPG NATIONALS
Columbus, OH – Tennessee's George Poteet and Nebraska's Ron Cizek collected the top two awards at the Goodguys 16th PPG Nationals in Columbus, Ohio last weekend. Under brilliant sunshine and in front of record crowds, Poteet's vintage NASCAR-inspired '69 Torino won the Goodguys 2013 Optima Batteries Street Machine of the Year while Cizek's popular Ridler award-winning '40 Ford coupe collected the Goodguys 2013 Classic Instruments Street Rod of the Year title. For Cizek, it's the second ma...[Read more...]
Texas-Sized Charlie Thomas Collection Brings $7.4 Million At Dallas Auction
• RM Auctions' sale of the Charlie Thomas Collection generates $7.4 million, with 100 percent of lots sold • Top sellers include a 1946 Chrysler Town & Country Roadster for $143,000 and a 1954 Packard Caribbean Convertible for $132,000 • Sale captures attention of global collector car community with bidders representing eight countries around the world and 31 states across the U.S. • RM wraps up its 2012 calendar with its annual London, England sale, October 31, followed by the John Staluppi ...[Read more...]
Pebble Beach Concours d'Elegance Introduces Its First Sport Customs Class
One-off Sport Customs designed to turn heads while tooling down Main Street USA will roll onto the 18th fairway of Pebble Beach Golf Links for the 2012 Pebble Beach Concours d'Elegance on August 19. This year, for the very first time, the Pebble Beach Concours d'Elegance is hosting an entire class dedicated to Sport Customs. 'These are one-of-a-kind cars built in the US, on modified American production chassis with American engines by individuals, designers and craftsmen,' explains auto...[Read more...]
RM Auctions Lifts Gavel On Charlie Thomas' Texas-Sized Collection of Automobiles
• RM Auctions further expands its 2012 calendar with the addition of 'The Charlie Thomas Collection', a single-day, single-vendor sale to be held in Dallas, Texas, October 20, 2012 • Auction features a superb assortment of more than 150 collector cars, all offered without reserve • Sale further consolidates RM's reputation as the specialist for private and estate collection auctions RM Auctions, the world's largest collector car auction house for investment-quality automobiles, is delighted...[Read more...]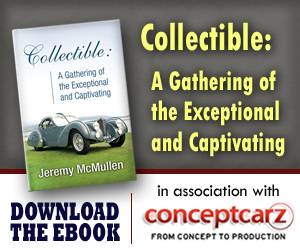 Dodge
Monthly Sales Figures
Volume
December 2014
46,578
November 2014
42,108
October 2014
41,512
September 2014
44,020
August 2014
49,895
July 2014
43,118
June 2014
50,314
May 2014
57,923
April 2014
53,463
March 2014
60,575
February 2014
49,744
January 2014
34,905
(More Details)
© 1998-2014. All rights reserved. The material may not be published, broadcast, rewritten, or redistributed.