1957 Cadillac Series 62 news, pictures, specifications, and information

Tweet
After observing its golden anniversary in 1952, Cadillac issued a flashy limited-edition convertible, the 1953 Series 62 Eldorado. It boasted features like custom interior, special cut-down 'Panoramic' wraparound windshield, a sporty 'notched' beltline, and a metal lid instead of canvas boot to cover the lowered top.
The Eldorado was a preview of Cadillac's to come, but only 532 of the 1953s were built, largely because the price was a towering $7,750. Production of the car was so labor intensive, that even at this hefty price, it was believed to be unprofitable. It was virtually hand built in Warren Michigan.

The car came loaded with standard equipment to include a 331 cubic inch engine with 210 horsepower, power steering, windows, seats and top, as well as a power radio antenna. It also had a signal seeking pre-selection radio with a floor mounted tuning button. Optional items included power brakes, tinted glass and autronic eye.
| | | | |
| --- | --- | --- | --- |
| | | | Eldorado Special Biarritz Convertible |
In 1950s America, Cadillac was regarded as the 'car of cars.' And even among Cadillacs, the Eldorado Biarritz Convertible was a spectacular beauty. All new in 1957, the Eldorado featured exclusive rear styling with dramatic fins, delicate 'bumperettes' and a wide selection of luxurious leather trim combinations. Special 'Sabre-Spoke' aluminum wheels were a popular option.

This Biarritz build date was May 23rd of 1957 and it was delivered in August of 1957, to Allentown, PA, with a selling price of $7,218. This is body #1680 out of a total production of 1,800 and equipped with all factory options except air-conditioning and gold grill. The current owner purchased the convertible in Reading, PA, in 1977 for a total sum of $100 and immediately began researching and gathering N.O.S. parts until the restoration was completed in 2009. The 4,930-pound convertible went through a two-year, frame-off restoration including acrylic lacquer paint and the special sewn Sabre blue top only available on the Eldorado model. Every effort was made to restore the car the way it left the factory as the standard of the world for 1957.
Cadillac unveiled an all-new car for 1957. This Harley Earl creation was a sharper-edged evolution of the 1954-56 'Standard of the World.' Innovations abounded, including an unusual X-shaped frame, optional air-ride suspension and a radically curved wraparound windshield.

As before, Cadillac customers could choose from two convertibles: The mainstream Series 62 and the ultra-prestigious Eldorado Biarritz. Inspired by Motorama show cars, the 1957 Biarritz featured exclusive rear sheet metal with American-style fins protruding from softly rounded, European-look rear fenders. Distinctive, to say the least!

The Eldorado Biarritz featured a 365 cubic-inch, 325 horsepower V8 with twin Carter four-barrel carburetors, four-speed Hydra-Matic drive and 'Sabre Spoke' aluminum wheels. List price of the Eldorado, as displayed, was $7,286, more than $2,000 above a Series 62. Only 1,800 were built.
1953 was General Motors 50th anniversary and they celebrated with the introduction of the Buick Skylark, Oldsmobile Fiesta, and the Cadillac Eldorado. These cars were designed to showcase the 'forward-thinking' theme. The Eldorado quickly became a highly sought after vehicle and by 1957 it was offered in both two- and four-door Sevill Hardtop and Biarritz Convertible variants. Their designs were heightened with their space-age influences and their extravagant pointed fins in the rear. There were only 1,800 produced and offered at a base price of $7,286.

This vehicle was brought to the 2007 Monterey Sports & Classic Car Auction presented by RM Auctions, where it was estimated to sell for $60,000 - $80,000. The lot was offered without reserve. In its current ownership, the car has resided in California. It is finished in Lake Placid Blue with a red interior. There is a white canvas convertible top and whitewall tires on saber-style wheels. It was ordered from the factory with power brakes, power steering, radio and power seats. It is powered by a 365 cubic-inch V8 engine with two four-barrel carburetors and an available 325 horsepower. There is a three-speed automatic gearbox and four-wheel hydraulic drum brakes. At auction, the lot was sold for $57,200 including buyer's premium.

The name 'Biarritz' was termed after the Basque resort town which is appropriate for these leisurely top-down cruisers fitted with amenities fit for grand luxury.
By Daniel Vaughan | Dec 2007
For 1957, there were big changes to the Series 62 as it now rested on a tubular X-frame and lost its side rails. This new design gave the car greater rigidity, an increase in length and wheelbase, and allowed the body to sit lower to the ground. The front was given rubber bumper guard tips, circular parking lamps integrated into the bumper design, revised side trim, and dual taillights. There were short, curved fins that were set inboard of the fenders. Above the traditional gold V on the rear deck was the name 'Eldorado' in small, block letters. If the model was a Biarritz or Seville, that name would appear in script on the upper leading edges of the front fenders. Other distinguishable markings for these two upper segment models were dual fins mounted on the front fender peaks.

This vehicle is a 1957 Cadillac Eldorado Biarritz Convertible Coupe finished in Artic white with correct candy apple red and white interior and contrasting white top. Under the bonnet is a 300 horsepower motor that displaced 390 cubic-inches and mated to a three-speed automatic transmission. It is original and has not been restored.

In 2008, the car was brought to the Hilton Head Sports & Classic Car Auction presented by the Worldwide Auctioneers. It was estimated to sell for $110,000 - $130,000. Those estimates were proven accurate as a high bid of $114,400, including buyer's premium, was enough to satisfy the vehicles reserve. The lot was sold.
By Daniel Vaughan | Nov 2008
This 1957 Cadillac Coupe DeVille, style 6237X, is one of only 23,813 produced in 1957. It had a base price of $5,225 and is painted in two-tone red and white with white leather/red cloth upholstered interior. The car rides on four Saber gold wheels with wide whitewall tires. The data plate states this is style number 576237, body S233, trim 31A, and paint 12-18. Power is from the 365 cubic-inch overhead valve V8 engine rated at 300 horsepower. There is a three-speed HydraMatic automatic transmission and four-wheel hydraulic drums.

At the 2009 Houston Classic Auction in Seabrook, Texas, presented by Worldwide Auctioneers, this Coupe DeVille was estimated to sell for $25,000 - $35,000 and offered without reserve. The lot was sold for the sum of $22,000, plus buyer's premium.
By Daniel Vaughan | May 2009
| | |
| --- | --- |
| | Eldorado Special Biarritz Convertible |
This 1957 Cadillac Biarritz Convertible was found in Flint and is one of only three built in this color scheme. The Biarritz convertible cost $7,200 when new and approximately 1,600 were built.
In 1957, Cadillac continued their legacy of offering exclusive, expensive, stylish, and luxurious automobiles. Pricing began at $4,781 for the least expensive model and rose to $7,286 for the eye-catching Eldorado convertible. A truly remarkable feat considering the average new car sold for $2,749 while the average worker earned $4,230 yearly. Factory workers could earn $2.08 an hour while physicians topped the charts at $22,000 per year.

With a price tag over the median family income, the Cadillac Eldorado was certainly out-of-reach for many American buyers. Those fortunate enough to acquire one received a vehicle that had been completely restyled for the 1957 model year, with inboard, sharply pointed rear fins. The styling was inspired by the Eldorado Broughams and Park Avenue show cars. The Biarritz designation was used for the second year, which helped differentiate it from the companion hardtop Eldorado Seville, which was added to the lineup in 156. Under the hood was a powerful 365 cubic-inch V8 engine rated at 325 horsepower. In total, just 1,800 examples were produced.

This example has been given a thorough frame-off restoration that was completed in late 2012. The engine and transmission were torn down and rebuilt, along with a driveline overhaul. The brake system has been refurbished, and all-new suspension components were fitted. The car has been re-finished in the original color of Dakota Red. Inside, there is new leather upholstery, and the white vinyl soft top is also new.
By Daniel Vaughan | Oct 2013
The 1957 Cadillac Eldorados were inspired by the Eldorado Brougham and Park Avenue show cars. In total, just 1,800 Biarritz Convertibles were produced that year, accounting for just a small percentage of total production. The cars had distinctive tail treatment, with rounded flanks and each bearing a single shark-like fin. The new chassis allowed the body to sit lower than it did on earlier cars, reducing overall height and improving the overall visual impression on the road.

This example is finished in its original color of Cadillac's Arctic White, and the interior was redone in the original shade of red leather. It was ordered from the factory with a vast array of options, including power steering, power windows, power brakes, a power convertible top, a power trunk, the 'Autronic Eye' headlight dimmer, and a power antenna. Currently it shows just under 28,000 miles from new. It has only accumulated test miles since the completion of its restoration in June of 2012.
By Daniel Vaughan | Dec 2013
Hardtop Coupe
Chassis Num: 6237X

1957 Cadillac Model 6237X
This 1957 Cadillac Coupe is one of the more graceful designs to come from Harley Earl's GM design studio in the 1950s. It is powered by a 365 cubic-inch V8 with dual 4-barrel carburetors producing 325 HP. The interior is in striking three-tone leather and silver-grey cloth.
| | | | |
| --- | --- | --- | --- |
| | | | Eldorado Special Biarritz Convertible |
This Cadillac Eldorado Biarritz Convertible is one of 300 built that production year. It is one of 50 built with air conditioning. The particular model was the first to receive GM's new 'X-Frame' with side rails, designed for large size automobiles. The car cost approximately $9,000 new. It is totally equipped with power accessories.

At the time of restoration using mostly factory correct parts, it had 54,000 miles on the odometer. It has received both AACA Junior and Senior Awards.
This 1957 Cadillac Series 62 Convertible was offered for sale at the 2007 RM Auctions held in Amelia Island, Florida where it was estimated to sell between $85,000 - $100,000. It is powered by a 331 cubic-inch V8 engine capable of producing 240 horsepower. There is a four-wheel hydraulic drums and a three-speed Hydramatic transmission.

The Cadillac Series 62 was a quality car that was refined and powerful. Optional equipment included air conditioning, heating system, electrically-operated antenna, signal-seeking pre-selector radio, Autronic Eye, fog lamps, license plate frames, spotlights, sabre-spoke wheels, electric operated six-way power seats, remote-control trunk lid lock, rear compartment radio control, whitewall tire cleaner, Door Guards, seat belts, rubber mats, whitewall tires, radio foot control switch, and cushion toppers.

This car has been treated to a mechanical and cosmetic restoration. It is finished in white with black and white two-tone leather interior. Options include a heater, defroster, clock, radio, and E-Z-Eye tinted glass.

At auction, the car was sold, selling for just under the estimated value. The winning bid was $83,600.
By Daniel Vaughan | Apr 2007
The Harley Earl designed Cadillac Series 62 De Ville was a very large vehicle that featured a large, 6,390 cc (390 cubic inch) V-8 engine. The back had large fins that did little for performance and handling but was all about the style of the vehicle. The design of the vehicle was inspired by the space program and the era of jet engines. The large, 4400 lb car was fitted with drum brakes. These often wore out quickly. If a U-turn needed to be made, the driver would need a parking lot. The turning radius was 24 feet.

The car was a luxury vehicle that could carry six individuals comfortably. The car was a convertible with the top being raised and lowered automatically. The interior had electrical gauges. The head lights would turn on at dusk and were also capable of switching from high beam to low beam when they sensed oncoming traffic. In total, there were eight lights on the front of the vehicle. The four on the top were the driving lights while the lights mounted on the bumper were the parking lamps. To add to the driving comfort, air suspension was used. This aided in providing a very soft ride but there was significant body roll when cornering. With the V8, it was capable of creeping to sixty in 11 seconds. This reinforced the notion that this Cadillac was built for comfort and not for speed. The drivers enjoyed the ride and they looked good cruising along, enjoying the large open road.
By Daniel Vaughan | Aug 2010
For more information and related vehicles, click
here
GM DESIGN'S TOM PETERS EARNS LIFETIME ACHIEVEMENT AWARD
PASADENA, Calif. – In addition to more than 30 years of designing some of General Motors' most memorable vehicles, Tom Peters led the exterior studio teams that produced two of GM's most important product introductions this year – the 2014 Chevrolet Corvette Stingray and 2014 Chevrolet Silverado full-size pickup. On Sunday, Peters received a lifetime achievement award for his work from his alma mater, Art Center College of Design, which has been at the forefront of art and design educ...[Read more...]
Cadillac's 'Sixteen' Headlines The Amelia Concours d'Elegance Cadillac Concept Car Class
Cadillac's 2003 'Sixteen' will headline the 18th annual Amelia Concours d'Elegance's Cadillac Concept Car Class. A decade ago, the elegant excess of Cadillac's 'Sixteen' Concept Car set off alarms throughout the global auto industry as it rolled into the North American International Auto Show. Cadillac's 'Sixteen' Concept Car is a 1000 horsepower 13.6 liter V-16, 5000 pound, 19 foot long engineering and design statement taking conceptual cues from the legendary Cadillac V-16s of the 1...[Read more...]
Corvette Shines in the Big Apple
All-new Corvette Stingray comes to New York City 60 years to the day after Motorama debut 2013-01-16 Sixty years ago tomorrow, spectators lined New York City's posh Park Avenue, waiting to get a glimpse of the ground-breaking Chevrolet Corvette on display at the General Motors' Motorama show. On Thursday, the Corvette will be back in The Big Apple, marking the historic milestone with the all-new 2014 Chevrolet Corvette Stingray. The all-new Corvette Stingray debuted earlier...[Read more...]
CADILLAC CONCEPT CARS STAR at AMELIA CONCOURS d'ELEGANCE
There are limited production cars, there are rare cars and there are concept cars that never find their way to the showroom. A fleet of Cadillac's rare and mythic Motorama and Detroit Auto Show Concept Cars will take to the field at the 18th Annual Amelia Island Concours d'Elegance on Sunday March 10, 2013. Created under the supervision of GM's legendary styling chief, Harley Earl, the Cadillac Concept cars of the 'Fifties were created as the stars of GM's Motorama shows. All are blood anc...[Read more...]
GM Design: 85 Years of Making Art That Moves You
As GM Design celebrates its 85th birthday this month, the 1,900 men and women in GM's 10 global design centers are focused on the future, united in their vision to entice consumers to fall in love and see vehicles as they do: art that moves you. 'Our global team is united around its passion for designing vehicles that make an emotional connection with customers,' said Ed Welburn, GM vice president, Global Design. 'What was true 85 years ago is still true today: A designer's role is to create...[Read more...]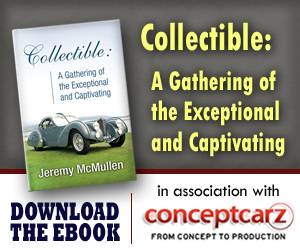 Similarly Priced Vehicles from 1957
Lincoln Premiere ($5,150-$5,380)
Aston Martin DB 2/4 MKIII ($7,000-$7,000)
AC Ace Bristol ($5,549-$5,549)
Chrysler 300C ($4,929-$5,357)
Pontiac Bonneville ($5,780-$5,780)
Chrysler New Yorker ($4,170-$4,745)
Imperial Crown ($5,270-$5,600)
Porsche 356 Carrera 1500 GS/Carrera ($5,200-$5,900)

Average Auction Sale: $74,553
Cadillac
Monthly Sales Figures
Volume
December 2014
16,150
November 2014
13,148
October 2014
13,615
September 2014
13,829
August 2014
16,650
July 2014
15,241
June 2014
13,941
May 2014
14,688
April 2014
13,900
March 2014
14,765
February 2014
13,437
January 2014
11,386
(More Details)
© 1998-2014. All rights reserved. The material may not be published, broadcast, rewritten, or redistributed.