1960 Plymouth Fury news, pictures, specifications, and information

Tweet
The designs of the 1960 Chryslers was the vision of the company's design chief, Virgil Exner. This design, in modern times, is known as the 'Forward Look.' Exner's influence on Chrysler cars dates back to the early 1950s, where he incorporated the classic design and modern jet-aircraft theme, making the Chrysler's unique, dramatic and distinct from other production vehicles. The potent 383 engine came in two flavors, with the 'cross ram' manifold option delivering up to 330 horsepower.

The Fury automobiles featured futuristic 'Aero' steering wheels, and swivel bucket seats.

This 1960 Plymouth Fury is powered by the 330 horsepower, 383 cubic-inch engine mated to a three-speed automatic transmission. There were only about 25 cars fitted with the 'SonoRamic Commando' engine with cross-ram induction - and this is one of them. Upon completion of this Fury, it was shipped from the St. Louis factory to the Perdue Plymouth dealership in Sunnyvale, California. Its early history is unknown; in the mid-1990s it was discovered near its original home. It was complete, but in need of a restoration. A complete restoration was completed in 2006. It is finished in the original combination of Plum Red Metallic and Oyster White paint, with a red-and-white interior.

In 2008, this Fury Convertible was offered for sale at the Gooding & Company Auction held in Pebble Beach, Ca. It was estimated to sell for $135,000 - $175,000. It was sold for $115,500 including buyer's premium.
By Daniel Vaughan | Mar 2009
The first limited-edition, high-performance Plymouth Fury was introduced in 1956 and was basically a junior version of the Chrysler 300. When first introduced, they were available only in off-white with a gold-anodized body-side sweepspear. Other colors would appear during subsequent years.

Legendary designer Virgil Exner was the man responsible for this new styling, known as the 'Million Dollar Look', and would be used throughout the lineup, including on Plymouths, Dodge, DeSoto, Chrysler and Imperial cars for 1957. Another standard for 1957 was Chrysler's now familiar torsion bar front suspension and three-speed TorqueFlite automatic transmission.

In 1960, the Plymouth Fury was the top-of-the-line model in the companies' lineup. This example came painted in red and white with a white convertible top. It has a dealer transfer form showing that the car was originally titled in California in 1960 with black plate NVW-446 and transferred to another California buyer on December 2, 1963. It has spent most of its life in California.

This car was given a ground-up restoration including refinishing at George Barris's paint shop along with chrome, interior and mechanicals. It is powered by a numbers-matching 318 cubic-inch V8 engine with solid lifters producing 230 horsepower. There is a three-speed TorqueFlite push button automatic transmission and four-wheel power-assisted drum brakes. Power steering, power top, 'Aero' steering wheel, RCA Hi-Way Hi-Fi record player customized to an AM-FM CD player, front wheel-well opening stainless steel splash guards, and new Coker wide whitewall tires on Kelsey-Hayes chrome wire wheels are fitted to this example.

This 1960 Plymouth Fury is one of only 7,080 convertibles built for 1960.

In 2009, this Bentley S2 Continental Drop Head Coupe was offered for sale at the Sports & Classics of Monterey auction in Monterey, California presented by RM Auctions. The car was estimated to sell for $90,000-$120,000 and offered without reserve. The lot was sold for the sum of $66,000 including buyer's premium.
By Daniel Vaughan | Dec 2009
V8 Convertible
Designer: Exner

The advertisement for the ground-breaking 1957 Plymouth proclaimed 'Suddenly, It's 1960!' However, the prominent fins of the 1960 version - Plymouth called them 'Stabilizers' - had some observers thinking 'Suddenly, It's 1957!'

Yet the 1960 Plymouth was truly an all-new car. A new 'Dura-Quiet Unibody' was a major departure from traditional body-on-frame construction and an intriguing new 'Slant Six' engine was standard on most models.

Finished in Spring Green and Oyster White, this 1960 Fury has an interesting history. It was originally purchased by an 18-year-old who used it for drag racing! The Fury remained in his family until 1990, when the current owners acquired it.

The racing heritage likely explains the unlikely combination of optional 361 cubic-inch 'Golden Commando 395' V8, three-speed manual transmission, manual steering and manual brakes.
The Plymouth Fury was introduced in 1956 and continued in production as a model and/or series until 1989. Plymouth had been using the name Fury as the high-performance version of its standard vehicle and in 1956 made its own model designation. The initial desire of the Fury was to highlight the abilities of the Plymouth division and to create a stunning automobile that would capture the attention of consumers and bring that crowd into their showrooms. The styling was typical of the era with the most notable feature being the tail-fins which grew in size during the 1959 model year. It was a popular favorite with many police forces because of its reliability and performance.

In 1959 Plymouth introduced a performance and luxury package called the Sport Fury which featured a larger engine, performance upgrades and a transmission that could handle the extra torque. This was the only year that it was offered.

1960 marked the beginning of the second generation Fury which continued until 1964. The Fury now sat atop a unit-body construction with bolted-on subfame which improved rigidity. The tail fins were removed and the styling was updated to give it a modern appeal. The base engine was a slant six power-plant capable of producing over 145 horsepower. A 318 or 383 cubic-inch eight cylinder in various configurations could be purchased as optional equipment.

Styling and mechanical changes continued in 1961. The Fury was given a new grille which gave it the impression of a 'frowning face'. Performance was increased with the 375 horsepower, 413 cubic-inch engine. A limited edition turbocharged engine was offered in 1962. A new unitized body and chassis construction was implemented which greatly decreased the overall weight while still maintaining rigidity and interior room. Weight was further reduced with the adaptation of the TorqueFlite transmission replacing the cast-iron, two-speed PowerFlite. The 383 engine was no longer offered but a 413 8-cylinder engine became available half-way through the year.

For 1963, the grille and rear once again received styling updates. The reliability was reinforced by the company with the introduction of a five-year or fifty-thousand mile warranty. Not much changed the following year. A limited amount of 426 Wedge 'Super Stock' engines were planted into the engine bays with the purpose of being raced and not legal on the streets.

1965 brought the third generation of the Fury. The sedans sat atop a 119 inch wheelbase while the wagons were given a 121 inch platform. A street legal, 426 'Street Wedge' was now available, promising nearly 400 horsepower. This year also began the Fury I, Fury II, and Fury III naming scheme. In 1966 the VIP name was added to the Fury model line-up. The VIP was an economical, luxury sedan with aluminum taillight panels, wood-grained inserts, and special badging and colors. A popular option on the VIP was the vinyl roof. Luxury could be found on the interior, with its soft carpet, padded dash, individual rearing lamps, walnut grain trim, fold-down armrests, and more. Under the hood was a 318 eight-cylinder engine as standard. The VIP name was short-lived, enduring until 1969 when the decision was made to cease production.

The 1965 Fury had changed aesthetically with horizontal bars on the grille and rearranged rear taillights. The interior had undergone very mild changes. The most drastic change was on the Sport Fury which was given a new console, replacing the console that had been introduced in 1964. The Hurst shifter was no longer offered; rather, a willowy Inland unit with reverse lockout button was offered as optional equipment.

In 1966, a Silver Special edition was offered which featured silver metallic paint with blue upholstery. Window moldings, whitewall, and wheel-covers were included.

The Fury grew slightly in size in 1967. The body panels were all-new but the grille and headlights were carried over from the previous body-style. The 225 slant-six engine was standard and a 318, 383, and 440 were offered in various configuration. Offered as a two and four door, convertible, sedan, wagon, hardtop, and convertible, there were nearly twenty-five different configurations to select from.

1968 continued the styling changes with it's horizontally split grille, updated rear and a slight dip in the body-line which mimicked the front vent windows.

The fourth generation began in 1969. The wheelbase of the vehicle increased offering more interior room for the passengers. The boxy-appearance of third generation Fury was abandoned with a slight shift toward curvy appearance. Concealed headlamps were added in 1970.

In 1972 Plymouth added the Gran Fury sedan and coupe, equipped with a 383 cubic-inch engine bored out to 400 cid. Two separate blackened grilles with the word 'Fury' in the middle helped distinguish these models.

Styling changes continued in 1973 which saw many improvements to its exterior design. For 1974, the Fury sat atop a new C-body platform which was larger in size to its predecessor. A new grille and bumper made its way onto the standard Fury.

The fifth series of the Fury was introduced in 1975. Plymouth once again restyled the Fury and placed it atop a smaller, redesigned C-body chassis.

The Fury line was dropped in 1979 but a year later, in 1980, Plymouth revitalized the Gran Fury name. It shared a platform and similar body design to the Chrysler Newport and Dodge St. Regis, and was available only as a four-door sedan. Sales were never strong and the Fury name was once again abandoned in 1981.

A smaller version was introduced in 1982 and stayed in production until 1989. Minor aesthetic and mechanical changes were applied during this time, but it basically stayed unchanged.
By Daniel Vaughan | Dec 2009
For more information and related vehicles, click
here
Concours d'Elegance of America at St. John's : Class Previews
Here is a little preview of two of our special classes for St. John's upcoming show. Featured Designer: Virgil Exner The 2014 Concours d'Elegance of America will honor the work of famed chief designer Virgil Exner with an unprecedented display of Chrysler Corporation's 1955-1961 'Forward Look,' a daring two-pronged styling revolution that changed the look of the American car. First up were the 'jet-age'1955 Plymouths, Dodges, DeSotos, Chryslers and Imperials. Then came the 1957 m...[Read more...]
RARE REUNION: CHRYSLER CONCEPT CARS GATHER AT AMELIA, 2014
Nine rare and important Chrysler Concept Cars from the forties, fifties and sixties will be presented together for the first time at the 19th annual Amelia Island Concours d'Elegance on March 9, 2014. From the two-seat Chrysler Thunderbolt roadster and the dual-cowl Chrysler Newport of 1941 through the radical 1963 Chrysler Turbine car, Amelia's Chrysler Concept Car Class shows the genesis of the styling and engineering philosophy that summoned Chrysler's industry-changing 'Forward Look...[Read more...]
CHRYSLER GROUP LLC BRINGS CLASSIC COOL AND MODERN BUZZ TO 19TH ANNUAL WOODWARD DREAM CRUISE
August 13, 2013 , Auburn Hills, Mich. - Chrysler Group LLC will bring more than 70 vehicles to this year's Woodward Dream Cruise where each brand—Chrysler, Jeep®, Dodge, Ram Truck, FIAT, SRT and Mopar—will wheel in some of their latest production and buzz models, along with a collection of iconic, classic cars from America's past. In addition to vehicles on display, each of the Chrysler Group brands will offer a variety of events to this year's Dream Cruise. All of the Chrysler Group ...[Read more...]
Final Countdown Underway To South Florida's Premier Collector Car Auction
• Auctions America kicks off its 2013 auction season, March 22-24 with its highly anticipated Fort Lauderdale Collector Car Auction • Celebrating its 11th year, the multi-day auction features more than 550 quality collector cars • Latest feature attractions include an outstanding 1963 Shelby Cobra and a 1974 Ferrari Dino 246 GTS • Digital catalog now available for download at auctionsamerica.com AUBURN, Indiana (February 27, 2013) – With the final countdown underway to its highly an...[Read more...]
Joe Bortz to Host Historic Dream Car Discussion Panel
Dream car collector and historian Joe Bortz has prepared a special treat for participants at the 40th Annual Pontiac-Oakland Club International Convention in St. Charles Illinois, this coming July 17-21. In addition to bringing his four historic Pontiac Dream Cars, he has also assembled a panel, conisisting of two noted designers, a retired engineer and two veteran authors to examine the topic of Pontiac's early concept vehicles. The panel discussion will be held on Friday, July 20th at 1...[Read more...]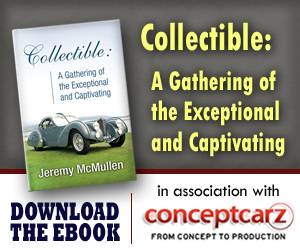 Similarly Priced Vehicles from 1960
Studebaker Lark Regal VIII ($2,330-$2,760)
Simca Aronde 1300 Oceane ($2,888-$2,888)
Pontiac Catalina ($2,630-$3,210)
Triumph TR3A ($2,670-$2,840)
Edsel Ranger ($2,640-$2,999)

Average Auction Sale: $62,856
© 1998-2014. All rights reserved. The material may not be published, broadcast, rewritten, or redistributed.