1937 Pontiac Deluxe Series 26 Six news, pictures, specifications, and information

Tweet
In 1937, this was called 'America's Finest Low Priced Car.' It is one of General Motors' first all-steel-construced car designs. Meticulously restored to showroom condition, this very car was featured in the February, 2005 issue of Hemmings Classic Car Magazine. It has won multiple awards. Not counting the cost of the car itself, the new buyer will get receipts for over $43,000 spent to bring this car to the show condition you see it in today. Also included are several ORIGINAL brochures and ads from the 1937 era, and the Hemmings Classic Car magazine which featured the car. Owner's manual too! The car came wîth options such as De Luxe heater, defroster, radio, clock (that still works!) dual horns, banjo §teering wheel and safety glass. The engine is a 222.7 cubic inch straight six wîth a cast iron block and head. It's rated at a whopping 85 horsepower at 3,520 rpm and is stock wîth solid lifters.
Source - Barrett-Jackson
This 1937 Pontiac Silver Streak Business Coupe features a flathead six-cylinder engine. The 'Silver Streak' theme is carried out by the wide chrome trim strip on the top of the hood and echoes in the finer horizontal chrome strips on either side of the hood. Pontiac carried the 'Silver Streak' theme well into the 1950's. The Silver Streak cars were marketed as economical drivers stressing gas mileage and utility.

The owner completed a frame-up restoration in 2006 and the automobile is painted its original maroon color. You will notice jump seats behind the front seat that are used to accommodate additional passengers or folded away for extra storage.
The 1937 Pontiac was distinguished from previous models by its exterior design. The new style included a one-piece turret top body on a five-inch longer chassis, heightened hoodline and narrower radiator grille with an Indian head mascot.

A wider, 39-degree slanted windshield, longer headlamp buckets, and new, split, pear shaped one-piece fenders gave the 1937 Pontiac a more modern look. The side grilles were also re-designed, having horizontal chrome bars in four segments on the bottom and a 'signature' narrow top section that ran the length of the hood - the 'Silver Streak.'

The Silver Streak moldings accented the 1937 Pontiac in a waterfall fashion, running down the hood and over the grille. These moldings became a trademark of Pontiac for more than 20 years. 1937 marked Pontiac's best sales year to date.
ROCKERBOX MOTOFEST MOVES TO ROAD AMERICA DURING AHRMA VINTAGE MOTORCYCLE CLASSIC WEEKEND
ELKHART LAKE, Wis., February 13, 2014 -- Wisconsin's premier motorcycle show, The Rockerbox Motofest, featuring an eclectic mix of Euro, Japanese and American vintage café racers, choppers, sport bikes, racing machines, super motos, scooters, and sidecars is making an official move for the future. Instead of its usual Milwaukee home, the event is making the trek 60 miles North to America's National Park of Speed as part of Road America's American Historic Racing Motorcycle Association (AHRMA) ...[Read more...]
POTEET, CIZEK EARN TOP AWARDS AT GOODGUYS 16TH PPG NATIONALS
Columbus, OH – Tennessee's George Poteet and Nebraska's Ron Cizek collected the top two awards at the Goodguys 16th PPG Nationals in Columbus, Ohio last weekend. Under brilliant sunshine and in front of record crowds, Poteet's vintage NASCAR-inspired '69 Torino won the Goodguys 2013 Optima Batteries Street Machine of the Year while Cizek's popular Ridler award-winning '40 Ford coupe collected the Goodguys 2013 Classic Instruments Street Rod of the Year title. For Cizek, it's the second ma...[Read more...]
Texas-Sized Charlie Thomas Collection Brings $7.4 Million At Dallas Auction
• RM Auctions' sale of the Charlie Thomas Collection generates $7.4 million, with 100 percent of lots sold • Top sellers include a 1946 Chrysler Town & Country Roadster for $143,000 and a 1954 Packard Caribbean Convertible for $132,000 • Sale captures attention of global collector car community with bidders representing eight countries around the world and 31 states across the U.S. • RM wraps up its 2012 calendar with its annual London, England sale, October 31, followed by the John Staluppi ...[Read more...]
Pebble Beach Concours d'Elegance Introduces Its First Sport Customs Class
One-off Sport Customs designed to turn heads while tooling down Main Street USA will roll onto the 18th fairway of Pebble Beach Golf Links for the 2012 Pebble Beach Concours d'Elegance on August 19. This year, for the very first time, the Pebble Beach Concours d'Elegance is hosting an entire class dedicated to Sport Customs. 'These are one-of-a-kind cars built in the US, on modified American production chassis with American engines by individuals, designers and craftsmen,' explains auto...[Read more...]
RM Auctions Lifts Gavel On Charlie Thomas' Texas-Sized Collection of Automobiles
• RM Auctions further expands its 2012 calendar with the addition of 'The Charlie Thomas Collection', a single-day, single-vendor sale to be held in Dallas, Texas, October 20, 2012 • Auction features a superb assortment of more than 150 collector cars, all offered without reserve • Sale further consolidates RM's reputation as the specialist for private and estate collection auctions RM Auctions, the world's largest collector car auction house for investment-quality automobiles, is delighted...[Read more...]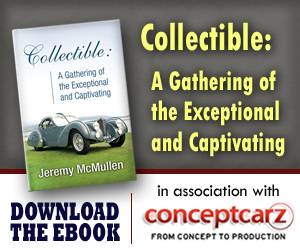 © 1998-2014. All rights reserved. The material may not be published, broadcast, rewritten, or redistributed.