1960 Mercedes-Benz 220 Series news, pictures, specifications, and information

Tweet
The 220SE was produced from only a short period of time with only 1,112 cabriolets built. The 2.2-liter engine was fitted with Bosch fuel-injection and produced 134 BHP. Even more impressive was their price tag, which was a staggering $9,000 making it one of the most expensive cars of their era.

This 220 SE cabriolet is finished in the factory original color of DB229 green with chocolate-brown leather and burled maple wood. A restoration was completed near the close of the 1990s and is one of the finest Ponton 220Ses in existence.

In 2008, this 220SE was offered for sale at the Gooding & Company auction held in Pebble Beach, California. It was estimated to sell for $200,000 - $300,000. The lot was sold for $198,000 including buyer's premium.
By Daniel Vaughan | Mar 2009
The Mercedes-Benz 220SE was introduced in 1958 and available as a coupe, sedan and cabriolet bodystyles. Production would continue until 1960 with 1974 examples created. 1,112 of those were cabriolets. The 'SE' was powered by a 2.2-liter engine and fitted with a Bosch fuel-injection system offering 134 horsepower. The 220SE Cabriolets sold for a staggering $9,000, making it one of the most expensive cars of their era. These cars were well equipped with polished wooden dashboards and door cappings, leather upholstery, and chrome trim.
The Mercedes-Benz 220 models, internally designated W128, entered production in 1954. There were a number of six-cylinder variants available through the years, including the 220 (1954 to 1956), the 219 (1956 to 1959), 220S (1956 to 1959) and the 220SE (1959 to 1960). Only the 220S and the 220SE engines were available in the top-line cabriolets.

The 220SE, (representing Super, Fuel Injected) were luxuriously appointed and well-trimmed. They were fitted with many amenities associated with Mercedes-Benz's limited-production 300 series. Many parts of the car, including the dash and door finish, were hand-built and covered in wood veneers of burled grain. The seats and trim were clothed in Roser surfaced-dyed leather, complemented by Wilton wool carpets.

The 220SE Cabriolet was introduced in 1959 and produced through October of 1960. The engine displaced 2,195cc and offered 135 horsepower. Mercedes-Benz produced just 1,112 examples of the 220SE Cabriolet. They had a four-speed synchronized transmission, independent suspension and long wheelbase.

This 220SE Cabriolet has been used sparingly and remains in show-quality condition. There is a stainless-steel exhaust system, a Becker Mexico radio, a convertible top, and period-style wide whitewall tires.

In 2010, the car was offered for sale at the Sports & Classics of Monterey presented by RM Auctions. It was estimated to sell for $150,000 - $200,000. As bidding came to a close, the car had been sold for the sum of $143,000 inclusive of buyer's premium.
By Daniel Vaughan | Dec 2010
In 1956, Mercedes-Benz introduced the 220S saloon. It was one of a trio of new model that featured unitary construction bodyshells with large, box-section side-members (thus the term 'Pontoon') with the other models being the 190 and 219. At all four corners were coil-sprung independent suspension setup and newly developed single-pivot rear swing axle. Short-wheelbase coupe and cabriolet versions of the 220S soon followed.

The 220 range was updated in 1958 with a fuel-injected version of the 2.2-liter overhead-camshaft six, evolving into the 220SE. Power increased from 106 to 115 bhp. When production ceased in November of 1960, fewer than 2,000 220SE Coupe and Cabriolet model had been produced.

This 220 SE Convertible is an original California black plate car and was delivered new to Los Angeles Mercedes dealers R.G. Lewis & Co. Inc. of Sunset Boulevard in Hollywood. The original purchase price was $8,668 which included it fuel-injection motor, a Becker Mexico radio, white wall tires, and two reclining seats with one having a head rest. The buyer was a doctor who kept the car for most of its life. In recent years, the car has been treated to a cosmetic refurbishment which included a bare metal re-spray to its original color of Silver Gray Metallic, refurbishment of the trim pieces, re-plating of the brightwork, all rubbers replaced, and the wood trim cappings re-finished. The mechanical components were exampled and overhauled when necessary.

In 2011, this vehicle was offered for sale at the Quail Lodge auction presented by Bonhams. It was estimated to sell for $190,000 - $220,000 but its reserve was not met and the car would leave the auction unsold.
By Daniel Vaughan | Nov 2011
The 220 SE Coupe and Cabriolet were introduced in 1958 and 1959 respectively. Produced through October of 1960, they had clean styling, restrained bright trim, and hand-built interiors. In total, 1,942 examples were built including 1,112 cabriolets. When new, they carried a price of $8,091 for the 220 SE Cabriolet. They had a mechanical fuel injection system, a four-speed gearbox, and fully independent suspension.

This particular 220 SE Cabriolet is a one-owner example with a known history from new. It was purchased new in Copenhagen, Denmark, by a law-school graduate from Oregon, who drove it on a 14-month pan-European adventure and imported the car to the US in the early 1960s. During the later 1960s, the car was repainted in British Racing Green, replacing the original light blue color.

The car was placed into storage in 1971 and has not been run since. It remained in the garage of the family home in Bend, Oregon, and after that home was sold and the owner moved out of state in the mid-1990s, the car was transferred to a storage unit.

The car has just over 54,000 miles. The car lacks its two front fender-mounted turn-signal lenses, the Mercedes-Benz emblem atop the radiator shell, and the driver's side mirror. The windshield is cracked and the engine may be seized. The interior is complete with leather upholstery that is still intact with only limited wear. The burl wood interior trim is intact; the trunk retains a jack, spare wheel, and factory tool kit, plus all four of the car's hubcaps.

Power is from an overhead valve six-cylinder engine displacing 2195cc and offering 134 horsepower. There is a Bosch Mechanical fuel injection, 4-speed manual gearbox, and four-wheel Servo-Assisted hydraulic drum brakes.
By Daniel Vaughan | Feb 2014
The Mercedes-Benz 200 Series is commonly known as the 'Ponton' model for the shape of its front suspension subframe. Production of the 220 S Sedan began in March of 1956, which was followed by a limited number of coupe and cabriolet derivatives. Resting on a 106.3-inch wheelbase, the cabriolet had a heavily reinforced floor pan to compensate for the loss of the fixed steel roof of the sedan and coupe. The unitized body was constructed from steel, with certain parts made from aluminum to help reduce overall weight.

Inside, the cars were finished to the same high standard as the top-of-the-line 300 Series, with leather, premium, carpeting, polished burl wood trim, and chrome fixtures.

A Bosch mechanical fuel injection system replaced the twin carburetors in 1959, creating the SE.

This Mercedes-Benz 220 SE Cabriolet is one of only 1,112 constructed between July 1958 and November of 1960. In 2007, a previous owner had it refinished in a shade of cream along with a fresh red leather interior and a matching leather boot for its canvas folding top.

This Mercedes-Benz 220 SE features a Becker Mexico radio, a clock, a full set of color-coded wheel covers, fog lights, and new bias-ply whitewall tires. It has a four-speed manual transmission with column shift, and a 2.2-liter six-cylinder engine. The odometer currently shows just over 50,000 miles.
By Daniel Vaughan | Feb 2014
Production of the Mercedes-Benz 220 Series was done in limited numbers through October 1960. Just 1,942 examples of the Mercedes-Benz 220 SE Ponton-style coupes and cabriolets were built (1,112 were cabriolets). With a price tag of $8,091 - which was nearly double the cost of some 1960 Cadillacs - exclusivity was ensured.

This particular 1960 Mercedes-Benz 220 SE Cabriolet was acquired in 2011 by the current owner from Bruce Weber. It has been thoroughly restored in Europe to original Mercedes-Benz specifications. The work included a rebuild of the 134 horsepower, inline six-cylinder engine, and its Bosch fuel injection using Mercedes-Benz parts exclusivity. The car rides on new tires, with 480 km having been acquired on the odometer during the sorting process.

The car is in as-new condition. It is finished with Standox paint to give it a lustrous period-correct dark blue shade. There is a black convertible top, red leather upholstery, a period Becker radio, and Wilton wool carpeting.
By Daniel Vaughan | Apr 2014
This Mercedes-Benz 220 SE Cabriolet is one of less than one thousand two hundred examples built for the 1959 and 1960 model years. In 1962, it was sold new to a Toronto businessman who enjoyed the car until about 2007. The car is in original condition, having its original red leather interior, a black soft-top Haartz cloth, a jack stand, spare tire, and correct Blaupunkt radio.
By Daniel Vaughan | Nov 2014
The Mercedes-Benz 220SE was introduced in 1958 and remained in production until 1959 with a total of 1974 examples being produced. 1112 of those were cabriolets. The 'SE' was considered an upgraded version of the 220 and offered in coupe, sedan and cabriolet body styles.

The 220SE were built with high attention to detail, almost mimicking the 330SC. They came equipped with polished wooden dashboards and door cappings, leather upholstery, and chrome trim. Under the hood was a 2.2-liter engine that produced nearly 135 horsepower and could carry the 220SE to speeds of 100 mph. The use of Bosch fuel-injection meant the increase in power while a reduction in fuel consumption.

A cabriolet, also known as a 'Ponton Series', cost just under $9,000 when new. These were among the first of the postwar, modern, Mercedes-Benz designs. Their styling retained the traditional Mercedes-Benz touches while adapting a modern style that appealed to a wider generation.
By Daniel Vaughan | Feb 2007
For more information and related vehicles, click
here
Holden Celebrates 35 Years of Commodore
Holden is celebrating the 35th anniversary of its most iconic nameplate, Commodore. For over three decades, the Holden Commodore has delivered significant advances in vehicle performance, safety and comfort on the way to becoming Holden's longest-standing and most successful nameplate. Holden Executive Director, Vehicle Sales, Service and Marketing, Phil Brook, said Holden was extremely proud of Commodore's success. 'There are not many nameplates in Australia that can lay claim to a ric...[Read more...]
1937 Delage Takes Home Best Of Show At The 10Th Annual Keeneland Concours D'Elegance
Mustangs, classic cars, helicopters and motorcycles take center stage LEXINGTON, KY – July 22, 2013 – A very deserving 1937 Delage was named Best In Show at the annual Keeneland Concours d'Elegance on July 20. The Mari Hulman George award for Best of Show went to the 1937 Delage D8 120 SS Aerodynamic Coupe presented by The Patterson Collection of Louisville. The French car also was named top car in its class, Coach-built Classics. The Best of Show Award is presented by the In...[Read more...]
Italian Racing Classics Lead Gooding & Company's 10th Anniversary
SANTA MONICA, Calif. (June 4, 2013) – Gooding & Company, the official auction house of the Pebble Beach Concours d'Elegance acclaimed for selling the world's most significant and valuable collector cars, will be hosting the 10th Anniversary sale of the Pebble Beach Auctions on August 17 and 18. This year Gooding & Company offers an early preview of some of the most highly sought after and rapidly amassing value collectible – the distinguished Italian race car. Auction highlights include a...[Read more...]
Mercedes-Benz Pays Homage to a Regional Classic at the 2013 Greenwich Concours d'Elegance
The all-new 2014 E-Class Wagon Debuts Alongside a 1957 300c Mercedes-Benz USA debuts the all-new 2014 E-Class Wagon alongside one of its predecessors, a pristine 1957 300c at the 18th Annual Greenwich Concours d'Elegance from June 1-2, 2013. The event features rare vehicles from past and present and benefits Americares, the private, non-profit relief and humanitarian aid organization. With the background of the breathtaking Greenwich seaside, Mercedes-Benz highlights one of the Nort...[Read more...]
Concorso d'Eleganza Villa D'Este 2013: Classic Weekend On Lake Como
On the weekend of 24 – 26 May 2013, the spectacular grounds of the Grand Hotel Villa d'Este and Villa Erba in Cernobbio on Lake Como will once again be transformed into a unique stage for the most beautiful automobiles and motorcycles from the past and the most extravagant concept cars of the present day. First held at the same location in 1929, the Concorso d'Eleganza Villa d'Este today ranks as the most traditional show of its kind in the world. It lays on an extensive programme throughout the...[Read more...]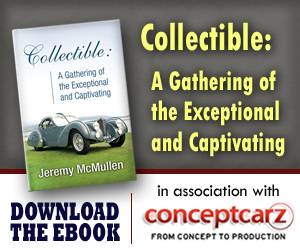 Similarly Priced Vehicles from 1960
Buick Electra ($3,816-$4,300)
Jaguar MK II ($4,560-$4,760)
Lincoln Continental Mark V ($6,595-$10,235)
Jaguar MKIX ($6,000-$6,000)
Alfa Romeo 2000 ($5,030-$5,950)
Porsche 356B ($3,720-$36,000)
Chrysler 300F ($5,410-$5,840)

Average Auction Sale: $80,478
Mercedes-Benz
Monthly Sales Figures
Volume
December 2014
37,297
November 2014
37,110
October 2014
30,733
September 2014
29,523
August 2014
28,958
July 2014
29,406
June 2014
28,707
May 2014
26,617
April 2014
28,281
March 2014
29,316
February 2014
22,609
January 2014
23,892
(More Details)
© 1998-2014. All rights reserved. The material may not be published, broadcast, rewritten, or redistributed.