1961 MG MGA 1600 MKI news, pictures, specifications, and information

Tweet
This 1961 MGA Lightweight Sebring Coupe (#44), chassis number GHD 100148, is one of two cars built in the MG Competition Department in Abingdon specifically for entry in the 1961 Sebring 12 Hour Race. Californians Jack Flaherty and Mr. Parkinson drove it to a 1st in class and finished 14th overall, the highest place finish by an MGA at Sebring. Post Sebring, the car was raced in various Florida SCCA events including the Orlando Nocturn Dark to Dawn Rally and various SCCA divisional races. The car was also entered in the 1964 and 1965 Daytona Continental 2000 KM races. The current owner found the car in 1977 in Titusville, Florida. It was restored to full Sebring specification and has participated in various vintage-racing events in England and Australia.
This 1961 MGA 1600 lightweight Sebring Coupe has chassis number GHD 100149. This is one of two cars built by the MG Competition Department in Abingdon specifically for entry in the 1961 Sebring 12 Hour Race. It was driven by Sir John Whitmore and Peter Riley to a 2nd in Class and 16th overall finish in a 65 car field. The other team car, #44, finished 1st in Class and 14th overall.

This car retains the original Sebring race engine #EX178/43 which has a special block and head casting that eliminate internal water passages and enable the engine to be assembled without a head gasket. Other factory modifications include a long range 20-gallon fuel tank, dual fuel pumps, dual ignition coils, quick lift jacks, a ZF limited slip rear axle, Dunlop four-wheel disc brakes and pin located knockoff disc wheels.

Numerous panels, such as the front valance and transmission tunnel were made of alloy, and Plexiglas was used to replace the side and rear windows to reduce weight.
The MGA began production in 1955. The styling and mechanics were different from previous MG models. The public had been given hints of its new design during the 1951 Le-Mans 24 hour endurance race. The car was driven by George Phillips and was actually a TD Midget with body modifications.
The XPAG engine that had power many previous MG's was replaced by a new power-plant. This 1489 cc four-cylinder, B-series engine provided between 68 and 72 horsepower. The BMC B-series unit had made its debut in the MG Magnette saloon and proved to be a reliable and powerful engine.

To create enthusiasm for the cars prior to release, three aluminum bodied prototypes were created and dubbed EX182. They were entered into the Le Mans race where they finished fifth and sixth in their class. This epic achievement gave the MGA racing credibility and mechanical reliability.

The styling of the car was undeniably elegant. Its aerodynamic design and two-seat open-body was stylish and sporty. The vehicle sat very low to the ground providing an excellent center of gravity. This improved the handling and cornering ability. The chassis was a modified TD Midget unit with widely spaced side rails allowing for a low-seating position.

In the rear of the vehicle was a spare wheel mounted on the upper portion of the outside of the vehicle. Underneath was adequate trunk-space for luggage. At the front of the vehicle sat the engine.

Steel disc wheels were standard equipment but centre-locking wire wheels could be substituted at an additional fee. Since the car had an open top, it was subjected to the elements. A hard-top could be purchased making the vehicle more versatile.

A coupe version quickly followed and offered features such as wind-up windows, soft-top version, and other amenities that helped appeal to a wider customer base. To stay competitive on the race track, the MGA twin-cam version was introduced in 1958. This high performance version could be driven to the race track, race, and then be driven home. The engine had been modified with aluminum components, twin overhead camshafts, and dual SU carburetors. These enhancements increased the horsepower rating to 110 and the overall top speed to 115 miles-per-hour. Disc brakes replaced the drums which not only made the car more competitive, it made it safer. Unfortunately, the vehicle suffered from reliability issues and did not hold up well to the strain of racing. So in 1960, MG discontinued its production.

In 1959, MG introduced the MGA 1600's and offered them in coupe and open form. These were the standard MGA cars but with 1588 cc B-series pushrod engines. Drum brakes were used in the rear of the vehicle, but disc brakes were placed in the front.

In 1961, the MGA 1600 MKII was introduced. It featured a 1622 cc. B-series engine that was capable of producing 93 horsepower. 100 miles per hour was easily achieved by the MKII. Minor aesthetic changes were made to the front and rear of the vehicle.

In 1962, MG ceased production of the MGA. Nearly 100,000 examples had been produced during its life span making it the longest-running and best-selling MG. The success of the vehicle was in part to its styling, racing history, performance, and its competitive pricing. Many of the MGA's produced were exported to the United States. In the end and after so many years, the MGA was having trouble staying competitive with models offered by other manufacturers.
By Daniel Vaughan | Jun 2006
For more information and related vehicles, click
here
1956 Sebring 12 Hours: Musso Impresses on American Soil
Having more than proven himself within the 2.0-liter category with the factory Maserati team, Luigi Musso makes the short trip west from Modena to Maranello to drive for Ferrari. This would be a big step up in performance, for car and driver. Here Musso's real talent would need to be realized. Otherwise, the Italian would find himself an estranged patriot without a home. But, on American soil, the young Italian would find his place. The Roman Musso had had an impressive run with Maserati. Af...[Read more...]
ANTOINE L'ESTAGE AND NATHALIE RICHARD CAMPAIGN LEGENDARY CAR AT NEW ENGLAND FOREST RALLY
The Rockstar Energy Drink Rally Team of Antoine L'Estage and Nathalie Richard are bringing a piece of North American rally history to attempt to win their fourth New England Forest Rally victory on July 26-27th in Newry, Maine. At this year's running of the New England Forest Rally the team will campaign a turbocharged, all-wheel-drive 2003 Tiburon maintained and operated by Libra Racing. Rally fans will instantly recognize this Tiburon from having seen action in the SCCA ProRally Champion...[Read more...]
TOP DRIVERS SPARKLE IN SUNDAY SUNSHINE FROM THE WEATHERTECH® CHICAGO REGION SCCA JUNE SPRINTS® AT ROAD AMERICA
ELKHART LAKE, Wis., June 16, 2013 - The Eight races, including repeat performances from Saturday's four groups, highlighted Sunday's SCCA WeatherTech Chicago Region June Sprints at Road America. All 12 of the weekend's races were a part of the SCCA Northern Conference Majors Tour Championship. The morning opened with an overall runaway win from Tom Sloe's Touring 1 No. 97 Hutter Racing Engines/Hoosier Chevrolet Corvette, but the small yet mighty Super Touring Under class entertained ...[Read more...]
A 458 ITALIA ON THE PODIUM AT SEBRING
Maranello, 17 March -The Risi Competizione 458 Italia finished second in class at the Sebring 12 Hours, the famous endurance race held this year for the sixty second time. At the wheel of the 8 cylinder car entered by the Ferrari of Houston team, Gianmaria Bruni, Matteo Malucelli and Olivier Beretta drove an attacking race throughout, producing a perfect combination of car, strategy and teamwork. Having started from pole and dominated the race right up until the final hour, the Risi Ferrari had ...[Read more...]
Road America Announces 2013 Season Schedule
Road America President and General Manager, George Bruggenthies, announced Road America's 2013 season schedule today. 'Road America has the most active and diverse schedule of any road race circuit in the U.S. and we look forward to hosting the AMA, NASCAR Nationwide Series, SCCA and three separate vintage events again in 2013,' said Bruggenthies. 'We also look forward to being the first circuit to have the opportunity to show the world what the new race format of the recently announced GRAN...[Read more...]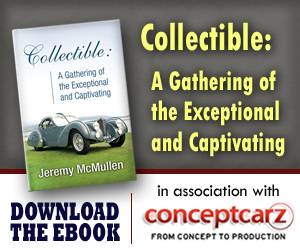 Similarly Priced Vehicles from 1961
Studebaker Hawk ($2,655-$2,655)
Ford Station Wagon Country ($2,660-$3,125)
Morgan Plus Four ($2,600-$2,700)
Volkswagen Microbus ($2,000-$3,000)
Triumph TR3A ($2,675-$2,700)
Ford Galaxie ($2,540-$2,965)
Chevrolet Impala Series ($2,500-$3,100)
Studebaker Lark ($1,936-$2,690)

Average Auction Sale: $23,318
© 1998-2014. All rights reserved. The material may not be published, broadcast, rewritten, or redistributed.