Image credits: © Mercedes-Benz.
1973 Mercedes-Benz 450 SL news, pictures, specifications, and information

Tweet
In the spring of 1971, the 280SL was replaced by a brand new development - the 350SL. Showing only a slight resemblance to its predecessor, this new series SL featured a body and chassis built to class-leading levels of vehicle safety, and featured styling which was to become a benchmark in Mercedes-Benz design for nearly two decades. Like the 280SL, the new SL was a two-seater, with a fully retractable roadster soft top as well as a removable hard top. First available only with a 3.5-liter V8 and ultimately culminating in the 1986 5.6-liter V8 560SL, this series was built until 1989, more than 18 years after its debut, a true testament to its popularity.
This Mercedes-Benz 450SL has been owned by the same owner for the past two decades. It has fewer than 22,000 miles since new. It is finished in gold with the original brown leather interior and equipped with an automatic transmission. There is a tool roll and both hard and soft tops.

The engine is a 4.5-liter V8 fitted with Bosch fuel injection and capable of producing 190 bhp (SAE Net). The car has a three-speed automatic and four-wheel hydraulic disc brakes.

In 2010, this Viper was offered for sale at the Vintage Motor Cars of Meadow Brook event presented by RM Auctions. The car was estimated to sell for $30,000 - $40,000. As bidding came to a close, the car had been sold for the sum of $35,200 including buyer's premium.
By Daniel Vaughan | Aug 2010
The Mercedes-Benz 450 SL was produced from 1973 through 1980. During its production lifespan, 66298 examples were created. The 350 and 450 SL were built as replacements for the 230, 250, and 280 SL model range. Under the hood was an eight-cylinder, OHC engine capable of carrying the car to a top speed of over 120 mph and sprint from zero-to-sixty in just over ten seconds. The 450 SL had the larger 4520 cc eight-cylinder engine while the 350 SL was powered by a 3499 cc unit.

Standard equipment included a convertible soft-top while a metal hard-top could be purchased. The 'SL' represented 'Sport Light' or Sport Leicht. It first appeared in 1954 on the 300SL Gullwing.
By Daniel Vaughan | Aug 2010
For more information and related vehicles, click
here
VOLKSWAGEN TO ROLL-OUT 'BUMPER-TO-BUMPER' STRATEGY FOR ALTERNATIVE POWERTRAIN CARS
• Carmaker to electrify vehicles in all segments; up to 40 models in line-up as demand rises
• Think Blue. Factory. program ahead of schedule
Los Angeles - The Volkswagen Group has outlined its global strategy for the launch of vehicles with alternative powertrains. The Group's Commissioner for Electric Drive Systems, Dr. Rudolf Krebs, said at a sustainability workshop at the Los Angeles Auto Show on Wednesday: 'We are going to electrify all segments. In plants equipped ...[Read more...]
CONSUMER REPORTS: CHEVROLET SILVERADO IS TOP TRUCK, BUT RAM 1500 MAKES FOR A BETTER DAILY DRIVER
• Showdown between the Silverado 1500 & Ram 1500 was neck-and-neck
YONKERS, N.Y., Sept. 17, 2013 - In a heavy-metal duel between two top pickup trucks, the Chevrolet Silverado 1500's 'Excellent' road-test score makes it Consumer Reports' top-rated truck. But testers point out that the second-place Ram 1500 may be a better daily driver. Each model won skirmishes along the way, and they finished one-two in a competitive pickup truck category— separated by only three points. Bot...[Read more...]
ALL-NEW 2014 INFINITI Q50 ARRIVES AT U.S. DEALERS ON AUG. 5 WITH STRONG PRE-SALE MOMENTUM
NASHVILLE, Tenn. – Infiniti today announced that deliveries of the much-anticipated 2014 Infiniti Q50 luxury sports sedan will begin on Monday, Aug. 5 at Infiniti retailers nationwide. The dramatic new Q50 features distinctive design, engaging performance, world's first technologies and unmatched levels of connectivity and personalization. It is offered with a choice of 328-horsepower 3.7-liter V6 or 360 net horsepower 3.5-liter Hybrid models. Starting prices* have been announced at $3...[Read more...]
1991 24 Hours of Le Mans: Facing the Giants
It had been more than thirty years but the Silver Arrows would compete, and win, the 24 Hours of Le Mans. Jaguar would also earn its first victory in more than thirty years when it took the overall honors in 1988. And then there was Porsche, the most dominant mark in Le Mans history. But each of these three manufacturers shared something in common. Even with the victories by Ford during the 1960s there was something very interesting about the list of victors in the 24 French enduro—none of them ...[Read more...]
JAGUAR EXPANDS POWERTRAIN CHOICE WITH TWO ADDITIONAL FORCED-INDUCTION PETROL ENGINES
As Jaguar expands its product offer in key global markets it is introducing two additional petrol units to its range to enhance customer choice; the new 3.0-litre V6 Supercharged Petrol, and the 2.0-litre I4 Turbocharged Petrol. Adrian Hallmark, Global Brand Director, Jaguar Cars, said: 'Jaguar currently has its strongest range of products for several decades. Our continued growth is dependent on two things; activating the awareness of the brand, and expanding our range to enable us to access...[Read more...]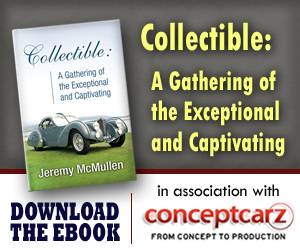 Mercedes-Benz
Monthly Sales Figures
Volume
December 2014
37,297
November 2014
37,110
October 2014
30,733
September 2014
29,523
August 2014
28,958
July 2014
29,406
June 2014
28,707
May 2014
26,617
April 2014
28,281
March 2014
29,316
February 2014
22,609
January 2014
23,892
(More Details)
© 1998-2014. All rights reserved. The material may not be published, broadcast, rewritten, or redistributed.