1983 Mercedes-Benz 380 SL news, pictures, specifications, and information

Tweet
The 1983 Mercedes-Benz 380 SL 2-door roadster was powered by an overhead-cam eight-cylinder engine that displaced 234 cubic-inches and offered 155 horsepower. They had a four-speed automatic gearbox and disc brakes at all four corners. The 380SL Roadster sold for just over $43,000.
By Daniel Vaughan | Dec 2011
The Mercedes-Benz 380 SL R107 was produced from 1980 through 1986. Under the bonnet of the 380 SL lurked an all-aluminum 3.8-liter V8 engine that produced over 150 horsepower. It engine was mated to a four-speed automatic gearbox and power was sent to the rear wheels. The 380SL was a two-seater coupe that cost nearly $39,000 in 1981. Also in the 380 Series at this time were the 380SEL which was a four-door sedan with seating for five. The 380SLC was a two-door coupe with seating for four and cost $46,640.

By 1984, only two models were being offered, the SL and SE. The cost of the SL was $43,820 while the SE four-door sedan cost $42,730. The SE version was very similar to the 300SD, distinguishable by its powerplants. The 300SD had a turbocharged diesel engine while the SE had a gasoline fueled V8. Standard equipment on the SE included anti-theft alarm and power seats, with a driver's airbag being offered for an additional cost.

W126 Series
The Mercedes-Benz W126 Series (named in accordance to their engine size) premiered in September of 1979 as the successor to the earlier W116 line. It was the second generation of the flagship Mercedes-Benz to bear the S-Class name referring to Sondeklasse or 'special class.' The W126 Series was initially offered with a straight-6, V8, and turbo diesel sedan models. A 2-door coupe was added in September of 1981.

In comparison to its predecessors, the W126 was more aerodynamic, fuel efficient, powerful, and capacious. It introduced many safety innovations including the first seatbelt pretensioners. It introduced a new design style for Mercedes-Benz which was later used on other vehicles in the company's lineup.

The W126 Series was produced for twelve years, lasting from 1979 through 1991, the longest of any S-Class generation since the first models were built in the mid-1950s. The W126 series initially included the 280, 300, 380 and 500 series models. After the first S-Class mid-cycle refresh, the W126 series included the 260, 300, 350, 420, 500, and 560 models. Variants included the SE (standard wheelbase), SEL (long wheelbase), and SEC (Coupe). The SD and SDL versions were the diesel models.
By Daniel Vaughan | Oct 2013
For more information and related vehicles, click
here
THE NEW AMG 4.0-LITER V8 BITURBO ENGINE
Powerful, innovative and efficient July 25, 2014 - Affalterbach -- Mercedes-AMG presents a new technological masterpiece: the AMG 4.0-liter V8 biturbo engine is a new development at the sporting heart of the new Mercedes-AMG GT car. This innovative eight-cylinder unit stands out for its sublime power delivery, the purposeful lightweight construction, as well as its high efficiency and environmental compatibility. With peak power of up to 375 kW (503hp) and maximum torque of up t...[Read more...]
Chevrolet Performance Expands Connect & Cruise Crate Powertrain Lineup, Introduces 6-Speed Manual for LS Installs
Chevrolet Performance has expanded its lineup of industry-exclusive Connect & Cruise crate powertrain systems and added a heavy-duty T56 Magnum six-speed manual designed for LS-engine installations in older vehicles, giving builders more choices to power their project vehicle. A preview of an upcoming Connect & Cruise system that matches an LS3 engine with the T56 Magnum also debuts at SEMA, in a rolling chassis display that shows all the components, including the controllers. It goes on sale...[Read more...]
MERCEDES-BENZ 2014 G63 AMG: THE ULTIMATE G-CLASS
The latest technology for the AMG off-road icon: the new 2014 G63 AMG impresses with a state-of-the-art powertrain, expressive new design and improved efficiency. All this is largely attributable to the AMG 5.5-liter V8 biturbo engine delivering 536 hp and the AMG SPEEDSHIFT PLUS 7-speed automatic transmission. Every new AMG high-performance vehicle offers an outstanding mix of 'more power from less fuel' – and the G63 AMG is no exception. The 'strong man' in the AMG model range has been furt...[Read more...]
Mercedes-Benz Honors Top Down Driving In Sunny Amelia Island
Florida's sunny weather is creating the perfect back-drop to honor the 50th anniversary of the famed Mercedes-Benz 'Pagoda,' SL which takes center stage during this week's Amelia Island Concours d'Elegance, March 8-10, 2013. The launch of the Mercedes-Benz 230 SL at the Geneva Motor Show in March 1963 caused quite a sensation. Mercedes-Benz had presented the motoring world with this single successor to the extremely successful 300 SL (W198) and 190 SL (W121). The Daimler-Benz design team a...[Read more...]
Magnificent Series of Coachbuilt Classics To Grace RM's Amelia Island Concours D'Elegance Sale
• RM Auctions returns as the official auction house of the Amelia Island Concours d'Elegance, March 9, 2013 • Single-day sale features breathtaking roster of more than 80 investment-quality collector cars • Notable highlights include an outstanding series of coachbuilt classics headlined by a multi-million-dollar 1935 Duesenberg Model SJ Walker-LaGrande Convertible Coupe and a trio of Cords from the personal collection of Jim Fasnacht • Frequently updated list of entries available online at r...[Read more...]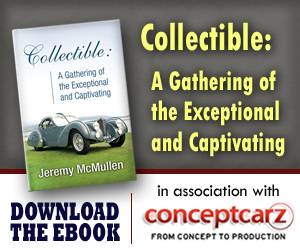 Mercedes-Benz
Monthly Sales Figures
Volume
July 2014
29,406
June 2014
28,707
May 2014
26,617
April 2014
28,281
March 2014
29,316
February 2014
22,609
January 2014
23,892
December 2013
35,835
November 2013
36,386
October 2013
32,107
September 2013
26,849
August 2013
26,151
(More Details)
© 1998-2014. All rights reserved. The material may not be published, broadcast, rewritten, or redistributed.