1983 Mercedes-Benz 380 SL news, pictures, specifications, and information

Tweet
The 1983 Mercedes-Benz 380 SL 2-door roadster was powered by an overhead-cam eight-cylinder engine that displaced 234 cubic-inches and offered 155 horsepower. They had a four-speed automatic gearbox and disc brakes at all four corners. The 380SL Roadster sold for just over $43,000.
By Daniel Vaughan | Dec 2011
The Mercedes-Benz 380 SL R107 was produced from 1980 through 1986. Under the bonnet of the 380 SL lurked an all-aluminum 3.8-liter V8 engine that produced over 150 horsepower. It engine was mated to a four-speed automatic gearbox and power was sent to the rear wheels. The 380SL was a two-seater coupe that cost nearly $39,000 in 1981. Also in the 380 Series at this time were the 380SEL which was a four-door sedan with seating for five. The 380SLC was a two-door coupe with seating for four and cost $46,640.

By 1984, only two models were being offered, the SL and SE. The cost of the SL was $43,820 while the SE four-door sedan cost $42,730. The SE version was very similar to the 300SD, distinguishable by its powerplants. The 300SD had a turbocharged diesel engine while the SE had a gasoline fueled V8. Standard equipment on the SE included anti-theft alarm and power seats, with a driver's airbag being offered for an additional cost.

W126 Series
The Mercedes-Benz W126 Series (named in accordance to their engine size) premiered in September of 1979 as the successor to the earlier W116 line. It was the second generation of the flagship Mercedes-Benz to bear the S-Class name referring to Sondeklasse or 'special class.' The W126 Series was initially offered with a straight-6, V8, and turbo diesel sedan models. A 2-door coupe was added in September of 1981.

In comparison to its predecessors, the W126 was more aerodynamic, fuel efficient, powerful, and capacious. It introduced many safety innovations including the first seatbelt pretensioners. It introduced a new design style for Mercedes-Benz which was later used on other vehicles in the company's lineup.

The W126 Series was produced for twelve years, lasting from 1979 through 1991, the longest of any S-Class generation since the first models were built in the mid-1950s. The W126 series initially included the 280, 300, 380 and 500 series models. After the first S-Class mid-cycle refresh, the W126 series included the 260, 300, 350, 420, 500, and 560 models. Variants included the SE (standard wheelbase), SEL (long wheelbase), and SEC (Coupe). The SD and SDL versions were the diesel models.
By Daniel Vaughan | Oct 2013
For more information and related vehicles, click
here
DIVERSE PRIVATE COLLECTIONS ADDED TO AUCTIONS AMERICA'S FLAGSHIP AUBURN FALL SALE
• Numerous private collections to cross the block at Auctions America's Auburn Fall event, August 27 – 31 at Indiana's historic Auburn Auction Park • Latest highlights led by 80 vehicles from a prominent private collection along with 20 cars from The David Disiere Collection • Multi-day sale to feature approximately 1200 quality collector cars and a full day of parts and memorabilia • Frequently updated list of entries and complete event information available at auctionsamerica.com AUBU...[Read more...]
MERCEDES-BENZ 2014 G63 AMG: THE ULTIMATE G-CLASS
The latest technology for the AMG off-road icon: the new 2014 G63 AMG impresses with a state-of-the-art powertrain, expressive new design and improved efficiency. All this is largely attributable to the AMG 5.5-liter V8 biturbo engine delivering 536 hp and the AMG SPEEDSHIFT PLUS 7-speed automatic transmission. Every new AMG high-performance vehicle offers an outstanding mix of 'more power from less fuel' – and the G63 AMG is no exception. The 'strong man' in the AMG model range has been furt...[Read more...]
History Rolls into Hershey for RM's Annual Pennsylvania Sale
• Final countdown underway to RM's annual Hershey, Pennsylvania auction, held October 10 – 11 during the historic AACA Eastern Regional Fall Meet • Two-day sale features 116 vehicles, with an emphasis on Brass and Classic Era motor cars • Sale entries led by a rare, award-winning 1933 Chrysler CL Imperial Convertible Roadster • Auction also features number of vehicles steeped with local Pennsylvania history • Digital catalogue now available online at rmauctions.com BLENHEIM, Ontario (S...[Read more...]
Magnificent Series of Coachbuilt Classics To Grace RM's Amelia Island Concours D'Elegance Sale
• RM Auctions returns as the official auction house of the Amelia Island Concours d'Elegance, March 9, 2013 • Single-day sale features breathtaking roster of more than 80 investment-quality collector cars • Notable highlights include an outstanding series of coachbuilt classics headlined by a multi-million-dollar 1935 Duesenberg Model SJ Walker-LaGrande Convertible Coupe and a trio of Cords from the personal collection of Jim Fasnacht • Frequently updated list of entries available online at r...[Read more...]
Mercedes-Benz Classic at the 2012 Grossglockner Grand Prix
• Revival of the mountain race from the 1930s • Mercedes-Benz SSK and W 125 at the start • 92 bends, 14 hairpins, 15 kilometres and a 1300-metre altitude difference The Grossglockner mountain race was one of the most prestigious motor sports events of the 1930s. This year it will be revived with the 2012 Grossglockner Grand Prix to be held from 20 to 22 September 2012 and Mercedes-Benz will be there with some famous cars. In 1938, the brand took part for the first time. As a classic c...[Read more...]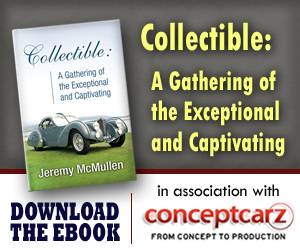 Mercedes-Benz
Monthly Sales Figures
Volume
June 2014
28,707
May 2014
26,617
April 2014
28,281
March 2014
29,316
February 2014
22,609
January 2014
23,892
December 2013
35,835
November 2013
36,386
October 2013
32,107
September 2013
26,849
August 2013
26,151
July 2013
25,563
(More Details)
© 1998-2014. All rights reserved. The material may not be published, broadcast, rewritten, or redistributed.