1983 Mercedes-Benz 380 SL news, pictures, specifications, and information

Tweet
The 1983 Mercedes-Benz 380 SL 2-door roadster was powered by an overhead-cam eight-cylinder engine that displaced 234 cubic-inches and offered 155 horsepower. They had a four-speed automatic gearbox and disc brakes at all four corners. The 380SL Roadster sold for just over $43,000.
By Daniel Vaughan | Dec 2011
The Mercedes-Benz 380 SL R107 was produced from 1980 through 1986. Under the bonnet of the 380 SL lurked an all-aluminum 3.8-liter V8 engine that produced over 150 horsepower. It engine was mated to a four-speed automatic gearbox and power was sent to the rear wheels. The 380SL was a two-seater coupe that cost nearly $39,000 in 1981. Also in the 380 Series at this time were the 380SEL which was a four-door sedan with seating for five. The 380SLC was a two-door coupe with seating for four and cost $46,640.

By 1984, only two models were being offered, the SL and SE. The cost of the SL was $43,820 while the SE four-door sedan cost $42,730. The SE version was very similar to the 300SD, distinguishable by its powerplants. The 300SD had a turbocharged diesel engine while the SE had a gasoline fueled V8. Standard equipment on the SE included anti-theft alarm and power seats, with a driver's airbag being offered for an additional cost.

W126 Series
The Mercedes-Benz W126 Series (named in accordance to their engine size) premiered in September of 1979 as the successor to the earlier W116 line. It was the second generation of the flagship Mercedes-Benz to bear the S-Class name referring to Sondeklasse or 'special class.' The W126 Series was initially offered with a straight-6, V8, and turbo diesel sedan models. A 2-door coupe was added in September of 1981.

In comparison to its predecessors, the W126 was more aerodynamic, fuel efficient, powerful, and capacious. It introduced many safety innovations including the first seatbelt pretensioners. It introduced a new design style for Mercedes-Benz which was later used on other vehicles in the company's lineup.

The W126 Series was produced for twelve years, lasting from 1979 through 1991, the longest of any S-Class generation since the first models were built in the mid-1950s. The W126 series initially included the 280, 300, 380 and 500 series models. After the first S-Class mid-cycle refresh, the W126 series included the 260, 300, 350, 420, 500, and 560 models. Variants included the SE (standard wheelbase), SEL (long wheelbase), and SEC (Coupe). The SD and SDL versions were the diesel models.
By Daniel Vaughan | Oct 2013
For more information and related vehicles, click
here
RAM TRUCK INCREASES ECODIESEL MIX TO 20 PERCENT OF RAM 1500 PICKUP PRODUCTION
◾Ram 1500 with EcoDiesel powertrain, America's most fuel-efficient pickup truck, now 1/5th of total Ram 1500 production ◾Overwhelming response attributed to best-in-class 28 MPG with 9,200 lbs. of towing capacity and strong consumer demand for exclusive light-duty diesel ◾Ram 1500 EcoDiesel contributes to unprecedented conquest sales and increased average transaction price for Ram 1500 ◾First-in-segment fuel economy technologies: TorqueFlite eight-speed automatic transmission, thermal managem...[Read more...]
Gooding & Company Amelia Island Auction Preview
Gooding & Company, the auction house acclaimed for selling the world's most significant and valuable collector cars, will hold its annual Amelia Island Auction on Friday, March 7 on the Omni Amelia Island Plantation. David Gooding, President and founder: 'Originality was the driving force behind our Amelia Island Auction. As always, our specialists have a keen eye for effective preservation of blue chip category cars. Many of the outstanding examples we selected for this sale are excellent ...[Read more...]
MAZDA MX-5 MIATA CELEBRATES 25 YEARS OF EXHILARATION
◾Celebrate the World's Best-Selling Two-Seat Roadster on Twitter with hashtag #MX5Turns25 CHICAGO, Feb. 7, 2014 - On February 9, 1989, the world was introduced to the all-new Mazda MX-5 Miata at the Chicago Auto Show. A few months later, it was named as one of the five 'World's Best Cars' by Road & Track and never looked back. Twenty-five years later, MX-5 has racked up more than 200 awards and sold more than 920,000 worldwide as of December 2013, making it the Guinness Book of Worl...[Read more...]
CHEVROLET PERFORMANCE RIDES AGAIN WITH HOT ROD POWER TOUR®
DETROIT – A caravan of Chevrolet high-performance production and concept vehicles will be led by the Hot Wheels® 1967 Camaro Concept at the start of the Hot Rod Power Tour® – the weeklong road trip that kicks off the summer cruising season for thousands of car enthusiasts. Other production performance cars on the tour include a Camaro ZL1 Convertible, Camaro Hot Wheels® Edition and a Corvette 427 Collector Edition Convertible. The Power Tour starts this Saturday, June 1, in Arlingto...[Read more...]
The Mercedes Benz S Class: automobile comfort of the highest standard
• S Class: the epitome of automobile comfort • Every generation of vehicles provides ground-breaking solutions to the expectations of customers with regard to comfort The history of the Mercedes Benz S Class shows that automobile comfort is far more than just a luxurious ambiance, size and performance. In fact it is far more the intelligent support of the driver and passengers through innovative technical solutions providing answers to current questions and requirements which contribute to t...[Read more...]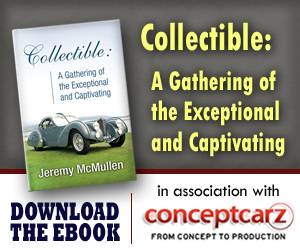 Mercedes-Benz
Monthly Sales Figures
Volume
October 2014
30,733
September 2014
29,523
August 2014
28,958
July 2014
29,406
June 2014
28,707
May 2014
26,617
April 2014
28,281
March 2014
29,316
February 2014
22,609
January 2014
23,892
December 2013
35,835
November 2013
36,386
(More Details)
© 1998-2014. All rights reserved. The material may not be published, broadcast, rewritten, or redistributed.