1983 Mercedes-Benz 380 SL news, pictures, specifications, and information

Tweet
The 1983 Mercedes-Benz 380 SL 2-door roadster was powered by an overhead-cam eight-cylinder engine that displaced 234 cubic-inches and offered 155 horsepower. They had a four-speed automatic gearbox and disc brakes at all four corners. The 380SL Roadster sold for just over $43,000.
By Daniel Vaughan | Dec 2011
The Mercedes-Benz 380 SL R107 was produced from 1980 through 1986. Under the bonnet of the 380 SL lurked an all-aluminum 3.8-liter V8 engine that produced over 150 horsepower. It engine was mated to a four-speed automatic gearbox and power was sent to the rear wheels. The 380SL was a two-seater coupe that cost nearly $39,000 in 1981. Also in the 380 Series at this time were the 380SEL which was a four-door sedan with seating for five. The 380SLC was a two-door coupe with seating for four and cost $46,640.

By 1984, only two models were being offered, the SL and SE. The cost of the SL was $43,820 while the SE four-door sedan cost $42,730. The SE version was very similar to the 300SD, distinguishable by its powerplants. The 300SD had a turbocharged diesel engine while the SE had a gasoline fueled V8. Standard equipment on the SE included anti-theft alarm and power seats, with a driver's airbag being offered for an additional cost.

W126 Series
The Mercedes-Benz W126 Series (named in accordance to their engine size) premiered in September of 1979 as the successor to the earlier W116 line. It was the second generation of the flagship Mercedes-Benz to bear the S-Class name referring to Sondeklasse or 'special class.' The W126 Series was initially offered with a straight-6, V8, and turbo diesel sedan models. A 2-door coupe was added in September of 1981.

In comparison to its predecessors, the W126 was more aerodynamic, fuel efficient, powerful, and capacious. It introduced many safety innovations including the first seatbelt pretensioners. It introduced a new design style for Mercedes-Benz which was later used on other vehicles in the company's lineup.

The W126 Series was produced for twelve years, lasting from 1979 through 1991, the longest of any S-Class generation since the first models were built in the mid-1950s. The W126 series initially included the 280, 300, 380 and 500 series models. After the first S-Class mid-cycle refresh, the W126 series included the 260, 300, 350, 420, 500, and 560 models. Variants included the SE (standard wheelbase), SEL (long wheelbase), and SEC (Coupe). The SD and SDL versions were the diesel models.
By Daniel Vaughan | Oct 2013
For more information and related vehicles, click
here
TIMELESSLY ALLURING: 25 YEARS OF THE BMW 8 SERIES
Munich. It was streets ahead of its time at launch and maintains an ageless glow to this day, yet a glance at the calendar reveals the disarming truth: 25 years have passed since the BMW 8 Series was presented to the world at large for the first time. The car's international fan community duly came together last weekend at its Bavarian birthplace to celebrate the anniversary, with events including a spectacular parade of 120 cars at the BMW Group headquarters highlighting their collective...[Read more...]
80 years ago: victory by the Mercedes-Benz W 25 in the International Eifel Race gave birth to the legend of the Silver Arrows
•The silver-coloured body of the W 25 gave this nickname to the racing cars from Mercedes-Benz •Successful new development by Mercedes-Benz for the750-kilogram racing formula •Manfred von Brauchitsch drove the W 25 to victory and established a new track record for Nürburgring It was a debut in sparkling silver, and it ended with shining gold: the first race at Nürburgring with the completely newly developed Mercedes-Benz W 25 racing car on 3 June 1934 was won by Manfred von Brauchitsch with...[Read more...]
HIGHLIGHTS AND LOWLIGHTS FOR VOLKSWAGEN AT HOME RALLY
It was the home rally of all races where Volkswagen would fall short of their own high expectations for the first time since joining the FIA World Rally Championship (WRC) in January 2013. This was the first time Volkswagen have missed out on a podium place in a season which has seen the team pick up six rally wins in eight rallies. And all this despite World Championship leaders in the Drivers' and Co-drivers' categories Sébastien Ogier/Julien Ingrassia (F/F) and Jari-Matti Latvala/Miikka Antti...[Read more...]
Audi Confirmed For Salon Privé 2013
• Salon Privé 2013 - 4th to 6th September
Syon Park, London, 21 August 2013 – Audi is set to display the R8 V8 Spyder, RS 6 Avant and RS 4 Avant at Salon Privé 2013. A hand-built, high-revving V8 engine mounted just behind the passenger compartment of the Audi R8 V8 Spyder launches the stunning soft-top supercar to 62 mph in 4.8 seconds and on to a top speed of 187 mph. The mid-engine configuration helps to lower the centre of gravity for optimum road holding, while the slick...[Read more...]
1964 Nurburgring 1000 Kilometers: Survive for One Last Victory
During the late 1950s, Richie Ginther would begin a relationship with John von Neumann and this partnership would result in one of the most dominant periods of American sportscar racing in which Ginther and Porsche would be virtually unbeatable. Nearly a decade later, that same combination would again join forces to provide one more moment of glory. By the mid-1950s Porsche had developed its 550. This was a small car more than capable of dominating its class and consistently able to challenge...[Read more...]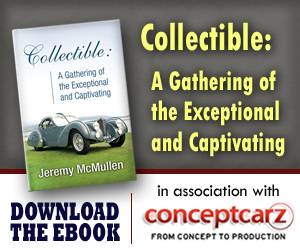 Mercedes-Benz
Monthly Sales Figures
Volume
August 2014
28,958
July 2014
29,406
June 2014
28,707
May 2014
26,617
April 2014
28,281
March 2014
29,316
February 2014
22,609
January 2014
23,892
December 2013
35,835
November 2013
36,386
October 2013
32,107
September 2013
26,849
(More Details)
© 1998-2014. All rights reserved. The material may not be published, broadcast, rewritten, or redistributed.