1992 Mercedes-Benz 300 SL news, pictures, specifications, and information

Tweet
The classic Type 107 Mercedes-Benz bodyshell was retired in 1989. It had served a long and prosperous life, lasting almost two decades and captured the hearts of enthusiast from around the globe. The new Type 129 body style was equally appealing and sleek in a modern idiom. The Type 129 body style was used for three different engine types: 6.0-liter V12, 5.0-liter V8 and 3.0-liter straight six. The 300SL was given a fuel-injected six that was available in both 12- and 24-valve versions, the latter being 41 horsepower more powerful at 231 bhp, the only available option in the United States, and offering improved performance with zero-to-sixty mph taking just 8.4 seconds. Top speed was in the neighborhood of 150 mph. The vehicles were so impressive that event the late Princess Diana replaced her XJS with a 500SL in 1992. This was the first time a member of the British royal family acquired a car not built in their own Kingdom.

The new SL luxury sports cars were designed to be leaders in their class and were lavishly equipped in the finest Mercedes-Benz tradition.

This example is finished in Signal Red. It left Stuttgart, Germany in September of 1991. It is an original United States delivery car fitted with the 24-valve version of the straight six. It came fully loaded with both tops, automatic climate control, 10-way power seats with 3 memory settings, passenger side SRS airbag, and automatic pop-up roll bar system.

The odometer shows fewer than 47,000 miles since new, with about 6,000 of those being accumulated during the last three years.

In 2013, the car was offered for sale at Bonhams Auction in Scottsdale, Arizona. As bidding came to a close, the car had been sold for the sum of $7,475 including buyer's premium.
By Daniel Vaughan | Feb 2013
For more information and related vehicles, click
here
105 YEAR OLD 'CAR OF KINGS' EMERGES FROM AUSTRALIA FOR SALE AT BONHAMS' INAUGURAL MERCEDES-BENZ AUCTION
A 1909 35hp Mercedes with a rugged past, estimated at €480,000-680,000, is being offered on 12 July as part of Bonhams' Mercedes-Benz Sale at the Mercedes-Benz Museum in Stuttgart, Germany. The Sale will feature a choice selection of some 40 motor cars manufactured by the renowned German marque over its more than century-long history. Perhaps the last place one would expect to find an early Mercedes vehicle advertised as 'the car of kings' is at Isis Downs, an isolated sheep station in Queens...[Read more...]
WORLD ENDURANCE CHAMPIONSHIP (WEC) AND 24 HOURS OF LE MANS: PORSCHE STARTS 2014 WEC AND LE MANS WITH FOUR FACTORY CARS
Stuttgart/Atlanta. Porsche enters the 2014 World Endurance Championship (WEC) and the 24 Hours of Le Mans with four factory cars. Today the Le Mans organizer, the Automobile Club de l'Ouest (ACO) in Paris, announced the list of competitors selected to participate in the 82nd edition of the classic long-distance race on June 14 and 15, 2014. Porsche has registered its new works team for the two 919 Hybrid cars as 'Porsche Team' in the top category of Le Mans prototypes (LMP1). T...[Read more...]
McLAREN NORTH AMERICA EXPANDS RETAILER NETWORK WITH FIVE ADDITIONAL LOCATIONS
◾New locations in Atlanta, Long Island, Scottsdale and Washington D.C. confirmed for North America ◾McLaren Vancouver confirmed as second Canadian location ◾Five new locations to support the continued expansion of the McLaren brand McLaren North America is pleased to announce the continued expansion of the retailer network, with the appointment of five new authorised retailers. The four locations in the US and one in Canada will take the network to 15 retailers representing the North Americ...[Read more...]
LIME ROCK PARK ALMS - SPENCER PUMPELLY GIVES FLYING LIZARD MOTORSPORTS ITS FIRST GTC POLE IN PORSCHE 911 GT3 CUP
Lime Rock, Connecticut. Flying Lizard Motorsports, with a great GT racing heritage at Lime Rock Park including an American Le Mans Series GT victory here last year, has added to its Lime Rock record as Spencer Pumpelly (Atlanta) put the #45 team Porsche 911 GT3 Cup on the class pole for tomorrow's race. Pumpelly, who will share his drive tomorrow with Nelson Canache, Jr. (Venezuela), said the team was looking to improve its qualifying sessions. 'We have not qualified as well as we have...[Read more...]
Barrett-Jackson Announces Three Bonus Hours Of Live TV Coverage During Inaugural Hot August Nights Auction August 8-10, 2013
The World's Greatest Collector Car Auctions™ Expands Coverage of the Inaugural Reno Tahoe Event on FUEL TV Scottsdale, AZ (April 30, 2013) – Barrett-Jackson, The World's Greatest Collector Car Auctions™, announced today that for the first time ever, it will broadcast three bonus hours of its inaugural Hot August Nights auction on FUEL TV, taking place at the Reno-Sparks Convention Center Aug. 8-10, 2013. The live coverage on FUEL TV will broadcast on Saturday, Aug. 10 from 5pm-8PM E...[Read more...]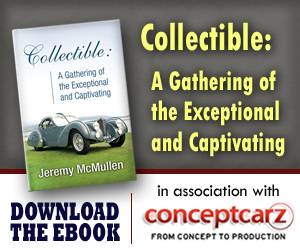 Mercedes-Benz
Monthly Sales Figures
Volume
October 2014
30,733
September 2014
29,523
August 2014
28,958
July 2014
29,406
June 2014
28,707
May 2014
26,617
April 2014
28,281
March 2014
29,316
February 2014
22,609
January 2014
23,892
December 2013
35,835
November 2013
36,386
(More Details)
© 1998-2014. All rights reserved. The material may not be published, broadcast, rewritten, or redistributed.