Image credits: © Chevrolet. GM Corp
1961 Chevrolet Impala Series news, pictures, specifications, and information

Tweet
For 1961, Chevrolet - like all GM divisions - introduced a new 'down size' look. The Impala series was easily identified by the crossed racing flag insignias affixed to the car as well as its triple tail lights.

Several engine options were available in 1961. This Impala is equipped with the optional 348 cubic-inch Super Turbo-Thrust V-8, three two-barrel carburetors, resulting in 280 horsepower.

Originally built in California, this award-winning Impala was the recipient of a frame-off restoration in 2000.
In 1961, Chevrolet was celebrating its golden anniversary and continuing to amplify the phenomenal success of the small block V8, the division's powertrain trump card. The year also marketed the introduction of the Super Sport designation, the hottest member of the Chevy lineup. But there was more to the 1961 Chevrolet story than power. The era of fins had given way to a clean, purposeful look, which projected power and action-readiness.

The Super Sports made their first appearance in February of 1961, mid-way through the model year. The designation was created, at least in part, to herald the arrival of the celebrated 409 V8. However, teething problems limited total 409 production to just 142 engines. But Chevy's well-developed 348 provided plenty of punch, and sporty suspension tuning gave the SS handling responses that were exceptional for the day.

Offered as a coupe, the Impala's otherwise rectilinear lines were softened by its curved roofline, affectionately known as the 'bubble top.' Offered on various General Motors coupes, the bubble top design distinction was limited to 1961 models, enhancing their collectability today.

Assembled in the Old Van Nuys plant in suburban Los Angeles, this Impala Super Sport is one of just 453 sold in 1961. It's been owned by the current owners for 16 years, and was the cover car of the April 2003 issue of Chevy Times magazine.
For 1961, Chevrolet - like all GM divisions - introduced a new 'down size' look. The Impala series was easily identified by the crossed racing flag insignias affixed to the car as well as its triple tail lights.

This is a very special car - 60 years later it's still in the hands of the original owner, who purchased it new from Ewing Chevrolet in Canton, Ohio. The car remains just as it was delivered - except for a repaint in the original colors.

Several engine options were available in 1961. This Impala is equipped with the standard Chevrolet 283 V-8 that produced 170 horsepower.
Chevrolet's heritage dates to 1911 when Billy Durant and racer Louis Chevrolet started the Chevrolet Motor Company. Durant's colorful career included founding, being ousted, and returning to control of GM where he brought Chevrolet into the fold.

Eventually Chevy's 'bowtie' would become one of the most recognized brand symbols in history. The Chevrolet brothers, Louis, Arthur and Gaston would enjoy racing success, including Gaston's 1920 Indy 500 win. GM positioned the brand to compete with Ford's popular Model T, and by the late 1920s Chevrolet had become GM's volume leader and remains so to this day. The Impala and its iconic triple taillights became Chevy's flagship when introduced in 1958.

This car is the rare Sport Coupe with a 348 CID engine rated at 350 horsepower. The 348 was a descendent of hardworking truck engines but this one came with tri-power, solid lifters and 11.25:1 compression. The current owner recalls that his dad owned a red-on-red 1961 model. With so many fond memories associated with that car he longed to own one himself someday. He spotted this one in 1977 - at age 15 - and kept in touch with the owner.

In 1991 he was finally able to buy it. It has just 34,400 miles on it and had been kept as original as possible. Even today, every date stamp and casting code is correct, and it has the original clutch, brakes and plug wires. Wrapped in luxurious Tuxedo Black it also has the original engine and Borg Warner 4-speed along with 3.70:1 gears.
There were a total of 456 Impala Super Sport models built in 1961 and just 142 of those were equipped with the 409 motor. This example has a Turbo-Fire 409/360 HP V8 engine with a single 4-barrel carburetor and a floor-shifted 4-speed manual transmission. There are dual rear antennas, push button radio, bench seats, fender skirts, spinner wheel covers, and white whitewall tires.
By Daniel Vaughan | Nov 2013
The 1950's Impala was big, very big. It actually began its life as a top option level of the Bel Air. Due to sales being so well for this body style, Chevrolet decided to create the Impala as its own model. Its styling has been termed 'bat-winged' due to the rear-styling of the vehicle. A variety of engines were available ranging from an inline-6 cylinder up to a triple carburetor, 348 cubic-inches V8 capable of producing 315 horsepower. A fuel injected V8 became available in 1959.

From the front of the car, the design was fairly normal for the 1950's era. Extensive amounts of chrome littered the front end. Two headlights, located side-by-side, were placed on each sides of the vehicle. A front grill was used to help keep the engine cool. View the car from the side and it becomes immediately clear that this is a big vehicle. The length of the vehicle could be extended an additional 11 inches by adding the Continental spare tire cover to the rear of the car. Viewing the car from the rear, the car quickly ends up in a league of its own, with only a few other vehicles such as the Cadillac Series 62 / DeVille having such a radical rear-end. The vehicle featured rear-fins that resembled cats-eyes. To top it all off, this car was not-only long, it was also very wide.

Drum brakes were used and due to the weight of the vehicle, tended to wear out rather quickly. The Impala came in three different body styles including a four-door sedan, two-door coupe, and a convertible coupe. Even though the vehicle weighed 3650 lbs, it could achieve a zero-to-sixy run in about 9 seconds. Top speed was in the neighborhood of 130 miles-per-hour.
By Daniel Vaughan | Dec 2009
Chevrolet Impala, 1958-1960
In 1958, Chevrolet decided to move upscale with a new trim level for the successful Bel Air. Called Impala, the upgrade package included enhanced interior and exterior styling, along with powertrain options potent enough to create one of the best performing large cars available at the time.

The name of this new trim level had been used at Chevy before, when GM was showcasing dream cars in its 1956 Motorama shows. One auto created for this show by GM's design studio was the Chevrolet Corvette Impala. With a hardtop and room for five, this concept was created to show the possibility of producing a full model line for the Corvette. It had a traditional Corvette grille and swoopy lines with a sporty flair, free of the fins so popular on sedans.

Though the Corvette Impala never made it beyond concept car status, the Bel Air Impala retained some of its sporting intent. The priciest car in Chevrolet's fleet, the new flagship could be had with a 348c.i. V8 producing 315bhp.

Ironic given the clean lines of the Corvette Impala, the Bel Air Impala featured large fins and as much chrome as a contemporary roadside diner. Other new styling elements included a six taillight rear treatment, and a wide front view with four headlamps. The Impala package could be ordered only as a coupe or convertible, enhancing the sporting image of the car. While the base engine was a 145bhp straight six, every other available engine was a V8 displacing 283c.i. or 348c.i. With this plethora of performance-minded engine options, buyers knew theses vehicles were serious.

The Bel Air Impala was an easy seller. Despite its premium price, the public loved its looks and available power. Its sales volume was high enough to prompt Chevy to bring back the Impala for 1959 as a model line in its own right, free of Bel Air connections.

Available as a sedan, coupe, and convertible, the 1959 Impala was an even bigger hit. Its design was fresh and considered very stylish, with huge fins second in size only to Cadillac's. The Impala was named after an African antelope, hence the car's logo. Other animals were evidently taken into consideration as well during the designing of the Impala. The large tailfins were referred to as 'bat wings.' The long, narrow taillights, which tapered toward the center to sharp points, were called 'cat's eyes.'

Many consider the early Impala the first real muscle car. The 1958 models especially followed the formula of taking a big sedan, getting rid of a couple of doors, and shoehorning in the biggest V8 that'll fit under the hood.

For 1959, the performance slant of Impalas took on a hint of greater sophistication when an impressive new engine choice was made available. A 283c.i. V8 with an advanced fuel injection system was introduced. With more power than the cheapest 348c.i. engine, the fuel injected motor made a great choice. Unfortunately, it was never very popular and is a rare find today.

The 1960 Impala was a letdown for driving enthusiasts. Some of the distinct styling features were deleted, as was the availability of fuel injection. The Impala had taken a step away from its performance roots. It continued to sell incredibly well, though. In 1959, the Impala was already the bestselling Chevrolet. In 1960, it became America's bestselling car of any manufacturer.

Successful or not, the Impala was beginning to lose its direction in 1960. But hopeful enthusiasts were rewarded for their patience a year later when the 1961 Impala SS was introduced, bringing a brand new performance icon to Chevrolet. The Impala would go on to become the bestselling full-size car of all time.

Sources:

www.corvettes.nl, '1956 Chevrolet Impala Show Car.' Car Styling 7 Mar 2009 http://www.carstyling.ru/en/cars.1956_Chevrolet_Impala%20Show%20Car%20.html.

Patterson, Marit Anne. '1958 Chevrolet Impala Convertible.' Sports Car Market 08 Aug 2008 7 Mar 2009 http://www.hagerty.com/lifestyle/hobby_article.aspx?id=34714.

'Chevrolet Impala History.' Muscle Car Club 7 Mar 2009 http://www.musclecarclub.com/musclecars/chevrolet-impala/chevrolet-impala-history-1.shtml.

'1958 Chevrolet Impala.' 1958 Classic Chevrolet: 'A Whole New Look' 7 Mar 2009 http://58classicchevy.com/.
By Evan Acuña
Considered to be 'the best selling full-size car in the U.S.,' in 1960 the Chevy Impala was designed and built by the Chevrolet division of General Motors.

Originating as a sports coupe, the Impala began as a dreamcar for the 1956 General Motors Motorama.
The name Impala originated from a southern African antelope known for its speed and prowess. Introduced in 1958, the Impala was developed by chief engineer automotive executive for General Motors, Edward Cole.
Michigan born, Cole was the son of a dairy farmer whose lifelong aspiration was to become an automotive engineer. Beginning as a lab assistant for the General Motors Institute, Cole worked in engineering before gaining recognition and becoming promoted to chief engineer in 1952. Cole eventually became president of Chevrolet in 1967.

Introduced with a trim package, the new sporty model was unique with its six taillights. Eventually becoming the 'best selling car in the Chevrolet product line', in 1959 it became a separate model in both two and four-door versions. Within the second year of production, production reached 473,000 units.

Continuing for a decade as the best-selling automobile in the U.S. Impala broke the record for sales with over 13 million units sold. The Impala held this record until 1977 setting an 'all-time industry annual sales record of more than 1 million units.'

Introducing the largest impala, the 1971 redesign set the standard that has yet to be topped remaining Chevrolet's top-selling model until the late 1970's.

The design of the Impala SS (Super Sport) became the model often credited for the beginning of the muscle car era.

During the 1973 energy crisis that rocketed the nation, the impact of high rising gas prices put a damper on the industry. Impala sales plummeted and the redesign of the Impala to meet changing demands. Minimized in length, becoming more narrow and taller in stature, the new Impala showcased 'the new image of the full-size American car – smaller, lighter, more efficient.'

Over the decades, the Impala has continued to remain an American trademark, enhanced by its ability to evolve with the times.

Introduced during the Los Angeles Auto Show in 2005, the 2006 Impala came complete with a base engine, a 3.5 L V6 that produced 211 hp. A completely revised interior, the 06 Impala was selected by Fleet car of the Year by both Automotive Fleet and Business magazines.
By Jessica Donaldson
For more information and related vehicles, click
here
THE NEW FIAT 500 1957 EDITION ARRIVING SOON IN FIAT STUDIOS
◾Order allocations open this week, with the 2014 Fiat 500 1957 Edition arriving in studios in late spring ◾New 2014 Fiat 500 1957 Edition offers vintage Italian styling starting at $20,400 U.S. MSRP ◾Limited-production model builds on the Fiat 500's storied past with unique exterior and interior design elements ◾Novel exterior appearance, three classic exterior colors, 1957-era body color wheel design, Bianco-painted roof and vintage 'FIAT' emblems pay homage to the historic Fiat Nuova 500 [...[Read more...]
LAND ROVER ANNOUNCES 2014 U.S. MODEL LINEUP
(MAHWAH, N.J.) - September 12, 2013 - The 2014 model year continues the most dynamic product development and introduction period in the brand's history. An all-new Range Rover Sport is introduced, based on the all-new aluminum-intensive Range Rover that debuted for 2013. The Range Rover itself sees a significant increase in fuel efficiency for 2014 with the introduction of a new supercharged 3-liter V6 engine, for up to EPA-estimated 23 mpg in highway driving1, replacing the naturally asp...[Read more...]
CADILLAC APPLIES ART AND SCIENCE TO CTS ENGINE SOUNDS
• Electronic enhancement tunes engine sound for different driving modes
DETROIT– Cadillac engineers applied the principles of psychoacoustics, the science of sound perception, and car-guy instinct to create powerful and pleasant exhaust notes for the all-new 2014 CTS midsize luxury sedan and CTS Vsport. Knowing that engine sound communicates throttle response to the driver, CTS engineers uniquely tuned each selectable driving mode – Tour, Sport and Track – to provide the driv...[Read more...]
MICHELIN INTRODUCES THE PILOT SPORT A/S 3 TIRE
• MICHELIN INTRODUCES THE PILOT® SPORT A/S 3™ TIRE: A BREAKTHROUGH ALL-SEASON TIRE DELIVERS TOTAL PERFORMANCE IN WET, DRY AND COLD WEATHER CONDITIONS
NEW ORLEANS – (Dec. 11, 2012) – Michelin North America unveiled today the latest innovation from the Pilot family of tires, the MICHELIN® Pilot® Sport A/S 3™, a new tire that will provide drivers with enhanced handling and control in a variety of weather conditions. The MICHELIN Pilot Sport A/S 3 tire uses a unique tread design an...[Read more...]
WORLD'S GREATEST SUPERCARS BATTLE FOR NEW FASTEST LAP AT PAGEANT OF POWER
•Cholmondeley Pageant of Power (15-17 June, www.cpop.co.uk) announces new Supercar class •New racing category will see Lamborghini Aventador, BAC Mono, new Porsche 911 and many more competing for the lap record •Unique opportunity to see ultra-rare road cars in action, including the Aston Martin One-77, Bugatti Veyron Super Sport and Ferrari Enzo Some of the finest modern supercars, including models from Bugatti, Lamborghini, Bentley, Aston Martin and Maserati, will take to the track at ...[Read more...]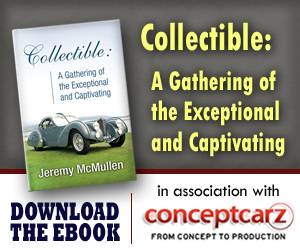 Similarly Priced Vehicles from 1961
Austin-Healey 3000 ($3,050-$3,375)
Studebaker Hawk ($2,655-$2,655)
Ford Station Wagon Country ($2,660-$3,125)
Morgan Plus Four ($2,600-$2,700)
Volkswagen Microbus ($2,000-$3,000)
Triumph TR3A ($2,675-$2,700)

Average Auction Sale: $46,448
Chevrolet
Monthly Sales Figures
Volume
March 2014
179,681
February 2014
153,913
January 2014
119,089
December 2013
153,493
November 2013
145,089
October 2013
155,214
September 2013
127,785
August 2013
187,740
July 2013
162,670
June 2013
193,460
May 2013
179,510
April 2013
172,460
(More Details)
© 1998-2014. All rights reserved. The material may not be published, broadcast, rewritten, or redistributed.