1963 Chrysler Imperial Crown news, pictures, specifications, and information

Tweet
This '63 Crown Imperial convertible is one of the rarest products of Chrysler's ongoing battle wîth Cadillac for American ultra-luxury supremacy. These cars were very expensive when new and a mere 531 were produced total. This car is arguably one of the most spectacular Crown Imperial Convertible in existence.
Source - Barrett-Jackson
The Imperial was designed by Virgil Exner and hailed by Chrysler as 'The Finest Car America Has Yet Produced.' A very bold statement considering some of the masterpieces produced from Packard, Cadillac, and countless others. This was Chryslers first vehicle to have a wraparound windshield. Produced in limited numbers, only 11,430 examples were created in 1955. This was Chryslers interpretation of a true luxury automobile.
The Imperial was a highly priced vehicle for its time, costing $4,483 for the four door sedan, over $500 more than the Cadillac Series 62. Even though it was pricy, it offered items as standard equipment that were optional on other vehicles. For example, power brakes and power steering were both included with the sticker-price of the vehicle, while other manufacturers charged extra for these luxury items. The Imperial Newport hartop coupe sold for roughly $4,720.

A two speed automatic transmission with a 250 horsepower Hemi engine was offered for the base models.

The 1957 Chrysler Imperial is probably the most famous and popular Imperial in history. Styling was once again handled by Virgil Exner. Tailfins could be found in the rear of the vehicle. The curved door glass were not only creative, they were the first in the industry. The long, stylish front hood hid a giant 392 cubic inch V8 capable of producing 325 horsepower. The Hemi V8 version produced 350 horsepower.

In 1956, Chrysler had introduced a TorqueFlite, three-speed automatic transmission. In 1957, it found a home in the Imperial. This transmission, coupled with the V8 powerplant could propel this large, luxury vehicle from zero to sixty miles per hour in 9.8 seconds easily beating the nearest competitor. Its top speed of 125 miles per hour was also unmatched.

Three body styles were offered, they were the two door hardtop, convertible, pillared sedan, and four door hardtop.

In 1957, 35,734 Imperials were produced, the best year Chrysler would have with this vehicle. Production continued until the 1970's with both mechanical and styling changes occuring throughout the years.

In 1958, the Imperial was fitted with cruise control and electric door locks. In 1959, a new 413.2 cubic inch V8 engine was introduced, producing 350 horsepower at 4600 rpm. In 1961, large tail fins were fitted to the rear of the vehicle. This was not the first time tail fins were used on the vehicle. The tail fins first appeared on the vehicle in 1956 but they were subtle, unlike the 1961 fins that were large and commanding. Was it styling, was it more competition Was it a market that was headed towards more economically friend vehicles, or Was it simply some other reason? During the 1961 model year, Chrysler only produced 12,249 Imperials. Whatever it was, the Imperial carried a bold statement, an unbeatable powerplant, superb luxury elements, and handling that could tame and control the vehicle even at high speeds.

In 1966, the horsepower was increased again with the introduction of a 440 cubic inch V8. Better power-to-weight ratio improved the performance and handling. With 350 horsepower at 4400 rpm and 480 ft-lbs at 2800 rpm, the Imperial 440 was the most powerful luxury American automobile ever.

In 1967, 17,620 Impericals were produced.
By Daniel Vaughan | Jan 2006
The Chrysler Thomas Special SWB Prototype was the answer to a lackluster styling problem that had plagued the Chrysler Corporation during the late 1940's and early 1950's. K. T. Keller was Chryslers President from 1935 through 1950. Under his direction the Company had prospered but the designs of the vehicles were criticized for being too conservative. After World War II many maruqee's saw their production figures begin to rise while Chrysler's stayed stead but falling behind the rest of the pack. Chrysler looked to Europe for inspiration.

A war torn Europe was recovering from years of battle. Many factories had been ruined and many intellectual knowledge had been destroyed. Fiat invited Chrysler to Italy to aid in their rebuilding and to train their technicians in the latest methods and techniques of automotive production. This included teaching them modernized ways of constructing cars and the most effective means of assembly line techniques. Not only was Chrysler imparting knowledge to a struggling economy, they were gaining knowledge on the art of carrozziere, Italian meaning custom coach building. This was a dying art but had been very popular in the early 1900s. A manufacturer would supply a rolling chassis to a custom coachbuilder to complete. The coachbuilder often corresponded with the customer to determine the exact specifications, resulting in unique creations.

Chrysler began discussions with one of the most famous coachbuilders of all time, Pinin Farina. However, it would be Ghia in Turin who would be commissioned to build a series of cars inspired by the designs of Virgil Exner, Chryslers chief stylist. Ghia and Chrysler continued working together for 15 years creating some of the most memorable Chryslers of all time. From 1951 through 1954 the Exner-designed Ghia Specials were produced. The mechanical components were provided by Chrysler including a 331 cubic-inch hemi V8 capable of producing over 175 horsepower. The two-speed PowerFlite or Fluid Torque transmission was also courtesy of Chrysler but the exquisite bodies were the creation of Ghia with inspiration from Exner.

The Chrysler-Ghia relationship was beneficial to both parties. When Chrysler approached their own shops for a quote on who much it would cost to build such a creation, they were told around $125,000. When they posed the same question to Ghia, they were quoted $10,000 to $20,000.

The first fruits of this relationship was the Chrysler K-310 introduced in 1951. The 'K' represented K.T. Keller's initial in his name. While the 310 represented the horsepower produced by the engine. In 1952 the Chrysler Special was produced and made its debut to the public at the Paris Auto Show of that same year. It was built atop of a shortened New York Chassis and powered by a 331 cubic-inch Hemi V8 engine producing 235 horsepower. It had power steering, brakes, windows and power antenna. There was only one SWB (short wheel base) version produced in the series. The Thomas Special was specially commissioned by C.B. Thomas, who was president of the export division of Chrysler Corporation.

These 'idea cars' were meant to inspire Chrysler's design team while giving the general public a glimpse of things to come. They were showcased at auto shows where they always drew crowds. They were the perfect blend of American styling and power with coachwork by one of the greatest Italian coachbuilders.

In 1954, the limited production Chrysler Ghia GS-1 coupe was introduced. They were sold exclusively in Europe by Societe France Motors. The vehicle was built atop a Chrysler 125.5 inch chassis, the same used on most of the Chrysler automobiles. Power was supplied by a 180 horsepower Chrysler Hemi V8 engine. The vehicles were equipped with either a Fluid Torque transmission or the newer PowerFlite two-speed automatic.

Other creations between Chrysler-Ghia were the Dodge Firebomb and the Chrysler Crown Imperial Ghia Limousines.
By Daniel Vaughan | Mar 2006
Chrysler Canada: Number-One Selling Automaker in Alberta Brings All-New, Segment-First 2014 Ram 1500 EcoDiesel - Alongside Eight Other Regional Premieres - to 2014 Edmonton Motor Show
•Best-ever fuel economy for a full-size pickup: 2014 Ram 1500, powered by all-new 3.0-litre EcoDiesel V6, registers 7.1 L/100 km (40 mpg) highway •Ram is the only ½-ton truck to offer a diesel engine •All-new EcoDiesel delivers unsurpassed torque among V6 pickups (420 lb.-ft.) •EcoDiesel and Pentastar V6-powered Ram – at 7.8 L/100 km (36 mpg) - rank 1-2 for fuel economy in 2014 •Ram 1500 is world's first and only pickup with 8-speed transmission, a major contributor to efficiency •One in ev...[Read more...]
RARE REUNION: CHRYSLER CONCEPT CARS GATHER AT AMELIA, 2014
Nine rare and important Chrysler Concept Cars from the forties, fifties and sixties will be presented together for the first time at the 19th annual Amelia Island Concours d'Elegance on March 9, 2014. From the two-seat Chrysler Thunderbolt roadster and the dual-cowl Chrysler Newport of 1941 through the radical 1963 Chrysler Turbine car, Amelia's Chrysler Concept Car Class shows the genesis of the styling and engineering philosophy that summoned Chrysler's industry-changing 'Forward Look...[Read more...]
CONSUMERS DIGEST NAMES SEVEN CHRYSLER GROUP VEHICLES 'BEST BUYS' FOR 2014
◾Chrysler 300 and Town & Country earn 'Best Buy' awards ◾Dodge Durango and Grand Caravan honored ◾Jeep® Grand Cherokee named a 'Best Buy' ◾Ram 1500 honored in Full-Size Pickup segment ◾Fiat 500 awarded a 'Best Buy' in Subcompact segment November 1, 2013 , Auburn Hills, Mich. - Seven Chrysler Group vehicles, representing each vehicle brand, have earned a spot on Consumers Digest's list of 2014 Best Buys. Vehicles chosen as 'Best Buys' deliver the most value for the money in thei...[Read more...]
Final Countdown Underway To South Florida's Premier Collector Car Auction
• Auctions America kicks off its 2013 auction season, March 22-24 with its highly anticipated Fort Lauderdale Collector Car Auction • Celebrating its 11th year, the multi-day auction features more than 550 quality collector cars • Latest feature attractions include an outstanding 1963 Shelby Cobra and a 1974 Ferrari Dino 246 GTS • Digital catalog now available for download at auctionsamerica.com AUBURN, Indiana (February 27, 2013) – With the final countdown underway to its highly an...[Read more...]
Sold! Barrett-Jackson's 5000 Series Generates More Than $29.2 Million In Scottsdale
Original 1966 TV Batmobile Sells for $4.62 Million at The World's Greatest Collector Car Auctions™ and New World Records are Set January 19, 2013 •LOT #5037 The Original Batmobile is the highest selling car at the company's annual Scottsdale Auction •LOT #5019 1947 Talbot-Lago T-26 Grand Sport sets a new world record for the model •LOT #5034 1956 Chrysler Diablo Concept Convertible sets a new world record for Chrysler concept cars Scottsdale, Ariz. (Jan. 20, 2013) – Barr...[Read more...]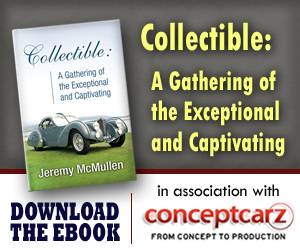 Chrysler
Monthly Sales Figures
Volume
September 2014
28,781
August 2014
29,762
July 2014
23,455
June 2014
24,026
May 2014
22,592
April 2014
21,967
March 2014
26,140
February 2014
25,230
January 2014
21,113
December 2013
20,270
November 2013
21,024
October 2013
23,452
(More Details)
© 1998-2014. All rights reserved. The material may not be published, broadcast, rewritten, or redistributed.