1964 Ford Galaxie 500 news, pictures, specifications, and information

Tweet
1964 was one of the most memorable years in the history of the Ford Motor Company noted for the introduction of the Mustang. But there were other offerings to attract attention. The emphasis on Total Performance meant you could choose high-performance engines and options in the entire lineup.

The Galaxie models were totally restyled and considerably sleeker for 1964, and at the top of the line was the 500 XL. With sumptuous interiors featuring thin - shell bucket seats and additional trim inside and out, they would become the most popular models. Many body styles were offered for Galaxies, including the slick NASCAR-inspired roofline hardtop that proved to be very aerodynamic.

Engine offerings varied from the base six cylinder with a column mounted 3 - speed manual transmission, to the 427 cubic inch, 425-horsepower Thunderbird Super High Performance V-8. This particular example of a 500 XL convertible is equipped with the top 427 engine, factory -equipped with dual 4-barrel carburetors and a 4-speed manual transmission, exceptionally rare for the convertibles.

After an extensive body-off restoration to the highest -quality Concours standards, this Galaxie 500 XL convertible was completed in 1993.
The reason this car is called a lightweight is because extensive substitution of lightweight components that were used to reduce its weight for racing. Factory sources show that this is a rare car with only 50 Lightweight Galaxies being produced. Production was divided and there were 25 four speeds and 25 cars with special heavy duty Automatic transmissions. All 50 cars carried the special 4AGGR VIN code number and were built at Ford's Atlanta Assembly Plant. This car is one of the 25 Lightweight built that was ordered with the four-speed manual shift transmission.

Records show that Dale Osborn of Taylor Michigan purchased this car new from Bob Ford Inc. in Dearborn Michigan.

This is a rare surviving example of Ford factory built race car.
Built on September 26, 1963, this Ford was purchased new at Brickfield Ford, located at 7700 Vine Street in Hartwell, Ohio. The Galaxie name was used from 1959 through 1974, though the name was continued in Brazilian production from 1967 through 1983. The body styling evolved through production with this styling first appearing in 1962 with 1964 being the final year before a more chiseled styling was introduced.

The V8 engine is 427 cubic inches and develops 425 horsepower. The 427 was designed for sustained RPM durability which made it an instant success in NASCAR. It is believed that this is one of approximately 400 Galaxies equipped with the 427 engine.
This Galaxie 500 Two-Door hardtop is powered by a 390 cubic-inch V8 engine rated at 300 horsepower. There is a four-speed manual transmission, manual steering and brakes, and an odometer that reads just 34,000 miles.

In 2009, it was offered for sale at the Vintage Motor Cars of Hershey presented by RM Auctions. It was estimated to sell for $25,000 - $35,000 and offered without reserve.
By Daniel Vaughan | Oct 2009
| | | |
| --- | --- | --- |
| | | V8 Club Sedan |
This 1964 Ford Galaxie 500XL is an unmolested survivor that has only 14,800 original miles. Power is from a 352 cubic-inch, 220 horsepower, overhead valve V8 engine with dual exhaust and a three-speed automatic transmission.

The lines found on the 1963 Ford Galaxie remained mostly unchanged for the 1964 models. Changes included new distinctive styling through new trim moldings, grille and rear panel design, and all new interior trim styling. The 500XL was the deluxe model that came standard with plush vinyl bucket seats with console, special XL trim moldings and ornamentation and standard V-8 engine with full wheel covers.
By Daniel Vaughan | Oct 2010
One of 204 Galaxie XL Convertibles built in 1964 with the 427 cubic-inch 'big block' motor and 4-speed makes this car very rare. It's one of three in 'triple' black and it remains in original shape. The Ford Motor Company was serious about speed in 1964 with the Galaxie. It built 50 fiberglass-paneled, lightweight drag cars but soon found that their size and weight really couldn't be overcome and switched the oversized motor to the smaller lighter Fairlane shell. Success came quickly.
| | | |
| --- | --- | --- |
| | | V8 Club Sedan |
'Tiger' Tom Pistone, a native of Chicago, began his racing career at Soldier Field in the late 1940s where he later won the track championship five times. In 1955, he became one of the first drivers from the Midwest to take on the southern-dominated NASCAR Grand National circuit, now known as the Sprint Cup Series. When he painted a Confederate flag on the hood of his car, he was dubbed the 'Converted Yankee' and achieved respect both on and off the track by drivers and fans alike.

During his 11 years competing in NASCAR, 'Tiger' Tom recorded 130 starts, five poles, 53 top-tens, 29 top-fives, and two wins in the Convertible Series. Twenty-eight of those starts were achieved in this vehicle.

The car is powered by a Ford V8 engine displacing 427 cubic-inches and produces 620 horsepower.
The Ford Galaxie entered the scene in 1959 and was offered in various configurations. The model line consisted of a Club Victoria, Town Victoria, Club Sedan, Town Sedan, Sunliner Convertible and Skyliner Retractable. Similar to the Fairlane, they were distinguished by differed ornamentation.

The highlight of the 1959 model line was the Skyliner Retractable that had an all-steel hardtop that could be moved via electrical mechanics into the trunk transforming the hardtop vehicle into a convertible in just sixty seconds.

The Galaxie was offered with optional equipment, transmissions and engine sizes. Air conditioning, Sunray multi-colored wheel covers, power front seats, power steering, power windows, and power brakes, were just a few of the options presented to satisfy the demands of the customers. The engines ranged from a 292 cubic-inch 8-cylinder producing 200 horsepower to a 352 cubic-inch power-plant that produced 300 horsepower. Transmission options were a three-speed with overdrive, Ford-O-matic Drive two speed automatic, and a three-speed Cruise-O-Matic drive automatic.

In 1960 Ford added the Starliner body style to the Galaxie model line-up. The Starliner was void of door posts which accented the open-air effect. A Country Squire wagon with wood-grain body trim was now offered. All of the series received new body-lines giving the vehicles a more-modern and stylish appearance, again, sharing a similar body design with the Fairlane.

There were five engine options to chose from, ranging from the 223 cubic-inch Mileage Maker Six-Cylinder to a 352 cubic-inch V8 complete with four-barrel carburetor and 360 horsepower. The three-speed manual transmission came as standard equipment; optional were the Fordomatic Drive two-speed auto, and three-speed Cruise-O-Matic Drive.

For 1961, Ford redesigned the Galaxie which resulted in awards from the international fashion authority, Centro per L'Alta Moda Italiana, meaning 'functional expression of classic beauty'. Thirteen exterior colors were available to chose from, along with various sedan and wagon body styles. With multiple engine, transmission, available options, and body styles, the Ford Galaxie could be customized to suite any customers demands and wishes. The self-adjusting brakes and galvanized rust-protection body panels were standard, as was the Mileage Maker six-cylinder engine. The top-engine option was the 390 cubic-inch High-Performance 8-cylinder engine with three-carburetors and 400 horsepower. A Thunderbird 352 cubic-inch engine was available and could be modified to produce more than the base 220 horsepower.

In 1962 the biggest aesthetic difference over the 1961 model was the modifications that were done to the grill. The interior was adorned in more luxurious items and this was evident in the 500 XL models. In total, there were 14 different body-styles to select that ranged from sedans and convertibles, to wagons. Five engines were available with the 406 cubic-inc Super High Performance 8-cylinder power-plant producing 405 horsepower. If that wasn't enough, there were over 45 color keyed interior trims to select from. The Galaxie was becoming a customizable, luxurious, performance machine.

For 1963 the horsepower increased to an astonishing 425. Transmission options were a Synchro-Smooth column-shift, 4-speed manual Fordomatic Drive automatic, and Cruise-O-Matic three speed automatic. Ford continued to offer a multitude of options and bodystyles. The Galaxie 500XL was still the most luxurious offering that could be had in two or four doors. The Galaxie was given a sportier roof line and various aesthetic enhancements.

In 1964, there were sixteen bodystyles to choose from that again ranged from sedans to wagons, and hardtop to convertibles. The interior received the most attention with its new trim but the exterior did receive a new grill and panel design. There were a limited number of Galaxies fitted with the 427 cubic-inch engine and given fiberglass race equipment to help reduce the overall weight of the vehicle. These lightweight machines are legendary both in design and their accomplishments on the racing circuit.

In 1965, Ford redesigned the Galaxie, giving it a wider stance, and dual vertical stacked headlights. The base engine was the six-cylinder 240 cubic-inch engine. The top-of-the-line engine was the 427 with 425 horsepower.

In 1966 Ford introduced the 428 cubic-inch engine which came standard on the Galaxie 7 Liter model. The LTD model had a unique appearance, ornamentation, and trim. The Galaxie 500XL, Galaxie 500, and Custom 500 made up the Ford Galaxie model offerings. Again, these could be ordered in various sedans, wagons, hardtop, convertible, four or two-door configurations. Multiple options were still available, including engine, transmission, power disc brakes, power windows, power seats, vinyl room, power steering, air conditioning and more.

For 1967 Ford kept the appearance of the Galaxie similar to the prior model year. The turn signals were moved from the grill to the bumper. Ford offered 52 upholstery choices, 25 two-tone combinations, and 15 Diamond Luster Enamel paint colors. The muscle-car era was in full-swing and the Ford Galaxie was a formidable contender with its powerful engines and performance products. Its only drawbacks were it slightly larger size and luxurious amenities which were not as pure as other muscle-car offerings and added to the overall weight of the vehicle. Still, it was a high-performance, customizable, and sporty machine.

In 1968 the Galaxie was redesigned. The base model was the Ford Custom 500, available in two or four door variations. The XL was void of the Galaxie name, available in convertible or fastback configuration. The dual headlamps could be concealed when not in use in the XL, LTD and Country Squire models. Six engine options were available. Transmission options were a three-speed Cruise-O-Matic, floor-shift four-speed manual, and a three-speed manual.

In 1969 Ford moved the Galaxie higher into the luxury car segment, making it larger, heavier, and wider. The result was more room for the passengers. This trend continued into 1970 when the vehicle grew even larger. The focus was a large but quiet automobile. In total, there were 21 new models to select from ranging from three LTD Broughams, two XL models, six Galaxie 500 models, and five LTD models. The models ranged in bodystyles that consisted of two and four door configuration, hardtop, convertible, and sports-roof. Due to rising government safety and emission concerns, the horsepower rating on the engines were decreasing. The base engine was the 240 cubic-inch six cylinder engine while the four-barrel carburetor 429 cubic-inch engine produced 360 horsepower. There were three transmissions available including the three-speed manual, four-speed floor shift, and the three-speed Select Shift Cruise-O-Matic.

The goal of large, quiet, and comfortable continued in 1971 and on through 1972. Safety and comfort were big concerns for many people and the Galaxie was poised to address those concerns. It featured spacious interiors and more steel than most automobiles. Rising emission and safety concerns continued to deteriorate the horsepower. There were still multiple engines to choose from and plenty of optional equipment to satisfy all demands.
By Daniel Vaughan | May 2009
For more information and related vehicles, click
here
Performance Takes Center Stage at Toyota's 2014 SEMA Booth
Toyota Celebrates Its Performance Legacy — Past, Present and Future TORRANCE, Calif., Oct. 27, 2014 — Toyota's 2014 Specialty Equipment Market Association (SEMA) Show presence will be focused on its performance legacy — past, present and future. The Toyota display booth will feature fifteen unique vehicles that boldly underscore the company's commitment to truly push the limit of both man and machine. Whether on the racetrack, out in the desert or on the street, this year's SEMA...[Read more...]
RECORD GRID OF 17 CARS TO RACE FOR VICTORY AT WATKINS GLEN
WATKINS GLEN, N.Y. (June 24, 2014) - The Lamborghini Blancpain Super Trofeo North America will feature the largest field in its history, including American Formula One veteran Scott Speed, when the exciting 2014 season continues with two rounds June 27-28 at historic Watkins Glen International. The North American series, in its second season, will compete at the iconic circuit in the scenic Finger Lakes region of upstate New York for the first time with a record grid of 17 cars. The 11...[Read more...]
FORD/AAA STUDENT AUTO SKILLS COMPETITION HELPS DEVELOP NEXT GENERATION OF AUTOMOTIVE TECHNICIANS
DEARBORN, Mich., June 5, 2013 – One hundred of the nation's best young automotive minds will converge on the Motor City to compete for the title of top high school technicians in the country at the 64th annual Ford/AAA Student Auto Skills Competition National Finals, June 9-11. With jobs in the auto industry on the rise – up more than 30 percent since last April according to the Bureau of Labor Statistics – the Ford/AAA Student Auto Skills challenge serves as a springboard for aspiring au...[Read more...]
CHEVROLET TOP PERFORMANCE BRAND ON TRACK AND STREET
Reinforcing the brand's success on the street and track, Chevrolet today showcased its new line of performance cars – including the all-new Camaro Z28, Corvette Stingray and SS Performance Sedan – at the New York International Auto Show. In 2012, Chevrolet accounted for one of four performance cars sold in the United States, and secured the Manufacturer's championships in NASCAR, ALMS, IndyCar, and Grand Am. Chevrolet the winningest name in motorsports for 2012 Chevrolet last yea...[Read more...]
Barrett-Jackson Flavors Its January Scottsdale Auction With NASCAR Treats
• RACING HERITAGE, HIGH PERFORMANCE ARE RECIPES FOR CAR-COLLECTING FEAST
• SPEED™ SET FOR 39 HOURS of LIVE COVERAGE STARTING JAN. 15
The great Henry Ford once said, 'Auto racing began five minutes after the second car was built.' And for more than 60 years, there are few entities that better represent auto racing in America than NASCAR. From the hallowed grounds of Daytona International Speedway, to Sonoma, California's intricate and picturesque road course, the sp...[Read more...]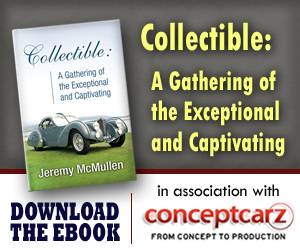 Similarly Priced Vehicles from 1964
Ford Mustang ($2,368-$2,612)
Mercury Comet ($2,125-$2,660)
Amphicar 770 ($3,400-$3,400)
MG B ($2,660-$2,660)
Chevrolet Corvair Series ($2,020-$2,800)
Dodge Polara ($2,610-$2,980)
Pontiac Tempest ($2,850-$3,080)
Studebaker Eight ($2,071-$2,960)

Average Auction Sale: $27,583
Ford
Monthly Sales Figures
Volume
December 2014
209,679
November 2014
178,221
October 2014
179,014
September 2014
172,261
August 2014
214,028
July 2014
204,373
June 2014
214,793
May 2014
244,501
April 2014
203,552
March 2014
235,198
February 2014
177,286
January 2014
148,671
(More Details)
© 1998-2014. All rights reserved. The material may not be published, broadcast, rewritten, or redistributed.