1949 Chrysler Town & Country news, pictures, specifications, and information

Tweet
'Town and Country' was the model name Chrysler used for all of its genuine 'woodies' built from 1941 through 1950. In 1949, the only body style available for the Town and Country was a concertible, and only 1000 were built. This car is one of the last 50 built. The 'T&C' was constructed on a long 'New Yorker' 131.5 inch wheelbase, with a straight-eight engine and a semi-automatic 4-speed fluid drive transmission. This car received a full restoration in 1991, and is a joy to drive, being both comfortable and dependable.
This 1949 Chrysler Town & Country Convertible was offered for sale at the 2007 Christie's Auction of 'Exceptional Motor Cars at the Monterey Jet Center.' It is finished in Thunder Gray with Di-Noc wood grain panels, red leather with beige Bedford cord interior and taupe top. It is powered by an eight-cylinder engine that displaces 323.5 cubic-inches and produces 135 horsepower. There is a fluid-drive semi-automatic gearbox and four wheel hydraulic drum brakes.

These vehicles were mostly hand built and rested on the New Yorker's chassis. The Town & Country Convertible had a base price of $3,765 which was a very expensive sticker-price at the time. Chrysler chose to discontinue the use of Di-Noc inserts part-way through 1949 in favor of painted steel panels.

This vehicle is number 49 of the roughly 1,000 convertible Town & Country's produced. Less than 150 of those are believed to have weathered the test of time. It has traveled only 26,000 miles since new and is in very good and original condition. The seats have been replaced since new while all other components are believed to be original.

At auction this vehicle carried an estimated value of $90,000 - $140,000, which proved to be accurate as a new buyer was found, and one willing to part with $99,000 to own this vehicle.
By Daniel Vaughan | Oct 2007
| | |
| --- | --- |
| | Convertible Sedan |
The Chrysler Town and Country was introduced by Chrysler Corporation in 941. This was a debut of the first woodie wagon with an all-steel roof, and the car was dubbed the Town & Country. Production of the cars stopped during World War II. In 1941 and 1942, less than 1,000 were manufactured.

After the war, the Town & Country returned, and was produced in much larger numbers. Town and Country sedans, coupes, and convertibles were all produced from 1946 to 1950. Production of the original, woodie Town & Country ended in 1950.

Only 224 sedans were designated 1946 models, 2,641 were 1947s, and 1,175 were 1948s. A mere 100 of the 1946's were eight-cylinder models on the longer New Yorker wheelbase, the rarest production Town & Country of all.

It was no surprise that when Chrysler trotted out its all-new body design for 1949, T&C offerings were trimmed. Only an eight-cylinder convertible with considerably less woodwork was available.
Chrysler observed a milestone year in 1949; it marked the company's 25th anniversary as well as the introduction of its new postwar designs.

The new 1949 Town & Country line-up included wood-bodied four-door sedans and convertibles, although this was the last year for the convertible body style - 993 were built in 1949.

The Town & Country was powered by a 323 cubic-inch, 135 horsepower straight eight engine. It had a Fluid Drive semi-automatic transmission. Chrysler's new advertising theme for 1949 was 'Bigger on the inside, smaller on the outside.'
Chrysler's Town & Country was an expression of status and the pinnacle of postwar glamour. Produced from 1946 through 1950, it was based on the New York chassis and produced in limited quantities due to its complexity and high exterior maintenance. Though the Chrysler brochure listed five Town & Country body styles, only two were widely available: the convertible and the four-door sedan. The first 1949 models were carry-over's from the 1948 year. Ads were quick to point out the company's 25th anniversary and its totally redesigned 'Second Series' which arrived in spring 1949.

Safety was a top priority and managed by a Safety-Level Ride, Safety-Rim Wheels and Safe-Guard hydraulic brakes. New styling features included flush front fenders and a large egg crate grille. Inside, there was an industry's first padded dashboard and Chrysler's first starter/ignition key switch. The Town & Country also featured a unique rear deck and taillights.

The wooden parts for the Town & Country came from Pekin Wood Products in Helena, Arkansas. They were shipped to Chrysler's Jefferson Avenue plant in Detroit for assembly. Prior to being fitted to the body, the wood framing was assembled. This process was difficult and time consuming, as it required extensive hand-formed contouring of the compound curved frames so they would properly adhere to the metal body parts correctly. Bodies included white ash framing over Di-Noc wood-appearing panels, the name used to describe a new form of decal resembling mahogany veneer, used late in 1947 in an effort to reduce costs and expensive maintenance. The later production cars did not have the Di-Noc, instead they were given body-colored panels.

This Town & Country is painted in Dark Green Metallic with black Haartz canvas roof. The interior is upholstered in a two-tone combination of tan Bedford Cord and green leather with tan wool hogshair carpet. The car was given an older restoration and has been conservatively driven over the years.

For 1949, only 993 convertibles were produced.

In 2009, this 1949 Chrysler Town & Country Convertible was offered for sale at the Sports & Classics of Monterey auction in Monterey, California presented by RM Auctions. The car was estimated to sell for $100,000-$120,000. The lot was sold for the sum of $123,750 including buyer's premium.
By Daniel Vaughan | Dec 2009
The current owner of this Town and Country purchased it from an individual who had performed a painstaking nut-and-bolt restoration that is reported to have cost in excess of $300,000. The finger-jointed wood fits beautifully like fine furniture. Its light coloring perfectly contrasts with the burgundy color of the body. Inside there are many fascinating features like the signal-seeking radio.

In 2010, this Town and Country Convertible was offered for sale at Gooding & Company Auction held in Amelia Island, Florida. The car was estimated to sell for $175,000 - $225,000. As bidding came to a close, the car had been sold for the sum of $167,750, inclusive of buyer's premium.
By Daniel Vaughan | Apr 2010
Produced only from 1941 through 1950, the first woodie wagon with an all-steel roof was designated the Town & Country. This 4-door sedan luxury vehicle was built for either city or estate transportation, and was available for 6 or 9 passenger versions.

Due to World War II, production of the Town & Country was halted in December, 1941. A mere 1,000 models were produced during 1941 and 1942. In 1942 the sheet metal was updated, and the design of woodie remained similar to its previous look.

Following the war, the new wave of Town & Country woodies were produced in much larger numbers as coupes, convertibles, sedans. The first production hardtops ever produced by any manufacture, seven 2-door hardtops were also manufactured by Chrysler. The final Town & Country woodie models were produced only as 2-door hardtops only for the last year.

In the last year of its production, a box type woodie station wagon was offered by both Chrysler and Desoto. Plymouth and Dodge also released box type woodie wagon throughout the 1930's and 1940's. In 1950, production of the original Town & Country was ended.
By Jessica Donaldson
For more information and related vehicles, click
here
NEW VOLKSWAGEN GOLF R MAKES ITS U.S. DEBUT AT THE 2014 NORTH AMERICAN INTERNATIONAL AUTO SHOW
Most powerful production Golf ever for the North American market • New car has an estimated 290 horsepower, but is more fuel efficient than previous Golf R • EA888 TSI® 2.0-liter engine propels DSG® equipped Golf R from 0 to 62 mph in 4.9 seconds • Car features new 4MOTION® all-wheel-drive system • Golf R will go on sale in the U.S. in the first quarter of 2015 Herndon, January 8th, 2014 — The North American International Auto Show will see the U.S. debut of the latest Golf R, th...[Read more...]
GM'S TONAWANDA PLANT RETOOLED FOR HIGH-TECH ENGINES
BUFFALO, N.Y. – Some of General Motors' advanced manufacturing techniques to produce the all-new, Gen 5 Small Block engine family are microscopic, but they have a huge impact on the 75-year-old Tonawanda Engine Plant, where about 1,500 jobs have been created and retained since 2009. As a result of GM's $400 million investment, Tonawanda will eventually produce four versions of the Gen 5 Small Block – a 4.3L V-6, 5.3L V-8 and two variants of a 6.2L V-8. When the plant is at full product...[Read more...]
VOLKSWAGEN OF AMERICA REPORTS AUGUST 2013 SALES
- Best-ever August and year-to-date results for Passat and TDI® Clean Diesels •Best August and year-to-date for Passat with 10,194 and 76,364 units, respectively •Jetta Sedan delivered 13,508 units for the month •Tiguan delivered 2,948 units, marking the best August and year-to-date ever •High-mileage, TDI® Clean Diesel models accounted for 30.4 percent of sales in August and 24.3 percent of sales year-to-date, the best August and year-to-date results on record •Passat TDI sales reach 43.8 ...[Read more...]
Mercedes-Benz Classic at the 2012 Grossglockner Grand Prix
• Revival of the mountain race from the 1930s • Mercedes-Benz SSK and W 125 at the start • 92 bends, 14 hairpins, 15 kilometres and a 1300-metre altitude difference The Grossglockner mountain race was one of the most prestigious motor sports events of the 1930s. This year it will be revived with the 2012 Grossglockner Grand Prix to be held from 20 to 22 September 2012 and Mercedes-Benz will be there with some famous cars. In 1938, the brand took part for the first time. As a classic c...[Read more...]
The Champion in Touring Car Racing : The BMW M3
In August 1985, a rumour surfaced in motor magazine Auto-Deutschland which emanated from a new sports car. An A Group Car from BMW that was a thoroughbred racing car according to the rules but was also to be produced in a version licensed to drive on open roads for everyday use. Speculation about this dream car that could take to normal roads and was intended for the 'Most dynamic among BMW 3 Series drivers' was right on target. But the pundits missed the mark about the motor-sport car by a mile...[Read more...]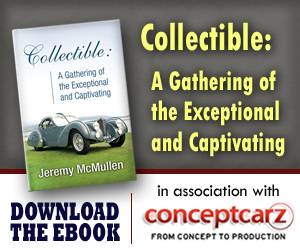 Chrysler
Monthly Sales Figures
Volume
February 2014
25,230
January 2014
21,113
December 2013
20,270
November 2013
21,024
October 2013
23,452
September 2013
25,251
August 2013
28,678
July 2013
19,978
June 2013
27,249
May 2013
29,070
April 2013
27,836
March 2013
33,905
(More Details)
© 1998-2014. All rights reserved. The material may not be published, broadcast, rewritten, or redistributed.