1955 Austin-Healey 100S news, pictures, specifications, and information

Tweet
All Austin-Healey 100S cars were produced between February and July of 1955. The 100S prototype was officially timed by the American Automobile Association at a mean speed of 143.1 MPH over the measured mile at Bonneville in August, 1954. With this record established, 49 cars and 7 works car capable of high speed and endurance were produced. Unfortunately, less than 30 cars are known to exist today with only 5 of those in the United States.

The 100S was quite advanced for the period with its all-alloy body, sub-frame members above the chassis, four wheel disc brakes and a 51/49 front-to-rear weight distribution. Prominent SCCA racers of the day purchased the first cars: Briggs Cunningham, Jackie Cooper, Bob Fergus, Fred Allen, Vince Sardi and Jim Ferguson. The majority of the cars were painted Old English White with blue sides, the American racing colors. There were 3 notable exceptions: Briggs Cunningham's car was white with a blue stripe drown the center; Jim Ferguson's was all red as he was from Canada; and Jackie Cooper's car was a special request of Spruce Green.

The current owner found AHS3802 in Australia in the late 1990s. Fortunately, it was still in its original condition; although, somewhat the worse for wear. After many years of racing he felt it deserved a complete frame-up restoration to the exact condition it existed when it left England for the United States over 4 decades ago.
This is the first and last 100S produced by Austin-Healey. It was raced in the 1955 Mille Miglia and finished eleventh overall. It raced in the 1955 Sebring event and finished eleventh overall. It was one of the first original works special test cars built.

After the 1954 season the car was converted into the last 100S, S standing for Sebring, and was destined to be a gift from Donald Healey to Ed Bussey of Ship and Shore Motors in West Palm Beach, to thank him for all of the help he had given the Healey racing family at Sebring. She was given the special 100S front nose piece, a new black interior with red piping, and she was painted red, one of only two with this color scheme. Before the car was delivered, Healey realized he would be short of cars for the 1955 Mille Miglia, this car finished eleventh, it turned out to be one of the greatest Austin-Healey racing accomplishments.
The Austin Healey 100 was introduced in October of 1952 at the Earls Court Motor Show. The first Austin Healey 100's were known as 100-4 or BN1. The name 100 came-about by being able to break the 100 mph barrier. The BN also had meaning. The B represented the engine class which meant it had between 2000 and 3000 cc. The N represented the body-style configuration, two-seat and open-top. The 100 was powered by a A90, 2660 cc, four-cylinder engine capable of producing 94 horsepower. The manual three-speed transmission was also borrowed from the A90. However, the first gear was blocked off and was fitted with overdrive on the second and third gears to provide extra power.

The name 'Austin Healey' was formed by a partnership comprising of the designer, Donald Mitchell Healey, and the manufacturer, Austin.

During its total production cycle, 10,688 examples of the BN1 were produced.

In October of 1955, the BN2 was introduced. The BN2 was similar to the BN1 in design but now featured larger drum brakes and a new four-speed transmission with overdrive.

During its production run, 3,924 examples of the BN2 were produced.

The Austin Healey 100S was produced in limited numbers, only 55. Their primary purpose was for competing in racing and rally events as well as for development and marketing purposes. They were entered into races such as Sebring, Mille Miglia, and Le Mans. They were copies of special factory test car that Stirling Moss raced in the 1954 12-hour Sebring race where he placed third. The 100S's were produced at the Healey Warwick factory and most were decorated with the American racing colors, white and blue. Of the 55 that were built, only 10 remain unaccounted for. The 100S, when compared with the 100, featured Dunlop disc brakes on all four wheels, different cylinder head and internal engine modifications, four-speed gearbox without overdrive, and a light-alloy body shell.

The 100S was followed by the 100M. The 100M was a Le Mans variation of the BN2 with an increased horsepower rating of 100-110. It featured bigger carburetors and modified distributor. Valve springs and anti-roll bars were added to the suspension. During its production run, 1100 of the Le Mans BN2's were produced.

Over time, about 100 BN2 were later modified but in order to qualify for the Le Mans configuration the vehicles needed to meet specific standards. These standards included a 1.75 inch H6, SU carburetors, cold air box and air tube, Le Mans regulation strap and a factory style louvered hood.

The four cylinder engine was used from 1952 through 1956, after which a BMC six-cylinder engine was used. The car was dubbed the '100 Six'. Three years and a few engine modifications later, the car was named the '3000' and today is known as the 'Big Healey'. Over the production lifespan of the 3000, it could be assembled with multiple options such as a two-seater or 2+2, hard-tops, single or duo-tone paint schemes, overdrive, and more.

In 1962 the body was redesigned with a curved screen and wind up windows. The interior of the vehicle was revamped in 1964 and also received more ground clearance.

The 3000 was produced from 1959 through 1968. The original engine produced 124 horsepower and was capable of about 114 mph. Modifications to the engine throughout the years increased the horsepower to around 148 and the top speed to 121 mph. The size of the car, the power of the engine, and weighing in at around 2400 lbs made this car responsive, competitive and fun to drive.

In all, there were around 73,000 100's and 3000's produced with 58,000 featuring the six-cylinder engine.
By Daniel Vaughan | Jun 2005
This example is truly unique; it is equipped with airbag front suspension, supplement badge delete, and BRG paint. Only 55 aluminum bodied 100S Austin Healey racing cars were constructed by Donald Healey. The extremely light car was fitted with a special Weslake aluminum head, 4 wheel disc brakes and an aluminum oil cooler. This car, Chassis 3805, is one of the extremely rare 100S factory team racecars equipped with 45mm DCO3 carburetors an air intake on the front bodywork, special camshafts, airbag front suspension supplement, single fold down windscreen, oval side exhaust, stripped interior, badge delete, BRG paint and green covers on the seals. 3805 was a factory race team car in Europe, subsequently sent to Canada as the Austin of Canada team car and then purchased by Canadian Hugh Sutherland.

From 1955 through 1961, 3805 was frequently raced in Canada and the United States including Harewood, Ste Eugene, Green Acres, Watkins Glen, New Kiskeard, Mosport, and Nassau Speed Weeks. 3805 was then retired to Hugh's garage and remained there until Greg Johnson purchased it in 2002. With its racing province rare works from specification and just 3480 one-owner original race miles. 3805 is one of the most original of the rare 100S Healeys to survive.
THE CLASSIC CAR SHOW
ALL NEW 13 x ONE-HOUR GLOBAL TV SERIES CELEBRATING THE CULT OF CLASSIC CARS IN BRIEF ◾A ground-breaking global TV series that provides unprecedented access to the iconic cars, personalities and glamorous events that underpin the classic car world ◾Distributed for broadcast globally by Sony Pictures Television ◾13 x one-hour episodes presented by Jodie Kidd and Quentin Willson with a supporting cast of global A-list celebrities ◾Tapping into a multi-billion dollar industry ...[Read more...]
120 years of motor sport at Mercedes-Benz take centre stage at the Goodwood Festival of Speed 2014
'Addicted to Winning': at this year's Goodwood Festival of Speed, Mercedes-Benz looks back on some fascinating racing victories of the last 120 years •The unique motor sport heritage of the Mercedes-Benz brand is being celebrated with an exclusive installation by sculptor Gerry Judah •Mercedes-Benz and Gran Turismo®6 jointly celebrate '120 years of motor sport' Stuttgart. – The thrilling victories of the Mercedes-Benz Silver Arrows mark the peaks of the history of motor sport for...[Read more...]
Techno Classica 2014: more than 30 racing cars to celebrate 120 years of Mercedes-Benz motor racing history
•Cars that were the heroes of magical moments put their stamp on this high-powered, most comprehensive show presentation •With more than 30 vehicles, Mercedes-Benz Classic presents motor racing history in all its unique breadth and depth •120 years of Mercedes-Benz motor sport in the focus of the leading international classic motor show 120 years of Mercedes-Benz motor racing history have produced a timeline of extraordinary victories which since 1894 also stand for outstanding innovations ...[Read more...]
Gooding & Company's 10th Anniversary Pebble Beach Auctions Saturday Sale Realizes More Than $53.7 Million
Santa Monica, Calif. (August 18, 2013) – Gooding & Company, official auction house of the Pebble Beach Concours d'Elegance® and acclaimed for selling the world's most significant and valuable collector cars, realized more than $53.7 million during the first of its two Pebble Beach evening auctions. 64 of the 68 lots offered, a 94% sale rate and an average price per lot $839,609 with the most notable being the 1957 Ferrari 250 GT 14-Louver Berlinetta (Lot 39) that set a world record for a ...[Read more...]
Historic Aston Martin DB3S Sports Racing Car Joins RM's Monterey Sale
A rare and spectacular 1955 Aston Martin DB3S Sports Racing Car, chassis DB3S/118, is the latest multi-million-dollar entry to join RM's highly anticipated Monterey sale, August 17–18 in California. Noteworthy for its outstanding provenance, rarity, and trendsetting Aston Martin design, the DB3S is widely considered one of the most attractive and elegantly designed sports racing cars of the post war period—a masterpiece of David Brown's vision, executed stunningly in aluminum from the charact...[Read more...]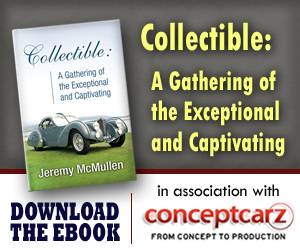 © 1998-2014. All rights reserved. The material may not be published, broadcast, rewritten, or redistributed.