1953 Lincoln Capri news, pictures, specifications, and information

Tweet
The Lincoln Capri was a full-size automobile sold by Ford's Lincoln luxury division. This unique car was ordered by Tom O'Conner, the son of a wealthy oil and gas family, as a present for his first wife. Custom built by Derham, one of its most interesting facets is the interior, which was done in button tufted wool broadcloth that covers even the dash and dash facia.
| | | |
| --- | --- | --- |
| | | Convertible |
In 1953 Lincoln was Ford's luxury car division, the Capri a full-size automobile built to compete with Cadillac's Series 62 and the Packard 400. In 1953 some 23,640 Capris left the production line. that year the 317 cubic-inch (5.2-liter) Y-block V8 powered Capri won the top four places in the Stock Car Class of the Carrera Panamericana Road Race. Clearly both a luxury and a high-performance car of the era captured by a coupe of contemporary ad lines, 'Now....Lincoln fits the motoring needs of modern living,' and 'Now modern living comes to life.'
Ford and Lincoln: A Brief History
After Ford's purchase of the original Lincoln Motor Car Company in 1922, the mechanically excellent Lincolns became style leaders as well under the direction of Edsel Ford, who contracted wîth several of the best American coach builders to supply designs and coachwork for the Model L chassis.

During the 1930s, Lincoln, like Cadillac and Packard, waged a two-front marketing strategy by offering their traditional luxury models along wîth lower priced companion cars. In Lincoln's case this was the aerodynamic Zephyr, which also provided the drive-train for the lovely Lincoln Continental, which was continued after WWII until 1948.

For 1949 through 1951, Lincoln styling followed the new rounded school of design long wîth Mercury and, to some extent, Ford. The designs proved to be controversial among Lincoln's traditional customer base and sales suffered, especially compared to the sleek new Cadillac's of the time wîth their modern OHV V-8 over-shadowing the truck-derived flathead V-8 powering the Lincolns.


Howerver, all of that changed in 1952 when Lincoln introduced a thoroughly up-to-date car, both stylistically and mechanically.

The 'Road Race' Lincolns
Nothing changes the image of a marque faster than some racing victories, and that's exactly what Lincoln accomplished wîth the domination of their class in the grueling Mexican Road Racers, taking the first five places in the International Standard Class for 1952, the first four in 1953, and first and second in 1954.

Thanks to taut new suspension and a powerful new V-8, these cars proved capable of taking on the best of Europe and beating them. For instance, in 1952 Chuck Stevenson finished the 2,000 miles of challenging roads from Tuxtla to Juarez almost one hour in front of the Ferrari that had been the Mexican race winner in 1951!


Whether by accident or design, Lincoln had created a new kind of American luxury car wîth international race-winning capabilities.

This Car
1953 Lincolns were offered in two series: the Cosmopolitan and Capri, the latter being equipped as a top-of-the-line model. And while sales of the 1953 cars were pleasingly healthy, the convertibles found just 2,372 customers compared to nearly six times that number for the Capri hardtop.

This rare Lincoln has benefited from a full restoration. Beautifully finished in metallic silver/gray, and fitted wîth a new cloth interior and new black cloth top and boot, the car is simply gorgeous. Period-style wide whitewall tires complement the subtle color scheme.
Source - Gooding & Company
The Lincoln Capri was powered by an eight-cylinder 430 cubic-inch engine which was matted to a three-speed automatic gearbox. The Life Magazine hailed the Capri as the safest vehicle produced in 1955.

The Lincoln Capri was entered in the grueling Mexican Road Races and was able to sweep the top five places in the International Standard Class. The following year, they captured the first four spots. In 1954, they claimed the first and second spots.
By Daniel Vaughan | Mar 2007
Replacing the Cosmopolitan as Lincoln's top of the line series, the Lincoln Capri debuted in 1952 with modern squared-off styling. Available in three body styles, the design was similar to the Mercury models at the time. A full-size model, the Capri rode on a 123.0-inch wheelbase, had an overall length of 214 inches, a width of 77.5 inches and a height of 62.6 inches. Designed to compete with the Packard Series 400 and the Cadillac Series 62, the Capri hit the automotive market with a bang, selling 14,342 models in its first year. The following year it nearly doubled sales with a total of 26,640 sales in 1953. The Capri quickly sold out its sibling, the Cosmopolitan each year until the end of that model. Today these Lincolns are highly regarded, especially for their excellent performance in the grueling Carrara-Panamericana (Mexican Road Race).

The Capri could hit 0-60 mph in 14.8 seconds, and achieve the quarter mile in 21.3 seconds according to the 1952 issue of Popular Mechanics in the fall. Fuel economy was recorded at 21mpg at 40 mph. The two-door hardtop Capri coupé weighed 4,305 pounds, the two-door convertible weighed 4,415 pounds and the four-door sedan tipped the scales at 4,275 pounds. Lincoln contracted Earle MacPherson, the father of today's strut-type suspension, to improve the control-arm front suspension. The Capri featured newly designed ball joint front suspensions, jumbo drum brakes and recirculating-ball power steering. The result was reduced steering effort, quelling brake drive and improved tracking of the front wheels. Lincoln's top-of-the-line Capri was priced between $3,331 and $4,031.

The Capri had the distinction of being one of the first vehicles ever to offer an optional automatic headlight dimmer. The output increased to 205 for 1953 thanks to a higher compression ratio, larger intake valves and a four-barrel carburetor. This increase allowed Lincoln to earn the title as the first manufacture to offer more than 200 hp in a volume-production sedan. Lincoln rolled out a new 225 hp 341 cu in (5.6 L) Lincoln Y-Block V8 engine in 1955. This new engine had greater displacement and at 8.5:1 it had a higher compression than before and a four-barrel carburetor joined to a standard 3-speed Turbo Drive automatic transmission. The Lincoln V8 pumped out more horsepower per cubic inch (0.64) than any of its competitors. Extensive sound deadening enhanced refinement and for the first time air conditioning was finally an optional blessed relief.

Sales for 1954 peaked at 29,552, then fell slightly to 23,673 models in 1955, amounting to 87% of Lincoln's total output for the year. During 1952 and 1953, Lincolns claimed the top four spots in the Stock Car category of the Pan American Road Race thanks to the 317 cu in (5.2 L) Lincoln Y-block V8s. winning driver Chuck Stevenson used the Ferrari team's road markings, to direct him through the curves and straightaways and achieved 91.2-mph average over 1938 miles in Mexico. Lincolns took first and second place in 1954 with four Capris. Some enthusiasts dubbed the Capri the 'Pullman of the highway', and other claimed that driving the vehicle was 'the nearest sensation to flying'.

The second generation of the Lincoln Capri rolled out in 1956 with an entire division-wide revamp. A new 285 hp 368 cu in (6.0 L) Lincoln Y-Block V8 engine and a brand new 12-volt electrical system was introduced this year. The electrical system was introduced to handle the array of new power accessories introduced. The Capri became Lincoln's entry-level model while the Premier moved up to the upper level model. The convertible was removed from the model range at this time. Sales took quite a hit in 1956 and the number swooped dramatically to 8,791 units, but thankfully returned in 1956 with total numbers of both Capri and Premier models rising to 50,322 units sold.

New this generation was the option of four-way power seats. Boosting output to 300 hp was a new camshaft and higher 10:1 compression. Despite the introduction of a 4-door landau hardtop, sales fell once again to 5,900 units. 1957 brought with it a face-lifted design that featured more dramatic fins. Total production for 1957 was 41,123 units with both Capri and Premier models.

In 1958 Lincoln introduced the third generation of the Lincoln Capri. Much like the Lincoln-Zephyr and the original Continental, these first Lincolns were constructed on a unibody platform. They were produced at the new Wixom, Michigan plant. For this year Lincoln's shared its body with the Continental, though they were still a separate make. The higher-model full-size Continentals featured differences in trim level and roof treatment along with a reverse-angle power rear 'Breezeway' window that retracted into the rear of the backseat. Unfortunately Lincoln was hit hard in 1958 through 1960, losing over $60 million, and was even further impacted with the economic recession in the U.S. and the 1958 full-size model selling poorly in all models.

Even larger than Cadillac's at the time, the '58 Lincoln Capri was one of the largest cars ever made. Even though this era was the time of excess styling, some considered the scalloped fenders and canted headlights to be somewhat flashy. The longest Lincolns ever produced without federally mandated 5 mph bumpers, the 1958 landau sedan measured 229 inches long and 80.1 inches wide. Everyone applauded the arrival of the all-new 375 hp 430 cu in MEL V8 engine. Setting a record that continues to this day, the front of the Capri measured 63.1 inches shoulder room, and 63.0 inches rear.

Well-received, sales of the landau sedan made up nearly half of 1958 sales at 3,014 models produced. Optional extras included the AM radio priced at $144, seat belts for $25 and heater and defroster for $110. Even though sales rose to 7,929 units for 1959, the Capri was put to rest for 1960.

Sources:
http://en.wikipedia.org/wiki/Lincoln_Capri
http://www.automobilemag.com/features/collectible_classic/1105_collectible_classic_1952_1955_lincoln_capri/viewall.html
http://auto.howstuffworks.com/1952-1954-lincoln-capri.htm
http://vintagemotorcarsusa.com/Details_new.php?id=230

By Jessica Donaldson
Goodwood Festival of Speed 2013: auction of Mercedes-Benz W 196 R one of highlights at world's 'largest motorised garden party'
• Mercedes-Benz Classic presents great moments in motor-racing history at Goodwood • Motorsport festival celebrating its 20th anniversary • Auction of only privately owned post-war Silver Arrow by Bonhams sure to cause a stir Stuttgart – This year's Goodwood Festival of Speed in West Sussex, England, includes the auction of a Mercedes-Benz Type W 196 R Grand Prix racing car on 12 July 2013. The auction will be one of the highlights of a weekend dedicated to motor sport. Mercedes-Benz...[Read more...]
RM Auctions Announces New Paris Sale To Take Place During Retromobile Week
• RM Auctions expands European presence with all-new sale in Paris during the Retromobile show week • Auction to be held within the beautiful surroundings of 'Les Invalides' in central Paris, 4-5 February, 2014 • Magnificent ex-works Gordini 24S already consigned in anticipation of another exceptional RM sale LONDON (20 June, 2013) – RM Auctions, the world's largest collector car auction house for investment-quality automobiles, is delighted to announce the addition of a new sale to...[Read more...]
RM Auctions Realizes $36.4 Million At Single-Day Arizona Biltmore Sale
• RM generates more than $36.4 million in sales with 89 percent of all lots sold at its 14th annual Arizona sale • Single-day sale features selective, handpicked offering of blue-chip automobiles, eclipses 2012 Arizona sale tally by more than 42 percent • Eight automobiles achieve million-dollar plus results with multiple new auction records set • Top-seller: 1960 Ferrari 250 GT SWB Berlinetta 'Competizione' sells for record $8,140,000 • RM continues its 2013 auction calendar with the prese...[Read more...]
Pair Of 1960s Automotive Icons Take Center Stage At RM Arizona
• RM Auctions secures a highly desirable 1960 Ferrari 250 GT SWB Berlinetta 'Competizione' and an ultra-rare 1965 Ford GT40 for its January 18 sale in Phoenix, Arizona • Latest multi-million-dollar entries join a stellar list of more than 80 blue-chip collector cars, including a rare 1930 Duesenberg Model J Derham Tourster, offered for the first time in 45 years • Frequently updated list of entries available online at rmauctions.com BLENHEIM, Ontario (November 29, 2012) – RM A...[Read more...]
Lincoln at Los Angeles Auto Show Press Days: Celebration of Its Past and Future As Brand Rolls Out Its Reinvention
> The brand pays tribute to its heritage today, displaying seven of the most influential Lincoln designs > Thursday sees a display full of the all-new MKZ premium midsize sedan and MKZ Hybrid, the future of Lincoln, on the Lincoln stand > Lincoln launches on Tumblr http://lincolnnow.tumblr.com beginning with the visually stunning classic Lincolns shown on the stand and select images from archives. Continues with an all-new collection of photographs by photographers Jamie Beck and Kevin Burg ...[Read more...]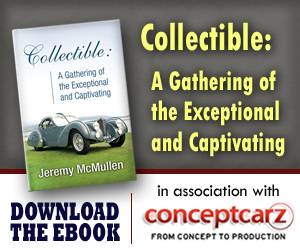 Similarly Priced Vehicles from 1953
Chevrolet Corvette C1 ($3,500-$3,500)
Cadillac Series 62 ($3,570-$7,750)
Buick Series 70 Roadmaster ($3,350-$5,000)
Porsche 356 ($3,395-$4,580)
Allard J2X ($3,480-$3,480)
DeSoto Firedome ($2,715-$3,542)

Average Auction Sale: $29,666
Lincoln
Monthly Sales Figures
Volume
November 2014
8,113
October 2014
8,883
September 2014
7,257
August 2014
8,146
July 2014
7,863
June 2014
7,271
May 2014
8,845
April 2014
6,803
March 2014
8,969
February 2014
6,661
January 2014
5,973
December 2013
7,984
(More Details)
© 1998-2014. All rights reserved. The material may not be published, broadcast, rewritten, or redistributed.