1956 Mercedes-Benz 300 SC news, pictures, specifications, and information

Tweet
The Mercedes-Benz 300 was produced from 1951 through 1958; they had a modern design with prewar traditional styling. They had excellent power and minimal weight and fitted with modern technologies. They had a conventional body on frame construction that was not as modern as the unit body construction, but it was a tried-and-true construction method. With this type of build, volume was low but the manufacturing quality was high. The front suspension was independent with A-arms and coil springs while the rear was the traditional Mercedes-Benz swing-axle setup with coil springs.

Under the bonnet was a new single overhead camshaft engine that displaced 2996cc.

The 300 Series were basically hand-crafted cars, luxuriously finished, and trimmed in the highest quality materials. They were elegant, safe, fast, and comfortable. Most of the chassis for the 300 Series measured 120-inches and had four-door coachwork. Between November of 1951 and March of 1962, around 11,430 examples were built. Of that, 707 were convertible sedans.

The 300 Series was introduced at the Frankfurt Motor Show. A short time later, a very different 300 - the 300S - was shown at the Paris Show. The 300S had a shorter wheelbase of 114.2-inches and powered by a more potent multi-carburetor engine offering 163 SAE. They had two-door coachwork and offered in both open and closed styles. At the time, it was the most exclusive automobile in the Mercedes-Benz lineup and intended for their most discerning clientele.

The 300S was produced from July of 1952 through April of 1958 with a mere 760 examples constructed. Only 98 were produced between 1955 and 1958.

In 1955, at the Paris Motor Show, Mercedes-Benz introduced the final iteration of the 300S, called the 300SC. It had a detuned version of the 300SL's Bosch mechanical fuel-injected engine rated at 200 SAE. A big improvement was the adoption of Mercedes-Benz's new low-pivot swing-axle rear suspension design which offered better performance at speed.

This 300SC Coupe has been restored since new and is finished in dark-blue paint. In 2007 it was brought to the Gooding & Company auction held in Pebble Beach, CA where it was estimated to sell for $225,000-$275,000. Including buyer's premium, the high bid was $286,000.
By Daniel Vaughan | May 2008
The 300-Series Mercedes-Benz was introduced as a four-door sedan and convertible sedan. The design and development would provide the basic mechanicals of the competition cars that would soon follow: the 300SL racers of 1952 and the SL road cars of 1955. The 300 sedan was soon augmented by the 300 S at the October 1951 Paris Salon with coup, roadster, and cabriolet coachwork. These limited production, luxurious cars were given a three-carburetor engine offering 150 horsepower. For the 300 SL project, engineers were required to utilize the 300 S engine and to extract more power from the straight six. Mechanical fuel injection was developed and after proven its potential, was retrofitted into the 300 S line to create 200 very special 300 Sc cars, which was introduced in 1955. The limited 300 Sc models were rated at 175 hp using the German DIN criteria. They rode on a 2900mm (114-inch) platform with four-wheel independent suspension. The bodies were created by the craftsmen at Mercedes-Benz' Sindelfingen coachworks in the old-world style. They had copious use of chrome, intricate wood interior trim, luxurious leather upholstery, hand-formed panels, and tight-fitting folding tops. Top speed was in the neighborhood of 112 mph. In total, just 49 Cabriolet examples were built.

This 300 Sc Cabriolet was sold new to a physician in Laguna Beach, California. Little is known of its early history, though it is believed to have lived a very sheltered life. In 1986, a southern family purchased the Sc from the doctor's widow and has maintained it ever since.

The car wears its original shade of Light Blue (DB 334) paint as well as the gray leather interior. It has a Becker Mexico radio and Hirschmann antenna. It has never been comprehensively restored and th odometer shows just 34,500 miles, which are believed to be original. Inside, there is a wood dash, and gray leather seats and door panels.

In 2013, the car was offered for sale at Gooding & Company's Scottsdale, Arizona sale. It was estimated to sell for $400,000 - $450,000. As bidding came to a close, the car had been sold for the sum of $825,000 inclusive of buyer's premium.
By Daniel Vaughan | Feb 2013
This 1956 Mercedes-Benz SC Coupe is equipped with a 2996-cc overhead camshaft six-cylinder engine with Bosch Mechanical Fuel Injection that is capable of producing 175 horsepower. It has a four-speed gearbox and four-wheel independent suspension with coils springs and tubular shock absorbers. Since new, it has been treated to a professional restoration and finished in a dark-blue exterior. The gray leather interior and wood work have also been treated to a restoration that has brought them to concours condition.

The car came equipped from the factory with an authentic Becker Mexico radio, built-in luggage, and an optional folding rear seat.

It is one of only 98 examples produced. It was offered for sale at the 2006 Gooding & Company Auction held in Pebble Beach, CA where it was estimated to sell for $225,000-$275,000. The car was offered with a reserve, which did not seem to matter, as bidding settled at $275,000.
By Daniel Vaughan | Feb 2007
This Mercedes-Benz 300SC was offered as a 2+2 coupe, cabriolet or roadster from 1955 to 1958. This 300SC is one of only 49 cabriolets produced. Its 2996cc 6-cylinder engine with Bosch mechanical fuel injectors produces 175 horsepower and is capable of powering the car to 112 mph. Clark Gable was the car's first owner, and his widow Kay Spreckles sold the car to its current owner in 1981.
This 1956 Mercedes-Benz 300SC Coupe was offered for sale at the 2007 RM Auctions held in Amelia Island where it was estimated to sell between $180,000 - $220,000. The car is powered by a 2996cc overhead camshaft, fuel-injected six-cylinder engine capable of producing 175 horsepower. There is a four-speed manual column shift gearbox and four-wheel hydraulic drum brakes.

Production of the 300 SC lasted from 1955 through 1958 with a total of 98 examples in coupe form being produced. The 300 was mostly hand built and created to a high degree of luxury. The highest quality of standards and materials were used during the construction.

This car was treated to a restoration in 1991 and lasted four years. After the restoration, the car participated in the Dekra Schwarzwaldrally (Black Forest Rally).

At auction, the car was sold for $187,000.
By Daniel Vaughan | Apr 2007
The Mercedes-Benz SC models weighed nearly 4,000 lbs but were capable of 112 mph, putting them on par with some of the most expensive, limited-production gran turismos on the market, all while enveloping their occupants in serene luxury.

This 300 Sc Coupe was built early in the model's 98-car production run. It was delivered new to an American buyer in two shades of green. Little is known of its earliest years, the Sc was discovered in the mid-1980s in Minnesota, owned by a sugar beet farmer. It was purchased by Chuck Brahms. Soon thereafter, still in need of a restoration, it was purchased by a Southern California Mercedes-Benz enthusiast. The car was stored by the collector's friend Robin Onsoien, with the understanding that Mr. Onsoien would one day perform a concours-level restoration on the car for its owner. After twenty-years in dry storage a full restoration was begun in 2007.

The car was trimmed in Belgian-sourced hides and installed tan headliner and carpets. The engine was rebuilt, and scores of factory-correct parts were sourced from the Mercedes-Benz Classic Center in Irvine. The exterior of the car was refinished in metallic burgundy.

The car has been driven just 350 miles since its restoration was completed.

The car is equipped with SL-type alloy-rimmed wheels, dual spares and two pieces of Karl Baisch fitted luggage in the trunk.
By Daniel Vaughan | Feb 2014
The Mercedes-Benz 300 was produced from 1951 through 1958 and is one of the most graceful and classic creations of the post-World War II era. The style was both classic and modern and built to high standards. They were constructed from fine materials using the latest in technology and achieving minimal weight with a high degree of strength.

The 300 was built on a traditional body-on-frame construction as many other marque's, including most of the Mercedes-Benz line, had switched to unit-body construction. The body-on-frame construction was ideal for maintaining a high level of quality for vehicles produced in limited quantities. The front end was suspended in place through the use of an independent suspension with A-arms and coil springs. The rear was the tried-and-true swing axle with coil springs.

Under the bonnet was a 2996-cc six-cylinder engine with Bosch mechanical fuel injection that produced 175 horsepower. Considering the modest wheelbase size and the overall low weight of the vehicle, the 175 horsepower was more than enough to carry these custom-built vehicles at highway speeds with little effort. The car was fast, luxurious, safe, and comfortable.

From November of 1951 through March of 1962, there were 11,430 examples of the Mercedes 300 constructed. Most were built atop of a 120-inch wheelbase and with four-door configuration. Just over 700 were convertible sedans.

The 300 had been introduced at the Frankfurt Auto Show. Mercedes-Benz selected the Paris Auto Show to introduce the next iteration of the 300-Series, the 300S. This was a much sportier version that rode on a shortened, 114.2-inch, wheelbase and built in 2-door open and closed configuration. The engine was a multi-carbureted unit that produced just over 160 SAE horsepower.

The Mercedes-Benz 300S was a very fast automobile that still retained luxury, comfort, and style. Built in very limited quantities, it was an exclusive automobile.

Production of the 300S lasted from 1952 through April of 1958 with a total of 760 examples being constructed.

The final iteration of the 300-Series was the 300SC, which made its appearance at the 1955 Paris Auto Show. It was given a detuned version of the 300SL's Bosch mechanical fuel-injected engine and a new 'low-pivot' swing axle rear suspension.
By Daniel Vaughan | Feb 2007
Large and luxurious, the Mercedes 300 series was built from 1951 until 1957 in its original form. The company's largest and most-prestigious models, the Mercedes-Benz Type 300 is considered a trademark of the era throughout the 1950s. With a 3 liter engine capacity, the name 300 said it all. Exclusive, expensive, elegant and full of power, the Type 300 vehicles were in an elite status all of its own. In a tribute to the Chancellor of Germany at the time, this series was often referred to as the Adenauer, after Konrad Adenauer. During his time as Chancellor, Adenauer used a total of six of these vehicles.

The main competition that the 300 Series faced during its production time was the less-expensive Ponton series. A large majority of the company's sales were directed in the area of this cheaper series. During the early 1960's, both the Ponton series and the Type 300 were eventually replaced by the 'Heckflosse' cars.

Available as either a sedan or cabriolet, the Type 300 was offered both with four doors, along with seating for six. With a more modern body, the 'W186' Type 300 was built on a pre-war chassis, yet it utilized a modern 3 L straight-6 engine. The most interesting feature was a rear load-levelling suspension that was operated by a switch on the dashboard. Many other luxury features were offered on this series, these included a VHF mobile telephone, a dictation machine and a Becker radio. The Chancellor's personal vehicle was equipped with a writing desk, sirens, a dividing partition, curtains, and many more features.

A special Type 300 Lang, Innenlenker model was a limousine version that rode on a 20 cm (7.9 in) longer wheelbase.

The Type 300 b was introduced with power brakes in 1954. In September of 1955, a larger rear window was featured on the Type 300 c. Also featuring a swing axle rear independent suspension, the Type 300 c was sold at $10,864 in the U.S. with the convertible available at an expensive $14,231.

In August of 1957, the B-pillar was updated for the hardtop look in the Type 300 d. With a total of 3,077 produced, the d was produced until March of 1963. Available with a compression ratio of 8.55:1 and Bosch fuel injection, the d produced 160 hp. The W112 300SE replaced the limousine version.

Mercedes-Benz's top-end vehicle in 1952 following its introduction, the 'W188' Type 300 S was available as a 2+2 coupe, cabriolet or roadster. Marketed as one of the top luxury vehicles in the world, the W188 was actually very similar mechanically to the more contemporary W186. The Type 300 Sc received the addition of fuel injection in 1955, along the same time that Mercedes-Benz's 'low-pivot' independent suspension was substituted. Dual chrome strips were placed on each side of the hood that denotes the 'Sc' model.

The 300 S line was an established Mercedes tradition, 2-door convertible and coupe versions of the limousine model. These models had a body built on a separate chassis, and were conventionally styled grand tourers. The SL, which stood for 'Sport Leicht', and can be broken down to lightweight sportscar, was introduced in the same year. Essentially a derivative of the 'ordinary' Mercedes 300 series, there was really nothing ordinary about the 300 SL.

The vehicle that was responsible for re-establishing Mercedes-Benz as a formidable power in sports vehicle racing following World War 2, the 300 SL was introduced in 1952. Beginning as a thoroughbred road racing vehicle, the exotic 300 SL finished its career in 1963 as a very fast convertible for the wealthy.

Following such an impressive impact on car enthusiasts worldwide, there has continued to be an SL model in the Mercedes Range ever since. There has never been another SL model in the Mercedes range that has been able to live up to the prestige, engineering and styling of the original 300 SL.

Introduced at the 1953 Mille Miglia, where a total of 300 SL's took part in the event, the original 300 SL was first introduced as a contender for the famous road races of those days. One of the SL models took 2nd place, and another took 4th place, making a very impressive mark on viewers. This was only the beginning of many more racing successes soon after.
By Jessica Donaldson
For more information and related vehicles, click
here
Enhanced Kia Rio set for Paris Show world premiere
•Enhanced Kia Rio to be unveiled at 2014 Paris Motor Show •B-segment Kia's makeover gives exterior and cabin a fresh appearance •Enhanced Rio range on sale in Europe from early 2015 Frankfurt, 29 September 2014 – Kia will celebrate the world premiere of an enhanced Kia Rio at the 2014 Paris Motor Show on 2 October, featuring a number of improvements to maintain the competitiveness of its global best-selling car. 'The Kia Rio was our best-selling vehicle nameplate worldwide in 2013...[Read more...]
KIA NIRO CONCEPT MAKES U.S. DEBUT AT 2014 CHICAGO AUTO SHOW
Cutting-Edge Urban Hybrid Vehicle Shows Off Kia's Ambitious Vision of a Lifestyle City Car •Niro's B-segment design is futuristic, upscale and performance-inspired •Hybrid electric drive intended to give Niro four-wheel drive capabilities when needed CHICAGO, Feb. 6, 2014 – Kia's dramatic and modern Niro urban lifestyle concept vehicle, which was unveiled last September at the Frankfurt Motor Show, today made its U.S. debut at the 2014 Chicago Auto Show. The Niro hints at a ...[Read more...]
New Bentley V8 S Models Make World Debut At IAA Motor Show
GT V8 S coupe and convertible take centre stage in Frankfurt •Flying Spur W12 showcases latest Bentley technology •Mulsanne flagship completes vehicle line-up •New Bentley luxury leather goods collections (Crewe/Frankfurt, 09 September 2013) Bentley adds a characterful new member to the Continental family with the world premiere of the new GT V8 S at the IAA Frankfurt Motor Show. Available in both coupe and convertible forms, the V8 S models feature an uprated version of Bentley's t...[Read more...]
Land Rover Celebrates 65 Years Of Technology And Innovation
SIXTY-FIVE YEARS OF LAND ROVER From our earliest days, the desire to create a vehicle that will tackle any terrain has made Land Rover famous around the world. Over the past 65 years, the Land Rover family has grown into the highly respected range of vehicles that are sold in record numbers today. As Land Rover continues to go from strength to strength, we thought it was time to look back at the milestones in our history that have got us here. The last 65 years have been an adventure. ...[Read more...]
Sold! Barrett-Jackson's 5000 Series Generates More Than $29.2 Million In Scottsdale
Original 1966 TV Batmobile Sells for $4.62 Million at The World's Greatest Collector Car Auctions™ and New World Records are Set January 19, 2013 •LOT #5037 The Original Batmobile is the highest selling car at the company's annual Scottsdale Auction •LOT #5019 1947 Talbot-Lago T-26 Grand Sport sets a new world record for the model •LOT #5034 1956 Chrysler Diablo Concept Convertible sets a new world record for Chrysler concept cars Scottsdale, Ariz. (Jan. 20, 2013) – Barr...[Read more...]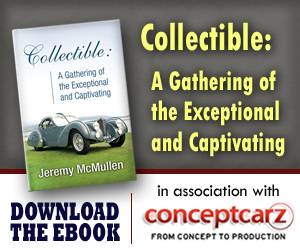 Mercedes-Benz
Monthly Sales Figures
Volume
December 2014
37,297
November 2014
37,110
October 2014
30,733
September 2014
29,523
August 2014
28,958
July 2014
29,406
June 2014
28,707
May 2014
26,617
April 2014
28,281
March 2014
29,316
February 2014
22,609
January 2014
23,892
(More Details)
© 1998-2014. All rights reserved. The material may not be published, broadcast, rewritten, or redistributed.