1962 AC Ace news, pictures, specifications, and information

Tweet
The AC Ace-Bristol was the forerunner of the Cobra. 241 of these hand-built sports cars were shipped to America before production ceased. The engine was designed by BMW and the cars were raced often during the 60's. Although repainted in 1994, the rest of the car is un-restored.
| | | |
| --- | --- | --- |
| | | Roadster |
Long before Carroll Shelby created his awesome Cobras by bolting Ford V8 engines under the hoods, the AC/Ace already had established itself as one of Britain's best roadsters. Much of the credit goes to John Tojeiro, a talented engineer and racing driver. The AC car company adopted Tojeiro's design and in 1956 Bristol's smooth, torque engine became available. Based on the inline six-cylinder engine that had helped make BMW's 328 such a fine car, it delivered 125 horsepower and made the Ace very quick to its day.

The current owners have had this car for 19 years. The car is all original except for a repaint in 1994. The car has 16,029 on the odometer. The car is so untouched that it has become the standard to use for other restoration projects, and gets photographed quite often including two different magazine covers. 241 of these hand-built cars were shipped to America before production ceased. This car was the last one to leave the factory.
| | |
| --- | --- |
| | Roadster |
Mosst people know it as the 'Shelby' Cobra. Very few know it started with a British car company called AC (Auto Carriers) which has been around for over 100 years. They started before World War I making the Sociable, which was a one cylinder three wheel vehicle.

Over time they began to build cars. Eventually, after World War II, they produced the fine sports car known as the Ace. It was powered by a 1.9 liter 6-cylinder engine at first and later by a 6-cylinder Bristol engine. This engine had great power and delivered many victories for AC at race tracks around the world. Eventually, the Bristol engine was no longer avaiable so Ken Rudd, a racer and tuner in the UK, developed various stages of tune for the Ford Zephyr 2.6 liter 6-cylidner engines. The lower engine height allowed AC to develop a sleeker design of the Ace with better aerodyanmics. These cars were designated with RS (Rudd Speed) chassis numbers and only 37 were built.

In 2004, two RS model Aces were produced in the original AC factory at Frimley, UK on the original tooling before AC closed for good. One was completed by Steve Grey of AC Heritage and other came to the USA and sat for several years. The current owner purchased the car in 2008. The car has been certified and registered in the AC registry as RS5038, the last RS car built.
The Ace was debuted in 1953 at the London Motor Show and was produced beginning in 1954 and continuing through 1963. The vehicle consisted of light-weight tubular chassis with steel boxes in the front and rear which supported a transverse leaf and lower wishbone independent suspension system. The chassis was designed by John Tojeiro. Power was initially provided by a Welleter-designed engine and was mounted in the front of the vehicle but placed back far enough to take advantage of balance. The body and design of the vehicle was inspired by the 2-seater Ferrari 166MM Barchetta (little boat) made by Touring of Milan.

During the first year of production, there were fewer than 60 examples produced. These were all Aces - convertibles. The Aceca, a hard top variant was debuted in 1954.

Due to the vehicles light weight, optimal weight distribution, responsive engine and handling, and stylish appearance, it attracted much attention.

In 1956 the Bristol-engine version was introduced, replacing the Welleter-designed motor. The Bristol 1971 cc, six cylinder engine was capable of producing 125 horsepower at 5750 rpm and propelling the light-weight car to a top speed of around 180 kph. Production of the Bristol engines ceased around the end of the 1950's and AC began using a British Ford Zephyr engine. It was a heavier engine and produced less power. There were only 47 of these 2.6 liter examples produced from 1961 through 1963.

The vehicles came equipped with front disc brakes, Girling hydraulic shock absorbers, rack-and-pinion steering, and a four-speed manual transmission.

In total, there were around 735 Aces and 326 Acecas produced. The AC Ace was the basis for one of the best known sports car of all time, the Shelby Cobra.
By Daniel Vaughan | Aug 2009
The oldest British car manufacturer, AC has continuously produced vehicles since 1901 and the marque carries enormous prestige. The AC Aceca, a closed coupe, was unveiled in 1954 in London and only 328 prototypes were ever produced.

Production of the Aceca Coupe commenced in 1955 and Le Mans 1957 was a lucrative one for AC, with an AC Bristol finishing tenth overall. 1958 was an even better year as a special bodied AC Bristol that finished eighth and a standard car ninth. Produced from 1954 until 1963, the similar Bristol-engined Aceca-Bristol was also eventually available in the 1956 model year. Both of these models were hand-bult GT vehicles in the British tradition, both featured ash wood joining steel tubing into their construction. Following the 1953 Aston Martin DB2/4, the Aceca was only the second vehicle to incorporate the hatchback at the rear.

The differences between the Aceca and the Aceca-Briston lay in the engines. Though both were straight-6es, but the Aceca shared its 90 hp 2.0 L engine with the lighter AC Ace, and the Aceca-Bristol utilized a 125 hp 'D-Type' 2.0 L unit sourced from Bristol Cars. One was also able to purchase the Aceca-Bristol with a milder 'B-Type' Bristol engine of 105 hp. The Aceca was priced at $5,400 in the U.S. but the Bristol specification added another $1000 to the pricetag. A total of 151 Acecas were produced, while 169 Aceca-Bristols were built. Unfortunately production was halted quite unexpectedly in 1963.

Certain design specifics in the Aceca were taken from the exquisite design work by Pina Farina for the AC Company in the 1940s, these included in the front-end styling. The grille was simple, but the curves were perfectly executed along the hood and around the headlights. The Aceca had a superbly low weight due to the tubular frame, and aluminum body panels and the aluminum engine block. Other weight saving features were in the 16' spoked wheel and nearly perfect weight distribution in the fore/aft which also contributed to the exception handling on loose, dirt tracks. The Aceca exhibited its distinctive engineering with the front-wheel disc brakes, articulated rear half-axles, transverse 'de Dion' leaf rear suspension, worm-gear steering, curved windshield, electronic overdrive in 2nd, 3rd and 4th gear The bucket seats were also very well-designed and encased in leather in true 1950's vintage auto style.

Also very innovative for the time, the AC engine was considered to be 'an engineering marvel', patterned after the powerful Bristol aircraft engine. The engine was a inline 6, aluminum block, overhead cam, double chain drive that was fueled by 3 inline SU downdraft carburetors, that each fed two cylinders. 6 straight-out header pipes were directly opposite and these allowed the combustion gases to enter the cylinder, do one rotation during combustion and exit oppositely, straight-out, without any resistance.

Enthusiasts consider the Aceca to be a great car to drive, though it rides a bit hard, due to the stiff suspension. Cornering and steering was done quite proficiently, but some complained that it tended to oversteer, but it was still 'solid and predictable' handling. Consumers also complained about the inadequate rear mirrors, a heating system not properly suited to colder climates and inadequate soundproofing above 75 mph.
By Jessica Donaldson
For more information and related vehicles, click
here
Tanner Foust Going For Rallycross Gold At X Games Driver Determined After Unforgiving Bristol Race
BRISTOL, Tenn. (July 22, 2013) - Rockstar Energy Drink driver Tanner Foust is looking to become the only driver ever to repeat an X Games Rallycross gold medal win when GRC action resumes in Los Angeles in two weeks. It was an unforgiving day of racing for Foust this weekend at the fifth championship stop in Bristol, Tenn., where the so-called 'Last Great Colosseum' was transformed from a half-mile NASCAR oval into a rallycross battleground. 'I was pretty hungry for it,' said Foust....[Read more...]
MOPAR's Father And Son Team Working Towards A Memorable Father'S Day At Bristol
◾Mopar competes at 13th annual NHRA Thunder Valley Nationals, the tenth of 24 national events ◾Johnson has earned three consecutive No. 1 qualifier honors at Bristol Dragway, his home track, but a Pro Stock win has eluded him ◾In 2012, Johnson finished runner-up in the closest finish in NHRA history, decided by less than .0000-second ◾Johnson hoping to celebrate Father's Day with the gift of a win for his father ◾Ron Capps is defending Funny Car winner for Mopar at Bristol ◾Hagan leads Funn...[Read more...]
Start Your Engines! The Houston Classic Weekend Gets Set To Open Its Doors To The World'S Fastest Cars And Stars.
Houston, Texas, April 29, 2013. Organizers of The Houston Classic Weekend are gearing up for one of the state's biggest celebrations of vintage motoring and getting set to open their doors to some of the world's fastest cars and stars. Visitors to the event, which runs from May 3-5, can look forward to a spectacular gathering of over 200 rare and exotic classic motorcars, sports cars, racers, and antique motorcycles, all assembled in the glorious lakeside setting of La Torretta Lake Resor...[Read more...]
Original 1966 Batmobile Sets World Record
'Kustom Kar' Legend George Barris Parts with His Most Famous Creation After 47 Years The Original 1966 TV series Batmobile, one of the most recognized and popular pieces of entertainment history worldwide, sold for $4,620,000 and set the world record for the highest price ever fetched for a TV/Movie car, at the 42nd annual Barrett-Jackson auction in Scottsdale. The unique vehicle was offered as part of Barrett-Jackson's spectacular Salon Collection on January 19, 2013. Barrett-Jac...[Read more...]
45Th Anniversary Of 'All-American' Victory At 1967 Le Mans
Forty-five years ago this past week, American racing history was made, and thus far has neve rbeen matched again. With the 24 Hours of Le Mans this weekend, Racing in America reflects on the 45th anniversary of the Ford Mark IV claiming the second of four consecutive victories for Ford Motor Company cars at LeMans, arguably the greatest American racing victory on foreign soil. That day in 1967, the stunning red Mark IV, now in the procession of Henry Ford Museum as part of its Racing in ...[Read more...]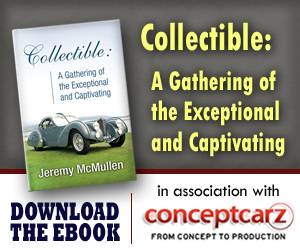 Similarly Priced Vehicles from 1962
Ford Thunderbird ($4,320-$5,440)
Jaguar Mark II ($5,050-$5,050)
Jaguar E-Type XKE ($5,599-$5,890)
Chrysler 300H ($5,090-$5,460)
Mercedes-Benz 190 SL ($5,030-$5,245)
Cadillac DeVille ($5,390-$6,605)
Chrysler Imperial Crown ($1,008-$5,768)
Cadillac Series 62 ($5,020-$5,590)
Lotus Elite ($5,000-$5,000)
© 1998-2014. All rights reserved. The material may not be published, broadcast, rewritten, or redistributed.