Image credits: © Porsche.
1959 Porsche 356A GS/GT news, pictures, specifications, and information

Tweet
This is one of 32 GT Speedsters produced by Porsche in 1959. The Speedsters were produced in a sequential run, ending the historic speedster body style. This vehicle has been restored with the original aluminum panels and wheels, factory GT rollbar and 100 liter fuel tank. The engine produces 135 horsepower at 7300 rpm.

This car with serial number #84040 has a history that goes back to when the factory shipped it to Hoffman Motors in New York City for their customer Alan P. Schweber. it was re-sold later to Bernard Switkes who used the car mainly in autocross competition.

Although the GS/GT Speedsters are now purely collectors' car, in the late 50s and 60s, they were supreme when in the hands of worthy drives such as Bruce Jennings, Bernie Switkes, John Kelly, Harry Blackhard, Emil Pardee, Don Webster and Joe Buzzetta.
This car is fully restored to very high standards, black with green upholstery, and with the engine/engine compartment recently refreshed to full concours condition by Bill Doyle of Jackson Hole, Wyoming. Very few 356A Carrera Cabs exist, and this car has been formally shown only once, at the 2002 German Autofest in Ventura, CA, where it won Best of Show in the concours class. The owner drove the car at The Quail Rally in 2004, before some oft he restoration work mentioned above was completed.
Coupe
Chassis Num: 108186
Engine Num: P91004

The silver painted Porsche 356A 1600 GS Coupe with chassis number 108186 was delivered to Sonauto, the Paris dealership, on June 18, 1959. Its first owner was a dentist named Dr. Olivier Saie who retained the car until March of 1990 when it was sold to M. Daniel Marzat of Castres. A restoration began in June of 1990.

The engine is number 91004 which is a Type 692/0 1500 GT. It is not the original GS engine type. In 1998 the engine was rebuilt. The following year it was given a stainless steel version of the GS twin pipe exhaust system.

At the 2006 Worldwide Group auction held on Hilton Head Island it was expected to fetch between $260,000-$290,000. At the conclusion of the auction, the vehicle was left unsold.
By Daniel Vaughan | Nov 2006
Speedster
Chassis Num: 84910

GS-GT #84910 was born in July, 1958 and sold directly by Porsche to a customer. Design features included aluminum body panels, wheel centers and trim, plexi-glass lightweight lenses, an oversized fuel tank, a roller bearing, and a four-cam, twin ignition, 115-horsepower engine, along with factory roll bar and competition exhaust.

The car was raced extensively at LeMans, the Nurburgring and Hockenheim. Then it was shipped to the Canary Islands, where it lost its original roller bearing engine. It was subsequently imported to the United States, where it received an updated normal-bearing 4-cam engine also developing 115 horsepower.

A ground-up restoration began in 1987. Upon completion, the car was awarded first place in class and division at the national Porsche Parade. The car was restored in 1993 to its present condition.
| | | |
| --- | --- | --- |
| | | Speedster |
This car is a career club race car. It has been successfully raced in every decade since it was born on both the European and American continents. It has run historic European courses such as LeMans and the Nurburgring as well as every major track in the United States and Canada. It was driven by Joe Cogbill to three National SCCA E Production Championships in 1982, 1983 and 1989. As a result of its 1989 Championship, it was recognized by Porsche in their national advertising. It is presented in its track livery and has run the high banks at Daytona Motor Speedway as recently as 2004.
| | |
| --- | --- |
| | Speedster |
The Porsche 356 Speedster, lighter than the Coupe and Cabriolet, was the ideal car for the four-cam Carrera engine. Only 140 Carrera Speedsters were made between 1954 and 1959 and only 30 of those were GT models. This is one of 19 GS/GT Speedster made in 1959; the second to last Speedster ever made and the last to leave the Porsche factory. With matching numbers, this Speedster is a great example with significant race car history from a famous Porsche driver. It was delivered to Joseph Buzzetta in June 1959 at the factory in Germany because he was in the Army stationed in Germany. Buzzetta raced the car successfully in a number of European events before bringing it back to the United States. In the United States he raced it in numerous races. Joe later raced for Porsche and advanced through the 906, 908 and 910s with factory support.
RESTORED 1970 BMW ALPINA 2002TI RETURNS TO THE TRACK AT 2014 ROLEX MONTEREY MOTORSPORT REUNION
On the heels of the launch of the BMW ALPINA 2015 B6 xDrive Gran Coupe to the US market, one of ALPINA's early cars will compete in the Rolex Monterey Motorsport Reunion. Woodcliff Lake, N.J. – August 5, 2014 …Today BMW announced that it will run its newly restored 1970 BMW ALPINA 2002ti in the annual Rolex Monterey Motorsport Reunion at Mazda Raceway Laguna Seca next week. The car will be raced by Road & Track Executive Editor and vintage racer Sam Smith. This racing 2002ti ...[Read more...]
Looks, Rarity, Performance: The Ultimate Connoisseur's Ferrari at RM Monterey...
LOOKS, RARITY, PERFORMANCE: THE ULTIMATE CONNOISSEUR'S FERRARI, 275 GTB/C SPECIALE HEADLINES RM AUCTIONS' FLAGSHIP MONTEREY SALE • RM Auctions offers the first of only three 1964 Ferrari 275 GTB/C Speciales, chassis 06701, at its flagship Monterey, California sale, August 15-16 • With its two sibling cars unlikely to ever become available, 06701's offering is a historic and unrepeatable opportunity to acquire one of the world's most important automobiles • Exceptional 275 GTB/C Speci...[Read more...]
Mazda Racers Salute Their Number One Supporter: Mom
May 9, 2013 (IRVINE, Calif.) When racers talk about the need to have the complete package to win – balanced chassis, powerful and reliable powertrain, great tires, a brilliant engineer, perfect pitstops by a tireless crew, and a mega-budget, we sometimes forget where many racers receive their most unwavering support: Mom. With Mother's Day being one of the few days of the year with virtually no motorsports on TV, we asked a few of our Mazda racers to reflect on how their Moms contribute...[Read more...]
VOLKSWAGEN MOTORSPORT TO CELEBRATE 50th ANNIVERSARY OF FORMULA VEE AT ROLEX 24 AT DAYTONA
• Former stars of Formula Vee and Formula Super Vee will take to the track in historic cars, 50 years after the first official FV race Herndon, VA - Formula Vee will celebrate a big birthday at the Rolex 24 at Daytona this coming weekend (24–27January). Fifty years after the debut of the formula as an officially-sanctioned Sports Car Club of America race series, Volkswagen will return to the place where it all started with a number of significant car and drivers from the past. Among t...[Read more...]
EXCEPTIONAL ROSTER OF PORSCHE RACE CARS JOIN THE STARTING GRID FOR RM'S EAGERLY AWAITED MONTEREY SALE
RM Auctions, the world's largest collector car auction house for investment-quality automobiles, has announced more star consignments for its highly anticipated Monterey sale, August 17–18, in California, this time a remarkable group of Porsches. Comprising twelve examples in total and spanning 48 years of production, the offering is headlined by an exceptional group of racing greats from the sixties, seventies, and eighties. Continuing RM's commitment to present the world's finest automobiles, ...[Read more...]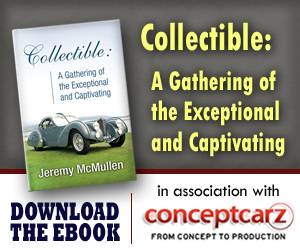 Similarly Priced Vehicles from 1959
Porsche 356A ($3,580-$5,900)
Chrysler 300E ($5,320-$5,750)
Imperial Crown Series MY1-M ($5,400-$5,775)
AC Ace Bristol ($5,650-$5,650)
AC Aceca ($5,700-$5,700)

Average Auction Sale: $57,200
Porsche
Monthly Sales Figures
Volume
September 2014
3,607
August 2014
4,540
July 2014
4,300
June 2014
4,102
May 2014
4,609
April 2014
4,072
March 2014
3,808
February 2014
3,232
January 2014
3,096
December 2013
3,246
November 2013
3,966
October 2013
3,562
(More Details)
© 1998-2014. All rights reserved. The material may not be published, broadcast, rewritten, or redistributed.