Image credits: © Porsche.
1959 Porsche 356A GS/GT news, pictures, specifications, and information

Tweet
This is one of 32 GT Speedsters produced by Porsche in 1959. The Speedsters were produced in a sequential run, ending the historic speedster body style. This vehicle has been restored with the original aluminum panels and wheels, factory GT rollbar and 100 liter fuel tank. The engine produces 135 horsepower at 7300 rpm.

This car with serial number #84040 has a history that goes back to when the factory shipped it to Hoffman Motors in New York City for their customer Alan P. Schweber. it was re-sold later to Bernard Switkes who used the car mainly in autocross competition.

Although the GS/GT Speedsters are now purely collectors' car, in the late 50s and 60s, they were supreme when in the hands of worthy drives such as Bruce Jennings, Bernie Switkes, John Kelly, Harry Blackhard, Emil Pardee, Don Webster and Joe Buzzetta.
This car is fully restored to very high standards, black with green upholstery, and with the engine/engine compartment recently refreshed to full concours condition by Bill Doyle of Jackson Hole, Wyoming. Very few 356A Carrera Cabs exist, and this car has been formally shown only once, at the 2002 German Autofest in Ventura, CA, where it won Best of Show in the concours class. The owner drove the car at The Quail Rally in 2004, before some oft he restoration work mentioned above was completed.
Coupe
Chassis Num: 108186
Engine Num: P91004

The silver painted Porsche 356A 1600 GS Coupe with chassis number 108186 was delivered to Sonauto, the Paris dealership, on June 18, 1959. Its first owner was a dentist named Dr. Olivier Saie who retained the car until March of 1990 when it was sold to M. Daniel Marzat of Castres. A restoration began in June of 1990.

The engine is number 91004 which is a Type 692/0 1500 GT. It is not the original GS engine type. In 1998 the engine was rebuilt. The following year it was given a stainless steel version of the GS twin pipe exhaust system.

At the 2006 Worldwide Group auction held on Hilton Head Island it was expected to fetch between $260,000-$290,000. At the conclusion of the auction, the vehicle was left unsold.
By Daniel Vaughan | Nov 2006
Speedster
Chassis Num: 84910

GS-GT #84910 was born in July, 1958 and sold directly by Porsche to a customer. Design features included aluminum body panels, wheel centers and trim, plexi-glass lightweight lenses, an oversized fuel tank, a roller bearing, and a four-cam, twin ignition, 115-horsepower engine, along with factory roll bar and competition exhaust.

The car was raced extensively at LeMans, the Nurburgring and Hockenheim. Then it was shipped to the Canary Islands, where it lost its original roller bearing engine. It was subsequently imported to the United States, where it received an updated normal-bearing 4-cam engine also developing 115 horsepower.

A ground-up restoration began in 1987. Upon completion, the car was awarded first place in class and division at the national Porsche Parade. The car was restored in 1993 to its present condition.
| | | |
| --- | --- | --- |
| | | Speedster |
This car is a career club race car. It has been successfully raced in every decade since it was born on both the European and American continents. It has run historic European courses such as LeMans and the Nurburgring as well as every major track in the United States and Canada. It was driven by Joe Cogbill to three National SCCA E Production Championships in 1982, 1983 and 1989. As a result of its 1989 Championship, it was recognized by Porsche in their national advertising. It is presented in its track livery and has run the high banks at Daytona Motor Speedway as recently as 2004.
Mazda6 Becomes First Diesel To Win At Indianapolis Motor Speedway
July 26, 2013 (INDIANAPOLIS, Ind.) Over the past four decades, Mazda has scored hundreds of race wins at tracks across the county, and around the world. But until today, Mazda did not have a win at what is perhaps the most famous racetrack in the world, the Indianapolis Motor Speedway. That box has now been checked. In the Grand-Am Brickyard Grand Prix, the #70 SpeedSource Castrol Edge Mazda6 SKYACTIV-D Clean Diesel scored the GX class win. The win was the fifth in a row for the al...[Read more...]
Seven-Time Pikes Peak Champion Zwart To Bring 'The Best Of Both Worlds' To The Mountain In 2013
Colorado Springs – June 25, 2013 – In 2010, Jeff Zwart, from Corona del Mar, Calif., made Pikes Peak history and shook up the sports car establishment by running a road racing car – the Porsche 911 GT3 Cup - at the world's most famous hill climb, smashing the Time Attack class record and winning his seventh championship. In 2011, Zwart drove his Porsche 911 GT2 RS turbo street car – not only up the Mountain, but on the Interstate from L.A. to Colorado Springs - and sliced 24-seconds o...[Read more...]
ACURA NSX PRODUCTION SITE SELECTED IN OHIO
05/14/2013 - MARYSVILLE, Ohio Acura today announced that the all-new NSX supercar will be produced at a new Performance Manufacturing Center in Ohio, a $70 million advanced production facility encompassing 184,000 square feet to be housed inside Honda's former North American Logistics facility and located in the midst of Honda's existing R&D and production engineering operations. The site for the new production facility, which will be Honda's third auto plant in Ohio, is only a few mi...[Read more...]
PORSCHE MOTORSPORT NORTH AMERICA PURCHASES HISTORIC ANDIAL NAME
Santa Ana, Calif. - February 14 - With the last active owner Dieter Inzenhofer retiring later this month, the legendary ANDIAL name will stay in the Porsche family as Porsche Motorsports North America, Inc. (PMNA) announced it has purchased the brand for future use. ANDIAL is an anagram made from the names of the founding members - the late Arnold Wagner AN; Dieter Inzenhofer DI; and former PMNA president and current consultant Alwin Springer AL. From the company's formation in 1975, ...[Read more...]
1951 Italian Grand Prix: Promising Result Left Unfilfilled
In 1957, at the Italian Grand Prix, Andre Simon, almost as usual, would share a drive with Ottorino Volonterio and would finish his final Formula One grand prix in 11th place. And while the fact Simon would have to share his drive with another would not be all that surprising to many, it would be a far cry from what many believed would be the case after the 1951 Italian Grand Prix. Andre Simon had made an impressive debut at the 1949 24 Hours of Le Mans, which gained the attention of Amedee G...[Read more...]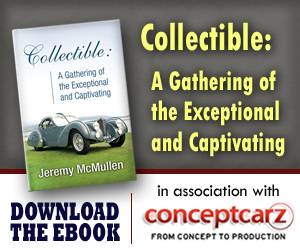 Similarly Priced Vehicles from 1959
Porsche 356A ($3,580-$5,900)
Chrysler 300E ($5,320-$5,750)
Imperial Crown Series MY1-M ($5,400-$5,775)
AC Ace Bristol ($5,650-$5,650)
AC Aceca ($5,700-$5,700)

Average Auction Sale: $57,200
Porsche
Monthly Sales Figures
Volume
February 2014
3,232
January 2014
3,096
December 2013
3,246
November 2013
3,966
October 2013
3,562
September 2013
3,093
August 2013
3,327
July 2013
3,820
June 2013
3,700
May 2013
3,928
April 2013
4,032
March 2013
3,487
(More Details)
© 1998-2014. All rights reserved. The material may not be published, broadcast, rewritten, or redistributed.