1940 Cadillac Series 90 Sixteen news, pictures, specifications, and information

Tweet
A total of 51 V16's were produced by Cadillac in 1940. Two of which were convertibles, this car is number 2. The V16 had a displacement of 431 cubic-inches developing 185 horsepower at 3600 RPM. This vehicle has a wheelbase of 141 inches and weighs 5350 pounds. It is a five passenger vehicle and has a divider window between the front and rear seats. Original purchase price was $6000.
A total of fifty-five 1940 Cadillac 90 Series vehicles were produced with the V-16 engine. This car is one of only two Convertible Coupes produced that year. The Series 90 sits on a 141.3 inch wheelbase and is powered by a 431 cubic-inch, V-16 engine developing 185 horsepower. The vehicle weighs 4,970 pounds and sold new for $5,440.

The basic five-passenger Cadillac sedan of 1940 sold for $1,745 with a V-8 but $5,140 with a V-16 - a premium no longer really justified, as Cadillac's V-8 was one of the smoothest engines anywhere. It was the last year for the V16 engine.

Some of Cadillac's most important engineering developments, and some of its most beautiful cars, appeared in the 1940's.

A little over 50 V-16 Cadillacs were produced in 1940. The V-16 had a displacement of 431 cubic-inches and developed 185 horsepower. This Convertible Coupe is quite rare with only a few produced.

Cadillac produced the V-16 from 1930 through 1940. The hood of the V-16 was intimidating - larger and longer than any other vehicle produced. Twelve cylinder engines were rare enough, but only a few manufacturers dared to build a sixteen.

Interestingly, only about 4,000 16's were made during the 11 year run. They were clearly for the wealthy and those with a desire to drive big and drive fast.

This Convertible Coupe is considered one of the rarest and most desirable V16's ever made.
There were just five Seven-Passenger Formal Sedans with the V16 engine produced in 1940, and only three are known to have survived the test of time. One is owned by musician Neil Young and this one was brought to the Automobiles of Amelia presented by RM Auctions where it was estimated to sell for $70,000-$90,000. It is a Series 40-90 fitted with the L-head V16 that displaces 431 cubic-inches and controlled by four-wheel hydraulic brakes.

The original owner of this car was Ruth Metcalf Roebling, widow of the president of John Roebling's Sons, best known for their work on the Brooklyn Bridge. Ownership passed to Holt Apgar Murray in 1962. It was inherited by her grandson in August of 2005 and sold at auction a short time later where it was acquired by the present owner. At auction, ownership changed again for the sum of $82,500 including buyer's premium.

The car has traveled 65,000 miles since new. It is a well-preserved car that has its original interior, division glass, auxiliary jump seats and padded leather top.
By Daniel Vaughan | Apr 2008
Derham Town Car
Coachwork: Derham

One of the last Cadillac V-16s built, this rare town car with custom coachwork by the Derham Company of Rosemont, Pennsylvania, is a very low mileage example preserving many original features. Derham, founded in 1887, was the only recognized American coachbuilder to survive the Second World War, continuing to modify luxury automobiles for a dwindling clientele until 1971.
As the 1930s soldiered on, sales for the grand Cadillac slowed. Nearly all of the V16s built in 1940 received semi-custom coachwork, with the exception of a handful of one-off coachbuilt models such as this five-passenger Sport Coupe bodied by Derham of Rosemont. Its first owner was H.G. Haskell of Wilmington, Delaware, vice-president of the DuPont Company. Mr. Haskell paid $11,000 for the car and is believed to have retained the car until his passing in 1951.

The design of five-passenger sport coupe was undoubtedly influenced by the V-16 aerodynamic coupes of the mid-1930s. It has the classic Derham padded top which was a rarity on a fastback design. Unusual features include exotic molded cushions, ventilator panes in the rear-side windows, and an additional luggage rack.

The next recorded owner was Herbert Becker of Long Island, New York, who kept the car in his garage. Years later, another Long Islander, David Ficken, discovered the car after a lengthy search. Soon after discovering the car, he sold it to John S. Linhardt of Queens, New York. The car was later purchased by J.B. Nethercutt in 1970 and immediately embarked on a restoration. Upon completion, the car was finished in ruby red with a tan padded top. Inside there is a flame stich pattern, period-correct French mohair upholstery that was reportedly sourced through Phil Hill.

The car has appeared in numerous books and magazines.

In 2010, the Derham Coupe was sold to a southern collector who added it to his extensive collection of American classics.
By Daniel Vaughan | May 2013
From 1930 through 1940 Cadillac produced a monsterous sixteen-cylinder engine. It was first displayed to the automotive community at the Detroit Opera House prior to the Detroit Auto Show. This was the largest number of cylinders to power an automobile of all time. The hood that housed the engine was intimidating, larger and longer than any other vehicle. Up to this point, there were only a few manufacturers that produced a twelve-cylinder engine, mechanical achievements in their own right. The introduction of the sixteen-cylinder engine was historical and seen as revolutionary at the time.

Up to the 1990's there have only been three manufacturers of a sixteen cylinder engine. The Bugatti Type 47 never made series production while the Marmon Corporation offering was short lived. In comparison, the Marmon built V-16 was more powerful. By using aluminum, the 491 cubic-inch engine with its overhead values weighed just over 900 pounds. The engine was formed by merging twin-eight cylinder engines in a 45-degree angle, giving the engine an impressive look and an astonishing 200 horsepower. The use of steel cylinder sleeves added to the longevity and durability of the engine. The V-16 engine earned Howard Marmon the Society of Automotive Engineers annual design award.

The Cadillac V-16 was the first and remained in production for eleven years.

A new sixteen-cylinder engine was introduced by Cadillac in 1938. This was not their first V16 enigne; their first had been designed by engineer, Owen Nacker of Marmon fame. It had an overhead valve design and mounted at a 45-degree to one another. Each back of the sixteen cylinders had their own exhaust and fuel system. The engine featured hydraulic valve adjusters that helped with the silent valve train operation. The exterior of the engine was equally as impressive, with all the wiring and hoses concealed under cover and finished in chrome, polished aluminum, porcelain and baked enamel. The result was a 452 cubic-inch engine that was nearly unmatched in the industry at the time.

A V12 version followed shortly after the introduction of the V16; it displaced 368 cubic-inches and was basically three-quarters of a V16. Both of these engines remained in production through 1937. The V12 did not resume production for 1938. A new engine was introduced in 1938 and that very different than its predecessors. It was an L-head design, cast in a 135-degree vee, and featured a monobloc design. The was easier and more economical to manfacutre and it weighed 250 pounds less, had 21 fewer cubic-inches, but developed the same power.

The V12 engine was used to power the Series 85 for 1937. The Series 75 and Series 85 were the same vehicle, with the exception of the powerplant. The Series 75 used a V8 engine. In 1938 the V12 was discontinued, and the V16 took its place. The sixteen-cylinder cars were shortened to a length similar to the Series 75, and the chassis and bodies were interchangeable.

There were twelve bodystyles available, including coupes, convertible coupes, and sedans, as well as the larger seven-passenger sedans and limousines. These larger vehicles were called Formal Sedans or Imperial sedans depending on whether they had a division partition.

The Series 90 experienced its best year in 1938 with 315 examples built. The five-passenger Touring Sedan was the most popular, with 41 sold.

In 1939, the front of the V8 Cadillacs were midly updated. The grille was raked back and the headlights were now mounted to the nose and flush with the top of the grille. Chrome moldings were added to the running boards and the fender ornamentaion was now fully chromed. The rear license plate was moved from the left fender to the trunk lid.

There were a total of 138 V16 cars produced in 1939. Few changes or modifications to the car followed for 1940. A total of 61 V16 cars were built this would be the final year for their production. A total of 4,400 examples were built over an eleven year period.
By Daniel Vaughan | Apr 2008
CAN-AM GROUP PROVIDES A THUNDEROUS RETURN TO THE ROLEX MONTEREY MOTORSPORTS REUNION
MONTEREY, Calif., July 7, 2014 — Returning to their familiar home where they ran unbridled in the '60s and early '70s, thundering Can-Am cars will be a popular group this year at the Rolex Monterey Motorsports Reunion. Held August 14-17 at Mazda Raceway Laguna Seca, the event is a collection of 550 authentic and period-correct race cars from nearly every decade of motorsports. It will be difficult to ignore the guttural rumble of 30-plus authentic Can-Am cars as they accelerate out of Turn...[Read more...]
1958 12 Hours of Sebring: Collins and Hill Escort a Red-Head Home to Victory
In a matter of months Peter Collins would lay dying of wounds received in a violent crash at the Nurburgring during the German Grand Prix. While many would be holding their breaths and facing the cold-hard truth of another motor racing death, there would be others remembering Collins' talent harkening back to an evening in late March when he and Phil Hill would march triumphantly to victory, sharing the moment with a red-headed beauty. New regulations were on everyone's minds heading into 195...[Read more...]
In Focus: Monterey Classic Car Week
For one week each August, California's Monterey peninsula becomes the hub for vintage automobile enthusiasts. Within the glittering collection of unique rendezvous that make up Monterey Classic Car Week, there are a number of stand out events: the Pebble Beach Tour d'Elegance presented by Rolex (15 August), The Quail, A Motorsports Gathering (16 August), the Pebble Beach Concours d'Elegance (18 August) and the Rolex Monterey Motorsports Reunion (16 -18 August). As a whole, the occasion is a refe...[Read more...]
50 ANNI DI PASSIONE FERRARI CLUB OF AMERICA RETURNS TO ROAD AMERICA FOR 50th ANNIVERSARY
ELKHART LAKE, Wis., June 11, 2013 - This summer the Ferrari Club of America is returning to Elkhart Lake, Wis., and Road America to celebrate its 50th Anniversary with a special International Meet. From July 30 to August 4 the club will honor its heritage as the oldest recognized and, by magnitudes, the largest Ferrari club in the world with over 5,200 members from across all of Canada and the US. 50 Anni di Passione, 50 years of passion, is the year long theme for the Ferrari Club ...[Read more...]
EPIC COLLECTION OF VINTAGE AUTOMOBILES AND MEMORABILIA EXEMPLIFIES CLASSIC ERA OF HOLLYWOOD STYLE
The curtain will rise on an epic collection of vintage automobiles and memorabilia, June 27th to 29th as RM Auctions presents the esteemed private collection of Mr. Art Astor. A California native and 50 year broadcasting veteran, Astor is a renowned entrepreneur and passionate collector, having built one of the country's most impressive and diverse collections of vintage automobiles and pre and postwar memorabilia. Encompassing over 250 vehicles, Astor's remarkable fleet of classic car...[Read more...]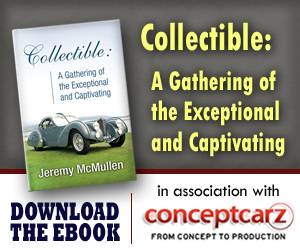 Cadillac
Monthly Sales Figures
Volume
November 2014
13,148
October 2014
13,615
September 2014
13,829
August 2014
16,650
July 2014
15,241
June 2014
13,941
May 2014
14,688
April 2014
13,900
March 2014
14,765
February 2014
13,437
January 2014
11,386
December 2013
18,165
(More Details)
© 1998-2014. All rights reserved. The material may not be published, broadcast, rewritten, or redistributed.