1968 McLaren M6B McLeagle news, pictures, specifications, and information

Tweet
Sports Roadster
Chassis Num: 50-10

The McLeagle is based on a 1968 McLaren M6B, which was the production version of the very successful 1967 M6 that won the championship for the McLaren team. Twenty-eight M6Bs were produced, but the McLeagle is unique. It was purchased by Dan Gurney's All American Racers (AAR) and heavily modified by them. Since all AAR-built cars were called Eagles, it received the nickname 'McLeagle.' Modifications included replacing many parts with Titanium pieces, suspension geometry changes, reshaped nose, and cockpit changes to accommodate Gurney's larger frame.

The AAR-run car never appeared at any two races in the same configuration. The tail section was substantially changed for 1969, and various wing setups were tried. During 1968 and 1969, it used several versions of Ford-based engines. After failure to obtain any suitable Ford engines in mid-1969 (causing it to miss 6 races) a big-block Chevrolet was installed for the final three races. It is restored to this late 1969 (Laguna Seca and Riverside) configuration.

Its race record with AAR was not stellar, with a lot of DNFs and best finish of 4th (at Riverside.) It did, however, run as high as 2nd at Riverside. Dan Gurney drove the car in most of its 1968-1969 appearances, but Swede Savage drove in two of the 1968 outings.

Bob Brown purchased the car after the 1969 season and ran it, essentially unchanged except for removal of the suspension-mounted wing, in 1970 and early 1971. he actually achieved somewhat more success than AAR, with five top-ten finishes in 1970. The current owner purchased it in 1977.
Designed by Robin Herd and Gordon Coppuck and build by McLaren, the McLaren M7A and its B, C and D variants are Formula One racing vehicles.

The M6B weighed in around 1,700 lbs and had in the neighborhood of 600hp. An aluminum monocoque, the M6B was quite different from modern racecars, basically as sheet aluminum origami secured with rivets. Secured with removable pins, the only 'safety cage' to mention is a not very confidence inspiring main hoop, braced only with a stringer from the center top of the hood back to the head of the engine.

An excellent design, the M6B was the first monocoque chassis McLaren. Strong, simple and an aerodynamically efficient package, the factory attempted to sell a number of replicas to eager customers hoping to duplicate its success. This of course never happened as the customers were always based on last year's model, while the factory team raced the latest and newest improved hardware.

Can-Am vehicles clearly occupy the ground where adrenaline and testosterone are at the maximum. At the same time these vehicles are both absolutely terrifying yet wildly exciting.

In 1966 the basic concept of Can-Am's debut was 'professional, minimum rules, closed wheel sports cars, who can go fastest'. A quantum leap in tire technology soon made it a contest of getting the most horsepower to the ground and horsepower quickly became the mantra of the series.

McLaren's M6B was designed to take the GM small-block V8 and mate it to a Hewland LG five-speed transaxle.

Only 28 models of the M6B were ever produced in 1968. They were sold for approximately $14,000.
By Jessica Donaldson
For more information and related vehicles, click
here
Fan Activities Complement on-Track Racing at Rolex Monterey Motorsports Reunion
• Derek Hill and Sir Stirling Moss Pack a One-Two Punch
MONTEREY, Calif., August 5, 2014 – Whether it's the sight of rarely seen cars challenging the tricky Mazda Raceway Laguna Seca road course or the chances to meet legendary drivers, the Rolex Monterey Motorsports Reunion is the place to be August 14, 15, 16 and 17. In addition to visiting the Maserati heritage display that celebrates the automakers centennial, here's what's in store for visitors: Italian Festival...[Read more...]
Sonoma Historics' Racing Seminar to discuss Can-Am and Shadow Race Cars
Sonoma Historic Motorsports Festival's Racing Seminar to discuss early Can-Am years and the radical Shadow Race Cars SONOMA, Calif. (May 12, 2014) - For the third straight year, the Sonoma Historic Motorsports Festival (May 17-18) will host one of its popular racing seminars at Sonoma Raceway. This year's seminar will celebrate the early years of the iconic SCCA Can-Am Series, which ran from 1966 to 1974, with a focus on the unique Shadow race cars that competed in the Series f...[Read more...]
Gooding & Company's 10th Anniversary Pebble Beach Auctions Realizes More Than $112 Million
28 New Auction Records Set at Two-Day Pebble Beach Auctions in 2013 Pebble Beach, Calif. (August 20, 2013) – Gooding & Company, official auction house of the Pebble Beach Concours d'Elegance® and acclaimed for selling the world's most significant and valuable collector cars, realized more than $112 million at its Pebble Beach auctions over the weekend. During the two-day sale, Gooding & Company sold 116 of the 127 lots offered, for a 91% sale rate, with an average price per lot ...[Read more...]
Peter Brock and Bob Bondurant to Swap Shelby Stories at Rolex Monterey Motorsports Reunion
Two stalwart names in the colorful history of Shelby American, Peter Brock and Bob Bondurant, will share some of their stories of those early years at the Picnic with Shelby Cobra Saturday, August 18 at the Rolex Monterey Motorsports Reunion. The 30-minute picnic begins at 12:15 p.m. in the Ford Motor Company display, located at Mazda Raceway Laguna Seca's Yamaha Marketplace. Peter Brock was instrumental in Shelby American beginning in 1962. As a young designer, he dove into the entire design...[Read more...]
4th Annual The Quail Motorcycle Gathering Information
Two of the World's Most Historic and Innovative Motorbikes to Be Showcased on May 5 at Quail Lodge Golf Club in Carmel, Calif. Quail Lodge Golf Club announced today that two iconic motorcycles, Marty Dickerson's 'Blue Bike' and Dan Gurney's 'Alligator Bike,' will be on display at the fourth annual The Quail Motorcycle Gathering, taking place on Saturday, May 5, 2012, at Quail Lodge Golf Club in Carmel, Calif. This year, the day-long event will pay tribute to the Evolution of the Motorc...[Read more...]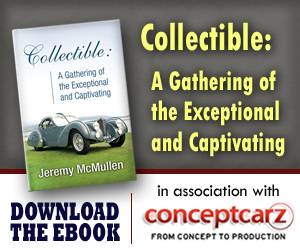 1968 Can-Am Drivers Championship
© 1998-2014. All rights reserved. The material may not be published, broadcast, rewritten, or redistributed.