Image credits: © Cadillac. GM Corp.
1953 Cadillac Le Mans Concept news, pictures, specifications, and information

Tweet
Built by GM Styling for the 1953 GM Motorama. Named after recent Cadillac racing successes by Briggs Cunningham at the 1950 LeMans 24-Hour race. GM also introduced the Eldorado the same year. Motorama visitors who were taken by the LeMans stunning styling could visit their local Cadillac dealer and buy a Cadillac similarly styled as the 1953 Eldorado. The concept never went into production, but the design was an exercise in the use of fiberglass and 3-seat design. The Cadillac Eldorado was also introduced in 1953.

GM Styling built four of these gorgeous fiberglass show cars for various shows and exhibits. LeMans #4 was brought back to GM styling and given a styling redux under the watchful eye of Harley Earl head of GM Styling. Front-end styling as changed dramatically by the edition of quad headlamps GM first. Quad headlamps made their production debut on the 1957 Eldorado Brougham. Rear-end styling was also changed and a more modern Tailfin was added. The complete drivetrain was updated to 1960 Eldorado specifications.

The Restyled Lemans ended up in the hands of James (Bud) Goodman who was head of GM Fisher Body division.
The LeMans was on display for many years in a Cadillac dealership in Hollywood, California. Ownership later passed to Mr. Goodman's son, Jack.

The LeMans is currently owned by Cadillac Motor Car Division - General Motors Corporation, and is currently displayed at the Cadillac Historic Collection.
This 1953 Cadillac Lemans received its name from the grueling and prestigious 24 Hours of LeMans raced in France. Briggs Cunningham, driving Cadillacs, scored many successes in the 1950 race.

GM styling built four of these fiberglass show cars for various shows and exhibits. The LeMans features a 250 horsepower V8 engine coupled to a 4-speed gearbox, making it faster and smoother than any contemporary Cadillacs. The fiberglass body also sported the company's very first wrap-around windshield.

Three of the four cars constructed have survived to this day. The fourth was destroyed by fire.
Created in 1953, the Cadillac Le Mans received its name for the grueling and prestigious 24 Hours of LeMans race in France. The concept never went into production, but the design was an exercise in the use of fiberglass and two-seater design.
By Daniel Vaughan | Mar 2006
John Barnard's Finest: Some of the Greatest of Barnard's Design
The latter-part of Barnard's Formula One career would be filled with disappointments and disputes. However, there was no disputing the genius of the man from London. In fact, a couple of innovations that are mainstays in Formula One design were first introduced by this man who had been involved in motor racing in some form or manner since the 1960s. John Barnard would be born in London on the 4th of May in 1946. The war was over and a whole new world loomed on the horizon. It was t...[Read more...]
Corvette Shines in the Big Apple
All-new Corvette Stingray comes to New York City 60 years to the day after Motorama debut 2013-01-16 Sixty years ago tomorrow, spectators lined New York City's posh Park Avenue, waiting to get a glimpse of the ground-breaking Chevrolet Corvette on display at the General Motors' Motorama show. On Thursday, the Corvette will be back in The Big Apple, marking the historic milestone with the all-new 2014 Chevrolet Corvette Stingray. The all-new Corvette Stingray debuted earlier...[Read more...]
CADILLAC CONCEPT CARS STAR at AMELIA CONCOURS d'ELEGANCE
There are limited production cars, there are rare cars and there are concept cars that never find their way to the showroom. A fleet of Cadillac's rare and mythic Motorama and Detroit Auto Show Concept Cars will take to the field at the 18th Annual Amelia Island Concours d'Elegance on Sunday March 10, 2013. Created under the supervision of GM's legendary styling chief, Harley Earl, the Cadillac Concept cars of the 'Fifties were created as the stars of GM's Motorama shows. All are blood anc...[Read more...]
GM Design: 85 Years of Making Art That Moves You
As GM Design celebrates its 85th birthday this month, the 1,900 men and women in GM's 10 global design centers are focused on the future, united in their vision to entice consumers to fall in love and see vehicles as they do: art that moves you. 'Our global team is united around its passion for designing vehicles that make an emotional connection with customers,' said Ed Welburn, GM vice president, Global Design. 'What was true 85 years ago is still true today: A designer's role is to create...[Read more...]
Carroll Shelby, Ford Family for More Than Half a Century
Carroll Shelby was a member of the Ford family for the better part of 60 years, producing stunning performance vehicles from concepts to production models. He once said his energy and passion for performance products were always strongest when he was working with Ford. Shelby most recently collaborated with the company on the 2013 Ford Shelby GT500 Mustang, the most powerful production V8 in the world. Working with SVT engineers at Sebring and the Arizona Proving Grounds, at times he drov...[Read more...]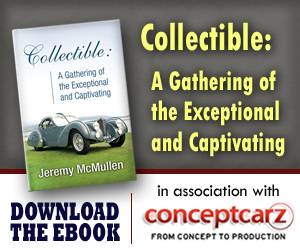 Cadillac
Monthly Sales Figures
Volume
December 2014
16,150
November 2014
13,148
October 2014
13,615
September 2014
13,829
August 2014
16,650
July 2014
15,241
June 2014
13,941
May 2014
14,688
April 2014
13,900
March 2014
14,765
February 2014
13,437
January 2014
11,386
(More Details)
© 1998-2014. All rights reserved. The material may not be published, broadcast, rewritten, or redistributed.