Image credits: © Cadillac. GM Corp.
1953 Cadillac Le Mans Concept news, pictures, specifications, and information

Tweet
Built by GM Styling for the 1953 GM Motorama. Named after recent Cadillac racing successes by Briggs Cunningham at the 1950 LeMans 24-Hour race. GM also introduced the Eldorado the same year. Motorama visitors who were taken by the LeMans stunning styling could visit their local Cadillac dealer and buy a Cadillac similarly styled as the 1953 Eldorado. The concept never went into production, but the design was an exercise in the use of fiberglass and 3-seat design. The Cadillac Eldorado was also introduced in 1953.

GM Styling built four of these gorgeous fiberglass show cars for various shows and exhibits. LeMans #4 was brought back to GM styling and given a styling redux under the watchful eye of Harley Earl head of GM Styling. Front-end styling as changed dramatically by the edition of quad headlamps GM first. Quad headlamps made their production debut on the 1957 Eldorado Brougham. Rear-end styling was also changed and a more modern Tailfin was added. The complete drivetrain was updated to 1960 Eldorado specifications.

The Restyled Lemans ended up in the hands of James (Bud) Goodman who was head of GM Fisher Body division.
The LeMans was on display for many years in a Cadillac dealership in Hollywood, California. Ownership later passed to Mr. Goodman's son, Jack.

The LeMans is currently owned by Cadillac Motor Car Division - General Motors Corporation, and is currently displayed at the Cadillac Historic Collection.
This 1953 Cadillac Lemans received its name from the grueling and prestigious 24 Hours of LeMans raced in France. Briggs Cunningham, driving Cadillacs, scored many successes in the 1950 race.

GM styling built four of these fiberglass show cars for various shows and exhibits. The LeMans features a 250 horsepower V8 engine coupled to a 4-speed gearbox, making it faster and smoother than any contemporary Cadillacs. The fiberglass body also sported the company's very first wrap-around windshield.

Three of the four cars constructed have survived to this day. The fourth was destroyed by fire.
Created in 1953, the Cadillac Le Mans received its name for the grueling and prestigious 24 Hours of LeMans race in France. The concept never went into production, but the design was an exercise in the use of fiberglass and two-seater design.
By Daniel Vaughan | Mar 2006
BEACH CARS STORM THE 2014 AMELIA CONCOURS d'ELEGANCE
'For an event like 'The Amelia' a class of beach cars is appropriate and ideal,' said Warner. 'After all, when you take a break from the concours field and sit on the veranda at the Ritz-Carlton with a cool drink in front of you, you stare at the ocean and the beach. I just wish we could find a way to make the beach part of the concours field just this once.' During the La Dolce Vita epoch, the ultimate European playboy's car was neither a Maserati nor a Ferrari. It arrived on sun splashed ...[Read more...]
1964 Nurburgring 1000 Kilometers: Survive for One Last Victory
During the late 1950s, Richie Ginther would begin a relationship with John von Neumann and this partnership would result in one of the most dominant periods of American sportscar racing in which Ginther and Porsche would be virtually unbeatable. Nearly a decade later, that same combination would again join forces to provide one more moment of glory. By the mid-1950s Porsche had developed its 550. This was a small car more than capable of dominating its class and consistently able to challenge...[Read more...]
Sonoma Historic Motorsports Festival Celebrates Corvette'S 60 Years At Sonoma Raceway
• Fast cars, fine food and wine highlight May 18-19 weekend
• Paul Reinhart is honored guest, popular racing seminar scheduled for second year
SONOMA, Calif. (April 27, 2013) - The Sonoma Historic Motorsports Festival returns to Sonoma Raceway on May 18-19 for the fourth straight year under that title. The program for the 27th annual historic-car event organized by General Racing Ltd. in Sonoma will celebrate the 60th Anniversary of the popular Corvette, created by the ...[Read more...]
Corvette Shines in the Big Apple
All-new Corvette Stingray comes to New York City 60 years to the day after Motorama debut 2013-01-16 Sixty years ago tomorrow, spectators lined New York City's posh Park Avenue, waiting to get a glimpse of the ground-breaking Chevrolet Corvette on display at the General Motors' Motorama show. On Thursday, the Corvette will be back in The Big Apple, marking the historic milestone with the all-new 2014 Chevrolet Corvette Stingray. The all-new Corvette Stingray debuted earlier...[Read more...]
1967 Can-Am Road America: The Beginning of the 'Bruce and Denny Show'
While Formula One will be forever considered the pinnacle of motorsport, from a period between 1966 and 1986 there existed a series that would likely be the closest to 'anything goes' as any motor racing series could truly get. Based upon the FIA Group 7 cars but allowed to showcase unlimited engine sizes and unfettered aerodynamics, the Can-Am cars would have to be considered the pinnacle of motorsport technology and power of their era. And for more than a couple of years there would be one tea...[Read more...]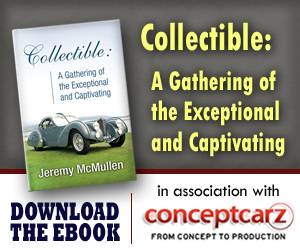 Cadillac
Monthly Sales Figures
Volume
June 2014
13,941
May 2014
14,688
April 2014
13,900
March 2014
14,765
February 2014
13,437
January 2014
11,386
December 2013
18,165
November 2013
16,172
October 2013
14,792
September 2013
13,828
August 2013
20,255
July 2013
15,652
(More Details)
© 1998-2014. All rights reserved. The material may not be published, broadcast, rewritten, or redistributed.