1947 Buick Roadmaster Series 70 news, pictures, specifications, and information

Tweet
Estate Wagon
Coachwork: Ionia

1947 was the first year for the Roadmaster Model 79 Estate Wagon and only 300 were produced. The current owners search has located less than 12 units that exist today.
The Estate Wagon rides on a 129-inch wheelbase and weighs 4,445 pounds. It is powered by a 320.2 cubic-inch, in-line, 8-cylinder engine developing 144 horsepower. It was the most expensive Buick model for that year, selling new for $3,249.
This restored model has a complete new wood body and took about three years to restore.
Estate Wagon
Coachwork: Ionia

The Roadmaster name first appeared on Buick automobiles in 1936 as a celebration of their engineering and advancements in design. The Roadmasters were built on Buick's longest wheelbase, and from 1946 to 1957 they were the most elegant and prestigious cars that Buick had to offer to the general public.

From 1936 to 1948 the Roadmaster appeared in coupe, sedan, convertible, and station wagon body styles. A hardtop coupe was added in 1949 and dubbed the Riviera.

There were 46,432 4-door Roadmasters built in 1947. This model cost $2,232 fresh from the showroom floor. Calculated from the official inflation factor tables, that would be $22,271 in today's dollars. One can't buy for that price today a luxury car that is equivalent to the status of the Roadmaster in the forties. The big car weighed in around 4,500 lbs.

In 1947, Buick sold 272,827 cars and was in fourth place after Ford, Chevrolet and Plymouth. Buick's high water mark for sales was 1985, when Buick sold 1,002,906 cars.
Buick introduced their Roadmaster in 1936 and it would continue until 1958. The Roadmaster rested on the longest wheelbase available to Buick throughout its history.

The 1947 Roadmaster was based on the pre-War design and powered by the proven 'Fireball Dynaflash' inline eight-cylinder engine, mated to a three-speed manual gearbox. The Roadmaster was available in coupe, sedan, convertible and station wagon models.

This Roadmaster Sedanette is painted in two-tone grey with only minor imperfections visible upon close examination. Exterior features include a spotlight, a driver's side mirror, bumper guards, chrome stone guards, wide whitewall tires and painted steel wheels with chrome wheel covers and trim rings. Passenger amenities include a clock, heater, defroster and a Sonomatic radio.

In 2009, it was offered for sale at the Vintage Motor Cars of Meadow Brook presented by RM Auctions. It was estimated to sell for $50,000-$70,000 and offered without reserve. The lot was sold for the sum of $44,000 including buyer's premium.
By Daniel Vaughan | Sep 2009
With World War II over, automobile production resumed and struggled to keep up with the demand. Buick chose to keep their 1947 models largely the same as the original post-war cars of 1946. It was certainly a sellers' market that fostered a booming job creation arena and brought about newfound successes. For 1947, Buick found nearly 79,000 buyers for their Roadmaster vehicle.

This Convertible Coupe was seldom driven by its original lady owner, who, after many years, sold it to an Ohio collector named Len Immke. Years later, it was sold to his friend, Jim Miller. Mr. Miller kept the car original and occasionally drove it. After years of enjoying the car, it was sold to Charles Cawley, who had the Buick cosmetically restored to very high standards. Mr. Miller missed the car and was able to persuade Mr. Cawley to sell it back to him.

The car is finished in Sequoia Cream, with maroon leather and tan cloth upholstery with a black cloth top. It is equipped with a power front bench seat, power windows, an AM radio, a heater, a power top, and carpeted floor mats.

Power is from a 320.2 cubic-inch 'Fireball' valve-in-head inline eight-cylinder engine mated to a three-speed manual transmission.
By Daniel Vaughan | Dec 2013
The Roadmaster named first appeared on Buick automobiles in 1936 as a celebration of their engineering improvements and advancements in design. The Buick Series 80 became known as the Roadmaster. The Roadmasters were built on the longest wheelbase Buick had to offer. From 1946 through 1957 they were the most elegant and prestigious automobiles that Buick sold.

From 1936 through 1948 the Roadmaster appeared in coupe, sedan, convertible and station wagon bodystyles. A hardtop coupe was added in 1949 and dubbed the Riviera.

The Roadmaster named reappeared in 1991 and continued in production until 1996. It served as a replacement for the Electra model line and offered as an Estate Wagon. A sedan was introduced in 1992.

The end of the 1953 Buick Roadmaster station wagon meant the end of the last wood-bodied station wagon to be mass-produced in the United States. In 1996, the end of the Buick Roadmaster Estate Wagon meant the end of the full-size family station wagons.
By Daniel Vaughan | Mar 2006
For more information and related vehicles, click
here
Concours d'Elegance at Stan Hywet Hall & Gardens
The inaugural Concours d'Elegance at Stan Hywet Hall & Gardens welcomed over 180 rare and exclusive automobiles, motorcycles, and bicycles on the well-manicured 70-acre landscape. The backdrop for this elegant affair was the 6th largest historic estate open to the public - the Stan Hywet – which has the reputation as being the home of The Goodyear Tire & Rubber Co. co-founder F.A. Seiberling. On the day of the concours, the weather report predicted rain. Instead, the enthusiasts and colle...[Read more...]
History Rolls into Hershey for RM's Annual Pennsylvania Sale
• Final countdown underway to RM's annual Hershey, Pennsylvania auction, held October 10 – 11 during the historic AACA Eastern Regional Fall Meet • Two-day sale features 116 vehicles, with an emphasis on Brass and Classic Era motor cars • Sale entries led by a rare, award-winning 1933 Chrysler CL Imperial Convertible Roadster • Auction also features number of vehicles steeped with local Pennsylvania history • Digital catalogue now available online at rmauctions.com BLENHEIM, Ontario (S...[Read more...]
Auctions America Continues Successful 2013 Season with its Annual Fall Carlisle Sale
• Auctions America rounds out its 2013 auction season in Carlisle, Pennsylvania, October 3-4 • Two-day Fall Carlisle sale, held in conjunction with the Carlisle Events Collector Car Swap Meet & Corral, features a diverse roster of 300 classics, exotics, muscle cars, hot rods, and customs • Auction highlights include a desirable 1967 Chevrolet Corvette 427/435 Roadster, a 1969 Chevrolet Camaro Z-28 RS Sport Coupe, and a 1960 Mercedes-Benz 190SL Roadster • Full event details and a frequentl...[Read more...]
GM'S TONAWANDA PLANT RETOOLED FOR HIGH-TECH ENGINES
BUFFALO, N.Y. – Some of General Motors' advanced manufacturing techniques to produce the all-new, Gen 5 Small Block engine family are microscopic, but they have a huge impact on the 75-year-old Tonawanda Engine Plant, where about 1,500 jobs have been created and retained since 2009. As a result of GM's $400 million investment, Tonawanda will eventually produce four versions of the Gen 5 Small Block – a 4.3L V-6, 5.3L V-8 and two variants of a 6.2L V-8. When the plant is at full product...[Read more...]
Auctions America By RM's 2012 Auburn Spring Auction
'Variety' is the buzzword for this year's Auctions America by RM June 1-3 Auburn Spring auction, which will offer a huge range of collector vehicles and an enormous private collection of automotive memorabilia. More than 600 American muscle cars, Classics, foreign sports cars and hot rods will cross the block at the historic Auburn Auction Park, the company's national headquarters in Auburn, Indiana. 'Last year was our first spring event at the park,' said Auctions America by RM's President ...[Read more...]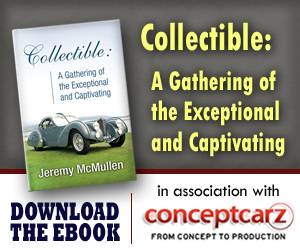 Similarly Priced Vehicles from 1947
Ford Super Deluxe ($1,250-$2,275)
Chrysler Town and Country ($2,365-$2,365)
HRG 1500 ($2,455-$2,455)
MG TC ($2,240-$2,240)
Cadillac Series 62 ($2,445-$2,900)
Packard Custom Super Clipper Eight ($3,145-$4,520)
Nash Ambassador ($1,750-$2,225)
Buick Super Series 50 ($1,845-$2,593)
Frazer Manhattan ($2,551-$2,551)
Chrysler Windsor ($1,481-$12,110)
Mercury Series 79M ($1,590-$3,299)
Chrysler New Yorker ($1,850-$2,999)

Average Auction Sale: $47,580
Buick
Monthly Sales Figures
Volume
August 2014
22,143
July 2014
17,683
June 2014
21,403
May 2014
19,957
April 2014
19,214
March 2014
20,428
February 2014
19,192
January 2014
13,278
December 2013
15,379
November 2013
15,072
October 2013
17,555
September 2013
15,623
(More Details)
© 1998-2014. All rights reserved. The material may not be published, broadcast, rewritten, or redistributed.