1961 Austin-Healey 3000 news, pictures, specifications, and information

Tweet
The Austin-Healey 100 was introduced at exactly the same time as the Triumph TR2, and both cars provided the public with a formidable sports car. Capitalizing on the early successes of the 100, the 3000 went into production in the spring of 1959. The 3000 was available as both a two- and 2+2-seater model. It would continue to be a popular sports car for Europeans and Americans through to the end of its production run in 1968.

This 3000 MKI is painted in its original color scheme of white paint with a dark blue interior. It is a well-optioned car with a switch-activated overdrive, wire wheels and a snap-on removable soft top. The odometer currently reads just 62,521 miles.

In 2010, this 1961 Austin-Healey 3000 Mark I BT7 was offered for sale at the Gooding & Company auction held in Scottsdale, Arizona. It was estimated to sell for $50,000 - $70,000 and offered without reserve. As bidding came to a close, the lot failed to sell after receiving a high bid of $38,000.
By Daniel Vaughan | Feb 2010
The Austin Healey 100 was introduced in October of 1952 at the Earls Court Motor Show. The first Austin Healey 100's were known as 100-4 or BN1. The name 100 came-about by being able to break the 100 mph barrier. The BN also had meaning. The B represented the engine class which meant it had between 2000 and 3000 cc. The N represented the body-style configuration, two-seat and open-top. The 100 was powered by a A90, 2660 cc, four-cylinder engine capable of producing 94 horsepower. The manual three-speed transmission was also borrowed from the A90. However, the first gear was blocked off and was fitted with overdrive on the second and third gears to provide extra power.
The name 'Austin Healey' was formed by a partnership comprising of the designer, Donald Mitchell Healey, and the manufacturer, Austin.

During its total production cycle, 10,688 examples of the BN1 were produced.

In October of 1955, the BN2 was introduced. The BN2 was similar to the BN1 in design but now featured larger drum brakes and a new four-speed transmission with overdrive.

During its production run, 3,924 examples of the BN2 were produced.

The Austin Healey 100S was produced in limited numbers, only 55. Their primary purpose was for competing in racing and rally events as well as for development and marketing purposes. They were entered into races such as Sebring, Mille Miglia, and Le Mans. They were copies of special factory test car that Stirling Moss raced in the 1954 12-hour Sebring race where he placed third. The 100S's were produced at the Healey Warwick factory and most were decorated with the American racing colors, white and blue. Of the 55 that were built, only 10 remain unaccounted for. The 100S, when compared with the 100, featured Dunlop disc brakes on all four wheels, different cylinder head and internal engine modifications, four-speed gearbox without overdrive, and a light-alloy body shell.

The 100S was followed by the 100M. The 100M was a Le Mans variation of the BN2 with an increased horsepower rating of 100-110. It featured bigger carburetors and modified distributor. Valve springs and anti-roll bars were added to the suspension. During its production run, 1100 of the Le Mans BN2's were produced.

Over time, about 100 BN2 were later modified but in order to qualify for the Le Mans configuration the vehicles needed to meet specific standards. These standards included a 1.75 inch H6, SU carburetors, cold air box and air tube, Le Mans regulation strap and a factory style louvered hood.

The four cylinder engine was used from 1952 through 1956, after which a BMC six-cylinder engine was used. The car was dubbed the '100 Six'. Three years and a few engine modifications later, the car was named the '3000' and today is known as the 'Big Healey'. Over the production lifespan of the 3000, it could be assembled with multiple options such as a two-seater or 2+2, hard-tops, single or duo-tone paint schemes, overdrive, and more.

In 1962 the body was redesigned with a curved screen and wind up windows. The interior of the vehicle was revamped in 1964 and also received more ground clearance.

The 3000 was produced from 1959 through 1968. The original engine produced 124 horsepower and was capable of about 114 mph. Modifications to the engine throughout the years increased the horsepower to around 148 and the top speed to 121 mph. The size of the car, the power of the engine, and weighing in at around 2400 lbs made this car responsive, competitive and fun to drive.

In all, there were around 73,000 100's and 3000's produced with 58,000 featuring the six-cylinder engine.
By Daniel Vaughan | Mar 2006
For more information and related vehicles, click
here
BARRETT-JACKSON'S SCOTTSDALE 2014 SALON COLLECTION TO OFFER DIVERSE DOCKET OF WORLD'S MOST SOUGHT-AFTER COLLECTIBLES
Rare and Desirable Vehicles Plus One Fully-Operational Carousel Will Cross the Auction Block at Company's Monumental Scottsdale Auction, Jan. 12-19, 2014 SCOTTSDALE, ARIZ. (Dec. 18, 2013) – Barrett-Jackson, The World's Greatest Collector Car Auctions™, announced today a group of exceptional vehicles representing 85 years of automotive history will cross the auction block as part of the world-renowned Salon Collection. The collection will be offered during the company's 43rd Ann...[Read more...]
BMW 4 SERIES CONVERTIBLE WILL MAKE ITS WORLD DEBUT AT THE 2013 LOS ANGELES INTERNATIONAL AUTO SHOW
Additional Featured BMW Vehicles to Include: BMW i3, BMW 4 Series Coupe, BMW X5, BMW 5 Series Sedan, and the North American Debut of the BMW K 1600 GTL Exclusive Motorcycle Early Test Drives of the BMW i3 to Take Place in Conjunction with the Auto Show The new BMW 4 Series Convertible will make its world debut and the BMW i8, BMW 5 Series Gran Turismo and BMW Concept X4 will make their North American auto show debuts at the 2013 Los Angeles International Auto Show on Wednesday, Nove...[Read more...]
BARRETT-JACKSON SELECT COLLECTION TO DEBUT IN LAS VEGAS
• Six Rare and Sought-after Vehicles Will Cross the Block at Company's Las Vegas Auction on September 26-28, 2013
LAS VEGAS (September 24, 2013) – Barrett-Jackson, The World's Greatest Collector Car Auctions™, announced today that it will debut the Barrett-Jackson Select Collection at the company's Las Vegas auction, September 26-28, 2013 at the Mandalay Bay Resort & Casino. Featuring a boutique offering of sports cars and pre-war classics, these rare vehicles have the pote...[Read more...]
One of the Three Final Cars Built by Famed Italian Engineer Giotto Bizzarrini To Be Offered at Russo and Steele's Highly Anticipated Monterey Auction
Monterey, California – As the engineer responsible for the design and development of some of the most successful and innovative racing and GT cars ever conceived, Giotto Bizzarrini remains one of the most revered names in motorsport history. Hailing from Livorno, Italy and eventually leaving Alfa Romeo for Ferrari where he began as a test driver and quickly rose to Chief Engineer, Bizzarrini collaborated with Carlo Chiti on the 250 Testa Rossa's V-12 engine and the 250 SWB, with his caree...[Read more...]
Scottsdale Mayor Declares Barrett-Jackson Week As The World's Greatest Collector Car Auction Returns Home Jan. 13-20, 2013
In honor of the World's Greatest Collector Car Auctions™, Scottsdale Mayor W. J. Lane has officially declared January 13 – 20, 2013, 'Barrett-Jackson Week' to commemorate the company's 42nd annual auction in its hometown. Barrett-Jackson has become an honored tradition and point of pride in Scottsdale over the past four decades, attracting more than 250,000 visitors annually, hundreds of hours of worldwide television coverage, nearly $100 million impact on the local economy (not including au...[Read more...]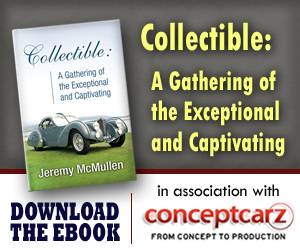 Similarly Priced Vehicles from 1961
Pontiac Bonneville ($3,256-$3,525)
Ford Station Wagon Country ($2,660-$3,125)
AMC Rambler Ambassador ($2,400-$3,100)
Chevrolet Impala Series ($2,500-$3,100)
Buick LeSabre ($2,991-$3,728)
Chrysler Newport ($2,960-$3,620)
Toyota FJ25 Land Cruiser ($3,050-$3,050)
Pontiac Hardtop-Series 25 ($2,970-$3,050)
DeSoto Series RS1-L ($3,100-$3,160)

Average Auction Sale: $49,865
© 1998-2014. All rights reserved. The material may not be published, broadcast, rewritten, or redistributed.