1956 Pegaso Z-102B news, pictures, specifications, and information

Tweet
This is one of three Pegaso Z-102 Panoramicas designed by Wifredo Ricart in 1956 with coachwork by Touring of Milan. It has a 3.2-liter quad cam V8, which develops around 270 horsepower. It was first seen at the Turin Auto Show that April and at the Paris Auto Show in October. After a painstaking restoration by its owner, it appeared at the Pebble Beach Concours d'Elegance in 1994 and has since won many awards. In 2000, it was shown at the Museum of Contemporary Culture in Barcelona to celebrate the 50th anniversary of the Pegaso Company.
The Spanish company, Pegaso, introduced their first automobile at the 1951 Paris salon. The name Pegasus was used, named after the mythical winged horse. In the engine bay lay an eight cylinder powerplant that was initally 2.5-liters in size but eventually grew to 4.7-liters. Its top speed was in the neighborhood of around 140 through 150 mph which made it the fastest production car at the time.
By Daniel Vaughan | Sep 2012
Named after Pegasus, the winged horse of Greek mythology, the Pegaso Car Company produced very rare and exotic sports vehicles. Wilfredo Ricart was one of Enzo Ferrari's colleagues at Alfo Romeo's race department. He left Alfa Romeo after the war and teamed p with various engineers and technicians to begin working on their own vehicle. This eventually resulted in the Pegaso Z102.

A very modern race bred V8 engine was placed in the Pegaso Z102 which made it a supreme competition for vehicles built in Maranello, Italy. The Pegaso was fitted with double overhead camshafts, a feature that had been confined to competition vee-type engine, though they were utilized on Jaguar's famous XK120 inline six. The engine also featured sodium-filled exhaust valves for cooling, an oil cooler and dry-sump lubrication while also using extensive use of light alloy. The option of one, two or four Weber carbuteors could be fitted while compression ratios ranged from 7.8:1 to 9.0:1 to keep up with post-war Spain's unpredictable gasoline octane.

Receiving the elite status of being the only Spanish car to receive international supercar status during the 1950s, the Pegaso Z102B was introduced in 1951 at the Paris Auto Salon. With a top speed of 140 mph, the vehicle featured 250 horsepower at 6300 rpm. The Pegaso Company was government-backed at the time and had extensive experience construction large 9-liter coaches. No one expected such a cutting-edge sports vehicle from a bus and truck company. Arond 125 Z102's were produced, with only two of them every receiving bodywork from Saoutchik.

The Pegaso was a replacement for the esteemed Hispano-Suiza and was created to be a sports vehicle of the highest quality. Producing up to 300 hp, all Pegasos were powered by dry-sump V8 engines that ranged from 2.8 to 4.7 liters and featured torsion bar suspension along with 5-speed gearboxes with ZF limited-slip differentials. The 2.5 liter Z102 achieved 50 mph in just 8.3 second and 0-100mph in 35.0 seconds and had a top speed of 100 mph.

The Z102 range comprised a glass-backed coupe, a 2-seater cabriolet by Saotchik, a 2/3-seater Berlinette and a 2-seater sports model constructed by Superleggera Touring of Milan.

The Pegaso Z102B featured an increased engine with 2,816cc by 1953. The very exotic 'Thrill Berlinette' by Superleggera Touring was added to the range. The Z102B featured very aerodynamic side panels that blended from the rear body into the roof to form stabilizing 'fins' on each side. Considered to be the best known of all Pegaso's, the Z102B featured very exclusive red and black paintwork along with polished spoked wheels.

Pegaso models were largely hand-built and very innovative and advanced for their time. Only 88 models were ever built due to their extremely hefty pricetag. Production ended in 1958 and the Pegaso resumed exclusively producing trucks and buses.
By Jessica Donaldson
For more information and related vehicles, click
here
ENGINE STOP-START TECHNOLOGY NOW STANDARD WITH V-6 IN AWARD-WINNING JEEP CHEROKEE AND I-4 IN ALL-NEW 2015 CHRYSLER 200
◾Estimated fuel-economy improvement up to 3% ◾Estimated C02 emissions-reduction up to 3% ◾Enhanced high-speed/high-durability starter and advanced control strategies contribute to seamless, automatic activation ◾Intuitively adapts to driving styles for optimal responsiveness, driving enjoyment ◾Availability third quarter for Jeep Cherokee, fourth quarter for Chrysler 200 June 24, 2014 , Auburn Hills, Mich. - Chrysler Group is offering fuel-saving Engine Stop-Start (ESS) technology ...[Read more...]
HOW FORD, RAILROAD INDUSTRY CREATED INNOVATIVE WAY TO SHIP THE NEW TRANSIT VAN TO NORTH AMERICAN CUSTOMERS
◾Innovative new railcar for vehicle shipping accommodates the variety of Ford Transit roof heights ◾Optimized mix of rail and truck transport provides the most efficient delivery time and lowest shipping cost, and supports Ford's Blueprint for Sustainability by using resources responsibly and minimizing environmental impact ◾All-new Ford Transit offers a best-in-class range of vehicle configurations and will be available at U.S. and Canadian dealerships this summer Ford Motor Company is tak...[Read more...]
ALL-NEW FORD TRANSIT: BETTER GAS MILEAGE THAN E-SERIES; BEST-IN-CLASS GAS ENGINE TORQUE, CARGO CAPACITY
◾All-new 2015 Ford Transit low- and medium-roof regular-wheelbase wagons with available 3.5-liter EcoBoost® have a 46 percent better EPA-estimated highway fuel economy rating* than Ford E-Series with premium gas engine ◾Proven 3.5-liter EcoBoost offers gas engine torque rating of 400 lb.-ft. – best in class among full-size vans – ideal for those whose work requires extra cargo-hauling capability ◾Transit van offers best-in-class gas engine maximum cargo capacity of 487.3 cubic feet when proper...[Read more...]
FLEET CUSTOMERS, COMMERCIAL BUSINESS OWNERS, FORD DEALERS INVITED TO TEST DRIVE ALL-NEW FORD TRANSIT
◾Ford kicks off nationwide Truth About Transit Tour to provide fleet customers, commercial business owners and Ford dealers an opportunity to test drive the all-new Ford Transit, learn about the vehicle's Built Ford Tough credentials and get questions answered by Ford product specialists ◾Tour will visit 19 cities across the United States from June into October; registration and other details are available at www.fordtransittour.com ◾All-new Ford Transit will be available at U.S. and Canadian ...[Read more...]
1996 24 Hours of Le Mans: Finally a Victory, Still 2nd
Thierry Boutsen's first encounter with the 24 Hours of Le Mans would come only after a few years of his being involved in racing. In 1981, Boutsen would partner with Serge Saulnier and Michel Pignard to drive the WM P81. It would prove to be an introductory experience as the race would last just 15 laps before it would all come to an end. This would be just the first of three early retirements in the 1980s. The 1990s, however, would be an entirely different story altogether. Boutsen's breakth...[Read more...]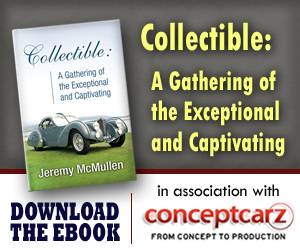 © 1998-2014. All rights reserved. The material may not be published, broadcast, rewritten, or redistributed.