1964 Shelby Cobra Dragonsnake 289 news, pictures, specifications, and information

Tweet
A.C. Cobra #2109 was first sold to Tasca Ford and painted metallic red. It was sold to Larry MacAlister and updated for drag-racing as a 'Dragonsnake' with 4 Weber carburetors, Hi-Po heads, racing cam, scatter shield, rear mounted battery, etc. In Street Production class, it had 20 straight wins with speeds of the low 120's and 11.6 second elapsed times and was invited to the NHRA nationals. MacAlister failed to get a ruling on the Hi-Po head before the final race. He intentionally hesitated at the start against a factory Cobra fearing loss of his 20 wins and came in second. but he turned a faster trap speed and lower E.T. and won a unofficial first place. The Hi-Po head was then ruled legal! After subsequent wins, it was stored in a walled-in basement for 19 years before it underwent a restoration. The current owner bought the car in 2005.

CSX 2109 Privateer 'Dragonsnake,' sponsored by Harr Ford who installed roll bar, hard top, competition seat belts, scattershield, 4.89:1 rear gears, Koni shocks, rear mounted battery, drive shaft hoop, and competition aluminum radiator. Enging modifications were HiPo heads, 4 Weber carburetors, electric fuel pump and a racing cam.

Entered in Street Stock class, #2109 won 20 races in 1964 turning 11.6 to 11.7 seconds in the quarter mile with trap speeds of 120's. This earned him a trip to the NHRA Nationals where in the finals he ran against Ed Terry in a 1964 Shelby American sponsored car. He intentionally delayed his start for fear of being disqualified because of the HiPo heads, which were original on later serial numbers. His elapse time and trap speed exceeded Ed Terry's, in effect, with an unofficial win.

Interestingly, he had been unable to get a ruling as to the legality of the HiPo heads prior to the race, but following the race they were approved.

#2109 was then road-raced and auto-crossed between 1965 and 1968, and on two occasions raced the Butler Chevrolet sponsored Cobra to determine the fastest Cobra in Mass. winning the original and rematch race. In 2005 it raced and won a drag race against a 'Hemi Cuba' in Monterey.

The owner then cut a hole in his basement wall, drove the car in, put it up on blocks, filed the hole in the wall, and stored it for 15 years.

Except for paint and restoration, the car is exceptionally original with all original body panels.

The 1964 Shelby 289 Cobra with chassis number CSX2109 was offered for sale at the 2006 RM Auction in Monterey, CA where it was estimated to sell between $650,000-$850,000. It was originally purchased as a independent competition car. CSX 2109 was first sent to Tasca Ford where it was used as a personal car of Bob Tasca, the owner of the dealership. It was painted Princess blue with a red interior. Tasca had the color changed to Candy Apple red. In February of 1964 the car was sold to Larry McAllister of Worcester, Massachusetts. It came equipped with heater, radio, wind wings, luggage rack, and bumper guards. Since it was purchased in 1964 the vehicle was registered as a 1964. Mr. McAllister's desire was to race the car. He enlisted Gus Zuidema as his driver and Harr Ford to sponsor the vehicle. Harr equipped the car with hood scoops, roll bar, hard top, 4.89:1 rear axle ratio, special shocks, rear mounted battery, driveshaft hoop, competition seat belts, scatter shield, and aluminum radiator. The engine was given attention; modifications include Weber carburetors, Stewart Warner fuel pump and a racing cam. The 289 cubic-inch V8 engine with four dual throat Weber 481DA carburetors was estimated to produce 325 horsepower, though it probably produced much higher figures. The Cobra was raced in Street Stock Competition and provided many podium finishes for its driver. It was capable of traversing the quarter-mile in just 11.69 seconds. Top speeds were around 120 mph. It competed in the 1964 NHRA nationals in Indianapolis where it made it to the finals where it competed against Ed Terry in a Shelby American Cobra. When the checkered flag fell, Zuidema threw the race. If he had won the race and been declared the champion, he was afraid the '64 HiPo heads would be declared illegal and would be stripped of his title. After the race, Zuidema drove the car to the fastest trap speed and the lowest elapsed time just to prove that his car was faster. Though he did not win the victory, he was content in knowing that his car was faster. A ruling came a short time after the race that the HiPo heads were legal. After the close of the 1964 season, CSX2109 was converted to a road racing car and continued to race it in 1965 to 1968 competition. It was sold after 1968 to Bill Maxwell of Harvard, Massachusetts. Maxwell continued to race the vehicle, though not extensively, until 1973. After then it sat on blocks for the next fifteen years. The car was discovered by Forbes 'Toby' Anderson who commissioned a comprehensive restoration. After the restoration, the vehicle was purchased by its next owner. It was then offered for sale at the 2006 RM Auction in Monterey, Ca where it was estimated to sell between $650,000-$850,000. The car proved to be popular as bidding quickly reached the estimated value. The vehicle found a new owner at the price of $660,000.
This is one of two factory-prepared Cobra 289 Dragonsnakes, a high performance Cobra marketed by Shelby American. Six others were ordered by private teams. Costing over $8,000 more than the standard Cobra, they were designed to maximize straight-line drag racing performance. This car, chassis number CSX2357, was heavily modified and set both AHRA and NHRA records in the A/Sports class. It also won the 1965 Phoenix Winternationals in a duel with a privately owned Dragonsnake (CSX2248).
CSX2427 Cobra 289 Dragonsnake is the only 'Stage III' factory-built customer Dragonsnake Cobra. Clad in 'Thunderbird' yellow to match its tow car when raced in the 1960s, it was the only Weber equipped customer Dragonsnake sold.
The formula for the success of the Cobra came through a man named Carroll Shelby adapting a powerful Ford engine into a nimble, British sports car.

A.C. Cars of Thames Ditton in Surrey, England had been producing the Ace since 1954. It was designed by John Tojeiro and featured an independent suspension by transverse leaf springs. The tubular frame body of the vehicle took its styling cues from Ferrari. The original engine used in the Ace was a 1991 cc, over-head-cam engine designed by John Weller, the founder of AC, in the 1920s. In 1956, an optional Bristol engine became available. This was a BMW derived, 1971 cc six-cylinder engine that was capable of producing 125 horsepower. With the Bristol engine, the Ace captured many victories on the race tracks around the world. It even won the SCCA Class E championship three years in a row.

In 1959, Bristol ceased its six-cylinder engine production. When Bristol stopped supplying A.C. with the engine, the production of the Ace ceased. Carroll Shelby quickly negotiated a deal where A.C. would supply him with the chassis. Now all Shelby needed was an appropriate engine. In 1961, Ford introduced the 221 cubic-inch small block engine. This was a new lightweight, thin wall-cast, V8 engine that produced 164 horsepower. Shelby approached Ford about the use of the engine for the 2-seat sports car. Ford agrees.

In February of 1962, a 260 HiPo engine and Borg-Warner four-speed manual gearbox was fitted into the aluminum-bodied Cobras. The AC Shelby Ford Cobra was complete.

In April of 1962, the first Cobra with chassis CSX 2000 was painted yellow and shipped to the New York Auto Show where it appeared on the Ford display. The vehicle was an instant success and attracted much attention. Orders came faster than Shelby could build. The prototype CSX 2000 was continuously being repainted for magazine reviews. The purpose was to create an illusion that more Cobras existed.

In 1963 the engine size increased to 289 cubic-inches. Rack-and-pinion steering was added to the vehicle.

Two Cobras were entered into the grueling 24-Hours of Le Mans endurance race. Carroll Shelby himself drove one of the vehicles. Ford had refused to provide an engine so Shelby, with the help of A.C. cars and Ed Hugus, prepare the cars. One of the Cobras managed to capture a seventh place finish, a major accomplishment.

Dan Gurney became the first American driver to win an FIA race in an American car when he won the Bridgehampton 500KM race in September of 1963 while driving a Cobra.

In 1964, the Cobra returned to LeMans where it finished fourth overall and first in the GT class.

Near the end of 1964, the Cobra 427 was unveiled to the press. If featured a new tubular, aluminum body, coil spring chassis, and a 427 cubic-inch, 425 horsepower engine. The car was able to go from zero to 100 mph and back to zero in less than 14 seconds.

In 1967, the last 427 Cobra was built and in 1968, the last 427 Cobra was sold by Carroll Shelby.

Ford had shifted their resources to the new GT40 and modified Mustang programs. In 1966, three GT-40 Mark II's crossed the finish line at Le Mans capturing first, second, and third.
By Daniel Vaughan | Mar 2010
For more information and related vehicles, click
here
Headliners Abound At Mecum's Houston Auction
April 10-12 Collector Car Auction Set to Feature Several Vintage Greats Walworth, WI - February 24, 2014 -- Mecum Auctions will amass a 1,000-car offering encompassing coveted collector cars from all genres at Houston's Reliant Center this April 10-12. With outstanding headliners ranging from American and European racers, to Pre-War Classics and Corvettes, Mecum's third annual event is certain to be more than memorable. The Houston event will make its way into nearly 80 milli...[Read more...]
Extremely Significant, Early Shelby Cobra Roadster an Exceptional and Early Headline Consignment to Russo and Steele's Upcoming Monterey Auction
Scottsdale, Arizona – With his AC Ace-derived, Ford-powered Cobra, Carroll Shelby and his racing team spearheaded Ford's 'Total Performance' campaign of the 1960s on the world stage and ended Ferrari's dominance of the World Sportscar Championship for GT cars by 1965. This stellar example, CSX2012, is particularly significant as the first Cobra sold to the public from Shelby American's West Coast operations in Venice, California. With highly documented and fascinating history including its...[Read more...]
MOPAR READY TO BET ON FAST RUNS AT NHRA NATIONALS IN LAS VEGAS
-Mopar takes on the Summit.com NHRA Nationals at Las Vegas after earning four title wins in first three events of the season -Mopar's 'Express Lane' makes debut on Johnson's Dodge Avenger at NHRA Nationals in Las Vegas -Allen Johnson is the defending Pro Stock winner at Las Vegas -All four Mopar entries among eight Pro Stock drivers qualified for K&N Horsepower Challenge race within a race -Mopar leads Funny Car standings with a tie between Ron Capps and Johnny Gray each with a win -Mopar i...[Read more...]
Steve McQueen Chevrolet Styleline Leads Exciting List of Celebrity Rides At Auctions America's Ford Lauderdale Sale
• Auctions America kicks off its 2013 calendar, March 22 – 24, 2013 in Fort Lauderdale, Florida • Regarded as South Florida's premier collector car auction, multi-day sale expected to feature more than 550 quality collector cars • Star attraction: 1951 Chevrolet Styleline DeLuxe Convertible formerly owned by Steve McQueen to be offered at no reserve • Additional highlights include a diverse assortment of 1950s convertibles from 'The Gauthier Collection', 1967 Dodge Coronet WO23 Hemi Super Sto...[Read more...]
Chevy Performance Rolls with Hot Rod Magazine Power Tour
Weeklong drive kicks off with unprecedented access to GM's Milford Proving Ground Road trip! It's that time of year again for the annual automotive pilgrimage known as the Hot Rod Magazine Power Tour® and Chevrolet Performance helps get it started on Saturday, June 2, at General Motors' Milford Proving Ground. The Power Tour winds up in Arlington, Texas, on June 9. With more than 3,000 hot rods, muscle cars, classic trucks and late-model performance vehicles and approximately 12,00...[Read more...]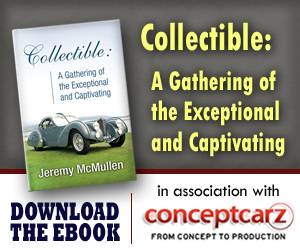 © 1998-2014. All rights reserved. The material may not be published, broadcast, rewritten, or redistributed.