1967 Ford Holman Moody Honker II news, pictures, specifications, and information

Tweet
In 1967, Ford had just won another victory at the 24 Hours of LeMans. What could be more appropriate than to bring the Ford Motor Company racing program to North America in the legendary Canadian-American Challenge series? The vehicle of choice was the Honker II, campaigned by stock car specialist Moody and driven by up-and-coming all purpose racer, Mario Andretti. Built around a full-length aluminum monocoque and powered by a Holman-Moody 351-ci variant of the lightweight 260/289 Ford engine built in Dan Gurney's shop, Honker II's slippery bodywork was developed in Ford's wind tunnel. Honker II's 1967 season was plagued by development issues, but the prodigious driving skills of Andretti made the car a contender in each race it entered. Following the 1967 season, Ford's attention turned to other projects, and Honker II's Can-Am career ended. In 1969, the Honker II was featured with Paul Newman in the movie Winning.
Winning the 24 Hours of Le Mans was certainly Ford's ultimate obsession throughout the middle of the 1960s. However, a premier racing series would get its start much closer to home and that would require the same dedication of passion and technology to even stand a chance. In 1967, Ford would lend a hand to create its challenger for the new Can-Am series. The rather droll Ford Honker II would be their answer.

As with the GT40 project, Ford needed the right people to head up the project. Len Bailey was a member of the Ford Advanced Vehicles studio in England, the very same that had helped to develop the GT40. Therefore, Bailey seemed to be the perfect individual to lend his talents in creating a monocoque chassis.

Then there was Holman Moody. To do battle against McLaren and the Chevrolet-powered Lola, Ford would need an engine capable of competing. Moody headed up Ford's efforts in NASCAR. Therefore, Moody had more than enough experience building powerful V8 engines. Based in the United States, and an engine specialist, John Holma's Holman Moody would be placed in charge of the effort.

The project would get underway. The need was to build a monocoque chassis that was light, strong and firmly planted to the ground. Alan Mann Racing would be given this task. All major components would be placed as low to the ground as possible to keep the center of gravity low. In addition, the chassis design would be compact from front to back to keep the weight balanced firmly in the center of the car.

Using Ford's wind tunnel, work would begin to fashion an extremely aerodynamic body. The fiberglass body would be incredibly sleek and would fully envelop all aspects of the car. About the only element of the car that would be seen from underneath the bodywork would be the large inlet pipes for the V8 engine.

The engine would be a revised version of a small-block V8 supplied by Ford. Using Tecalemit-Jackson fuel injection and four 2-barrel Weber Carburetors, the engine would be capable of producing around 600bhp.

Complete with front and rear independent suspension and four-wheel disc brakes, the new car seemed capable of competing with the best of the Can-Am ranks, especially with Mario Andretti as the team's driver. However, this would prove to be far from true.

The team would get a preview of things to come when it arrived at Road America for its first race. Of course, the name of the car should have been the very first indication of the trouble ahead. John Holman had earned something of a reputation during his trucking days. He was known for being a little too fond of honking his horn. In a reference to Holman then the car would be called the Honker II. Unfortunately, in practice at Road America, it would be the other competitors that wished they had a horn as they would have used it to signal Andretti to give up the whole enterprise. Being more than 15 seconds slower than Bruce McLaren's pole-winning effort in the McLaren M6A, the Holman Moody team would decide not to start the race as a result of not being competitive enough.

Though not competitive, the Honker II, with its Passino Purple livery, would be attractive enough to draw interest from actor and racing enthusiast Paul Newman. Pictured with Andretti by the car at the 1967 Chevron Grand Prix at Bridgehampton, Newman would become a sponsor of the team and would be rewarded with his name being placed in nice big letters right on the nose of the car.

Newman's name would not make the car any faster as it would start the race, the second of the season, from 23rd on the grid. But, despite starting well down in the field, Andretti would manage to coax to the car into finishing the race in 8th place. Still, this was too far down for Andretti's liking and he was rapidly growing tired of the car. Failing to start at Mosport because of being uncompetitive certainly wouldn't help his mood, nor would the early retirement in the Cam-Am Riverside race.

Bearing issues would cause Andretti to miss the start of the Can-Am Las Vegas, the last round of the season. As far as Andretti was concerned this was fine by him but it had cost him a year of competition with practically no results. As a result, Andretti would bow out from the team. At least the experience wouldn't sour the relationship between Andretti and Newman as the two would go on to earn the CART Championship in 1984.

The brevity of the Can-Am season put tremendous amounts of pressure on the Holman Moody team. There was practically no time in which to improve the car. By the end of the season the Honker II certainly appeared to require too much attention to make it thoroughly competitive. As a result, the team would pull out of Can-Am and Newman would kind of get his revenge on the car using it as a stunt car in his 1969 movie Winning.

During the movie, the Honker II would be crashed during a filming sequence. Andretti likely would have thought the car had found its perfect role. Following its appearance in the film, the Honker II would be stored away in Holman Moody's shop. The car would remain locked away until the mid-1980s when John Holman's son, Lee, determined to restore the Honker II. The intention wasn't to resurrect a loser, but to prove what the car was truly capable of achieving.

The monocoque chassis would be thoroughly restored. New drivetrain components would be installed. One of the major changes would be the change in engine from the Ford V8 to a 600hp Gurney-Weslake engine. The Gurney-Weslake engine would then be mated to a five-speed Hewland LG-600 transaxle.

Following the restoration the Honker II would be sold to Peter Dyson who would turn around and sell the car in 1994 to Mr. Mittler. Mittler would take Lee Holman's desire to make the ultimate Honker quite literally and would contract Alec Greaves, who formerly was a McLaren Can-Am builder, to bolster the car. It would not be a cheap exercise. Costing nearly $200,000, the Honker II would be updated with a much more rigid chassis and other detailed work.

The work would be worth it as Mittler would go on to win the Historic Can-Am Celebration Cup held as part of the Chicago Historic Races in 1997. As lately as 2008, the Honker II would have the fuel bladders replaced along with a rebuilding of the engine and suspension.

Despite not being the fastest Can-Am car, the Honker II would find itself featured in a number of publications including Car and Driver and Road & Track in 1967 and even an October 1978 issue of Sports Illustrated.

Infamous, and yet, illustrious, the Holman Moody Ford Honker II would be offered at the 2013 Gooding & Company Pebble Beach auction. Despite having nearly $200,000 worth of restoration work completed, the failed Can-Am car and movie prop would only draw estimates ranging from $240,000 to $280,000. Unfortunately, when the bidding ceased a final sale price of just $200,000 would be reached.

Sources:
'Lot No. 137: 1967 Holman Moody Ford Honker II', (http://www.goodingco.com/vehicle/1967-holman-moody-ford-honker-ii/#tab2). Gooding & Company. http://www.goodingco.com/vehicle/1967-holman-moody-ford-honker-ii/#tab2. Retrieved 29 August 2013.

'Chassis: Honker-II', (http://www.racingsportscars.com/chassis/archive/Honker-II%23.html). Racing Sports Cars. http://www.racingsportscars.com/chassis/archive/Honker-II%23.html. Retrieved 29 August 2013.

By Jeremy McMullen
RRDC VOTES IN 37 NEW MEMBERS FOR 2013
HILLIARD, Ohio (Nov. 7, 2013) - Thirty-seven race-car drivers and motorsports professionals have been voted into the Road Racing Drivers Club in 2013. The group includes 13 Regular Members from the open-wheel and sports-car racing ranks, 20 Associate Members and four Honorary Members. The current roster of RRDC members now numbers 440. Voting was held among all current RRDC members. 'This year's crop of new Regular Members truly represents the spirit of the RRDC, as each driver has de...[Read more...]
RK MOTORS ADDS 'LEGENDS OF MOTORSPORTS' COLLECTION OF HISTORIC RACING MACHINES TO UPCOMING AUCTION
Charlotte, N.C. – October 14, 2013— Only weeks after revealing plans to auction the 1977 McLaren M26 that James Hunt drove to his final F1 victory, RK Motors Collector Car Auctions (RKMCCA) today announced that four additional iconic racing machines will cross the block during its auction at the Charlotte Convention Center, October 31 to November 3. Furthering the auction's historic motorsports theme, RKMCCA will offer bidders an opportunity to own: Mario Andretti's 1974 Viceroy Gurn...[Read more...]
GREG BIFFLE GIVES FORD MOTOR COMPANY 1,000TH NASCAR VICTORY AFTER WINNING AT MICHIGAN INTERNATIONAL SPEEDWAY
◾Ford Motor Company has won 1,000 NASCAR races in the Sprint Cup, Nationwide and Camping World Truck Series combined. ◾Jim Roper won the very first NASCAR-sanctioned stock car race in a Lincoln when he was deemed the winner at Charlotte on June 19, 1949. ◾Ford Motor Company has won 20 manufacturer titles and 13 driver championships in NASCAR's top three series. DEARBORN, MI, (June 16, 2013) – Henry Ford's win over Alexander Winton on Oct. 10, 1901 in what proved to be his only race a...[Read more...]
Lee Holman, Holman & Moody to be Honored at 2013 Pinehurst Concours d'Elegance
- Legendary North Carolina-based motorsports organization featured in special display, lifetime achievement award to Lee Holman - Just saying the name of Charlotte, NC-based Holman & Moody conjures up some of the most exciting motorsports moments in history – in NASCAR, Le Mans, Drag Racing and Rallying. To put an exclamation point on their accomplishments, the inaugural Pinehurst Concours d'Elegance will honor Lee Holman with the first-ever 'Pinehurst Concours Lifetime Achievement A...[Read more...]
1967 Can-Am Road America: The Beginning of the 'Bruce and Denny Show'
While Formula One will be forever considered the pinnacle of motorsport, from a period between 1966 and 1986 there existed a series that would likely be the closest to 'anything goes' as any motor racing series could truly get. Based upon the FIA Group 7 cars but allowed to showcase unlimited engine sizes and unfettered aerodynamics, the Can-Am cars would have to be considered the pinnacle of motorsport technology and power of their era. And for more than a couple of years there would be one tea...[Read more...]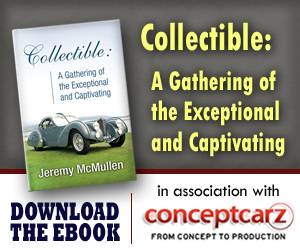 Ford
Monthly Sales Figures
Volume
December 2014
209,679
November 2014
178,221
October 2014
179,014
September 2014
172,261
August 2014
214,028
July 2014
204,373
June 2014
214,793
May 2014
244,501
April 2014
203,552
March 2014
235,198
February 2014
177,286
January 2014
148,671
(More Details)
1967 Can-Am Drivers Championship
© 1998-2014. All rights reserved. The material may not be published, broadcast, rewritten, or redistributed.