1929 Rolls-Royce Phantom II news, pictures, specifications, and information

Tweet
Short Coupled Saloon
Coachwork: Weymann

Rolls-Royce began work on its new Phantom I in 1922, it was introduced in 1925. It succeeded the Silver Ghost (40/50 Series), which was no easy task. The new Phantom offered a larger 7.7 liter six-cylinder engine, constructed with a one-piece cylinder head and offering overhead valve operation. It also sported dual ignition system and an aluminum crankcase. In 1929, Rolls-Royce offered a Phantom II series using the same engine, but employing a new more refined transmission and revised suspension allowing for much improved handling characteristics.

This Short Coupled Saloon shown was displayed at the 1929 Paris Salon. It featured coachwork by Weymann. Woolworth heiress Barbara Hutton purchased the car. Ernest Hemingway toured the United States in this car. The car has a fully documented history and appears in 'The Rolls-Royce 40/50 HP' by W.J. Oldham and 'Those Elegant Rolls-Royces' by L. Dalton. It has recently been featured at the Pin-Mar and the Festival of Speed.
This 1929 Rolls-Royce Phantom II Imperial Cabriolet has coachwork by D'Ieteren for Hibbard and Darrin. It is powered by a 7668 cc six-cylinder engine capable of producing 120 horsepower. Stopping power is provided by power-assisted four-wheel drum brakes and the suspension is comprised of semi-elliptic leaf springs. Though it is constructed of aluminum, it was heavy enough to require extra supports on the frame.

The Phantom II's were produced for six years, spanning 1929 through 1935 with 1767 examples being constructed. They were built as a replacement for the Phantom I and first shown to the public at the Olympia Motor Show. One of the biggest improvements over its predecessor was the under-slung rear springs and lower frame which allowed the ride height to be lowered, making the ride smoother and improving its handling.

The Phantom II's received coachwork from the most notable coachbuilders of the time. This one, chassis XJ-127 was shipped to Paris where it received coachwork by Hibbard and Darrin. The interior is the most astonishing, outfitted with lavish appointments that spared no expense. The floor is made of faux Mink while the trim in the rear compartment is made up of German plated gold hardware and walnut wood. Also found in the rear compartment are perfume bottles, lighter, crystal decanter and glasses, Waltham eight day clock, window blinds and jump seats. A hidden gun case could be found built into one of the armrests.

A divider window separated the driver from the chauffer. A speaker system allowed communication between the two. The roof above the chauffer was made of leather and constructed so it could be removed for open air driving.

XJ-127 was purchased by Mr. Neely, a New York State resident and founder of Nedick's and Shanty Shops, a chain of 135 luncheonettes. It was estimated that at the time of purchase, Mr. Neely was worth ten million dollars. After being toured around Paris and Europe for 100 days, it was hipped to the United States aboard the 'America Flyer'. It has stayed in the United States since that time.
By Daniel Vaughan | Sep 2007
1929 Rolls-Royce Phantom II Imperial Cabriolet by Hibbard and Darrin
The Imperial Cabriolet is an exquisite example of an English vehicle with custom French coachwork by Hibbard and Darrin in Paris. Among the many changes from the original Phantom it has a much lower chassis which reduced the height by nine inches. Phantom IIs were produced until 1935; total production was 1,767 vehicles. This example with blue and black coachwork, an aluminum bonnet, or hood, and yellow wire wheels was much admired at the recent Amelia Island Concours d'Elegance.
The Imperial Cabriolet is an exquisite example of an English automobile with custom French coachwork by Hibbard and Darrin. Among the many improvements of the Phantom II, over the Phantom I is that is has a much lower chassis which reduced the overall height by nine inches. They were produced until 1935, with a total production of 1767. This example has an aluminum bonnet and raked windshield giving it a pronounced and flowing appearance. The original owner of this car was Robert T. Neely, the founder of a successful chain of luncheonettes.
In 1929, Rolls-Royce introduced the Phantom II to help combat sales competition from the Bentley 6.5 and 8 liter models. The engine in the Phantom II was a inline six-cylinder unit that had two blocks of three and a one piece aluminum head and crankcase with 7668cc displacement. In 1931, the company acquired rival car maker Bentley.

In total, there were 1,767 examples of the Phantom II produced between 1929 and 1935.

This vehicle is an all-weather convertible built by Trupp & Maberly for H.H., the Maharajadhiraja of Darbhanga. The car has since resided in Switzerland and Germany where the owner installed a beautiful marquetry wine and glass cabinet. From 1997 through 2000, this car was restored in England and the United States.
Officially known as the 'New Phantom,' the Phantom I succeeded the 19-year-old Silver Ghost in 1925. The car is powered by a water-cooled, overhead valve, 7.67 liter, six-cylinder engine developing 100 horsepower, coupled to a four-speed manual transmission. It has a top speed of 80 mph. Although the Phantom I had better acceleration than the Silver Ghost, its chassis lacked rigidity, particularly with the adoption of front-wheel brakes. The production run of the Phantom I was accordingly short - in 1929, it was replaced by a new chassis, the Phantom II.

This example is fitted with coachwork from Brewster, a leading New York coachbuilder.
The Phantom II was the first completely new car since the 20HP seven years earlier. The Phantom II was still rated 40/50 HP but was lower and the springing half-elliptic all around.
The car, although to Royce's design and specification, was mainly the work of his West Wittering design team and included many innovations and a redesigned engine that, wîth the gearbox, was now one unit.

The introduction of the Phantom II, only four years after the Phantom I, was prompted again by increased competition from other manufacturers, particularly Buick and Sunbeam. Ironically, the head of Buick had bought a Phantom I and, which so impressed everyone at Buick that they stripped it and copied much of what they learned.

Royce himself knew they were lagging behind: 'I have long considered our present chassis out of date. The back axle, gearbox, frame, springs have not been seriously altered since 1912. Now we all know it is easier to go the old way, but I so fear disaster by being out of date, and I have a lot of stock left, and by the sales falling off by secrets leaking out, that I must refuse all responsibility for a fatal position unless these improvements in our chassis are arranged to be shown next autumn, and to do this they must be in production soon after midsummer 1929.'


Royce was influenced by the lines of the current Riley Nine, and the manner in which the rear passenger's feet were tucked comfortably under the front seats in 'boxes', enabling 'close-coupled' coachwork to be fitted. Royce decided to build a special version of the car for his personal use.

Superb coachwork wîth modern styling was now available and Royce decided on a lightweight sporting body, which Ivan Evenden designed and Bakers built. This car became the forerunner of the legendary Phantom II Continentals.

The chassis is the standard Phantom II short model wîth a few modifications. These consist of a low §teering column and specially selected springs. There never was a defined speciation of a Continental Phantom II. The series to series engineering improvements were applied to all chassis.
Source - Rolls-Royce Motor Cars Limited
The Rolls-Royce Phantom II was very similar to the Phantom I in many ways, but brought improvements such as a higher horsepower rating and the removal of the traditional torque-tube drive. Instead, the engine and gearbox were constructed in unit with each other rather than being separate. The Autovac was now using an engine-driven pump. A new water-heated induction system was used. The Battery and magneto ignition was the same as in the Phantom I. Built-in centralized lubrication was now a standard feature and the Catilever rear springs were shed in favor of semi-elliptic units. The bodies of the car sat atop of a separate sub-frame which helped eliminate distortion.

After the construction of the first Phantom II, named the 18 EX, it was put through its paces on a 10,000-mile test drive to identify the vehicles short-comings and to ensure the vehicle was constructed to Rolls-Royce standards. The car was driven on many types of terrain and at various speeds. It was reported that the car drove best at 70-mph.

Most of the left-hand drive coachwork, those vehicles intended for the United States market, was handed by Brewster and Co. The European versions were bodied by names such as Hooper, Arthur Mulliner, Park Ward, Barker, and Thrupp & Maberly.

Construction of the Phantom II lasted from 1929 through 1935, at which point it was succeeded by the Phantom III and its large twelve-cylinder engine.
By Daniel Vaughan | Feb 2007
For more information and related vehicles, click
here
Exceptional European Highlights Added to RM's 20th Anniversary Motor City Sale
• RM Auctions announces a spectacular group of European highlights for its annual Motor City sale, July 26 in Plymouth, Michigan • Led by a 1929 Rolls-Royce Phantom II Barker Torpedo Tourer, built for Indian royalty, the roster of European highlights joins a superb series of American classics at the sale, many of which were conceived and built in Detroit • Celebrating 20 years as the official auction of the Concours d'Elegance of America at St. John's, the single-day sale features an excellent...[Read more...]
Crowd Shakers And History Makers At Mecum's Chicago Auction Oct. 10-12
• Hemi Under Glass Collection and Harley J. Earl Corvette Part of 1,000-Car Lineup
Walworth, WI - September 16, 2013 -- Mecum Auctions is taking the gavel to Chicagoland this Oct. 10-12 with 1,000 vehicles expected to cross the block at the breathtaking Schaumburg Convention Center. The lineup is already fraught with headline-worthy consignments including the most famous wheel-standers in drag racing history– the Hurst Hemi Under Glass Collection – as well as the one-of-a-kind,...[Read more...]
BARRETT-JACKSON SELECT COLLECTION TO DEBUT IN LAS VEGAS
• Six Rare and Sought-after Vehicles Will Cross the Block at Company's Las Vegas Auction on September 26-28, 2013
LAS VEGAS (September 24, 2013) – Barrett-Jackson, The World's Greatest Collector Car Auctions™, announced today that it will debut the Barrett-Jackson Select Collection at the company's Las Vegas auction, September 26-28, 2013 at the Mandalay Bay Resort & Casino. Featuring a boutique offering of sports cars and pre-war classics, these rare vehicles have the pote...[Read more...]
TOPLINE COLLECTORS PLACE SPOTLIGHT on SPEED'S BARRETT-JACKSON BROADCAST FROM SCOTTSDALE
• TOPLINE COLLECTORS PLACE SPOTLIGHT on SPEED'S BARRETT-JACKSON BROADCAST FROM SCOTTSDALE
• 'LOST' SHELBY DUAL PROTOTYPE, HAGERTY GIVEAWAY & SALON COLLECTION HIGHLIGHT 39 HOURS OF LIVE COVERAGE
The 42nd annual Barrett-Jackson Scottsdale (Ariz.) Collector Car Event, the first of four set for live coverage in 2013, kicks off the auction season in grand style as some of the world's most sought-after machines cross the block starting Tuesday, Jan. 15 at 7 p.m. ET/4 p.m. PT. SP...[Read more...]
ALL-NEW 2014 CORVETTE LT1 V-8 A TECHNOLOGICAL POWERHOUSE
•Advanced technologies including direct injection, active fuel management, continuously variable valve timing support advanced combustion system •Preliminary output of 450 horsepower (335 kW) and 450 lb.-ft. of torque (610 Nm) •Helps deliver estimated 0-60 performance in less than four seconds and best-ever fuel economy in the Corvette When the all-new 2014 Chevrolet Corvette arrives late next year, it will be powered by a technologically advanced, racing-proven 6.2L V-8 delivering an est...[Read more...]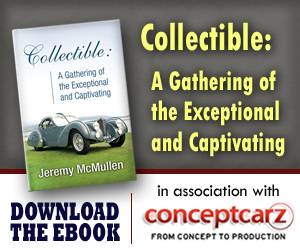 Rolls-Royce
Monthly Sales Figures
Volume
June 2014
75
May 2014
75
April 2014
75
March 2014
75
January 2014
86
October 2013
84
September 2013
84
August 2013
84
July 2013
84
June 2013
84
May 2013
84
April 2013
84
(More Details)
© 1998-2014. All rights reserved. The material may not be published, broadcast, rewritten, or redistributed.