1932 Rockne Sedan news, pictures, specifications, and information

Tweet
The Rockne Company produced automobiles from 1931 through 1933. The story is rather sad with the name serving as a tribute to an individual. In 1931 Albert Erskine, the President of Studebaker, offered Knute Rockne a position as sales promotion manager of Rockne cars. Rockne was a long time friend of Erskine and the head coach of the Notre Dame Foolball team. Rockne was worried that these new duties would interfere with his football program but Erskine reassured him that they would not. Studebaker began by creating a strong, durable, and inexpensive automobile named after the Notre Dame football coach. Just after the first Rockne automobiles began appearing in showrooms, Knute Rockne was killed in an airplane crash. The name persisted and used as a tribute, but most people were unwilling to purchase the car nearly sending the Studebaker Company into bankruptcy. Instead the company entered receivership and was able to continue automobile production. Erskine was removed from his position and he later committed suicide in 1933.

The Rockne automobiles were offered with an L-Head Studebaker six-cylinder engine with a choice of either 66 or 72 horsepower. The Rockne came in two lengths and could be purchased for around $600. Unfortunately, Ford's V8 automobiles outsold the Rocknes due to their stylish design, powerful engines, and low cost.

On April of 1933, the Rockne plant, located in Detroit, Michigan, closed its doors forever. A total of 23,201 examples had been produced.
By Daniel Vaughan | Mar 2006
Three Studebaker men left Germany in 1736 for a better life. And nearly two centuries later, this Studebaker Rockne rolled off the Piquet Avenue assembly line in Detroit. In between, their descendants settled in South Bend, IN where, beginning in the 1850s, they built a prosperous wagon-making business. And, by 1904 the Studebakers were making cars.

In 1930, Willys-Overland optimistically commissioned the design of a new car, but soon facing financial ruin, they couldn't fund the car. So, the two independent engineers who'd designed it went on the road to sell their design. All it took was a trip to South Bend, a prototype demo, and Studebaker bought it on the spot. The Rockne's two year run consisted of the '65' and '75' Series.

This car, a '65,' was based on the designs of those two engineers. It was named after framed Notre Dame coach, Knute Rockne, a genuine All-American legend as were his Fighting Irish whom he'd coached for 13 peerless seasons right there in South Bend. The Rockne debuted in late 1931 but Knute Rockne never saw it. He died in a plane crash the previous March.

The current owner's grandfather had been a Studebaker Vice President in the 1930s. He'd bought his daughter a 1932 Rockne for college. Over the years she often commented how nice it would be to find a car just like that college car. After years of search, he found this one in 2012. It is one of only seven roadsters from 1932 known to still exist.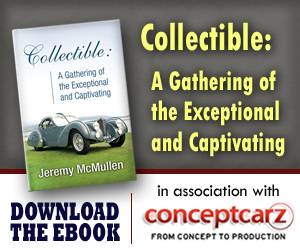 © 1998-2014. All rights reserved. The material may not be published, broadcast, rewritten, or redistributed.