1935 Packard Twelve news, pictures, specifications, and information

Tweet
The first Packard V12 production vehicle was in 1915 and dubbed the Twin Six. With this vehicle and its potent powerplant, Packard entered into a new degree of sophistication and prowess in the luxury car marketplace.

In 1924 the Twin Six was replaced by Packard's straight eight which would carry the Packard name through the 1920s. With the onset of the Great Depression, and the escalating cylinder wars of the other automakers, Packard revived their twelve-cylinder powerplant.

The new Twin Six made its debut in 1932. It was an advanced machine with hydraulic valve lifters and a modified L-head design. Horsepower was attractive, rated at 160 bhp from the 445 cubic-inch unit. The Twin Six became known as the Twelve the following year and remained in production through 1939. In war time, the twelve cylinder unit was used for military boats and aircraft.

This car was owned by Henry Fisher in the late 1930s and later passed to his daughter, Ann Klein. The car is in original condition with its interior showing very little wear and the exterior paint is still exceptional considering its age. The chrome plating, also original, is still in good condition. The wood trim surrounding the windshield needs refurbishing.

This car has been driven 52,000 miles since new, is mechanically original, a Full Classic and eligible for all the CCCA's many regional and national activities.

Mounted under the bonnet is a 385 cubic-inch V12 L-head engine mounted at a 67-degree angle and produces 175 horsepower. There is a three-speed selective synchromesh gearbox and a rear-mounted spare tire and cover.

This 1935 Packard Twelve Model 1207 Coupe was offered for sale at the 2007 Gooding & Company auction held in Pebble Beach, California where it was estimated to sell for $100,000 - $125,000. As bidding got underway, it soon became obvious that the estimates were far too low. As the gavel fell for the third and final time, the lot had been sold for the sum of $242,000 including buyer's premium.
By Daniel Vaughan | Apr 2008
For 1935 Packard refined its flagship Twelve motor by adding aluminum heads and increased stroke (4.25-inches), which increased horsepower to 175. Displacement was 473 cubic-inches. Brakes were mechanical, but with a vacuum assist.

Sixteen body styles were available on the Twelve chassis, including this sporty coupe roadster. However, only 788 Twelves were built in 1935, as production of luxury automobiles continued to decline.

In 1935 Packard had introduced the medium priced 120 series, a small, eight-cylinder car whose sales hit 24,995 making it, by far, the most popular Packard series available for 1935. (Standard Eight sales hit 4,781 and Super Eight sales were 1,392).

This 1934 Packard Convertible Victoria is fitted with a custom body built by Ray Dietrich on a 142-inch wheelbase chassis. It has been treated to a full, professional restoration and has previously won a First in Class award at Pebble Beach. This 1935 Packard V-12 Coupe Roadster was originally purchased by Marland Woolnough of Toronto, founder of National Grocers in Canada. The complete ownership is known and documented since new. It is one of only six V12 coupe roadsters known to exist and the only one to have a rear mounted spare tire and trunk.
This 1935 Packard Twelve Convertible Sedan has won First in Class at the 1984 Grand Classic and the 1984 Meadow Brook Hall Concours d'Elegance. It has recently been awarded a Second in Class, a true testament of the quality of the restoration; it was awarded this honor ten years after the restoration was completed.

This vehicle has many options and amenities including the dual side-mount spares and hard metal covers and mirrors. The wire wheels are chromed and painted and the tires are whitewalls.
By Daniel Vaughan | Feb 2011
Only 786 Packard Twelves were built in 1935, and that total was divided among 14 different body styles. One of those body styles was this handsome model by Rollston of New York. For 1935 the Packard Twelve motor featured aluminum cylinder heads and with other refinements the motor's horsepower was pushed to 175. The Packard Twelve motor was arguably the finest twelve of the Classic Era.

This 1935 Packard Twelve Model 1208 was originally purchased by a New York lawyer who used it extensively at his New Jersey summer estate. This is the only example of this custom Rollston design on a Packard chassis - the other two were built on Duesenberg chassis. The car was restored in 1964 and has just completed a show paint restoration.
This Packard Twelve Coupe Roadster is the 111th of 3,587 Twelves built in 1935 and the 38th of only 51 Coupe Roadsters built. It is equipped with a trunk rack, wire wheels, dual open side-mounted spare tires with mirrors, Trippe lights, radio, Cormorant hood ornament and aftermarket turn signals to aid modern-day touring.

It was sold new on March 22nd of 1935 at the W.H. Collins, Inc. Packard dealership in Hollywood, CA. In the 1970s, it was acquired by a California collector and restorer who retained it for four decades. During that time, it was treated to a high quality restoration around 1990, finishing it in two-tone Green color scheme which it wears today. It won a National First Place badge from the Classic Car Club of America.

The car has a battery cut-off switch and two six-volt batteries connected with a solenoid which allows for starting on twelve-volts and operation on six-volts.
There is also an electric fuel pump to aid starting after a period of storage

In 2011, this car was offered for sale at the Hershey auction presented by RM Auctions. It was estimated to sell for $190,000 - $220,000. Bidding reached $181,500 but was not enough to satisfy the vehicle's reserve. It would leave the auction unsold.
By Daniel Vaughan | Dec 2011
One of the wealthy and famous Packard clients during the 1930s was Marjorie Merriwether Post, heir to the Postum Cereal Company, founder of General Foods, and spouse of Edward F. Hutton, of investment-banking fame. During the late-1920s, Marjorie favored Rolls-Royce chassis, switching to Packard's Senior models by the mid-1930s.

In early-1935, Packard chassis 1207215 was selected for a new order by Mrs. Hutton. The Humer-Binder Co. Inc., located on New York's 11th Avenue was commissioned to transfer the Brewster Close-Coupled Limousine body from her 1928 Rolls-Royce Phantom and adapt it to her new Twelve chassis. The chassis price was $3,700 and the total cost of the work was quoted at $6,685. The project included the addition of a new solid roof for the chauffeur's compartment, shatterproof glass throughout, new silk window shades, re-varnished interior window moldings, and a complete repaint with crests applied to the rear doors.

When the Hutton's divorced in 1935, the Brewster-bodied Twelve remained with E.F. Hutton. According to a 1964 affidavit executed by Vaughn S. Jenkins, Mr. Hutton's longtime chauffeur, the Brewster-bodied Packard was laid up on blocks and stored at Mr. Hutton's Old Westbury residence in 1939, and then in 1947, it was fitted with new tires, re-commissioned, registered, and again, placed on blocks and stored until the car was sold to its second owner, Lewis L. Smith Jr. At that time, recorded mileage was 33,572.

Mr. Smith retained the Packard for 25 years and then, the current owner acquired it via a dealer in 1990. The current owner sympathetically restored the car including an engine rebuild. It was given hardened valve seats and modern bearings, and a high-speed rear end. New diaphragms were recently fitted to the vacuum booster. The steering and brakes were completely sorted. The interior woodwork was refinished, and the leather upholstery was replaced.

In 2012, the car was offered for sale at the St. Johns sale presented by RM Auctions. It was estimated to sell for $90,000 to $130,000 and offered without reserve. As bidding came to a close, the car had been sold for the sum of $56,100 inclusive of buyer's premium.
By Daniel Vaughan | Oct 2012
By the mid-1930s, the Great Depression's effects were still being widely felt all throughout the world and particularly in the United States. Luxury automotive manufacturers were being forced to either face the reality of disappearing or make some drastic changes. Packard, however, would try to continue to offer high-end luxury while remaining alive with much more simplified cars for the masses. The Packard 12, though, would remain as exclusive as one could get during such an era.

The Packard 12, with its 473-cubic inch V-12, was, without question, Packard's most elite and luxurious model. One such example of Packard's ultimate expression of luxury and affluence was the Dual Cowl Sport Phaeton, chassis number 821-202, built in 1935.

One of just 788 V-12s produced in 1935, 821-202, would first be delivered to a customer in Lake Forest, Illinois. The base price of the car at the time of its delivery would be an impressive sum of $4,290, and that would be before options. In 1935, that would be an incredible sum of money.

The car would remain within the estate of its original owner until the 1950s when David Dangler, a V.P. with the Northern Trust Bank, came to own the car. Upon coming into the possession of Dangler the history of the 821-202 becomes a little uncertain. It is believed, however, Dangler sold the car to Jay Gross, a lawyer from a small town known as Princeton, Illinois. Gross was not only a lawyer, but also, an owner of the Princeton Auto Museum.

What is known is that Walter Cunny then purchased the car from Gross and had it undergo a full frame-up restoration. The entire restoration work would take a period of five years and would be completed by Fuller Bros. Restorations Co. of Clinton, Iowa.

When the car emerged from its restoration the car would take part in a number of concours events throughout the Midwest. One of those events would be the 21st Classic Concours held in Indiana in 1977. In that event, 821-202 would go on to earn a total of 99.25 points out of a possible 100. Two years later, at the 1979 Indiana Grand Classic, the car would score an even 100.

This high scoring Packard 12 would remain in the possession of Mr. Cunny for a number of years until it became the possession of Dr. Gerald Greenfield of Washington around 1996. Dr. Greenfield would only the car for only a couple of years before it would come to be acquired by its current owner. The current owner would offer a trade for the Packard 12. His offering for the car would be his own Packard, a Packard Darrin.

Although the car sports an older restoration, its look and presentation remain such that it has been a feature in a number of publications including a February 1995 issue of Collectible Automobile and a March-April 1980 issue of the Dashboard.

Boasting its 175hp V-12 engine and three-speed manual selective synchromesh transmission, 821-202 is believed to be just one of four Dual Cowl Phaeton 12s built for 1935 and is full of known history from new. CCCA Classic eligible and one of Packard's rare breeds, 821-202 will continue to turn heads and impress for years to come.

Chassis 821-202 would be offered at the 2012 Monterey RM Auction and would come with a pre-auction estimate of $280,000 and $350,000.

Sources:
'Lot No. 210: 1935 Packard Twelve Dual Cowl Sport Phaeton', (http://www.rmauctions.com/FeatureCars.cfm?SaleCode=MO12&CarID=r201&fc=0). RM Auctions. http://www.rmauctions.com/FeatureCars.cfm?SaleCode=MO12&CarID=r201&fc=0. Retrieved 1 January 2013.

'1935 Packard Twelve News, Pictures and Information', (http://www.conceptcarz.com/vehicle/z11399/Packard-Twelve.aspx). Conceptcarz.com: From Concept to Production. http://www.conceptcarz.com/vehicle/z11399/Packard-Twelve.aspx. Retrieved 1 January 2013.
By Jeremy McMullen
This Packard Twelve Coupe Roadster (Model 1207) was delivered new by Packard Florida Motors in Palm Beach on February 5th of 1935. It spent the 1960s and 1970s in California. In 1973, the engine was rebuilt by Charles Last and the interior has subsequently been replaced. In 1998, the current owner performed an on-frame restoration, with paint, chrome, top and carpet done by local specialists.

The car is finished in medium blue with chrome wire wheels and wide whitewall tires. There is a crimson leather interior with matching carpet and a tan canvas top. In addition to the servo-assisted mechanical brakes, it has adjustable shock absorbers, a radio, and the standard rumble seat with a golf bag door.

This is one of the last Dietrich-built Packards to be completed. In July of 1935, Dietrich Inc. wound down, although the label would continue to be used for two years longer on Murray-built bodies.
By Daniel Vaughan | Oct 2013
As one of the premier luxury automobile manufacturers of the 1920s and 1930s, Packard competed with Cadillac to be the top American marque. Packard was the first company to put a V12 into a production car, and ease of driving coupled with a smooth-running engine made Packard famous. The Packard Twelve Sport Phaeton with dual cowl had a base price before options of $4,290, which was quite a large sum in 1935. This car was originally delivered to its first owner in Lake Forest, Illinois. It was completely restored by its fourth owner in the 1970s and has been kept in that condition ever since. This model is thought to be one of only three remaining of the four examples produced in 1935.
The Packard Twelve was produced from 1933 to 1939 with over 35,000 examples produced. It is considered by many to be one of the finest automobiles produced by Packard and one of the most significant creations of the classic car era. The long and flowing front hood hid a 445 cubic-inch side-valve twelve cylinder engine that was refined, powerful, smooth, and quiet.

The engine was originally destined for a front wheel drive project which eventually proved to have weaknesses. That and the anticipated development cost were too much to be practical so Packard decided to scrap the idea. Cadillac had introduced their 16-cylinder engine and other marques such as Pierce-Arrow were improving the performance of their offerings. Packard was feeling the pressure and decided to place the engine into the Deluxe Eight Chassis and dubbed it the Twin Six. The name was in honor of Packard's achievement fifteen years earlier when the introduced their first 12-cylinder engine. By 1933 the name was changed to Twelve to be inline with the rest of the Packard models.

Most of the Packard production Twelve's received factory bodies. Only a handful received custom coachwork by such greats as LeBaron and Dietrich.

In 1935 Packard introduced more horsepower and mechanical improvements. The suspension became more plush and comfortable while the steering became easier to operate. The cars were designed and built as one unit including the fenders, running boards, hood and body.

1936 the final year for 17 inch wire wheels and the double blade bumpers with hydraulic dampers.
By Daniel Vaughan | Apr 2008
For more information and related vehicles, click
here
MCQUEEN FERRARI SMASHES RECORD AT RM'S SATURDAY MONTEREY SESSION
• Ferraris dominate RM's Saturday sale: 1967 Ferrari 275 GTB/4 delivered new to King of Cool Steve McQueen garners $10,175,000; 1964 Ferrari 275 GTB/C Speciale realizes $26,400,000 • 21 vehicles achieve seven figures during Saturday sale session • Official results to be posted online at www.rmauctions.com in the coming days MONTEREY, California (August 17, 2014) – One of the most highly anticipated lots of Monterey Car Week, the ex-Steve McQueen 1967 Ferrari 275 GTB/4, entered the h...[Read more...]
FORD BRINGS CUSTOM TRANSIT CONNECT WAGONS TO MAKER FAIRE 2014; MAKERS GET A CHANCE TO MEET THE UNMINIVAN
◾Two new custom Ford Transit Connect Wagons, Hackmobile and Happy Mutant Mobile, will be on display at Maker Faire – an all-ages event for the do-it-yourself enthusiast ◾Ford and MAKE magazine teamed up in the construction of Hackmobile, the ultimate Transit Connect Wagon for the do-it-yourselfer, and Happy Mutant Mobile, which was personalized for the Web-based magazine Boing Boing ◾All-new Ford Transit Connect Wagon, the #unminivan, is available as a five- or seven-seat vehicle that can be p...[Read more...]
Two Best of Show Winners : Similar Designs : Same Owner
When these two vehicles won Best of Show honors at major Concours d'Elegance events, they both were owned by Judge Joseph Cassini III. The green colored Chrysler 4 door Phaeton with tan convertible top wears coachwork by LeBaron. In 2012, it won the Best of Show title (for an American car) at the Concours d'Elegance of America at St. Johns. The other car is a Packard 2 door Convertible Victoria with coachwork by Dietrich. It won this years Pebble Beach Concours d'Elegance Best of Show honors...[Read more...]
Magnificent Series of Coachbuilt Classics To Grace RM's Amelia Island Concours D'Elegance Sale
• RM Auctions returns as the official auction house of the Amelia Island Concours d'Elegance, March 9, 2013 • Single-day sale features breathtaking roster of more than 80 investment-quality collector cars • Notable highlights include an outstanding series of coachbuilt classics headlined by a multi-million-dollar 1935 Duesenberg Model SJ Walker-LaGrande Convertible Coupe and a trio of Cords from the personal collection of Jim Fasnacht • Frequently updated list of entries available online at r...[Read more...]
Final Countdown Underway to RM's Michigan Sale
RM Auctions, the official auction house of the Concours d'Elegance of America, has secured a wonderful selection of classic automobiles for its St. John's sale, July 28, in Plymouth, Michigan. Hosted on the beautiful grounds of the Inn at St. John's, the single-day sale is a mainstay on the auction concours circuit and boasts a reputation for including exceptional American classics. The upcoming sale, featuring more than 70 quality collector cars, presents nearly a century of American and Eu...[Read more...]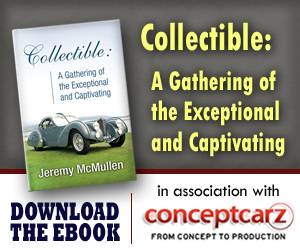 © 1998-2014. All rights reserved. The material may not be published, broadcast, rewritten, or redistributed.