1964 Austin-Healey 3000 MK III news, pictures, specifications, and information

Tweet
The Colorado Red with black leather interior Austin Healey 3000 MKII was offered for sale at the 2006 Worldwide Group Auction held on Hilton Head Island. It was expected to fetch between $60,000-$75,000. A great level of time, attention and effort has gone into preserving the vehicle, such as the cadmium plated nut and bolts. It is equipped with chrome wire wheels, wood steering wheels and added Solex carburetors which were optional equipment at the time. At the conclusion of the auction, the 3000 MKII had found a new owner at the price of $77,000.

The 3000 MKII British sports car with the body of an Italian barchetta was the work of Donald Healey who had a successful pre-war racing career with the highlight being a win at the 1931 Monte Carlo Rally. Introduced at the 1952 London Earls Court Show, the 3000 was immediately popular. There was seating for two and a four-cylinder Austin Atlantic engine that provided excellent performance.
By Daniel Vaughan | Apr 2007
This 1964 Austin Healey 3000 MK III Convertible is powered by a 2912-cc engine that produces 150 horsepower. It has a four-speed manual gearbox with electric overdrive and front hydraulic disc brakes. It has sixty-spoke wire wheels and has had four owners since new. It was offered for sale at the 2006 Gooding & Company Auction at Pebble Beach where it was estimated to sell between $70,000-$85,000. It was offered without reserve, which did not matter as the car was sold for $70,400 and satisfied the estimated value.
By Daniel Vaughan | Feb 2007
This 1964 Austin-Healey 3000 BJ8 MKIII Sports Convertible was offered for sale at the 2007 RM Auctions held in Amelia Island, Florida. The car was offered without reserve and estimated to sell between $60,000 - $70,000. It is powered by a 2912cc overhead valve six-cylinder engine with three Weber carburetors capable of producing 175 horsepower. There is a four-speed manual gearbox with overdrive and four-wheel disc brakes. The car has traveled 62,000 miles, though it has been treated to a comprehensive, nut-and-bolt restoration. It is finished in Mediterranean Blue with a light gray leather interior. There are sixty-spoke stainless and chrome wire wheels and radial tires. There have been three owners since new, and at auction, it found its fourth owner. The car was sold for $61,600.
By Daniel Vaughan | Apr 2007
Donald Healey intended the 3000 to fill a gap that he perceived in the American sports car market between Jaguar's XKs and the MG T series. These cars were more sizeable and civilized than their predecessors, the Austin Healey 100 series cars. The 3000 almost edged into GT territory and was quite fast, but still retained all the exciting qualities of a true English sports car. It was produced in three versions from 1959 until 1968.
This 1964 Austin-Healey 3000 MKIII Phase I is one of 1,390 examples produced. It was a California black-plate car from new and was used for only 11 years before being put into storage. It has been given a nut-and-bolt rotisserie restoration that was completed in June of 2008. It wears a custom color combination of Aston Martin's period California sage with a linen-color interior, with leather seats and wool carpeting in cream beige. The dark-green top is a correct English Everflex example. There are 60-spoke chrome knock-off wire wheels, new rubber, and brightwork.

In 2008 this Austin-Healey was offered for sale at the Gooding & Company Auction in Pebble Beach where it was estimated to sell for $90,000 - $120,000 and offered without reserve. The lot was sold for $101,200 including buyer's premium.
By Daniel Vaughan | Mar 2009
This car is one of only five Works-prepared 3000s prepared for pure circuit racing. As it rolled off the Works at Warwick, it was meticulously prepared to contest the rigors of endurance racing and help build the reputation of the company in the United States, where Donald and Geoffrey found so much success selling their six-cylinder motorcars. Sebring was chosen as the stage to showcase their motorcar. Prior outings in 1957, 1958, and 1960 had been met with mixed results. A pair of 3000 BJ7s, 55 FAC and 54 FAC, had both finished a respectable 12th and 26th, respectively.

The light and quick homologation hard-top Healey bore similarity to a standard BJ7 only in that it carried the same basic profile. The cars were clothed in aluminum body panels and given a highly tuned triple Weber carburetion setup, hotter cams in 6-port aluminum heads, ZF limited-slip differential, and a special racing gearbox made this Big Six a rocket ship.

For the big race on March 21st, 1964 the lone Works Austin-Healey entry was entrusted to Paddy Hopkirk. Two months prior, Hopkirk had enjoyed a victory at the Monte Carlo Rally, teamed with Canadian Grant Clark.

The car, driven by Paddy Hopkirk and Grant Clark, competed against a class of Ferraris. (In fact, it was the only non-Ferrari in its class). At the start of the race, Hopkirk was at the wheel. A puncture nearly ended the race for him, but he miraculously managed to maintain control of the car. Following a pit stop for fresh tires, Hopkirk played catch-u until handing the wheel to Clark. Just a few minutes after taking control of the car, Clark lost control of the car and ended the team's race, with 767 KNX on its roof after 49 laps.

The car was only lightly damaged and was sent back to the Works for repairs.

As was customary at the time, Healey sold the old racecar to a privateer for no more than the cost of a new road car. The car was purchased by Yorkshire woolens magnate Henry R. Crowther for the sum of £1,080 on August 7th, 1964. Crowther used it for hill climbs and sprints. He retained 767 KNX only briefly before selling it to his friend Ted Worswick. 767 KNX would be retained by Worswick for the subsequent 26 years, during which time the car was kept in remarkably original condition. In his care, 767 KNX ran the Targa Florio twice - in 1966 and again in 1968 - finishing 29th in its latter outing. A 3rd in class would be achieved at the prestigious Oulton Park GT support race while a handful of other outings were recorded.


It is also acknowledged to be the Works car which returned to Sebring in 1965. This time it was to be driven by Paul Hawkins and Warwick Banks, who took an incredible victory in torrential conditions.

In 1970, 767 KNX was laid up for a dozen years until the 50th Anniversary of the RAC Rally, placing 5th overall (behind a quartet of Minis) as well as taking home the prize for the GT Class and the Team Prize. A 1984 outing at Oulton Park was followed by a trip to Italy for the 3rd Coppa d'Italia in 1987. In 1990, 767 KNX returned to the US for the first time since 1964 to participate in the Anglo American Challenge. Upon its return from the US, the motor was rebuilt by marque specialist John Chatham.

In 1992, 767 KNX moved to its third private owner, vintage racer Norman Grimshaw. Continuing the car's successful racing career, Grimshaw and Barrie 'Whizzo' Williams campaigned 767 KNX at the 1995 and 1996 Silverstone Festivals. The car then returned to Chatham in 1996 for a rear axle and limited-slip differential rebuild. 2004 saw the historic racer change hands once more to collector Jonathan Procter. Shortly after acquisition, 767 KNX was sent to noted marque specialists Denis Welch Motorsports for a complete mechanical overhaul. Completed in 2005, and with invoices totaling over £19,000, the freshly refurbished racer was acquired by the American vendor in 2006.


Back in the US, 767 KNX has enjoyed a few races since acquisition, but has been used only sparingly and meticulously maintained. In 2012, 767 KNX returned to Florida for the Amelia Island Concours.

It has had just 5 private owners from new and is regarded as the most original Works Healey to survive, retaining its original body and engine.
Sport Convertible
Chassis Num: H-BJ8-L/29427
Engine Num: 29K-RU-H/4132

This Austin Healey 3000 Mark III Phase II BJ-8 Convertible was originally completed October 12-13, 1964. The color was Ivory White (also known as Old English White) with a red interior and black top. It was shipped to Compton, CA, USA October 16th, 1964. Equipment listed at shipment included overdrive, heater, adjustable steering column, and black tonneau cover. 1964 to 1965 was a weak economy in California and apparently the car did not sell. Sometime in late 1965 the factory sent a 1966 BMC model year tag for the dealer to attach to the ID plate. Therefore when the car was sold it was registered in California as first sold in 1965 as a 1966 model. The factory adopted the practice of sending these tags to dealers so, if cars were moving slowly, they would not be stuck with stale inventory. Therefore, this car is either a 1964 (year of manufacture), a 1954 (US model year of manufacture and year of first sale), or a 1966 (re-designated model year by BMC and the year on the CA registration).

The car has been restored to its original specification with one exception. The original interior was synthetic Red Ambla (Naugahyde) and had silver (imitation chrome) piping. However, in the interest of comfort and appearance, the restoration was done in all red leather with red piping. (All Healey leather interiors were piped with a material of matching color). Leather interiors were an available option in Britain. Although leather was not a regular option in the USA on BJ-8 convertibles, a number of cars were shipped with leather interiors as a special order and are documented on their Heritage Certificates.

This example is an early and somewhat rare model of the last of the big Healeys, the BJ-8 Phase II with improved ground clearance. This car has only one clear front parking light/turn signal and one red rear tail light/turn signal/brake light per side. Later cars, after March 1965 to the end of production in December 1967, had two light fixtures per side, a separate amber light on each front and rear corner for turn signals to comply with new American safety requirements.

This car has always been in California and wears its original Black California plates. Restoration was completed in the spring of 2007 and as of summer 2012 it has covered about 5,000 miles, again all in California.
This Austin-Healey 3000 MK III BJ8 is one of only 1,390 Series examples produced during the two-year run of the model. The car has been given a comprehensive body-off restoration by its previous owner. The current owner acquired the car in 2009.
By Daniel Vaughan | Dec 2013
This Austin-Healey 3000 MKIII BJ8 is finished in its factory-original colors of Ivory with black vinyl upholstery. It is a late 'Phase 1' example built during April of 1964. The car is a left-hand-drive export model, that was dispatched for shipment on April 28th of 1964, to Nuffield Exports in Jacksonville, Florida. Factory-fitted options included an adjustable steering column, heater, overdrive, Dunlop Road Speed tires, and wire wheels.

The current owner acquired the car in December of 2008. In January of 2009, the car was treated to a complete nut-and-bolt restoration to concours-level standards, which was completed in May of 2010.

The car was judged Best in Class at the May 2010 California Healey Week, followed by a string of class awards earned at the October 2010 San Diego British Car Day, the October 2010 Del Mar Concours, and both the 2011 and 2012 editions of the La Jolla Concours.

The car has the desirable Becker Europa radio, a tool roll, jack, and reproduction driver's handbook. The car has been driven less than 250 miles since the restoration work was completed.
By Daniel Vaughan | Feb 2014
The Austin Healey 100 was introduced in October of 1952 at the Earls Court Motor Show. The first Austin Healey 100's were known as 100-4 or BN1. The name 100 came-about by being able to break the 100 mph barrier. The BN also had meaning. The B represented the engine class which meant it had between 2000 and 3000 cc. The N represented the body-style configuration, two-seat and open-top. The 100 was powered by a A90, 2660 cc, four-cylinder engine capable of producing 94 horsepower. The manual three-speed transmission was also borrowed from the A90. However, the first gear was blocked off and was fitted with overdrive on the second and third gears to provide extra power.
The name 'Austin Healey' was formed by a partnership comprising of the designer, Donald Mitchell Healey, and the manufacturer, Austin.

During its total production cycle, 10,688 examples of the BN1 were produced.

In October of 1955, the BN2 was introduced. The BN2 was similar to the BN1 in design but now featured larger drum brakes and a new four-speed transmission with overdrive.

During its production run, 3,924 examples of the BN2 were produced.

The Austin Healey 100S was produced in limited numbers, only 55. Their primary purpose was for competing in racing and rally events as well as for development and marketing purposes. They were entered into races such as Sebring, Mille Miglia, and Le Mans. They were copies of special factory test car that Stirling Moss raced in the 1954 12-hour Sebring race where he placed third. The 100S's were produced at the Healey Warwick factory and most were decorated with the American racing colors, white and blue. Of the 55 that were built, only 10 remain unaccounted for. The 100S, when compared with the 100, featured Dunlop disc brakes on all four wheels, different cylinder head and internal engine modifications, four-speed gearbox without overdrive, and a light-alloy body shell.

The 100S was followed by the 100M. The 100M was a Le Mans variation of the BN2 with an increased horsepower rating of 100-110. It featured bigger carburetors and modified distributor. Valve springs and anti-roll bars were added to the suspension. During its production run, 1100 of the Le Mans BN2's were produced.

Over time, about 100 BN2 were later modified but in order to qualify for the Le Mans configuration the vehicles needed to meet specific standards. These standards included a 1.75 inch H6, SU carburetors, cold air box and air tube, Le Mans regulation strap and a factory style louvered hood.

The four cylinder engine was used from 1952 through 1956, after which a BMC six-cylinder engine was used. The car was dubbed the '100 Six'. Three years and a few engine modifications later, the car was named the '3000' and today is known as the 'Big Healey'. Over the production lifespan of the 3000, it could be assembled with multiple options such as a two-seater or 2+2, hard-tops, single or duo-tone paint schemes, overdrive, and more.

In 1962 the body was redesigned with a curved screen and wind up windows. The interior of the vehicle was revamped in 1964 and also received more ground clearance.

The 3000 was produced from 1959 through 1968. The original engine produced 124 horsepower and was capable of about 114 mph. Modifications to the engine throughout the years increased the horsepower to around 148 and the top speed to 121 mph. The size of the car, the power of the engine, and weighing in at around 2400 lbs made this car responsive, competitive and fun to drive.

In all, there were around 73,000 100's and 3000's produced with 58,000 featuring the six-cylinder engine.
By Daniel Vaughan | Mar 2006
For more information and related vehicles, click
here
Techno Classica 2014: more than 30 racing cars to celebrate 120 years of Mercedes-Benz motor racing history
•Cars that were the heroes of magical moments put their stamp on this high-powered, most comprehensive show presentation •With more than 30 vehicles, Mercedes-Benz Classic presents motor racing history in all its unique breadth and depth •120 years of Mercedes-Benz motor sport in the focus of the leading international classic motor show 120 years of Mercedes-Benz motor racing history have produced a timeline of extraordinary victories which since 1894 also stand for outstanding innovations ...[Read more...]
Italian Racing Classics Lead Gooding & Company's 10th Anniversary
SANTA MONICA, Calif. (June 4, 2013) – Gooding & Company, the official auction house of the Pebble Beach Concours d'Elegance acclaimed for selling the world's most significant and valuable collector cars, will be hosting the 10th Anniversary sale of the Pebble Beach Auctions on August 17 and 18. This year Gooding & Company offers an early preview of some of the most highly sought after and rapidly amassing value collectible – the distinguished Italian race car. Auction highlights include a...[Read more...]
Historic Jaguar D-Type Leads Growing List of Significant Entries for RM's Monterey Sale
• RM Auctions building towards a spectacular roster of cars for its flagship Monterey sale held during the famous Pebble Beach Concours d'Elegance motoring week, August 16–17, in California • Historic 1955 Jaguar D-Type leads a superb roster of the world's finest sports and racing cars poised for the RM podium • Additional star lots include a 1955 Ferrari 750 Monza Scaglietti Spider, a 1950 Ferrari 166 Touring Barchetta, a 1961 Ferrari 400 Superamerica SWB Coupe Aerodinamico and a 1953 Masera...[Read more...]
Sir Stirling Moss Returns To The Amelia Concours
Sir Stirling Moss defined the image of a professional racing driver. By the time premature retirement was forced upon him by a racing accident at Goodwood in 1962, his name meant 'racing driver'. He was every English schoolboy's hero and the inheritor of grand master and Mercedes-Benz teammate Juan Fangio's orb, scepter and crown. In 1996 Sir Stirling was the Amelia Island Concours d'Elegance first Honorary Chairman. The cover of 'The Amelia's' 1996 collector-grade program depict...[Read more...]
Magnificent Series of Coachbuilt Classics To Grace RM's Amelia Island Concours D'Elegance Sale
• RM Auctions returns as the official auction house of the Amelia Island Concours d'Elegance, March 9, 2013 • Single-day sale features breathtaking roster of more than 80 investment-quality collector cars • Notable highlights include an outstanding series of coachbuilt classics headlined by a multi-million-dollar 1935 Duesenberg Model SJ Walker-LaGrande Convertible Coupe and a trio of Cords from the personal collection of Jim Fasnacht • Frequently updated list of entries available online at r...[Read more...]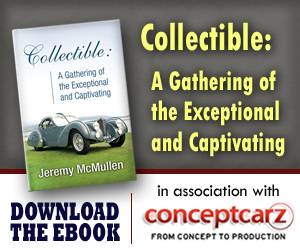 © 1998-2014. All rights reserved. The material may not be published, broadcast, rewritten, or redistributed.