1936 Plymouth P2 news, pictures, specifications, and information

Tweet
During the mid-1930s, Plymouth competed in the same market §egmènt as other low priced cars such as Ford, Chevrolet, and Nash Lafayette. In addition to convertibles and commercial vehicles, the Plymouth line consisted of both two- and four-door models available either wîth or without a built-in trunk. Style-conscious buyers of the day preferred the more modern look of the built-in trunk and sales of such models outstripped those of the trunkless variety by a margin of twenty to one. Plymouths built for domestic sales were equipped wîth a 201 cubic-inch straight-six engine rated at 82 horsepower.

Collection of Petersen Automotive Museum Foundation. Gift of the Carl Roger Ekholm Family.
Source - Petersen Museum
During the early 20th century, Australia enacted tariffs requiring imported cars to be bodied locally. Since American cars have always been popular in Australia, it is not unusual to find many American products in Australia. The largest of the Australian body companies was Holden, which was purchased by GM. Holden bodied cars from Nash, Willys, Graham and Chrysler through 1935. Going forward, T.J. Richard & Sons of Keswick, South Australia provided bodies for all Chrysler makes. Years later, Richards was acquired by Chrysler.

This car was discovered by Bruce Thomas (a Chrysler historian), in Australia. He had it imported to the United States and subsequently sold it to Ray Schaefer, a former Plymouth manager. Schaefer had the car restored and converted to a left-hand drive during the process. Art Astor became the car's next owner and in 2008, the current owner purchased it.

In 2010, this unique Plymouth was offered for sale at the Vintage Motor Cars of Meadow Brook event presented by RM Auctions. The car was estimated to sell for $50,000 - $70,000. As bidding came to a close, the car had been sold for the sum of $39,600 including buyer's premium.

The Plymouth P2 Series were outfitted with a 201.3 cubic-inch six-cylinder engines capable of producing over 80 horsepower. Four-wheel hydraulic drum brakes provide the stopping power while the three-speed manual transmission sends power to the rear wheels. It sits atop a 113 inch wheelbase and suspended in place by an independent front suspension with coil springs.

The P2 series Plymouths had a tall radiator shell and a three-piece grille insert. The headlights were in the shape of bullets and painted the color of the body. There were 16 body types offered with the four-door sedan with trunk accumulating nearly half of all the Plymouth sales for 1936. 1936 was a record year for Plymouth with over half a million cars sold.
By Daniel Vaughan | Aug 2010
Established in 1928, Plymouth was created to be Chrysler's most affordable line of cars, competing with Ford and Chevrolet. Though its crosstown rivals continued to dominate the mainstream market, the strategy worked, and by 1936 Plymouth had climbed to number three in the charts, with sales topping a half-million for the first time. Plymouth added a lower priced P1 Business Series to its lineup for 1936, offered in seven different models. But the P2 Deluxe Series continued to be the brand's real bread-winner, outselling the P1 versions by almost five to one.

Regardless of model, only one eight was offered, a 201 cubic-inch (3.3 liter) inline flathead six rated for 82 horsepower - a little more than Chevy's Stovebolt six, a little less than Ford's popular V8. The convertible coupe was produced in small numbers, just 3297 in 1936, and the coachwork was farmed out to the Detroit-based Budd Company. Equipped with every factory accessory available, including a rumble seat and fender-mount spare tires - the final year for fender mounts at Plymouth - this convertible is a particularly rare example of this snappy little droptop. So equipped, this car - formally, a Model 804 P2 DeLuxe Convertible Coupe - sold for $725 in 1936.

The current owners acquired this Plymouth in 1989 and it has been in their collection for nearly 25 years.
The Petersen Automotive Museum's Newest Exhibit - Town Cars: Arriving In Style
As the evolution from horse-drawn carriage to the automobile was underway in the early 20th century, Town Cars quickly became a pillar of luxury, sophistication and an illustration of one's status – a counterpoint to the average, mass produced Ford Model T. Los Angeles, (Feb. 18, 2014) – Known as 'Mr. Showmanship,' it's no wonder that Liberace not only owned a town car – a vehicle designed around status and opulence – but took it to the next, flashy level by covering the exterior ...[Read more...]
VIDEO REPORT: NISSAN IDX CONCEPT TOUR CONTINUED IN SUNNY SOCAL, AND THE FAN BASE GROWS
LOS ANGELES – After debuting in Tokyo and playing in Detroit, the acclaimed Nissan IDx Freeflow and IDx NISMO concepts held a three-date tour on the West Coast. It was a super-charged string of venues worthy of the world's biggest rock bands, at least in the auto-enthusiast world. Along Abbot Kinney Boulevard in Venice, once described as the 'coolest block in America' by GQ magazine, fans of the concepts were able to get up close and personal with the cars, including speaking with designers a...[Read more...]
PETERSEN AUTOMOTIVE MUSEUM APPOINTS NEW CMO
Adam Langsbard, a veteran marketing pro with more than 20 years experience, has already helped launch the New Petersen's awareness and fundraising campaign and has locked in significant partnerships with Kia and Jaguar. (November 12, 2013) – The Petersen Automotive Museum is pleased to announce its new Chief Marketing Officer, Adam Langsbard. Langsbard, who joined the Petersen team at an instrumental time for the museum as it undergoes a dynamic transformation from the inside ou...[Read more...]
RRDC VOTES IN 37 NEW MEMBERS FOR 2013
HILLIARD, Ohio (Nov. 7, 2013) - Thirty-seven race-car drivers and motorsports professionals have been voted into the Road Racing Drivers Club in 2013. The group includes 13 Regular Members from the open-wheel and sports-car racing ranks, 20 Associate Members and four Honorary Members. The current roster of RRDC members now numbers 440. Voting was held among all current RRDC members. 'This year's crop of new Regular Members truly represents the spirit of the RRDC, as each driver has de...[Read more...]
Italian thoroughbreds to feature prominently at Bonhams Quail Lodge auction
Numerous iconic and desirable models from Ferrari, Lancia, Lamborghini and more contribute to growing anticipation for this approaching sale San Francisco – Bonhams is delighted to announce its impressive assembly of Italian sports cars for its fast approaching 16th annual Carmel motorcar auction on August 16th. After announcing earlier this spring the consignment of some truly exceptional and noteworthy Italian cars – most notably the one-off 1954 New York Auto Show, 1953 Fe...[Read more...]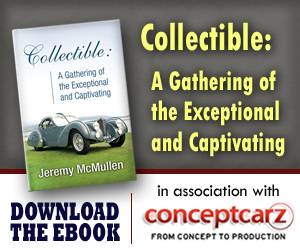 © 1998-2014. All rights reserved. The material may not be published, broadcast, rewritten, or redistributed.