1937 Pierce-Arrow Model 1702 news, pictures, specifications, and information

Tweet
In 1937 only 137 Pierce-Arrows were built and in 1938 there were only 17 vehicles created before the company closed its doors forever. The vehicles they created were some of the greatest masterpieces of the early 1900's. No expense was spared and many were created specifically for the future owner, complying with each and every request and demand. The demise of the company was due to a struggling economy. The Great Depression was thinning out the number of individuals who could afford one of these magnificent creations. Many luxury automobile manufactures moved down the market in an attempt to stimulate new buyers and ultimately increase sales.

This example has a eight-cylinder engine capable of producing 150 horsepower. It uses four-wheel Bendix vacuum power assisted hydraulic brakes to stop the vehicle and a three-speed overdrive transmission to send power to the rear wheels. It has a custom coachbuilt body by Brunn. It is finished in a two-tone color scheme with silver and black. The headlights are built into the fenders. It came equipped with side mounted enclosed spare tires.

This is a chauffer driven car. The owners rode in the back of the vehicle, and it afforded them much space to spread out their legs and relax. There was a divider window between the driver and its occupants which could be rolled down.

It is believed that Johnny Carson and Doc Severinson were chauffeured around St. Louis, Missouri in this car.
By Daniel Vaughan | May 2009
Pierce-Arrow introduced their 1937 models in October of 1936. The 1936 and 1937 models are nearly identical with the only recognizable difference being on the dashboard.

The company was in real financial trouble in early 1937. A few models were built for the 1938 model year using left-over 1937 parts and all were hand-built.

This 1937 Pierce-Arrow Model 1702 is a 7-Passenger Sedan which rests on a 144-inch platform. It is powered by a 462 cubic-inch V-12 engine delivering 185 horsepower.
1964 Nurburgring 1000 Kilometers: Survive for One Last Victory
During the late 1950s, Richie Ginther would begin a relationship with John von Neumann and this partnership would result in one of the most dominant periods of American sportscar racing in which Ginther and Porsche would be virtually unbeatable. Nearly a decade later, that same combination would again join forces to provide one more moment of glory. By the mid-1950s Porsche had developed its 550. This was a small car more than capable of dominating its class and consistently able to challenge...[Read more...]
Mercedes-Benz USA Announces Pricing for 2014 SLS AMG Black Series and C63 AMG Edition 507
MONTVALE, N.J. – Mercedes-Benz USA (MBUSA) today announced pricing for the 2014 SLS AMG Black Series coupe and the 2014 C63 AMG Edition 507 sedan and coupe. Both models are part of an exclusive lineup of high-performance AMG models available at all U.S. Mercedes-Benz dealers. The Manufacturer's Suggested Retail Pricing for the MY14 SLS AMG Black Series is $275,000 (plus $1,800 for destination and delivery). Pricing for the MY14 C63 AMG Edition 507 sedan will begin at $70,000 (plus $925 fo...[Read more...]
Goodwood Festival of Speed 2013: auction of Mercedes-Benz W 196 R one of highlights at world's 'largest motorised garden party'
• Mercedes-Benz Classic presents great moments in motor-racing history at Goodwood • Motorsport festival celebrating its 20th anniversary • Auction of only privately owned post-war Silver Arrow by Bonhams sure to cause a stir Stuttgart – This year's Goodwood Festival of Speed in West Sussex, England, includes the auction of a Mercedes-Benz Type W 196 R Grand Prix racing car on 12 July 2013. The auction will be one of the highlights of a weekend dedicated to motor sport. Mercedes-Benz...[Read more...]
BUICK TURNS 110: MOST SIGNIFICANT BUICK OF EACH DECADE
DETROIT – Remaining in business for 11 decades requires constant innovation, so choosing one model to represent a decade of significance can be a catalyst for debate. Among the hundreds of models designed and engineered for Buick, the 11 below stand out as the most significant for their respective decades since May 17, 1903. Let the debate begin. ◾1903-1912: The first Buick ever is quite significant, so Buick's first decade honor goes to the 1904 Model B. The first one of the line was so...[Read more...]
RM Auctions Announces New Paris Sale To Take Place During Retromobile Week
• RM Auctions expands European presence with all-new sale in Paris during the Retromobile show week • Auction to be held within the beautiful surroundings of 'Les Invalides' in central Paris, 4-5 February, 2014 • Magnificent ex-works Gordini 24S already consigned in anticipation of another exceptional RM sale LONDON (20 June, 2013) – RM Auctions, the world's largest collector car auction house for investment-quality automobiles, is delighted to announce the addition of a new sale to...[Read more...]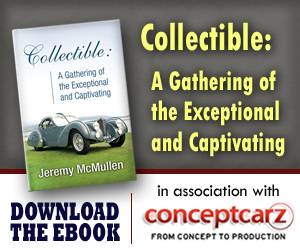 © 1998-2014. All rights reserved. The material may not be published, broadcast, rewritten, or redistributed.