1937 Pierce-Arrow Model 1702 news, pictures, specifications, and information

Tweet
In 1937 only 137 Pierce-Arrows were built and in 1938 there were only 17 vehicles created before the company closed its doors forever. The vehicles they created were some of the greatest masterpieces of the early 1900's. No expense was spared and many were created specifically for the future owner, complying with each and every request and demand. The demise of the company was due to a struggling economy. The Great Depression was thinning out the number of individuals who could afford one of these magnificent creations. Many luxury automobile manufactures moved down the market in an attempt to stimulate new buyers and ultimately increase sales.

This example has a eight-cylinder engine capable of producing 150 horsepower. It uses four-wheel Bendix vacuum power assisted hydraulic brakes to stop the vehicle and a three-speed overdrive transmission to send power to the rear wheels. It has a custom coachbuilt body by Brunn. It is finished in a two-tone color scheme with silver and black. The headlights are built into the fenders. It came equipped with side mounted enclosed spare tires.

This is a chauffer driven car. The owners rode in the back of the vehicle, and it afforded them much space to spread out their legs and relax. There was a divider window between the driver and its occupants which could be rolled down.

It is believed that Johnny Carson and Doc Severinson were chauffeured around St. Louis, Missouri in this car.
By Daniel Vaughan | May 2009
Pierce-Arrow introduced their 1937 models in October of 1936. The 1936 and 1937 models are nearly identical with the only recognizable difference being on the dashboard.

The company was in real financial trouble in early 1937. A few models were built for the 1938 model year using left-over 1937 parts and all were hand-built.

This 1937 Pierce-Arrow Model 1702 is a 7-Passenger Sedan which rests on a 144-inch platform. It is powered by a 462 cubic-inch V-12 engine delivering 185 horsepower.
THE NEW AMG 4.0-LITER V8 BITURBO ENGINE
Powerful, innovative and efficient July 25, 2014 - Affalterbach -- Mercedes-AMG presents a new technological masterpiece: the AMG 4.0-liter V8 biturbo engine is a new development at the sporting heart of the new Mercedes-AMG GT car. This innovative eight-cylinder unit stands out for its sublime power delivery, the purposeful lightweight construction, as well as its high efficiency and environmental compatibility. With peak power of up to 375 kW (503hp) and maximum torque of up t...[Read more...]
DIVERSE PRIVATE COLLECTIONS ADDED TO AUCTIONS AMERICA'S FLAGSHIP AUBURN FALL SALE
• Numerous private collections to cross the block at Auctions America's Auburn Fall event, August 27 – 31 at Indiana's historic Auburn Auction Park • Latest highlights led by 80 vehicles from a prominent private collection along with 20 cars from The David Disiere Collection • Multi-day sale to feature approximately 1200 quality collector cars and a full day of parts and memorabilia • Frequently updated list of entries and complete event information available at auctionsamerica.com AUBU...[Read more...]
HIGHLIGHTS AND LOWLIGHTS FOR VOLKSWAGEN AT HOME RALLY
It was the home rally of all races where Volkswagen would fall short of their own high expectations for the first time since joining the FIA World Rally Championship (WRC) in January 2013. This was the first time Volkswagen have missed out on a podium place in a season which has seen the team pick up six rally wins in eight rallies. And all this despite World Championship leaders in the Drivers' and Co-drivers' categories Sébastien Ogier/Julien Ingrassia (F/F) and Jari-Matti Latvala/Miikka Antti...[Read more...]
Audi Confirmed For Salon Privé 2013
• Salon Privé 2013 - 4th to 6th September
Syon Park, London, 21 August 2013 – Audi is set to display the R8 V8 Spyder, RS 6 Avant and RS 4 Avant at Salon Privé 2013. A hand-built, high-revving V8 engine mounted just behind the passenger compartment of the Audi R8 V8 Spyder launches the stunning soft-top supercar to 62 mph in 4.8 seconds and on to a top speed of 187 mph. The mid-engine configuration helps to lower the centre of gravity for optimum road holding, while the slick...[Read more...]
63rd Pebble Beach Concours d'Elegance Names 1934 Packard 'Best of Show'
The competition showcased 248 cars, including 48 from abroad PEBBLE BEACH, Calif. (August 18, 2013) -- A 1934 Packard 1108 Twelve Dietrich Convertible Victoria owned by Joseph and Margie Cassini III of West Orange, New Jersey, was named Best of Show at the 63rd Pebble Beach Concours d'Elegance, held Sunday on the 18th fairway of Pebble Beach Golf Links at Pebble Beach Resorts. The event showcased 248 cars from 36 states and 12 countries and raised $1,277,007 for charity. 'This Pack...[Read more...]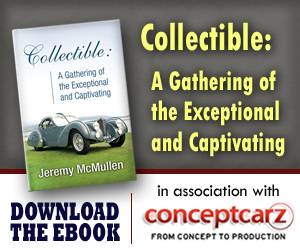 © 1998-2014. All rights reserved. The material may not be published, broadcast, rewritten, or redistributed.