1937 Pierce-Arrow Model 1702 news, pictures, specifications, and information

Tweet
In 1937 only 137 Pierce-Arrows were built and in 1938 there were only 17 vehicles created before the company closed its doors forever. The vehicles they created were some of the greatest masterpieces of the early 1900's. No expense was spared and many were created specifically for the future owner, complying with each and every request and demand. The demise of the company was due to a struggling economy. The Great Depression was thinning out the number of individuals who could afford one of these magnificent creations. Many luxury automobile manufactures moved down the market in an attempt to stimulate new buyers and ultimately increase sales.

This example has a eight-cylinder engine capable of producing 150 horsepower. It uses four-wheel Bendix vacuum power assisted hydraulic brakes to stop the vehicle and a three-speed overdrive transmission to send power to the rear wheels. It has a custom coachbuilt body by Brunn. It is finished in a two-tone color scheme with silver and black. The headlights are built into the fenders. It came equipped with side mounted enclosed spare tires.

This is a chauffer driven car. The owners rode in the back of the vehicle, and it afforded them much space to spread out their legs and relax. There was a divider window between the driver and its occupants which could be rolled down.

It is believed that Johnny Carson and Doc Severinson were chauffeured around St. Louis, Missouri in this car.
By Daniel Vaughan | May 2009
Pierce-Arrow introduced their 1937 models in October of 1936. The 1936 and 1937 models are nearly identical with the only recognizable difference being on the dashboard.

The company was in real financial trouble in early 1937. A few models were built for the 1938 model year using left-over 1937 parts and all were hand-built.

This 1937 Pierce-Arrow Model 1702 is a 7-Passenger Sedan which rests on a 144-inch platform. It is powered by a 462 cubic-inch V-12 engine delivering 185 horsepower.
Gooding & Company Amelia Island Auction Preview
Gooding & Company, the auction house acclaimed for selling the world's most significant and valuable collector cars, will hold its annual Amelia Island Auction on Friday, March 7 on the Omni Amelia Island Plantation. David Gooding, President and founder: 'Originality was the driving force behind our Amelia Island Auction. As always, our specialists have a keen eye for effective preservation of blue chip category cars. Many of the outstanding examples we selected for this sale are excellent ...[Read more...]
MERCEDES-BENZ 2014 G63 AMG: THE ULTIMATE G-CLASS
The latest technology for the AMG off-road icon: the new 2014 G63 AMG impresses with a state-of-the-art powertrain, expressive new design and improved efficiency. All this is largely attributable to the AMG 5.5-liter V8 biturbo engine delivering 536 hp and the AMG SPEEDSHIFT PLUS 7-speed automatic transmission. Every new AMG high-performance vehicle offers an outstanding mix of 'more power from less fuel' – and the G63 AMG is no exception. The 'strong man' in the AMG model range has been furt...[Read more...]
Auctions America's 2013 Auburn Spring Event Offers Ultimate Collector Car Weekend
• Auctions America presents the first of two annual Auburn sales, May 9 – 11 at historic Auburn Auction Park in Auburn, Indiana • Multi-day sale lifts gavel on 600 quality collector cars and an assortment of memorabilia • Notable early highlights include selection of Hudsons from the respected John Soneff Collection • Weekend also features inaugural Antique Automobile Club of America Central Division National Spring Meet, and an extensive car corral and swap meet presented by Carlisle Events...[Read more...]
Magnificent Series of Coachbuilt Classics To Grace RM's Amelia Island Concours D'Elegance Sale
• RM Auctions returns as the official auction house of the Amelia Island Concours d'Elegance, March 9, 2013 • Single-day sale features breathtaking roster of more than 80 investment-quality collector cars • Notable highlights include an outstanding series of coachbuilt classics headlined by a multi-million-dollar 1935 Duesenberg Model SJ Walker-LaGrande Convertible Coupe and a trio of Cords from the personal collection of Jim Fasnacht • Frequently updated list of entries available online at r...[Read more...]
Mecum Confirms Theory That Everything Is Bigger In Texas
$31.6 Million Total Sales at the Dallas Convention Center, Sept. 5-8 Mecum Auctions completed their second annual Dallas Auction, held September 5-8, 2012, packing over 1,200 vehicles into The Dallas Convention Center and experienced competitive bidding from start to finish throughout the 4-day event. Total sales for the Dallas auction were $31,618,778 and are expected to easily surpass the $32 million mark once the final totals from Bid Goes On sales are factored in later this week. ...[Read more...]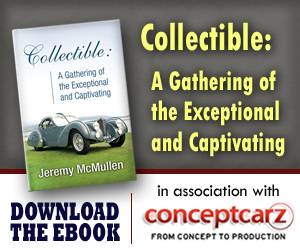 © 1998-2014. All rights reserved. The material may not be published, broadcast, rewritten, or redistributed.