1937 Pierce-Arrow Model 1702 news, pictures, specifications, and information

Tweet
In 1937 only 137 Pierce-Arrows were built and in 1938 there were only 17 vehicles created before the company closed its doors forever. The vehicles they created were some of the greatest masterpieces of the early 1900's. No expense was spared and many were created specifically for the future owner, complying with each and every request and demand. The demise of the company was due to a struggling economy. The Great Depression was thinning out the number of individuals who could afford one of these magnificent creations. Many luxury automobile manufactures moved down the market in an attempt to stimulate new buyers and ultimately increase sales.

This example has a eight-cylinder engine capable of producing 150 horsepower. It uses four-wheel Bendix vacuum power assisted hydraulic brakes to stop the vehicle and a three-speed overdrive transmission to send power to the rear wheels. It has a custom coachbuilt body by Brunn. It is finished in a two-tone color scheme with silver and black. The headlights are built into the fenders. It came equipped with side mounted enclosed spare tires.

This is a chauffer driven car. The owners rode in the back of the vehicle, and it afforded them much space to spread out their legs and relax. There was a divider window between the driver and its occupants which could be rolled down.

It is believed that Johnny Carson and Doc Severinson were chauffeured around St. Louis, Missouri in this car.
By Daniel Vaughan | May 2009
Pierce-Arrow introduced their 1937 models in October of 1936. The 1936 and 1937 models are nearly identical with the only recognizable difference being on the dashboard.

The company was in real financial trouble in early 1937. A few models were built for the 1938 model year using left-over 1937 parts and all were hand-built.

This 1937 Pierce-Arrow Model 1702 is a 7-Passenger Sedan which rests on a 144-inch platform. It is powered by a 462 cubic-inch V-12 engine delivering 185 horsepower.
All-New Ford Mustang Offers High Performance with Sleek New Design and Innovative Tech
•All-new sophisticated design clearly inspired by 50 years of Mustang heritage evolved to attract wider array of customers and expand global market availability •The new Mustang is the first car to offer four-, six- and eight-cylinder engines that each produce at least 300 horsepower – a 300-horsepower 3.7-liter V6, a more powerful 435-horsepower 5.0-liter V8, and an all-new 310-horsepower* 2.3-liter EcoBoost® engine •Mustang sets new performance and dynamics benchmarks for the brand with worl...[Read more...]
Auctions America Continues Successful 2013 Season with its Annual Fall Carlisle Sale
• Auctions America rounds out its 2013 auction season in Carlisle, Pennsylvania, October 3-4 • Two-day Fall Carlisle sale, held in conjunction with the Carlisle Events Collector Car Swap Meet & Corral, features a diverse roster of 300 classics, exotics, muscle cars, hot rods, and customs • Auction highlights include a desirable 1967 Chevrolet Corvette 427/435 Roadster, a 1969 Chevrolet Camaro Z-28 RS Sport Coupe, and a 1960 Mercedes-Benz 190SL Roadster • Full event details and a frequentl...[Read more...]
GM'S TONAWANDA PLANT RETOOLED FOR HIGH-TECH ENGINES
BUFFALO, N.Y. – Some of General Motors' advanced manufacturing techniques to produce the all-new, Gen 5 Small Block engine family are microscopic, but they have a huge impact on the 75-year-old Tonawanda Engine Plant, where about 1,500 jobs have been created and retained since 2009. As a result of GM's $400 million investment, Tonawanda will eventually produce four versions of the Gen 5 Small Block – a 4.3L V-6, 5.3L V-8 and two variants of a 6.2L V-8. When the plant is at full product...[Read more...]
The Champion in Touring Car Racing : The BMW M3
In August 1985, a rumour surfaced in motor magazine Auto-Deutschland which emanated from a new sports car. An A Group Car from BMW that was a thoroughbred racing car according to the rules but was also to be produced in a version licensed to drive on open roads for everyday use. Speculation about this dream car that could take to normal roads and was intended for the 'Most dynamic among BMW 3 Series drivers' was right on target. But the pundits missed the mark about the motor-sport car by a mile...[Read more...]
Auctions America By RM's 2012 Auburn Spring Auction
'Variety' is the buzzword for this year's Auctions America by RM June 1-3 Auburn Spring auction, which will offer a huge range of collector vehicles and an enormous private collection of automotive memorabilia. More than 600 American muscle cars, Classics, foreign sports cars and hot rods will cross the block at the historic Auburn Auction Park, the company's national headquarters in Auburn, Indiana. 'Last year was our first spring event at the park,' said Auctions America by RM's President ...[Read more...]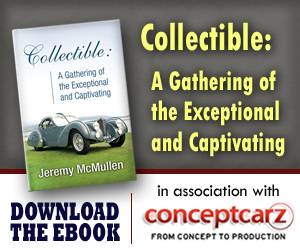 © 1998-2014. All rights reserved. The material may not be published, broadcast, rewritten, or redistributed.