1940 LaSalle 40-52 news, pictures, specifications, and information

Tweet
The LaSalle model was created by General Motors to fill the price gap between Cadillac and Buick. With sticker prices around $3000, these attractive and conservative automobiles were affordable, reliable and built with Cadillac quality. General Motors advertised the LaSalles as being assembled to Cadillac standards in the Cadillac factory. Most of the innovate features were first featured on the LaSalle product line and then migrated to Cadillacs.

The LeSalles were practical, reliable, and functional automobiles. Unfortunately, the brand was introduced at a time in history that was economically unstable, especially for a new automotive name. They did not have the following or customer loyalty needed to stay in business. The Great Depression meant that the customers that could afford cars were probably sticking with a brand they knew and trusted. Even though this was true, the LaSalle did stimulate sales for General Motors during a difficult time in history. LaSalle stayed in production for fourteen years before GM cancelled the marque just prior to World War II.

The LaSalle Series 40-52 shown here is one of the rarest LaSalle bodies produced, due to being introduced in the final year of production. It sits atop a 123 inch wheelbase and is powered by a 322 cubic-inch eight-cylinder engine capable of producing 130 horsepower.

This vehicle, chassis number 4E11459 was first shown at the 1994 Meadow Brook Concours d'Elegance. It was later shown at the 2004 Cranbrook Concours d'Elegance.
By Daniel Vaughan | Dec 2006
This vehicle is a 1940 LaSalle Series 52 4-Door Deluxe Torpedo. It is powered by a 322 cubic-inch V8 engine mated to a column-shift three-speed manual gearbox. It is painted in midnight black with a grey wool cord interior. It has been given a complete concours restoration that included over 1500 hours of labor and craftsmanship. Over $130,000 was spent on the vehicles restoration.

This was the last year for LaSalle as a product of Cadillac. The Series 52 Torpedo was known for its outstanding bodystyle, 45-degree sloped windshield, curved rear windows with no beltline, and rounder and smoother body and trunk.
By Daniel Vaughan | May 2008
In 1940, the LaSalle marque ended as it had began, with distinctive as well as attractive styling. These final 'torpedo' bodied cars featured a 45-degree sloping windshield, no belt molding and a smoother line down the rear over the trunk. Even though it outsold its senior 'companion car', during much of its twelve-year existence, Cadillac was to remain the 'flag ship' of the General Motors fleet.
There were just 75 examples of the five-passenger Convertible Sedan, Series 52, produced in 1940. In modern times, it is believed that only ten examples remain. This example was originally sold in August of 1940 to a baroness who was a resident of Vermont. The car remained in her possession until 1960, before it passed through two more owners and finally joined a Michigan-based private collection in 1975.

The car has been restored since new, and painted in a light green color and fitted with a new tan convertible top and a tobacco-colored interior. It was given features such as a driver's side spotlight, a banjo-type steering wheel and wide whitewall tires.

In 2009, this car was brought to RM Auctions 'Vintage Motor Cars of Meadow Brook' where it was estimated to sell for $40,000-$60,000 and offered without reserve. As bidding came to a close, the lot had been sold for the sum of $35,200, including buyer's premium.

In 2006, at the same auction, the car was offered for sale and had the same estimated value. The car was sold for the sum of $33,000, including buyer's premium.
By Daniel Vaughan | Sep 2009
BARRETT-JACKSON SALON COLLECTION TO HIGHLIGHT SCOTTSDALE AUCTION
•(Lot #5087), a 1949 Talbot-Lago T-26 Grand Sport Franay headlines Barrett-Jackson's Salon vehicle lineup •An exquisite 1929 Alfa Romeo 6C 1750 SS (Lot #5083) will be among the auctions most notable consignments •One of 300, a stunning silver 1955 Mercedes-Benz 3000 SL Gullwing (Lot #5075) will cross the Scottsdale auction block SCOTTSDALE – Jan. 5, 2015 – Barrett-Jackson, The World's Greatest Collector Car AuctionsTM, will feature a rare docket of exquisite Salon vehicles during its...[Read more...]
Fiat Chrysler Automobiles key player in the Classic Days in Germany
Concours d'elegance, parades and special races on roads closed to traffic: this is the packed programme reserved for the historic cars arriving at the medieval Dyck castle • Alfa Romeo takes part with four precious models: the prototype 750 Competizione (1955), the 8C 2900 Le Mans (1938), the Giulietta SZ (1960) and the 1900 Sport Spider (1954) • Under the spotlight the Lancia 037 Rally (1984 - group B) and the Formula 1 Lancia D50 (1955) • At the German event also the Abarth 1000 Monomille ...[Read more...]
History Rolls into Hershey for RM's Annual Pennsylvania Sale
• Final countdown underway to RM's annual Hershey, Pennsylvania auction, held October 10 – 11 during the historic AACA Eastern Regional Fall Meet • Two-day sale features 116 vehicles, with an emphasis on Brass and Classic Era motor cars • Sale entries led by a rare, award-winning 1933 Chrysler CL Imperial Convertible Roadster • Auction also features number of vehicles steeped with local Pennsylvania history • Digital catalogue now available online at rmauctions.com BLENHEIM, Ontario (S...[Read more...]
Auctions America Continues Successful 2013 Season with its Annual Fall Carlisle Sale
• Auctions America rounds out its 2013 auction season in Carlisle, Pennsylvania, October 3-4 • Two-day Fall Carlisle sale, held in conjunction with the Carlisle Events Collector Car Swap Meet & Corral, features a diverse roster of 300 classics, exotics, muscle cars, hot rods, and customs • Auction highlights include a desirable 1967 Chevrolet Corvette 427/435 Roadster, a 1969 Chevrolet Camaro Z-28 RS Sport Coupe, and a 1960 Mercedes-Benz 190SL Roadster • Full event details and a frequentl...[Read more...]
Auctions America By RM's 2012 Auburn Spring Auction
'Variety' is the buzzword for this year's Auctions America by RM June 1-3 Auburn Spring auction, which will offer a huge range of collector vehicles and an enormous private collection of automotive memorabilia. More than 600 American muscle cars, Classics, foreign sports cars and hot rods will cross the block at the historic Auburn Auction Park, the company's national headquarters in Auburn, Indiana. 'Last year was our first spring event at the park,' said Auctions America by RM's President ...[Read more...]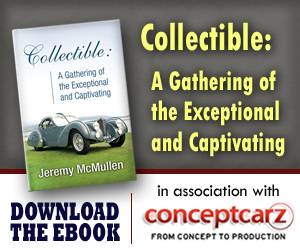 Similarly Priced Vehicles from 1940
Lincoln Zephyr ($1,360-$2,840)
Lincoln Continental ($1,360-$2,845)
Packard Super 8 160 ($1,500-$2,200)
Packard 120 ($1,000-$3,800)
LaSalle Series 50 ($1,240-$1,895)

Average Auction Sale: $46,253
© 1998-2014. All rights reserved. The material may not be published, broadcast, rewritten, or redistributed.