1977 Chevrolet Scottsdale Pickup Truck news, pictures, specifications, and information

Tweet
This 1977 Chevrolet Scottsdale 'Redneck Power' Pickup Truck is powered by a 350 cubic-inch eight-cylinder engine capable of producing 150 horsepower. It has a column shift automatic transmission, and front disc and rear drum brakes.

This truck was owned by Billy Carter, the brother of the United States President, Jimmy Carter. Billy Carter was the unofficial mayor of Plains, Georgia; he was an intelligent individual with a comment for everything and considered by many as a very vocal individual. He owned a gas and service station and this was his faithful truck. It had as much flair as its owner. His CB handle was 'Cast Iron', the same slogan that can be found on the door.

This is a unique, one-of-a-kind truck that amplified Billy Carters personality. It has been in the Smoky Mountain Car Museum if a number of years.
By Daniel Vaughan | Mar 2006
BARRETT-JACKSON'S SCOTTSDALE 2014 SALON COLLECTION TO OFFER DIVERSE DOCKET OF WORLD'S MOST SOUGHT-AFTER COLLECTIBLES
Rare and Desirable Vehicles Plus One Fully-Operational Carousel Will Cross the Auction Block at Company's Monumental Scottsdale Auction, Jan. 12-19, 2014 SCOTTSDALE, ARIZ. (Dec. 18, 2013) – Barrett-Jackson, The World's Greatest Collector Car Auctions™, announced today a group of exceptional vehicles representing 85 years of automotive history will cross the auction block as part of the world-renowned Salon Collection. The collection will be offered during the company's 43rd Ann...[Read more...]
GM'S TONAWANDA PLANT RETOOLED FOR HIGH-TECH ENGINES
BUFFALO, N.Y. – Some of General Motors' advanced manufacturing techniques to produce the all-new, Gen 5 Small Block engine family are microscopic, but they have a huge impact on the 75-year-old Tonawanda Engine Plant, where about 1,500 jobs have been created and retained since 2009. As a result of GM's $400 million investment, Tonawanda will eventually produce four versions of the Gen 5 Small Block – a 4.3L V-6, 5.3L V-8 and two variants of a 6.2L V-8. When the plant is at full product...[Read more...]
MACCACHREN SWEEPS STADIUM SUPER TRUCKS ROUND NO. 6
St. Louis, Mo. (June 8, 2013) – After the first five events primarily on the west coast, SPEED Energy Stadium SUPER Trucks brought the 600 hp high flying machines inside the Edward Jones Dome in St. Louis, Mo., for a night of urban off-road action. Rob MacCachren, Aaron Basl, and Sheldon Creed were able to conquer the multiple challenges of the tacky Missouri clay to record wins in Round No. 6 of SST Competition. Rob MacCachren, of Las Vegas, Nev., driving the No. 21 Traxxas truck made...[Read more...]
Bonhams to offer the renowned Oldenburg family collection of classic automobiles at Scottsdale
More than 30 American, British and Italian cars of various vintages head to Scottsdale, Arizona Bonhams is honored to have been chosen to represent the highly esteemed Oldenburg Family Automobile Collection at its second annual Scottsdale Auction in January. The extensive collection of more than 30 cars from the prominent horse breeding family includes multiple models of the same marque, including Ferrari and Jaguar. The Italians Leading the impressive assembly are ...[Read more...]
Carroll Shelby, Ford Family for More Than Half a Century
Carroll Shelby was a member of the Ford family for the better part of 60 years, producing stunning performance vehicles from concepts to production models. He once said his energy and passion for performance products were always strongest when he was working with Ford. Shelby most recently collaborated with the company on the 2013 Ford Shelby GT500 Mustang, the most powerful production V8 in the world. Working with SVT engineers at Sebring and the Arizona Proving Grounds, at times he drov...[Read more...]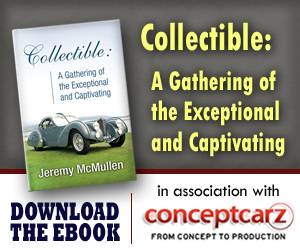 Chevrolet
Monthly Sales Figures
Volume
March 2014
179,681
February 2014
153,913
January 2014
119,089
December 2013
153,493
November 2013
145,089
October 2013
155,214
September 2013
127,785
August 2013
187,740
July 2013
162,670
June 2013
193,460
May 2013
179,510
April 2013
172,460
(More Details)
© 1998-2014. All rights reserved. The material may not be published, broadcast, rewritten, or redistributed.