1977 Chevrolet Scottsdale Pickup Truck news, pictures, specifications, and information

Tweet
This 1977 Chevrolet Scottsdale 'Redneck Power' Pickup Truck is powered by a 350 cubic-inch eight-cylinder engine capable of producing 150 horsepower. It has a column shift automatic transmission, and front disc and rear drum brakes.

This truck was owned by Billy Carter, the brother of the United States President, Jimmy Carter. Billy Carter was the unofficial mayor of Plains, Georgia; he was an intelligent individual with a comment for everything and considered by many as a very vocal individual. He owned a gas and service station and this was his faithful truck. It had as much flair as its owner. His CB handle was 'Cast Iron', the same slogan that can be found on the door.

This is a unique, one-of-a-kind truck that amplified Billy Carters personality. It has been in the Smoky Mountain Car Museum for a number of years.
By Daniel Vaughan | Jun 2014
BARRETT-JACKSON SALON COLLECTION TO HIGHLIGHT SCOTTSDALE AUCTION
•(Lot #5087), a 1949 Talbot-Lago T-26 Grand Sport Franay headlines Barrett-Jackson's Salon vehicle lineup •An exquisite 1929 Alfa Romeo 6C 1750 SS (Lot #5083) will be among the auctions most notable consignments •One of 300, a stunning silver 1955 Mercedes-Benz 3000 SL Gullwing (Lot #5075) will cross the Scottsdale auction block SCOTTSDALE – Jan. 5, 2015 – Barrett-Jackson, The World's Greatest Collector Car AuctionsTM, will feature a rare docket of exquisite Salon vehicles during its...[Read more...]
FIRST RETAIL 2015 FORD MUSTANG GT FASTBACK CROSSING BARRETT-JACKSON BLOCK TO BENEFIT JDRF
◾The first retail 2015 Ford Mustang GT fastback will be auctioned to benefit leading diabetes research charity, JDRF ◾The winning bidder of the fastback can personalize his or her car with any available Mustang GT options The first retail unit of the all-new Ford Mustang will be sold at Barrett-Jackson Auction Company's event in Scottsdale, Ariz. on Jan. 18, 2014. Offered at no reserve, all proceeds will benefit JDRF, the country's leading global organization funding type 1 diabetes resear...[Read more...]
History Rolls into Hershey for RM's Annual Pennsylvania Sale
• Final countdown underway to RM's annual Hershey, Pennsylvania auction, held October 10 – 11 during the historic AACA Eastern Regional Fall Meet • Two-day sale features 116 vehicles, with an emphasis on Brass and Classic Era motor cars • Sale entries led by a rare, award-winning 1933 Chrysler CL Imperial Convertible Roadster • Auction also features number of vehicles steeped with local Pennsylvania history • Digital catalogue now available online at rmauctions.com BLENHEIM, Ontario (S...[Read more...]
GORDON RACES TO SECOND SPEED ENERGY STADIUM SUPER TRUCKS WIN OF SEASON
San Diego, Calif. (May 18, 2013) – SPEED Energy Stadium SUPER Trucks made a return trip to Qualcomm Stadium in San Diego, Calif., for the second and final time in 2013. Five distinct racing divisions took to the track to test their driving skills on the uniquely prepared dirt and asphalt course. Robby Gordon, Larry Swim, Apdaly Lopez, Derek Costella and Shelby Anderson were able to record wins in Round No. 5 of SST competition. Robby Gordon, of Orange, Calif., driving the #7 SPEED Ener...[Read more...]
Auctions America By RM's 2012 Auburn Spring Auction
'Variety' is the buzzword for this year's Auctions America by RM June 1-3 Auburn Spring auction, which will offer a huge range of collector vehicles and an enormous private collection of automotive memorabilia. More than 600 American muscle cars, Classics, foreign sports cars and hot rods will cross the block at the historic Auburn Auction Park, the company's national headquarters in Auburn, Indiana. 'Last year was our first spring event at the park,' said Auctions America by RM's President ...[Read more...]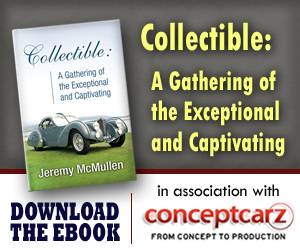 Chevrolet
Monthly Sales Figures
Volume
December 2014
184,938
November 2014
149,673
October 2014
155,965
September 2014
153,873
August 2014
185,930
July 2014
175,155
June 2014
188,567
May 2014
205,010
April 2014
181,648
March 2014
179,681
February 2014
153,913
January 2014
119,089
(More Details)
© 1998-2014. All rights reserved. The material may not be published, broadcast, rewritten, or redistributed.