Image credits: © Shelby.
1966 Shelby Mustang Hertz GT350 news, pictures, specifications, and information

Tweet
In 1966 Shelby American produced 2,378 GT 350s. Of those, 100 were made exclusively for Hertz Rent-A-Car and Lemans stripes. The only difference between the rental cars and production cars was the beefed-up three-speed transmissions in the former.

The cars were shipped to major cities and rented. There were many stories - some true - that these cars were rented for the weekend, raced on the track and returned on Monday morning - they were known as 'Rent-a-Racers.'

Among the special features built into the cars were high rise intake manifold, headers, functioning cooling ducts, solid high lifter revving engine, finned aluminum oil pan, oversize rear brakes, shocks and sway bars.
The national car rental company, Hertz, once manufactured its own cars and painted them in their corporate colors - black with gold trim. Shelby American executive Peyton Cramer remembered this and in 1966 suggested to Hertz management that they offer a Shelby as a sports car rental.

Hertz agreed and an order was placed for 1,000 cars; 999 were actually produced. The car was designated as the Shelby GT350H (for Hertz) and was advertised as 'Rent a Racer.' Most featured gold LeMans stripes and rocker panel stripe; a few were delivered with blue and white stripes. It was rumored that some were returned to Hertz with evidence that roll bars had been welded in.

Once Hertz was finished with these high-performance cars they were returned to the Ford factory, refurbished and sold to the public as GT350H models.
This 1966 Shelby Mustang GT350-H Fastback has chassis number SFM6S1571. It is fitted with a four-speed manual transmission but left the factory with an automatic, as was the case with most of these Hertz cars. Factory options include the 'Hertz special wheels' and an optional radio which brought the total to $3,792.25. It has been treated to a restoration since new.

This car left Shelby's factory on April 17th of 1966 and sent to Dallas, Texas where it was sold new by Norm Williams Ford to Hertz. It passed through a few owners since that time, landing in its current ownership where it has been stored and well cared for since its arrival. The restoration included a complete engine rebuilt, with transmission and suspension also receiving attention. Since that time it has traveled a mere 1,500 miles.

This vehicle was brought to the 2007 Monterey Sports & Classic Car Auction presented by RM Auctions, where it was estimated to sell for $150,000 - $175,000. It was offered without reserve with the winning bid reaching $137,000 including buyer's premium. The lot was sold.
By Daniel Vaughan | Dec 2007
The examples shown here is equipped with the manual gearbox and over-rider rear traction bar. It was sold to the Hertz Car Company on March 7th, 1966 for a price of $3,786.76. It carries chassis number SFM 6S 673.
By Daniel Vaughan | Jul 2007
| | |
| --- | --- |
| | Fastback |
This GT350H is one of 47 models built in this color combination, of which there are only 17 left according to the SAAC registry. It is featured in Colin Comer's new book Shelby and has also appeared in various magazines and calendars. It was given a complete restoration in the late 2000s.
The first year of sales for the GT350 models were good but they weren't great. In an effort to stimulate even more sales for 1966, Carroll Shelby asked Peyton Cramer, his marketing man and general manager, to try some fleet sales. To everybody's amazement, the Hertz Rental Car Company purchased 1000 cars. The Hertz Company had founded 'The Hertz Sports Car Club' which provided a limited number of high performance rental cars to customers. The cars could be rented by virtually anyone, as long as they were over the age of 25 and were capable of operating and controlling these machines. Most of the cars were adorned in black paint with gold stripes. The first batch of cars were equipped with manual transmission but the company quickly changed that policy to automatics after many cars were returned in less-than-perfect condition. It was not uncommon to see these cars raced on the tracks during the weekend and returned a few days latter with a little less rubber on the tires and the owners grinning from cheek-to-cheek.

For 1969 the Mustang was given a makeover. The hood was constructed of fiberglass and was fitted with five NACA style hood scoops and locking hood pins. Under the hood was a Cleveland 351 cubic-inch V8 that was rated at 300 horsepower. In the front was a black recessed grille with two fitted headlights. The wheels were five-spoke aluminum and fitted to Goodyear Polyglas GT radial tires.

In 1969 for only $12 a day, an individual could rent one of these cars from the Hertz rental store as part of their 'Rent-A-Racer' program. Or they could get the car for $60 a week plus 11 cents a mile.

In 1969 a total of 150 examples were produced.
By Daniel Vaughan | Nov 2006
JANI SETS FASTEST LAP AT NIGHT IN OPENING PETIT LE MANS PRACTICE
• Final Practice, Qualifying For ALMS Finale Set For Friday
BRASELTON, Ga. (Oct. 17, 2013) – Rebellion Racing waited until dark to set the fastest lap of the opening day of practice for Saturday's 16th Petit Le Mans Powered by Mazda at Road Atlanta. Neel Jani led the session with a lap of 1:20.360 (113.788 mph) in the No. 12 Rebellion Timepieces/Lemo Connectors/Speedy Garage Lola B12/60-Toyota shared by Nico Prost and Nick Heidfeld. Running on a damp but drying track, Jani's ...[Read more...]
HERTZ CONTINUES TO DRIVE SUSTAINABILITY RESULTS
2012 Sustainability Report Shows Greener Fleet and Operations PARK RIDGE, N.J., Oct. 2, 2013 - The Hertz Corporation (NYSE: HTZ), the world's largest general use car rental brand, today published its 2012 Sustainability Report as part of its Living Journey strategy. The report highlights results and achievements of the company's integration of sustainability best practices across its global operations, positioning Hertz as a leader in Sustainable Mobility and Equipment Solutions...[Read more...]
VICARI AUCTION COMPANY OFFERS RARE '62 & '63 Z06 CORVETTES AT 2013 CRUISIN' NOCONA
In a recent rare find, two classic Chevrolet Corvettes (one '62 and one '63) - stored for decades-are being made available by the Vicari Auction Company. Both vehicles will cross the block during 2013 Cruisin' Nocona, a north Texas collector car auction and classic car poker cruise set for April 19th and 20th in historic Nocona, Texas. The Corvettes are virtually all-original, and have been stored in Texas by a classic-vehicle aficionado and collector since the 1980s. 'These...[Read more...]
Barrett-Jackson Flavors Its January Scottsdale Auction With NASCAR Treats
• RACING HERITAGE, HIGH PERFORMANCE ARE RECIPES FOR CAR-COLLECTING FEAST
• SPEED™ SET FOR 39 HOURS of LIVE COVERAGE STARTING JAN. 15
The great Henry Ford once said, 'Auto racing began five minutes after the second car was built.' And for more than 60 years, there are few entities that better represent auto racing in America than NASCAR. From the hallowed grounds of Daytona International Speedway, to Sonoma, California's intricate and picturesque road course, the sp...[Read more...]
TOPLINE COLLECTORS PLACE SPOTLIGHT on SPEED'S BARRETT-JACKSON BROADCAST FROM SCOTTSDALE
• TOPLINE COLLECTORS PLACE SPOTLIGHT on SPEED'S BARRETT-JACKSON BROADCAST FROM SCOTTSDALE
• 'LOST' SHELBY DUAL PROTOTYPE, HAGERTY GIVEAWAY & SALON COLLECTION HIGHLIGHT 39 HOURS OF LIVE COVERAGE
The 42nd annual Barrett-Jackson Scottsdale (Ariz.) Collector Car Event, the first of four set for live coverage in 2013, kicks off the auction season in grand style as some of the world's most sought-after machines cross the block starting Tuesday, Jan. 15 at 7 p.m. ET/4 p.m. PT. SP...[Read more...]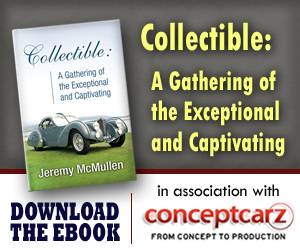 Ford
Monthly Sales Figures
Volume
December 2014
209,679
November 2014
178,221
October 2014
179,014
September 2014
172,261
August 2014
214,028
July 2014
204,373
June 2014
214,793
May 2014
244,501
April 2014
203,552
March 2014
235,198
February 2014
177,286
January 2014
148,671
(More Details)
© 1998-2014. All rights reserved. The material may not be published, broadcast, rewritten, or redistributed.