Power in the Hands of a Few
550hp With Extreme, Distinct, Styling Pure Saleen styling and performance, all bundled in a 550hp shot of adrenaline. The S281 Extreme is sure to keep those European enthusiasts in awe of what a domestic OE manufacturer is able to accomplish.
When you compare the Saleen S281 Extreme to its competitors in areas such as, straight-line acceleration, braking distances, slalom course handling, resale value, warranty and suggested retail price, you'll discover that no other car in its class can offer this kind value or performance.
Engine
Saleen's 4.6L V8 engine is designed and constructed in-house. The 281 cubic-inch V8 uses a special forged steel Saleen crankshaft, connecting rods, Saleen-patented forged aluminum pistons and unique Saleen performance camshafts. Matched wîth our own Twin-Screw supercharger, and Powerflash technology is sure to create extreme sound and performance that is unsurpassed.
About Saleen
Saleen Inc., celebrating its twentieth anniversary as a specialty vehicle manufacturer, specializes in the manufacture of vehicles for enthusiasts that include technology developed from the Saleen/Allen Speedlab race team, eight-time winners of sports car racing manufacturer championships.
Saleen creates high performance vehicles for street and track, including the S7 supercar, the S281, the race/road SR and the N2O Focus. The company also produces and markets a broad line of performance parts as well as offering design, engineering and certification services.
The company, started by former racing driver Steve Saleen, began in 1983. Saleen used his business degree from ÚSC, coupled wîth experience in his father's manufacturing business, to build the company. His passion for racing also played a part. Steve began autocrossing, then rapidly moved into SCCA pro series (Formula Atlantic, Trans-Am Championship) and then into Indy car racing.
By 1984, the first Saleen street car was ready for sale. It boasted special aerodynamics, an attractive and highly functional cockpit and a precise handling suspension package. The result was a car built as a limited edition model wîth individual serial numbers assuring authenticity. Later, demonstrating the car's performance, the company's race team brought home a victory for Saleen, Ford and sponsor General Tire at the 24-hour race at Mosport Park in Ontario, Canada.
Saleen Special Vehicles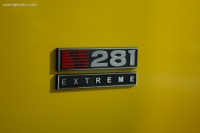 In 2003 Ford chose Saleen, Inc. as one of the key suppliers to the Ford GT. To build this low-volume super car, Chris Theodore, Ford's vice president of product development assembled a team of performance engineering experts, such as Saleen, wîth the skills to deliver and the knowledge to get things done within Ford while operating outside the established system.
Many of the assembly processes already employed by Saleen to manufacture its Mustang, N20 Focus and S7 models will be used for the paint and vehicle assembly responsibilities Saleen will assume for the new Ford GT.
To provide these services to Ford, Saleen has opened a nearly 200,000 square foot manufacturing facility in Troy, Michigan known as Saleen Special Vehicles (SSV) or Saleen, Troy. Housed in this building are a highly efficient GT assembly line, state-of-the-art painting facilities and a group of highly creative and specialized designers, engineers and fabricators capable of producing one-off show cars such as the critically acclaimed 2005 Ford Mustang GT-R.
Source - Saleen