1957 Bentley Continental S1 news, pictures, specifications, and information

Tweet
The 1957 Bentley Continental S-1 is one of 31 left-driver, Park Ward alloy bodied drophead coupes built between 1956 and 1959. This late example is equipped an upgraded engine with oversized valves and a larger carburetor. Other features included heavier rear axle shafts, dual master cylinders, power steering and a power operated convertible top. Interior features on this particular specimen include Radford type locking covers to the door cubbies, wide rear seat armrest with lockable lid, silver inlays to the wood faces, MPH/KPH scales to the speedometer, upgraded radio and search light to the trunk.

The car is powered by an in-line 6-cylinder, 298 cubic inch (4.9 liter) engine, developing 178 horsepower coupled to a 4-speed automatic transmission. The chassis consists of front coil-springs and rear semi-elliptic leaf-spring suspension, with anti-roll bars; cam-and-roller steering, power hydraulic front and mechanical rear drum brakes. Top speed is listed at 120 miles per hour.
In 1955, a new Bentley, known as the S-Type, was launched using a 4.9 liter, straight six engine. The car continued through three generations, the S1, S2, and S3 - the later cars using an aluminum V8 engine, which is the forerunner of today's 6.75 liter, twin turbocharged V8 engine used in the current Bentley Arnage and the forthcoming Azure.

BC30LCH
This classic Bentley convertible was originally delivered to one of Bentley's best, and one of its most famous customers, Mr. Andre Embiricos, the Greek shipping magnate. The car was later sold to a German industrialist living in Switzerland, then to a Swiss-based American photographer. Next the car was shipped to the United States, where it was acquired in 1970 by Mr. Tom Mix, an automobile dealer who is the current owner. It has not been restored, except for repainting it in its original colors, with a new roof and front seat cushions. It has been driven more than 93,000 miles and is one of the finest examples of the S1.
When the S-Type Bentley replaced the R-Type, the high-end series of this great luxury car was once again the Continental. The S-Type (and the Rolls-Royce Silver Cloud) received a new chassis with a wheelbase that was three inches longer (at 123 inches). The steering and suspension were redesigned, and the final-drive ratio was lowered. The Six-cylinder engine remained in use, but was given larger valves and a stronger cast-iron block. With custom-made aluminum bodies, the Bentley Continental S1 stood for luxury motoring at its finest. This car is one of 31 left-hand drive models produced. In 1957, the Park Ward-bodied convertible sold for $18,605.
This 1957 Bentley S1 Saloon was delivered to coachbuilders Freestone & Webb on May 24th of 1957. The car was fitted with power-assisted steering and a four-speed automatic Turbo-Hydra-matic transmission. The work was commissioned by dealer, H.R. Owen Ltd.

There would be only 13 examples of the Freestone & Webb Saloons on a Bentley S1 chassis, a further eight examples are believed to have been fitted on the Rolls-Royce Silver Cloud.

The first owner of this car was Mrs. M.Y. Herbert Jenkins who took delivery on January 15th of 1958. The present owner purchased the car in 1986 and had it sent to Florida. It would remain in his possession for the next two years. It was sold and later re-purchased by the present owner in 1999.

This car has been given a complete mechanical and body restoration. In 2004, it was given a bare-metal re-paint; the interior was re-trimmed in magnolia and cream with blue piping and the woodwork was refinished. The exterior is a two-tone blue paintwork that has all-fresh chrome.

This S1 Saloon has won its class at the Rolls-Royce national meet in Stevenson, Washington and it was invited to the 2008 Meadow Brook Hall Concours d'Elegance.

In 2008, this Bentley S-1 Freestone & Webb bodied Saloon was offered for sale at the Gooding & Company auction held in Pebble Beach, CA where it was offered without reserve and estimated to sell for $75,000 - $95,000. The lot was sold for $66,000, including buyer's premium.
By Daniel Vaughan | Mar 2009
This Bentley S1 Continental Park War is one of just 33 left drive Park Ward S Continental Sport Coupes built between 1955 and 1959. This is perhaps one of six to wear the latest configuration of the series and was the 1957 Paris Salon Car. It is equipped with power windows, map pockets in the seat backs and a zippered document pouch in the headliner.

The car was originally delivered September 24, 1957, in Marseilles, France, and it spent the next half century in France. It was then acquired by Vantage Motorworks, in December 2007, through a Belgian dealer. The car was in entirely original, although shabby, condition.

A complete restoration, including a bare metal respray, mechanical restoration of the engine, gearbox and braking system was undertaken. Fresh show quality interior hides and veneers, as well as an upgraded cooling system completed the work. The car is considered to be quite elegant as seen in Alpine Grey over Black Garnet with parchment hides.
This Bentley S1 Continental is a well-documented late specification specimen and one of just 31 left-hand drives built between 1955 and 1959. It was delivered in 1957 to Baroness Pannonica Rothschild de Koeningswater. Upon her demise in 1988, ownership of the car passed to her son, who kept it in storage until 1994 when he had it shipped to a UK specialist facility for a complete restoration. In 2001, upon its return to the United States, it was acquired by Vantage Motorworks, Inc., the Rolls-Royce and Bentley specialists located in Miami. This fine high-speed performance is now complete with tools, a handbook and copious documentation of the fascinating life of the original owner.
This is a nicely documented, late specification example of 33 left-drives built in 1955-1959. In June of 1957, this sports Coupe was delivered tin Monte Carlo to the Greek Shipping magnate Stavros Niarchos and elegantly finished in Circassian Blue with Beige hides, as it is today.

The factory history record, which accompanies the automobile, shows that it was sold in April of 1961, to its second owner, a resident of Oxford, England.

In 1999, it was purchased by Vantage Motorworks in its original undamaged condition with 66,000 miles.

It was resold in 2003, to a Swiss gentleman who was to export the Bentley to Switzerland for restoration. Plans changed and the project was instead entrusted to a former Vantage Motorworks employee in Boca Raton, Florida, who sporadically worked on the automobile. In 2012, the present owner acquired the car and the attempted refurbishments were properly completed. Complete and correct tools, correctly ducted limousine specification air conditioning, and power steering completed the project and restored the high reliability offered by Bentley, which many consider the finest car in the world at the time.
Rolls-Royce introduced all newly designed cars in 1946: the Silver Dawn, Silver Wraith and Mark VI Bentley.

These cars incorporated an all-new 4.25 liter inline six engine with overhead intake and side exhaust valves, commonly referred to as an F head design. These were among the most reliable, durable and easiest to work on engines made by Rolls-Royce.

In 1955 these models, except the Silver Wraith, were replaced by the Silver Cloud and Si Bentley utilizing the same engine enlarged to 4.9 liters. The Silver Cloud and Si Bentley were identical but for the radiator shell and nameplates.

Production continued until 1959 when the Silver Cloud II and Bentley S2 were introduced, which were basically identical except for a new V8 engine. Total production of the S1 was 3107. All had standard steel bodies made by Rolls-Royce, except 121 which had custom coachwork.

This car has a Hooper coach-built saloon body, one of just nine with the Design No. 8497. This styling incorporated the new cutout spats introduced at the 1957 Earls Court Motor Show in London. The original owner was George Matthey of Johnson Matthey & Co. Ltd., which refined precious metals.

The present owner found the car at auction in 1994. It is debuting in 2014 after an eight-and-a-half year restoration.
The Bentley S1 was produced from 1955 through 1959 during which 3538 examples were created with 145 being outfitted with custom bodies. 431 examples were Bentley S1 Continentals. Thirty-five of the Bentley S1's sat atop a long wheelbase. Some of the notable coachbuilders who outfitted the S1's were Park Ward and H.J. Mulliner.
The Rolls-Royce Silver Cloud I and the Bentley S1 were nearly identical, except for different badging and radiators. Mechanically, they were identical. Under the hood was an F-head 4887 cc straight six Crewe engine with cast-iron cylinder block and aluminum alloy cylinder heads. A dual SU carburetor type HD6 was used from 1955 through 1957. From 1957 through 1959, a dual SU carburetor type HD8 was used. A four speed automatic gearbox was standard; however, a four-speed manual unit was available as optional equipment. Stopping power was provided by drum brakes. The vehicles were adorned in two-tone paintwork with the hood finished in the lower color.

Six months after the introduction of the S1, Bentley introduced the S1 Continental, a name that had also been used as early as 1952 on the R-Type sedan. The Continental versions featured a slightly tuned engine and other performance features. Bentley claimed the Continental as 'the fastest four-seater in the world'. The engines were modified by enlarging the bore which increased the displacement to 4.9 liters. With the standard automatic gearbox and the added weight of optional power steering and power windows, the increase in engine size was well received by Bentley customers. The steel-body was replaced with aluminum, thus reducing the overall weight of the vehicle.
By Daniel Vaughan | Mar 2006
When Bentley was purchased by the Volkswagen conglomerate in 1998, many fans of the marque feared the brand would lose its identity. With long time brother Rolls-Royce getting sold off to a different parent company, though, those worries were unwarranted.

Prior to the 1930's, Rolls-Royce and Bentley were serious competitors. Both firms offered their unique interpretations on the English gentleman's car theme. Walter Owen Bentley was a better car builder than businessman, though, and his company was facing serious financial hardships by the early 1930's.

Rolls-Royce Ltd. bought the troubled Bentley facilities in 1931. The first Roll-Royce-produced Bentley, the 3½ Litre, debuted for 1933. From this point until Volkswagen's purchase of the works in 1998, Bentley produced near twins of Rolls-Royce cars, with an occasional special vehicle of its own. Bentley and Rolls produced some of the finest four-wheeled machines in the world during their partnership, but the Bentley brand retained little identity of its own. Bentleys were essentially badge-engineered cars. They were the slightly sportier counterparts of contemporary Rollers.

Proof of this can be found throughout the histories of the two companies, but the Bentley S1 is a great place to start. Produced from 1955 through 1959, the S1 was mechanically and visually (in standard coachwork, at least) identical to the Rolls-Royce Silver Cloud I in most ways. We've all seen Silver Clouds patiently waiting outside churches on wedding days, clad in white with dignified grilles gleaming. The Bentley, though, was a stronger seller despite its relative lack of fame.

A total of 3,538 Bentley S1's were produced. Of these, 3,072 were of the standard S1 variety on standard chassis. There were 35 made with long-wheelbase chassis. The remaining 431 were S1 Continentals.

The ancient F-series engine, a straight six design, powered the S1 and displaced 4,887cc. It had an iron block with an alloy head. Twin SU carburetors were employed in good British taste, and an automatic transmission was standard fare with an available 4-speed manual offered upon request.

The most impressive S1, in terms of both presence and performance, was the Continental. Rolls-Royce and Bentley were not in the habit of announcing such pedestrian numbers as horsepower ratings during S1 production, so it's unknown how much more power the Continental had over the standard S1. Other improvements were obvious, though, and the Continental's intentions were made clear regardless of its hazy power output figures.

Braking, steering, and suspension systems were all reworked to give Continentals a more controllable feel. They were not available with standard coachwork. The H.J. Mulliner Fastback Saloon body seen on many S1 Continentals resembles that of the supremely expensive R Continental which preceded it. An imposing and handsome design, a mammoth grille of the traditionally curved Bentley style stood upright at the nose of the vehicle. A long hood bridged the expansive gap between the radiator grille's top and the rakish windshield's bottom, and from there all body lines flowed downward and back in a sweeping motion to create an impression of speed even at standstill.

The S1 with standard coachwork was, as stated, a Silver Cloud I twin with a revised grille and new badging. It took the Continental version of the S1 to provide Bentley with a unique car that was in the honest spirit of the maker.

If you walk into a Bentley dealer today, you will notice, amongst other cars, a wonderfully styled fastback named Continental. It has a unique design and an engine with astounding grunt. It was designed to go, stop, and handle with aplomb, and bears no resemblance to any modern Rolls-Royce. So the next time you mistake a standard S1 for a Silver Cloud, ask yourself just how much of Bentley's innate identity was lost to Volkswagen.

Sources:

Kinney, Dave. 'Bentley S1 Continental.' Sports Car Market Apr 2005 21 Mar 2009 http://www.sportscarmarket.com/Profiles/2005/April/English/.

'Bentley S1 and Bentley S1 Continental; Rolls-Royce Silver Cloud I: Bentley 3 1/2 Litre.' Rolls Royce and Bentley 21 Mar 2009 http://www.rrab.com/.
By Evan Acuña
For more information and related vehicles, click
here
FORD GEARS UP TO CELEBRATE PRODUCTION OF 5-MILLIONTH F-SERIES SUPER DUTY
◾5-millionth Ford F-Series Super Duty will roll off the assembly line at Kentucky Truck Plant in October, marking a major milestone for the best-selling heavy-duty pickup truck and chassis lineup ◾Ford-designed, Ford-built second-generation 6.7-liter Power Stroke® V8 turbo diesel delivers best-in-class 440 horsepower and best-in-class standard diesel torque of 860 lb.-ft.; F-450 pickup boasts best-in-class towing of 31,200 pounds ◾Super Duty is the No. 1 heavy-duty pickup truck, with a market ...[Read more...]
MIAMI AUTO MUSEUM ANNOUNCES SPECIAL COLLECTION LIMITED DISPLAY
MIAMI, Florida-- The Miami Auto Museum at the Dezer Collection has created a special exhibition to share their latest acquisition. Nearly 50 classic cars were obtained from a private collector and are now on public display. Highlights from this new exhibit include: 1910 Ford Model T roadster 1924 Packard Single Six series 233 sedan 1929 LaSalle Series 328, 134'-inch wheelbase rumble seat convertible coupe 1930 Citroen C6 torpedo 1935 Cadillac Series 370E Fleetwood cabriolet 1...[Read more...]
Chevrolet Performance Expands Connect & Cruise Crate Powertrain Lineup, Introduces 6-Speed Manual for LS Installs
LAS VEGAS – Chevrolet Performance has expanded its lineup of industry-exclusive Connect & Cruise crate powertrain systems and added a heavy-duty T56 Magnum six-speed manual designed for LS-engine installations in older vehicles, giving builders more choices to power their project vehicle. A preview of an upcoming Connect & Cruise system that matches an LS3 engine with the T56 Magnum also debuts at SEMA, in a rolling chassis display that shows all the components, including the controlle...[Read more...]
Famous Bentley 4¼-Litre 'Embiricos' Special Makes Star Appearance At Crewe Factory
One of the rarest and most valuable Bentleys in the world, the 4¼-Litre 'Embiricos' special, is making an historic appearance at the marque's home in Crewe. Fresh from taking part in the Louis Vuitton 'Serenissima Run' in Venice and featuring at the Le Mans Classic as part of the Bentley lineup, this magnificent car takes pride of place in the Lineage Showroom at the firm's Pyms Lane factory until September. Throughout the 1930s Bentley Motors, then owned by Rolls-Royce, was producing fast,...[Read more...]
Cherished Classics From The Pettit Collection Will Be Offered Without Reserve
• The 1929 Duesenberg 'Blue J' and 11 collector cars from the William A. C. Pettit, III Collection will be sold at Gooding & Company's Pebble Beach Auctions
• Estate Proceeds will benefit the Shriners Hospital for Children®-Tampa
Gooding & Company, the acclaimed auction house celebrated for selling the world's most significant and valuable collector cars, is honored to present the finest automobiles of the William A.C. Pettit, III Collection at its Pebble Beach Auctions on Aug...[Read more...]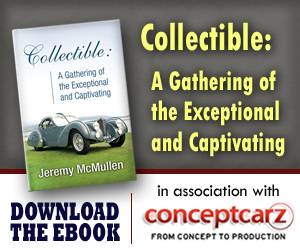 Bentley
Monthly Sales Figures
Volume
December 2014
412
November 2014
323
October 2014
282
September 2014
236
August 2014
241
July 2014
201
June 2014
216
May 2014
233
April 2014
209
March 2014
280
January 2014
192
(More Details)
© 1998-2014. All rights reserved. The material may not be published, broadcast, rewritten, or redistributed.