1920 Mercer Series 5 news, pictures, specifications, and information

Tweet
Built by the Same Company That Built the Brooklyn Bridge
The Mercer Automobile Company was founded in Trenton, New Jersey in 1909 and was funded by the Roebling and Krus engineering company, which is best known for building the Brooklyn Bridge.

The earliest Mercers were renowned for their outstanding performance and could be taken from the showroom floor directly to the race track without any modifications. The most famous Mercer was the T-head raceabout, built from 1911 to 1914. Drivers who set records in early Mercers included the legendary Barney Oldfield and Ralph DePalma.

In 1915, Mercer introduced a new model with a revolutionary L-head, four cylinder, long stroke engine. This design was used until the end of production in 1926.

This 1920 Mercer Series 5 Sporting was one of six different body styles available that year. It was designed to be the four passenger companion car to the popular raceabout model. It sold new for $4,200, which was about the price of eleven new Model T Fords.

This Series 5 Sporting is the fifth iteration of the car introduced in 1915. It was purchased by its current owner in 1991 with 93,156 miles from the estate of Mr. Charles G. Jackson, who had driven the car for 47 years. Mr. Jackson had purchased the car in Bellville, Ohio in 1946.

The car owner has the car a complete body off-restoration with everything being refurbished, replaced or rebuilt. The transmission was changed from Hyatt roller bearings to ball bearings - a change Mercer made in later years.

This Mercer is one of about 4,000 Mercers ever built with the L-head engine. Currently, only about 60 are known to exist. There is a four-speed gearbox with a 3.62:1 final drive that was made standard by Mercer in 1913. The 298 cubic-inch engine is capable of producing over 70 horsepower at 2800 RPM. The engine was the work of chief engineer Eric H. Delling who patterned the engine after the L-head Deltal racing motor, and introduced it for 1915 after Finley R. Porter's departure.

Upon completion of its restoration, the car was shown at Hershey in 2005, receiving a First Junior Award in addition to a National Award. In 2007, it received a score of 400 points for an AACA Grand National Award.

In 2009, this Touring car was offered for sale at the Vintage Motor Cars of Hershey presented by RM Auctions where it was expected to sell for $150,000 - $200,000. As bidding came to a close, the lot had been sold for the sum of $242,000, including buyer's premium.
The Mercer Series 5 Sporting was introduced in 1915 and this model is the 5th generation. Charles G. Jackson of Mount Vernon, Ohio, was the dedicated enthusiast, historian, and Mercer expert who had driven this car for 47 years, having purchased it from the original owner in 1946. John Gillette of Wadsworth, Ohio, purchased the car in 1991 with 93,156 miles on the odometer. In the process of a complete body off-restoration of the rolling chassis, engine and body, Mr. Gillette learned a great deal about Mr. Jackson. Jackson had authored a three-part article for the March, June and September 1951 issues of Antique Automobile entitled 'Mercer, A Technical History.' He later partnered with others to write the Mercer instruction manual for L-head engines made between 1915 and 1923.

This is one of 4,000 Mercers built with the L-head engine, of which only about 60 are known to exist. The 298 cubic-inch engine produces well over 70 horsepower and had the highest speed of any stock motor of its size in America at the time.

The current owners purchased the car in the fall of 2009.
The Series 4 and 5 raceabouts began in 1919 and were redesigned by A.C. Schultz updating the classic Type 35 design. They were given a modern electric starter with the same power by the same European-style engines with fixed head and magneto. By this time the claim was of a 90-mph top speed. Six body styles were offered in 1920 with the Raceabout being the most popular.

This car was previously owned by the Bill Harrah Collection and was last shown - raced, in fact - at Watkins Glen, New York in 1958.
Finley R. Porter's T-head engine design was used from 1911 through 1914. The second generation of Mercer motorcars transitioned to a long-stroke L-head engine developed by Eric Delling, designer of the Deltal Racer. This new Mercer, just like the ones it replaced, continued the tradition of compiling an enviable racing record that included wins at Chicago Speedway and Giant's Despair Hill Climb.

Mercer produced the L-Head Raceabout from 1915 until 1923. They came equipped with features such as staggered semi-bucket seats, lightweight aluminum coachwork, and clamshell fenders.

In the July-August 1959 issue of the Horseless Carriage Gazette, Dr. Henry Newman accounted for 29 surviving Raceabouts, approximately half of the known L-head Mercers.

This Mercer Series 5 Raceabout was offered for sale at the 2014 Pebble Beach Concours auction presented by Gooding & Company. It represented the first time in almost 70 years that it was offered for sale. In 1945, John Roberts from Sewickley, PA, purchased the Mercer from a gentleman in Ohio, and it has been a family heirloom ever since.

In the 1940s and 1950s, it participated in various classic car events, from the Glidden Tour to a ceremonial ribbon cutting at the opening of the Sewickley Bridge. In the early 1960s, the Roberts family and their automotive treasures were featured in a Gulf Oil advertisement that ran in major publications including The Saturday Evening Post.

In 1975, Bill (the Robert's son) purchased the car and retained if until the late 1990s, when ownership passed into the hands of his son.

The car is, according to the current owner, 'original with the exception of paint, upholstery, and floor boards,' the paint being refinished in the 1960s by Earl Scheib who charged Mr. Roberts $19.95 – 'any car, any color.'

The car is powered by a 298 cubic-inch L-head four-cylinder fitted with a single updraft carburetor offering 72 horsepower at 2000 RPM. The transmission is a four-speed manual unit and there are 2-wheel mechanical drum brakes with foot brake on the driveshaft.
By Daniel Vaughan | Oct 2014
The Mercer Automobile Co. was in business from 1910 through 1925, the name coming from the area from where it was based, Mercer County, N.J. Financing came from two wealthy families, the Roebling and the Kusers. The vehicles produced by the Mercer Company ranged from sedans to roadsters to limousines with their primary focus aimed at comfort rather than speed. Throughout its lifespan, Mercer never achieved the status of 'mass producer' such as Ford and Cadillac. Their low production and high costs kept the vehicles exclusive. Their first vehicle, introduced in 1910, cost $1950, a price much higher than most other comparable vehicles.

Through the persistence of Washington Roebling, the son of one of the founders of the Mercer Company, a roadster was introduced. The Raceabout is credited as being America's first sports car. Under the hood was a very large four-cylinder engine that was capable of producing nearly 35 horsepower. There were two spare tires and a twenty-five gallon fuel tank. The 300 cubic-inch engine could propel the 2800 pound vehicle to a top speed of nearly 80 mph. A very impressive accomplishment at the time, especially considering that there were few roads that were suitable of sustaining these types of speeds.

The Raceabout was raced heavily in 1911 where it won five of the six races it was entered. It achieved world record status and lots of publicity for the evolving company.

Throughout the years, the company's popularity, success, and fortune were up and down. Washington Roebling II was aboard the Titanic in 1912 when it sank. The production of the Raceabout continued. In 1914, Mercer's chief engineer and designer, Porter, left the company to begin automobile production on his own. Unfortunately, he was unable to achieve the success ascertained at the Mercer Company.

By 1919, the founders of the company had passed away. Control of the company passed to a Wall Street Organization that attempted to stimulate growth in production. Control was passed back to the Mercer Automobile employees and production continued for a few years before coming to a close in 1925.

There were many reasons for the demise of the company. When automobile production began in the early 1900's, it was possible for individuals to produce only a few automobiles and turn a profit, or at most stay in business. As time progressed so did competition. Designs became elegant, engine sizes continued to grow, mechanical technology progressed, and vehicles were mass produced. To stay in business in this evolving automobile economy, the companies were forced to constantly progress. The public demanded new inventions, new enhancements, and new products. The competition, the inability to constantly introduce new products, a tough economy, and an unstable leadership were a few of the reasons the company was force to fold.
By Daniel Vaughan | Jul 2009
For more information and related vehicles, click
here
Brass and Classic Era Automobiles Set to Shine at RM's Annual Hershey Sale
• RM Auctions returns to Hershey, Pennsylvania, October 10–11, for its well-established Hershey sale • Two-day auction presents more than 100 automobiles, with a focus on exceptional Brass and Classic Era motor cars • Coinciding with the popular AACA Eastern Regional Fall Meet, the sale is a highlight of the meet weekend • Frequently updated list of entries available online at rmauctions.com BLENHEIM, Ontario (July 30, 2013) – RM Auctions, the world's largest collector car auction ...[Read more...]
Auctions America Readies for Highly Anticipated Spring Carlisle Collector Car Weekend
• Auctions America returns to Carlisle, Pennsylvania for its annual Spring Carlisle sale, April 25-26 • Two-day sale lifts the gavel on a diverse roster of approximately 300 quality collector cars • Notable highlights include a rare 1959 Chevrolet Corvette 'Big-Brake' Fuel-Injected Roadster, a 1970 Chevrolet Chevelle SS LS5 Convertible and a 1999 Bentley Azure Convertible • Sale held during Carlisle Events' highly anticipated Spring Carlisle Collector Car Swap Meet & Corral weekend, April 24...[Read more...]
VICARI AUCTION COMPANY OFFERS RARE '62 & '63 Z06 CORVETTES AT 2013 CRUISIN' NOCONA
In a recent rare find, two classic Chevrolet Corvettes (one '62 and one '63) - stored for decades-are being made available by the Vicari Auction Company. Both vehicles will cross the block during 2013 Cruisin' Nocona, a north Texas collector car auction and classic car poker cruise set for April 19th and 20th in historic Nocona, Texas. The Corvettes are virtually all-original, and have been stored in Texas by a classic-vehicle aficionado and collector since the 1980s. 'These...[Read more...]
Barrett-Jackson Flavors Its January Scottsdale Auction With NASCAR Treats
• RACING HERITAGE, HIGH PERFORMANCE ARE RECIPES FOR CAR-COLLECTING FEAST
• SPEED™ SET FOR 39 HOURS of LIVE COVERAGE STARTING JAN. 15
The great Henry Ford once said, 'Auto racing began five minutes after the second car was built.' And for more than 60 years, there are few entities that better represent auto racing in America than NASCAR. From the hallowed grounds of Daytona International Speedway, to Sonoma, California's intricate and picturesque road course, the sp...[Read more...]
TOPLINE COLLECTORS PLACE SPOTLIGHT on SPEED'S BARRETT-JACKSON BROADCAST FROM SCOTTSDALE
• TOPLINE COLLECTORS PLACE SPOTLIGHT on SPEED'S BARRETT-JACKSON BROADCAST FROM SCOTTSDALE
• 'LOST' SHELBY DUAL PROTOTYPE, HAGERTY GIVEAWAY & SALON COLLECTION HIGHLIGHT 39 HOURS OF LIVE COVERAGE
The 42nd annual Barrett-Jackson Scottsdale (Ariz.) Collector Car Event, the first of four set for live coverage in 2013, kicks off the auction season in grand style as some of the world's most sought-after machines cross the block starting Tuesday, Jan. 15 at 7 p.m. ET/4 p.m. PT. SP...[Read more...]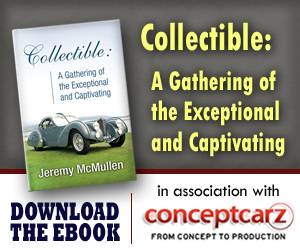 © 1998-2014. All rights reserved. The material may not be published, broadcast, rewritten, or redistributed.