1934 Ford Model 40 DeLuxe news, pictures, specifications, and information

Tweet
In March of 1932 the Ford Motor Company introduced the new Model 40 V8. V8 engines had been used for many years but they were expensive to produce and drove the cost of the vehicle into territory that only a few could afford. The cylinder block casting process was complicated. Ford, however, found a way to mass-produce the V8 engines making them the first low-priced V8 engines on the market. The cylinders were cast 'en block', meaning in one piece, which was a rather simple process resulting in inexpensive prices. The V8 engines went through their teething problems mainly because the engines were rushed into production. They were prone to overheating, cracked blocks and piston and bearing failures. Once these problems were corrected, the engines proved their potential and stayed in production for the next twenty years.

Ford produced vehicles that weighed less than a ton, meaning that with the V8 engine underneath, these vehicles were quicker than most anything else on the road. The V-8 symbol adorned the radiator grille and the hubcaps. From 1932 through 1934, the styling of the vehicle changed very little. In 1933 Ford added angled side hood louvers. The 1934 roadster was similar to the 1932 except for a few less grille bars in the radiator.

This 1934 Ford Model 40 DeLuxe Coupe had a factory price of $555, an eight-cylinder engine, and 85 horsepower.
By Daniel Vaughan | May 2006
Popular with cops and crooks alike, the 1934 Ford Deluxe Roadster holds a special place in automotive history. Particularly popular because of its power, it also marked a change in automotive design. The Ford Deluxe represented the shift from the traditional styling of the time to smoother, more aerodynamic shapes.

The one aspect of the car's popularity is quite ironic. Police enjoyed the car for its power under the hood, and therefore, its ability to chase down criminals. Car thieves particularly enjoyed stealing the car so they could run from the cops. For those enjoying the car for much more 'legal' pursuits, the rumble seat in the back made the car quite desirable for those Sunday afternoon drives in the country; at least for those who could afford one. Despite being introduced during the midst America's depression, the '34 Ford Deluxe enjoyed success with the public.

Easily-recognizable for its medieval shield-shaped front grille, round headlights mounted to the side of the grille and sweeping, wide fenders and running boards, the 1934 Ford Deluxe was popular even in the midst of the depression and would continue to be popular with custom car crafters for years to come. Because the car became so popular, and many ended up being chopped up and made into street rods, period-correct restorations became very rare.

Offered this year was one of those rare 1934 Ford Deluxe Rumble Seat Roadsters. A good deal of this car's life has been as part of a private collection. It has gone through an extensive restoration where no cost was spared.

It features the 85 hp, 'Flathead' V-8 engine and a three-speed, floor-shift manual transmission. It came complete with a Greyhound hood ornament, wide white-walled tires, dual horns, cowl lights, rumble seat, windshield wiper and rear-mounted spare.

The interior is finished in tan leather with a wood finished dashboard. It comes with a tan-colored top and matching tan leather rumble seat. The car's wheels are finished in a bright red finish, matching the small pinstripes that accent the car's beige finish.

Expected to fetch between $75,000-$100,000, this 1934 Ford Deluxe Roadster is truly a rare find. Throughout its life, the '34 Ford attracted both the righteous and the rebels. Its gently flowing lines and eye-pleasing aesthetics will undoubtedly continue to draw admirers, from all sides of moral issues for years to come.

Sources:
'1934 Ford Delux Roadster', (http://auto.howstuffworks.com/1934-ford-deluxe-roadster.htm). How Stuff Works?. http://auto.howstuffworks.com/1934-ford-deluxe-roadster.htm. Retrieved 11 January 2011.

'Buy: View Lots (Lot 296: 1934 Ford Deluxe Rumble Seat Roadster)', (http://www.rmauctions.com/FeatureCars.cfm?SaleCode=AZ11&CarID=r229&fc=0). RM Auctions Arizona. http://www.rmauctions.com/FeatureCars.cfm?SaleCode=AZ11&CarID=r229&fc=0. Retrieved 11 January 2011.
By Jeremy McMullen
This 1934 Ford DeLuxe Phaeton was given a concours-level restoration to very high standards. It is powered by a 221 cubic-inch L-head V8 engine offering 85 horsepower and mated to a three-speed manual sliding gear transmission. There are four-wheel mechanical, internal-expanding drum brakes and a solid front axle and a three-quarter floating rear axle. It is painted in black with olive green leather and Proxlin cloth upholstery with tan floor mats, and Tacoma Cream wheels with pin striping. There is factory-correct wood graining and weather equipment including side curtains and a boot for the top.

In 2009, this car was brought to RM Auctions 'Vintage Motor Cars of Meadow Brook' where it was estimated to sell for $85,000-$125,000. As bidding came to a close, the lot had been sold for the sum of $115,500, including buyer's premium.
By Daniel Vaughan | Sep 2009
This 1934 Ford Deluxe Five-Window Coupe is powered by an L-head V8 engine offering 85 horsepower. The odometer reads just 44,853 miles and it is painted in a brown exterior with ream colored wheels and a mohair interior. There is a wind-out windshield, rear mounted covered spare and replacement floor mats.

In 2009, this car was offered for sale at the Vintage Motor Cars of Hershey presented by RM Auctions where it was estimated to sell for $35,000 - $45,000 and offered without reserve. The lot was sold for the sum of $35,750, including buyer's premium.
By Daniel Vaughan | Oct 2009
This 1934 Ford Deluxe Roadster was offered for sale at the 2007 RM Auctions held in Meadow Brook. It is powered by a 221 cubic-inch L-head V8 engine capable of producing 85 horsepower. The car has a three-speed manual gearbox and four-wheel mechanically-actuated drum brakes. Located in the front is a shield-shaped grille, first introduced in 1933.

Since the roadster sold for less than the convertible, there were more buyers willing to purchase this vehicle. Its performance was slightly better due to its weight being 85 pounds less than the convertible. This example is fully equipped with the glove box model Ford radio, 16-inch dress-up wheels, radiator temperature indicator, bumper guards and wind wings. It is finished in Cordoba Grey with Tacoma Cream accent. The interior is finished in Colonial Grain leather upholstery. It has been treated to a complete frame-off restoration in 1990 and is still in superb condition.

At auction this car was estimated to sell between $80,000 - $100,000. At auction, the estimate turned out to be very accurate, as bidding nearly reached that figure, settling at $79,750.
By Daniel Vaughan | Jan 2011
| | | |
| --- | --- | --- |
| | | Phaeton |
This 1934 Ford Phaeton Deluxe 4-door convertible is a four door open touring car with an unbroken line from front to back. Such a car might have a canvas top with side curtains instead of true convertible roll-up windows.

Deluxe models came equipped with dual cowl lights, horns, and tail lamps, chrome windshield assembly, glove box, cigar lighter and ashtrays.

1934 body styles had an unusual feature, both doors open toward each other, also known as 'suicide doors.'

Phaetons have just the right balance of details which made them a sensation in their day and would assure their place in hearts of car fans everywhere as one of the classiest Fords of all times.

This example is one of the few remaining examples of the 3128 limited production Ford Phaetons built. When it was initially purchased, the cost was $545.
The Ford Model 40 V8 rode on a 112-inch wheelbase and rode on 17-inch wire spoke wheels. Power was from a 90-degree L-head V-8 engine that displaced 221 cubic-inches and produced 75 horsepower. The engine was mated to a three-speed sliding gear transmission with floor shift controls. They had an X-member double-drop frame and mechanical internal expanding brakes at all four corners.

The design was curveacous with a one-piece bumper and streamlined appearance. All bodies, regardless of the bodystyle or the color, were delivered with black fenders.

The V-8 engine was well received. When first introduced in 1932, there were over 200,000 examples sold during that year. It outsold the four-cylinder Model B cars, which reached 185,000 units. Evolutionary upgrades were made to the engine throughout its production run. Earlier improvements included an improved ignition and cooling system, with a new aluminum head that had a compression ratio of 6.3:1, giving horsepower a boost to 75.

The new design was influenced by British styles. The Ford Motor Company, Ltd, had been operating in Britain since 1911 and the Model T proved popular there.

Ford enlisted the help of Eugene Turenne Gregorie , called 'Bob' by his friends, to help in the design. 'Bob' had designed yachts for the Elco Corporation and at Cox and Stevens, a New York naval architecture firm. He had also worked at coachbuilders Brewster & Company. His work at Brewster brought him to the automobile industry and soon became well-regarded for his talents.

Gregorie used his nautical background to create a slanted flat windshield back, and employed a similarly sloped grille whose silhouette suggested a heart shape. The doors were hinged at the rear and opened in 'suicide fashion. The headlamps were mounted directly to the fenders.

This new design was introduced as the Model Y in February 1932. The Model Y was well received and quickly put into production. For the 1933 American Ford, Edsel wanted a more graceful design than the 1932 style.

For the 1933 model year, and with the longer wheelbase, the design of the Model Y was simply scaled up. The Model Y's proportions were mechanically scaled.

The public responded, with sales for 1933 models increasing some 40 percent over dismal 1932 sales.
By Daniel Vaughan | Dec 2009
For more information and related vehicles, click
here
MERCEDES-BENZ 2014 G63 AMG: THE ULTIMATE G-CLASS
The latest technology for the AMG off-road icon: the new 2014 G63 AMG impresses with a state-of-the-art powertrain, expressive new design and improved efficiency. All this is largely attributable to the AMG 5.5-liter V8 biturbo engine delivering 536 hp and the AMG SPEEDSHIFT PLUS 7-speed automatic transmission. Every new AMG high-performance vehicle offers an outstanding mix of 'more power from less fuel' – and the G63 AMG is no exception. The 'strong man' in the AMG model range has been furt...[Read more...]
Audi Confirmed For Salon Privé 2013
• Salon Privé 2013 - 4th to 6th September
Syon Park, London, 21 August 2013 – Audi is set to display the R8 V8 Spyder, RS 6 Avant and RS 4 Avant at Salon Privé 2013. A hand-built, high-revving V8 engine mounted just behind the passenger compartment of the Audi R8 V8 Spyder launches the stunning soft-top supercar to 62 mph in 4.8 seconds and on to a top speed of 187 mph. The mid-engine configuration helps to lower the centre of gravity for optimum road holding, while the slick...[Read more...]
POTEET, CIZEK EARN TOP AWARDS AT GOODGUYS 16TH PPG NATIONALS
Columbus, OH – Tennessee's George Poteet and Nebraska's Ron Cizek collected the top two awards at the Goodguys 16th PPG Nationals in Columbus, Ohio last weekend. Under brilliant sunshine and in front of record crowds, Poteet's vintage NASCAR-inspired '69 Torino won the Goodguys 2013 Optima Batteries Street Machine of the Year while Cizek's popular Ridler award-winning '40 Ford coupe collected the Goodguys 2013 Classic Instruments Street Rod of the Year title. For Cizek, it's the second ma...[Read more...]
Auctions America Announces Exciting List of Attractions for its Auburn Spring Collector Car Weekend
• Final countdown underway to Auctions America's Auburn Spring collector car weekend, May 9 – 11 at the historic Auburn Auction Park in Auburn, Indiana • Sale lifts the gavel on approximately 500 quality collector cars and features full day of memorabilia • Latest auction highlights include a 1930 Packard Dual Cowl Sport Phaeton, a 1938 Cadillac V-16 Convertible Coupe, and a very rare 1967 Ford Fairlane 500XL R-Code in addition to the previously announced John Soneff estate collection • Week...[Read more...]
Magnificent Series of Coachbuilt Classics To Grace RM's Amelia Island Concours D'Elegance Sale
• RM Auctions returns as the official auction house of the Amelia Island Concours d'Elegance, March 9, 2013 • Single-day sale features breathtaking roster of more than 80 investment-quality collector cars • Notable highlights include an outstanding series of coachbuilt classics headlined by a multi-million-dollar 1935 Duesenberg Model SJ Walker-LaGrande Convertible Coupe and a trio of Cords from the personal collection of Jim Fasnacht • Frequently updated list of entries available online at r...[Read more...]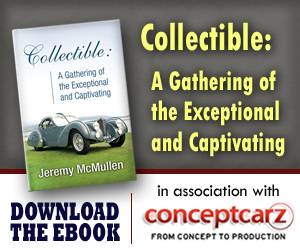 Ford
Monthly Sales Figures
Volume
November 2014
178,221
October 2014
179,014
September 2014
172,261
August 2014
214,028
July 2014
204,373
June 2014
214,793
May 2014
244,501
April 2014
203,552
March 2014
235,198
February 2014
177,286
January 2014
148,671
December 2013
210,074
(More Details)
© 1998-2014. All rights reserved. The material may not be published, broadcast, rewritten, or redistributed.