1965 Ford Galaxie news, pictures, specifications, and information

Tweet
For 1965, the Galaxie 500 was Ford's intermediate trim level and sold as a sedan, hardtop, and convertible. Pricing ranged from $2,600 - $3,000 with 420,379 examples produced. The Galaxie 500 included all the Custom trim plus a chrome hood ornament, chrome window frames, 'Galaxie 500' in block letters, chrome rocker panel trim, hexagonal tailights, and the Ford crest on the roof 'C' pillar.

The Galaxie 500XL was a step above the base Galaxie 500, and available as either a hardtop or a convertible. It was the sport trim version and had bucket seats and floor-mounted shift level. Other features included polished door trim panels with carpeting on the lower portion of the doors. Under the bonnet was a 289 cubic-inch V8 offering 200 horsepower and mated to a Cruise-O-Matic automatic transmission. Pricing for the hardtop was $3,160 while the convertible sold for $3,430. Just 9,848 buyers selected the convertible while 28,141 ponied up the cash for the hardtop.

The top trim level for the Galaxie 500 series was the Galaxie 500 LTD. It had the 289 CID/200 HP V8, Cruise-O-Matic automatic, padded seats, 'pinseal' upholstery, simulated walnut appliques on the lower edge of the instrument panel, and front and rear door courtesy/warning lights. Other features included glove box and ashtray lights, self regulating clock, and courtesy lights under the instrument panel. The LTD was available as either a 4-door or 2-door hardtop. Pricing ranged from $3,250 - $3,200. 68,038 examples of the 4-door were produced and 37,691 were 2-door hardtops.
By Daniel Vaughan | Feb 2013
A 1965 Ford Galaxie XL was used to create this 427 cubic-inch, 425 horsepower tribute car. In 1965, approximately 320 real R-Code examples were built. With an option price of $1,000, the 1965 427 was scarcely seen especially compared to the 1963 and 1964 R-Code Galaxies. This 19,000 mile example still wears its original red paint and its original interior. It was brought to the 2013 Russo & Steele auction held in Scottsdale, Arizona but was unable to find a buyer willing to satisfy the reserve. It would leave the auction unsold.
By Daniel Vaughan | Feb 2013
The Ford Galaxie entered the scene in 1959 and was offered in various configurations. The model line consisted of a Club Victoria, Town Victoria, Club Sedan, Town Sedan, Sunliner Convertible and Skyliner Retractable. Similar to the Fairlane, they were distinguished by differed ornamentation.

The highlight of the 1959 model line was the Skyliner Retractable that had an all-steel hardtop that could be moved via electrical mechanics into the trunk transforming the hardtop vehicle into a convertible in just sixty seconds.

The Galaxie was offered with optional equipment, transmissions and engine sizes. Air conditioning, Sunray multi-colored wheel covers, power front seats, power steering, power windows, and power brakes, were just a few of the options presented to satisfy the demands of the customers. The engines ranged from a 292 cubic-inch 8-cylinder producing 200 horsepower to a 352 cubic-inch power-plant that produced 300 horsepower. Transmission options were a three-speed with overdrive, Ford-O-matic Drive two speed automatic, and a three-speed Cruise-O-Matic drive automatic.

In 1960 Ford added the Starliner body style to the Galaxie model line-up. The Starliner was void of door posts which accented the open-air effect. A Country Squire wagon with wood-grain body trim was now offered. All of the series received new body-lines giving the vehicles a more-modern and stylish appearance, again, sharing a similar body design with the Fairlane.

There were five engine options to chose from, ranging from the 223 cubic-inch Mileage Maker Six-Cylinder to a 352 cubic-inch V8 complete with four-barrel carburetor and 360 horsepower. The three-speed manual transmission came as standard equipment; optional were the Fordomatic Drive two-speed auto, and three-speed Cruise-O-Matic Drive.

For 1961, Ford redesigned the Galaxie which resulted in awards from the international fashion authority, Centro per L'Alta Moda Italiana, meaning 'functional expression of classic beauty'. Thirteen exterior colors were available to chose from, along with various sedan and wagon body styles. With multiple engine, transmission, available options, and body styles, the Ford Galaxie could be customized to suite any customers demands and wishes. The self-adjusting brakes and galvanized rust-protection body panels were standard, as was the Mileage Maker six-cylinder engine. The top-engine option was the 390 cubic-inch High-Performance 8-cylinder engine with three-carburetors and 400 horsepower. A Thunderbird 352 cubic-inch engine was available and could be modified to produce more than the base 220 horsepower.

In 1962 the biggest aesthetic difference over the 1961 model was the modifications that were done to the grill. The interior was adorned in more luxurious items and this was evident in the 500 XL models. In total, there were 14 different body-styles to select that ranged from sedans and convertibles, to wagons. Five engines were available with the 406 cubic-inc Super High Performance 8-cylinder power-plant producing 405 horsepower. If that wasn't enough, there were over 45 color keyed interior trims to select from. The Galaxie was becoming a customizable, luxurious, performance machine.

For 1963 the horsepower increased to an astonishing 425. Transmission options were a Synchro-Smooth column-shift, 4-speed manual Fordomatic Drive automatic, and Cruise-O-Matic three speed automatic. Ford continued to offer a multitude of options and bodystyles. The Galaxie 500XL was still the most luxurious offering that could be had in two or four doors. The Galaxie was given a sportier roof line and various aesthetic enhancements.

In 1964, there were sixteen bodystyles to choose from that again ranged from sedans to wagons, and hardtop to convertibles. The interior received the most attention with its new trim but the exterior did receive a new grill and panel design. There were a limited number of Galaxies fitted with the 427 cubic-inch engine and given fiberglass race equipment to help reduce the overall weight of the vehicle. These lightweight machines are legendary both in design and their accomplishments on the racing circuit.

In 1965, Ford redesigned the Galaxie, giving it a wider stance, and dual vertical stacked headlights. The base engine was the six-cylinder 240 cubic-inch engine. The top-of-the-line engine was the 427 with 425 horsepower.

In 1966 Ford introduced the 428 cubic-inch engine which came standard on the Galaxie 7 Liter model. The LTD model had a unique appearance, ornamentation, and trim. The Galaxie 500XL, Galaxie 500, and Custom 500 made up the Ford Galaxie model offerings. Again, these could be ordered in various sedans, wagons, hardtop, convertible, four or two-door configurations. Multiple options were still available, including engine, transmission, power disc brakes, power windows, power seats, vinyl room, power steering, air conditioning and more.

For 1967 Ford kept the appearance of the Galaxie similar to the prior model year. The turn signals were moved from the grill to the bumper. Ford offered 52 upholstery choices, 25 two-tone combinations, and 15 Diamond Luster Enamel paint colors. The muscle-car era was in full-swing and the Ford Galaxie was a formidable contender with its powerful engines and performance products. Its only drawbacks were it slightly larger size and luxurious amenities which were not as pure as other muscle-car offerings and added to the overall weight of the vehicle. Still, it was a high-performance, customizable, and sporty machine.

In 1968 the Galaxie was redesigned. The base model was the Ford Custom 500, available in two or four door variations. The XL was void of the Galaxie name, available in convertible or fastback configuration. The dual headlamps could be concealed when not in use in the XL, LTD and Country Squire models. Six engine options were available. Transmission options were a three-speed Cruise-O-Matic, floor-shift four-speed manual, and a three-speed manual.

In 1969 Ford moved the Galaxie higher into the luxury car segment, making it larger, heavier, and wider. The result was more room for the passengers. This trend continued into 1970 when the vehicle grew even larger. The focus was a large but quiet automobile. In total, there were 21 new models to select from ranging from three LTD Broughams, two XL models, six Galaxie 500 models, and five LTD models. The models ranged in bodystyles that consisted of two and four door configuration, hardtop, convertible, and sports-roof. Due to rising government safety and emission concerns, the horsepower rating on the engines were decreasing. The base engine was the 240 cubic-inch six cylinder engine while the four-barrel carburetor 429 cubic-inch engine produced 360 horsepower. There were three transmissions available including the three-speed manual, four-speed floor shift, and the three-speed Select Shift Cruise-O-Matic.

The goal of large, quiet, and comfortable continued in 1971 and on through 1972. Safety and comfort were big concerns for many people and the Galaxie was poised to address those concerns. It featured spacious interiors and more steel than most automobiles. Rising emission and safety concerns continued to deteriorate the horsepower. There were still multiple engines to choose from and plenty of optional equipment to satisfy all demands.
By Daniel Vaughan | May 2009
BARRETT-JACKSON'S 43RD ANNUAL SCOTTSDALE AUCTION PROVES TO BE THE MOST SUCCESSFUL IN COMPANY HISTORY, EXCEEDING $113 MILLION
Barrett-Jackson Hosted Top-Tier Celebrities, Auto Legends, Auctioned the World's Most Sought-After Blue Chip Vehicles, Awarded Two Guinness World Records and Set World Records for Rare Corvettes and Thunderbird HIGHLIGHTS: • 1399 cars sold • Over $113 million gross sales • An estimated 300,000 attendees • 14 vehicles sold to benefit various national and local charities SCOTTSDALE, ARIZ. (Jan. 21, 2013) – Barrett-Jackson, The World's Greatest Collector Car Aucti...[Read more...]
Gooding & Company Celebrates 10th Anniversary as Global Appreciation of Cars Push Markets to New High in 2013
SANTA MONICA, Calif. (November 11, 2013) – The mystique of collectable cars continues to expand enthusiasm and buyer participation around the globe. In 2013, Gooding & Company, the auction house acclaimed for selling the world's most significant and valuable collector cars, celebrated its 10th anniversary and saw new and returning bidders flock to its three auctions. Demonstrating Gooding & Company's power in the marketplace is an annual auction total of $192.6 million for 286 lots with a...[Read more...]
1975 Learjet 35 To Be Auctioned Off At Upcoming Barrett-Jackson Palm Beach
The World's Greatest Collector Car Auctions to Offer One-of-a-Kind Classic Aircraft During Sale on Saturday, April 6 Vintage, restored airplanes may be nothing new for Barrett-Jackson, but the stunning 1975 Learjet 35 Fixed-Winged Jet (Lot #770) that will be offered up for sale on Saturday, April 6 at the upcoming 11th annual Palm Beach auction will certainly be a sight to see. The magnificent aircraft will be presented by one of the nation's premier air-ambulance services, Angel MedFl...[Read more...]
One of 14 'Swiss Cheese' Lightweights Offered at Russo and Steele
As one of the most radical factory-built weapons conceived during the Super Stock wars of the early 1960s, Pontiac's outrageous 'Swiss Cheese' Catalina Lightweight was purpose-built just for one mission: to maintain dragstrip supremacy. To do this, 14 full-size Catalinas were plucked from the assembly line, stripped of all sound deadener and insulation, and relieved of one inside frame section. Aluminum body and mechanical parts were used extensively. Some 120 round lightening holes drilled into...[Read more...]
Gordon McCall Joins Barrett-Jackson Team!
Well-known automotive enthusiast Gordon McCall has joined the team at Barrett-Jackson to launch and maintain the new Salon Offering Collection division for high-end classics and other top collector cars for auction. McCall's first task will be to work with buyers and sellers to promote the Salon Offering Collection and add his 30 years of expertise and knowledge to the division, designed to bring top-echelon vehicles to the auction block with reserve pricing. The addition of the new divi...[Read more...]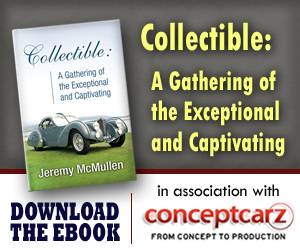 Ford
Monthly Sales Figures
Volume
July 2014
204,373
June 2014
214,793
May 2014
244,501
April 2014
203,552
March 2014
235,198
February 2014
177,286
January 2014
148,671
December 2013
210,074
November 2013
183,722
October 2013
184,854
September 2013
178,693
August 2013
213,078
(More Details)
© 1998-2014. All rights reserved. The material may not be published, broadcast, rewritten, or redistributed.