1967 Mercury Comet news, pictures, specifications, and information

Tweet
The 1967 Mercury Comet 202 Series was based on the Ford Fairlane and wore very similar styling. The sides fenders featured a '202' nameplate and in the front was a horizontal grille with a vertical piece in the center. On either side were two stacked headlights. In the back were vertical taillights.

The base engine was a six-cylinder, overhead valve unit displacing 200 cubic-inches and offering 120 horsepower. Body styles included a 2- and 4-door sedan. A total of 14,251 examples of the 2-door were produced while 10,281 were the 4-door sedans.

The Comet could be purchased with a wide variety of mechanical, convenience and luxury options.
By Daniel Vaughan | Nov 2013
This 1967 Mercury Comet 202 Sedan is one of 22 R-Code Comet 202 examples built in 1967. It is one of 6 known to exist today. It is an original and unrestored example with less than 2,000 miles on the odometer.

The Ford 427 cubic-inch engine enjoyed early success on the nation's drag strips and this would continue through the mid-1960s as the faster Super Stock racers began their transformation into radical factory experimental machines. Sock and Super Stock remained ripe for the picking, and Ford in 1967 delivered a new wave of cars using the 427 Medium Riser V-8.

Mercury retained their reputation with their own R-Code Comets, employing the same 427/425 HP big block fitted with a high rise aluminum intake mounting dual Holley 4-barrels. There were 60 R-Code Comets built in 1967 and just 22 used the 2-door 2020 Sedan body.

This example was sold new to playboy sportsman Jack Reynolds, heir to the Reynolds Tobacco fortune and a dedicated Ford enthusiast. It has its original Onyx Black Super Diamond Lustre Enamel paint, Firestone Wide Oval Super Sport tires, painted steelies with hub caps, and a 4-speed. In the front are disc brakes. The car is also the only R-Code built with an AM/FM radio, an interesting feature considering there is no external antenna. Instead, it is mounted under the hood to keep it out of sight.
By Daniel Vaughan | Nov 2013
From 1960 through 1967 Mercury, a division of the Ford Motor Company, produced the Comet. In 1970 there was no Comet but production resumed a year later and continued until 1977. The Comet was initially built atop a Ford Falcon frame that was stretched and became Mercury's intermediate/compact entry vehicle. With a 114 inch wheelbase many thought it would be considered an intermediate, but Mercury classified it as a compact. In comparison to the Ford Falcon, the Mercury had more lavish and upgraded interior trim details.

The Comet was intended to wear Edsel badging but when the brand was eliminated before the 1960 model year, Ford sold the Comet as a separate model through their Lincoln-Mercury dealers. The Comet continued to be its own model in 1961, the same year the S-22 model was introduced. The S-22 were two-door Comets with Moroccan vinyl bucket seats, stainless spoked steering wheel, and a center console. The carpet was upgraded, the wheel covers were stainless steel, and the rear quarter panels were given unique emblems. There were over 14,400 versions of the S-22 produced.

In 1962 the Comet officially became apart of the Mercury line. There was little aesthetic changes in 1962 but as the years progressed, there were more ornamentation and trim adorned on the exterior.

A convertible option was offered on the Comet in 1963, with 13,111 owners opting for the option. The Comet Cyclone with its V8 engine was also offered in 1963. The 260 cubic-inch engine and four-speed floor shift transmission gave the Comet the power many buyers were hoping for.

The 1964 Comets grew in size and became more square. Mercury introduced three new packages but with the same bodystyle and drivetrains. The packages were the Comet Caliente, Comet 202, and Comet 404. The Cyclone continued to be the sportiest of the package offerings. The Caliente was also a sports car option. The 202 version was an economical version while the 404 filled the gap between the offerings.

The headlights became stacked and new finned taillights were added in 1965. A 289 cubic-inch V8 became available offering 225 horsepower. There were a few vehicles that came from the factory with a 289 V8 and over 270 horsepower, thought this was technically not an option offered.

In 1966 the Comet was all new. It now shared a body and chassis with the Ford Fairlane making it a true intermediate with its 116 inch wheelbase. A GT option was offered for an additional $452 which included a 390 cubic-inch V8 with a four-barrel carburetor, dual exhausts, fiberglass hood with non-functional scoops and was capable of producing 335 horsepower. Power was sent to the rear wheels courtesy of a four-speed manual or automatic transmission. The front brakes were discs and a special handling package was offered to help with the extra power. The GT's were distinguished by their extra striping and badging.

For 1967 sales began to drop considerably partly to due with the introduction of the Mercury Cougar. The name of the Comet was only used on the 202. This trend continued in 1968 and 1969 where the Comet name was used on the low-line models.

There was no 1970 Comet but a year later the Comet re-appeared. It was available only as a coupe or a sedan.
By Daniel Vaughan | Jun 2006
In the beginning, the Comet was designed as an Edsel model and not officially a Mercury until 1962. The Comet was based on a stretched Ford Falcon from 1960 to 1964.
Produced by the Mercury division of the Ford Motor Company between 1960 and 1977, the Comet was classified as a compact or intermediate sized car.
With a longer wheelbase and a better grade interior trim detail, the Comet was a much more updated version of the Falcon. The Comet had very distinct outer body panels.
During the mid-1960's, Comets were available with Ford's highest performance muscle car engines of the day. About 50 models were produced, Comet Cyclones that were ultra-high performance lightweight vehicles that were equipped with a racing two carburetor 427 engine.
Developed at the same time as the Falcon, the Comet received a new grille design before its March 1960 introduction.
In design, the Comet was much like the Ford Falcon, except the Falcon came with a split grille.
After the release of the vehicle, the split grille was reformed into a model more in character with the Edsel models. Though the canted elliptical taillights, were used and carried the 'E' (Edsel) part number on them though the lenses differed in length and width.
The Comet was eclipsed by the new Mercury Montego before being relegated to low-line models.
By Jessica Donaldson
Chevrolet Performance Enhances 2014 NHRA Contingency
Brand supports loyal racers – including those winning with COPO Camaros DETROIT – It can pay to run Chevrolet Performance parts in drag racing. Competitors who use parts and display the brand's decal on their race cars are eligible for contingency payouts in many NHRA classes. COPO Camaro racers who win in NHRA's Mellow Yellow Series – in Super Stock and Stock classes – are eligible for $1,500 payout. The runner up will receive a $1,200payout, a $450 increase from 2013. New...[Read more...]
SUBARU ANNOUNCES PRICING ON ALL NEW 2015 WRX AND WRX STI SEDANS
◾New platform offers stiffer, more agile chassis of Subaru performance icons ◾Upgraded suspension tuning and new Active Torque Vectoring ◾Roomier cabin with upgraded comfort and materials and wide array of user technologies ◾Rear camera standard ◾WRX STI holds base price of $34,495 Cherry Hill, N.J. - Subaru of America, Inc. has announced pricing on the carmaker's performance icons, the 2015 WRX and WRX STI. Both vehicles arrive into dealerships this Spring exclusively as wide-bo...[Read more...]
ALL-NEW 2014 FIAT 500L EXPANDS FIAT BRAND'S PRODUCT LINEUP AND COMMITMENT TO INNOVATIVE AND VALUE-LOADED ITALIAN CARS
◾Loaded with value: all-new 2014 Fiat 500L arrives to FIAT studios this June with a starting price of $19,100 and four well-equipped models ◾Leveraging: taking the FIAT brand's DNA, the all-new Fiat 500L expands the appeal of the iconic 500 while adding two more doors plus best-in-class interior volume (120.1 cu. ft.) providing comfortable accommodations for five passengers ◾Large: a Fiat 500 designed on the new 'small-wide' vehicle architecture for 27 inches more length, plus six inches more ...[Read more...]
Steve McQueen Chevrolet Styleline Leads Exciting List of Celebrity Rides At Auctions America's Ford Lauderdale Sale
• Auctions America kicks off its 2013 calendar, March 22 – 24, 2013 in Fort Lauderdale, Florida • Regarded as South Florida's premier collector car auction, multi-day sale expected to feature more than 550 quality collector cars • Star attraction: 1951 Chevrolet Styleline DeLuxe Convertible formerly owned by Steve McQueen to be offered at no reserve • Additional highlights include a diverse assortment of 1950s convertibles from 'The Gauthier Collection', 1967 Dodge Coronet WO23 Hemi Super Sto...[Read more...]
Gooding & Company's Annual Pebble Beach Auctions
Gooding & Company, the acclaimed auction house celebrated for selling the world's most significant and valuable collector cars, will host its annual Pebble Beach Auctions on August 18th & 19th in association with the prestigious Pebble Beach Concours d'Elegance. Once again, Gooding & Company is poised to present an outstanding array of blue chip and concours-quality collector cars on its record-setting stage, including the elegant 1955 Maserati A6G/54 Frua Berlinetta owned by Grammy Award-winni...[Read more...]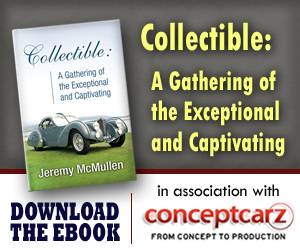 © 1998-2014. All rights reserved. The material may not be published, broadcast, rewritten, or redistributed.