1972 Honda 600 news, pictures, specifications, and information

Tweet
The Honda 600 was their entrance vehicle into the US market. The vehicle was equipped with disc brakes and a two-cylinder engine. With a price tag of around $1400, these two-door four-person sedans with over 40 mpg combined fuel economy, were economical and practical. A 'H' emblem could be found on the cowl.

In 1971, a two-door coupe joined the two-door sedan. On the rear of the quarter window was a large round 'Coupe' insignia. The coupes also had a small hatch at the rear, integrated parking lamps, and a different grille than the sedan.

The 600 Sedan sold for $1,400 while the 2-door Coupe was listed for $1,540.

Powering the 600 was a vertical, overhead-cam two-cylinder, air-cooled engine offering 36 horsepower. The engines had four main bearings, solid valve lifters, and one Keihin-Seiki sidedraft carburetor. Disc brakes were in the front and drums were in the rear. A four-speed manual gearbox was standard while an Hondamatic was available as optional equipment.
By Daniel Vaughan | Oct 2013
The Model 600 was Honda's first model to be imported to the United States, in 1969, beginning on the West Coast. These were derivatives of the N360 'kei car' which were small automobiles that were built to comply with Japan's formula for entry-level cars. Powering the 600 was a two-cylinder air-cooled engine which displaced 599cc. The overhead cam unit benefitted from the manufacturer's long experience with motorcycles. The light alloy unit could rev to 9,000 RPM and develop as much as 45 horsepower.

The 'Hondamatic' transmission dispensed with the conventional clutch. The unit had to be manually shifted between its two gear ratios and used a torque converter like all modern automatics and served as Honda's only automatic until 1980.

In 1970 there were fewer than 5,000 sold in the US and nearly twice that many the following year.

This Honda 600 is painted orange and carries a lighted 'TAXI' sign on the roof. The interior is black and has a toy slot machine in place of the requisite taximeter. In 1999, the current owner treated the car to a restoration.
By Daniel Vaughan | Jun 2014
The Honda S600 was produced from 1964 through 1966. There were two bodystyles available, a two-door convertible and two-door coupe. This made it Honda's first car to be available in two versions and their first mass produced automobile. The design and appearance of the car was very similar to its predecessor, the S500.

As the years progressed, there were only mild changes to the vehicle. The most visual were to the frontal area including the headlights, bumper and grille. Under the hood was a four-cylinder, water-cooled, DOHC engine with four carburetors. The S500 had a displacement size of 492cc; the S600 increased that displacement size to 606cc, thus the changes to the name.

The SM600 was an upgrade package offered on the S600. The package included special paint colors, exclusive badging, radio and speaker, cigarette lighter, heater, upgraded seats, detachable seat rack, and reversing lights.
By Daniel Vaughan | Jun 2007
In 1969 the N600 sedan was introduced to the US market, while the sportier Z600 coupe soon followed in 1970. Barely tipping the scales at 1,300 pounds, these small cars are barely 10 feet in length. A compact little hatchback riding in 78.7-inch wheelbase, the Honda 600, or 'Z' was the first car to be sold mass market by Honda. A two-door kei (Japanese small vehicles) car/city vehicle, the 600 was introduced in 1970 and was produced for only two years. From 1998 through 2003 Honda launched a kei-class SUV with the same name, yet was unrelated.

Sales in the U.S. ended in 1972, a year before the introduction of the Honda Civic. The 600 was the 'sport coupé' of the N600 and production number peaked at 40,586 for its short run. The 600 and the N600 were sold beside each other at American motorcycle dealerships. Typically names with numbers are used to designate the engine size. The Z600 name reflected the 598 cc engine size. In Japan and Australia the smaller-engined Honda Z360 had a 354 cc twin engine. In the U.K. the two-door compact was simply called Honda Z and came only in 600cc form.

The Z600's 598 cc SOHC engine was rated at 36 horsepower. A revamp in December of 1971 brought with it a water-cooled engine producing 36 hp at 9,000 rpm. The following month the 31 PS engine used in the lower spec versions also became water-cooled. Before this the Z360 used an air-cooled 354 cc 2-cyliner SOHC engine with a 4- or 5- speed transmission powering the front wheels. Act and Pro version had a 31 hp output while the sporty TS and GS models had an output of 36 hp at 9,000 rpm.

On the inside of the snug little two-door was enough room for two adults in a surprisingly spacious cabin with a very small rear seat. A small, shallow cargo space was hidden behind a rear glass hatch with a black plastic surround. The spare wheel and tools were housed in a compartment beneath the cargo area, accessible through a lid behind the number plate. After November 1972 and an update, the extra lid was removed. The new EA 22 cubic inch engine, only available in a more powerful 36 hp version was also new at this time. The 600 sported coil sprung and independent front suspension and leaf springs on a live beam axle rear suspension. When compared to other micro cars of the time, the 600 was quite powerful with its two cylinder motorcycle engine. The vehicle featured front power disc brakes and 4 speed all synchro transmission and a tachometer.

A 1971 Honda Z600 driven by Erin Burns set a new speed record for stock body production cars with 750 cc engines with his 'Evil Tweety'. The record was set at 103.978 mph at the Bonneville Salt Flats on August 19, 2008. Chris Clay took 'Evil Tweety' to a new record the next day for altered gas vehicles with 750 cc engines at 106.531 mph. A Saab 96 beat these two records three short years later.

During its two-year production run a total of 40,586 N600 sedans and Z600 coupes were sold in the U.S., with the majority sold being the sedans. Today very few of these models have survived.

http://en.wikipedia.org/wiki/Honda_Z
http://www.ebay.com/itm/1970-Honda-600-Sedan-2-page-Original-Car-Advertisement-Print-Ad-J129-/310782134023
http://www.honda600source.com/

By Jessica Donaldson
For more information and related vehicles, click
here
BRUCE MEYERS TO CELEBRATE 50TH ANNIVERSARY OF ICONIC MEYERS MANX BY RACING IN 2014 NORRA MEXICAN 1000 RALLY
After months of preparation and with the support of an industry it helped create, Meyers Manx Inc. today proudly announced details of a new project to celebrate the car's 50th anniversary next month. It is entering company founder Bruce Meyers in next month's 2014 General Tire NORRA Mexican 1000 rally. The iconic Meyers Manx dune buggy ('Old Red') was invented by Meyers in a small garage on the Balboa Peninsula of Newport Beach, California and first driven in May of 1964. The spirited and eve...[Read more...]
MASERATI AND RUXTON AMONG FEATURED MARQUES AT 2014 PEBBLE BEACH CONCOURS d'ELEGANCE
PEBBLE BEACH, Calif. (February 20, 2014) -- Maserati, a marque renowned for its racing greats as well as road cars offering both elegance and sporting performance, takes center stage at the 64th annual Pebble Beach Concours d'Elegance. The event, often said to be the most intense collector car competition in the world, will be held on Sunday, August 17, at The Lodge at Pebble Beach. Additional 2014 features range from rainbow-hued Ruxtons and antique steamers to the elegant coachwork...[Read more...]
Low Mileage Collectables offered at Fort Lauderdale Auction
• Auctions America kicks off its 2014 collector car calendar March 14-16 in Fort Lauderdale • Leading recent entries are fantastic low mileage examples including a 2005 Ford GT, a 2006 Ford GT Heritage Edition, a 1954 Chevrolet Corvette and a 1967 Chevrolet Corvette 427/435 Coupe • Additional vehicle highlights include a 1973 Ferrari 365 GTB/4 Daytona, a 1971 Ford Mustang Mach 1 and a 1935 Hudson Terraplane driven by Johnny Depp in the movie 'Public Enemies' • Regarded as South Florida's pre...[Read more...]
BESPOKE 911s METICULOUSLY RESTORED FOR CUSTOMERS BY SINGER VEHICLE DESIGN
• Newest Handcrafted Customer Car by Singer Salutes50th Anniversary of Original 911, Evoking Passion for a True Automotive Icon
LOS ANGELES – November 20, 2013 – As Singer Vehicle Design (SVD) tonight hosts a Los Angeles viewing of its latest handcrafted masterpiece restored for a customer, the company will continue to salute the genius of Porsche and the 50th anniversary of the original 911. Considered the most bespoke 911 re-imagined by SVD yet, the 'Sweden' car, to be shown t...[Read more...]
Holden Celebrates 35 Years of Commodore
Holden is celebrating the 35th anniversary of its most iconic nameplate, Commodore. For over three decades, the Holden Commodore has delivered significant advances in vehicle performance, safety and comfort on the way to becoming Holden's longest-standing and most successful nameplate. Holden Executive Director, Vehicle Sales, Service and Marketing, Phil Brook, said Holden was extremely proud of Commodore's success. 'There are not many nameplates in Australia that can lay claim to a ric...[Read more...]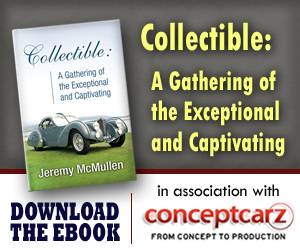 Honda
Monthly Sales Figures
Volume
September 2014
104,391
August 2014
151,551
July 2014
123,428
June 2014
117,817
May 2014
137,928
April 2014
118,334
March 2014
117,738
February 2014
88,860
January 2014
80,808
December 2013
119,504
November 2013
101,948
October 2013
100,242
(More Details)
© 1998-2014. All rights reserved. The material may not be published, broadcast, rewritten, or redistributed.