1930 Willys Knight Model 66B news, pictures, specifications, and information

Tweet
John North Willys was president of the corporation until his death in 1935. Prior to Willys he had been president of the Overland Company. A six cylinder of the sleeve valve design powered the various models of Willys-Knight. Although other engines were used in many models the sleeve valve was the motor of choice of Mr. Willys. The company built many models, among them, Willys Six and Whippet. The acquisition of Stearns-Knight of Cleveland introduced the Falcon-Knight and Stearns-Knight models in 1925. The Willys 77's were developed to help bolster the sagging sales in 1933 and all other models were dropped. The 77 was designed as an economy car to compete wîth the American Austin. The 77 was renamed Overland in 1939 and later to become the Americar in 1941 and was produced until 1942.
During World War II, Willys and Ford Motors produced the Jeep. They are still being produced by Chrysler-Daimler Motors.
Source - Frick Car Museum
The Willys Knight was produced by the Willys Overland Company between 1914 and 1933. The 'Knight' made use of the sleeve valve engine technology designed by Charles Y. Knight. The engine design shed the traditional poppet valves for a set of sliding sleeves to control intake and exhaust gases. While expensive to produce, this precision engine was quiet, durable and powerful.

In an effort to add more flair to the top of the line, Willys commissioned Amos Northup to design a new body. Northup was chief of design at the Murray Corporation of America. He believed that the automobiles of the 1920's were not very attractive, and that stylish appearance and high comfort were the primary reasons that customers would purchase a car. Northup's efforts resulted in the beautiful plaid-side line of Willys Knights. He was aslo commissioned by other independent auto manufactures and produced such impressive designs as the REO Royale and Graham Blue Streak streamliner.

The car shown here is a 1930 'plaid-side' roadster model 66B equipped with the famous Knight Great Six sleeve-valve engine. The Model 66 represented the top-of-the-line for Willys Knight, and was good for a healthy 87 horsepower. This plaid-side sports the original paint scheme and colors. Note the squares on the doors which are hallmark of the plaid-side.

The Plaidside Roadster, designed by Amos Northrup, is noted for its unique 'Plaid' pattern on the bodysides. The Plaidside Roadster was accompanied in the 66B Series by a Plaidside Phaeton. This Roadster body was manufactured by Griswold Motor Body Company of Detroit, MI. Griswold produced coachwork beginning in the 1980's and the Plaidside Roadster was their last automobile body manufactured prior to their demise in 1932.
Plaidside Phaeton
Chassis Num: 5727-A

Although expensive tooling and drawings were completed in 1930, only three of these beautiful 66-B Phaetons were produced. The 1929 stock market crash had devastated the auto industry - however, President John Willys, a consummate showman, demanding his company have a strong presence at the 1930 New York, Chicago and Los Angeles auto shows, and ordered three Phaetons built.

This is the New York show car and only survivor.

Designed by Amos Northup in 1929, this rare Phaeton is a registered CCCA Full Classic. The novel paint scheme reflects the 1930 factory built car. From 1903 thru 1933 the Willys Overland Company prouced Willys-Knight, Stearns Knights, Whippets and Overland cars and 400,000 Sleeve Valve Engines. One of the company's final efforts was the WWII Willys Jeep.
John North Willys started his business career selling bicycles and expanded into manufacturing his own line of bicycles. In 1900, he turned to selling Overland automobiles and acquired the company in 1907 when supply problems disrupted production.

In 1913, Willys-Overland was the number two selling automobile in America, just behind Ford. That same year, John North Willys was told by his doctor that he had been working far too hard and should either go abroad or to a sanitarium. Not surprisingly, Willys choose Europe, but couldn't stray far from his work. While there, he met Charles Knight, who had invented an engine with sleeve valves rather than the usual poppet valves. Willys wasn't a mechanic or engineer by any means, but he was a proven salesman who saw the sleeve valve's novelty and promotional possibilities. The sleeve valves were much quieter operating, though they had a propensity to burn more oil. Willys-Overland produced more Knight-engined cars than virtually all other manufacturers in the world combined.

Although the Willys-Knight was middle-market range, Willys couldn't resist giving his namesake car an upscale edition. Introduced at the New York Automobile Show, the car was styled by designer Amos Northup, better known for styling the Reo Royale. It was Northup who gave the car its distinctive grid work on the doors (offered on both a roadster and a phaeton), to which the New York press nicknamed 'plaidside' - the name stuck. Roughly 400 Plaidside roadsters and phaetons were produced, of which eleven are known to survive.

The Willys-Knight 'Great Six' 66-B series was created by famed designer Amos Northup, who added some special zing to this line-up by designing a 'plaid side' roadster, phaeton and coupe - three very memorable cars of the early 1930's.

The bodies were built by the Griswold Body Company and shipped to the Willys-Overland plant in Toledo.

Willys-Knight was the most popular car built with the Knight sleeve-valve engine - advertised as 'The Engine You'll Never Wear out' and 'The Engine That Improves with Use.'

This outstanding car was owner-restored (an estimated 95%), including body work - a remarkable achievement. The owner also has two Willys-Knight 'Great Six' 66B phaetons.
In 1913, Ford was the number one selling automobile in America. In second place was the Willys-Overland Company. That same year, doctors told John North that he had been working too hard and should either go abroad or to a sanitarium. Willys decided to go to Europe, but he could not stray far from his work. While in Europe, he met Charles Yale Knight. Knight had invented an engine with sleeve valves rather than the usual poppet valves. The sleeve valves were much quieter when opening, but they had a propensity to burn more oil. Ultimately, poppet valves won out, and since 1914 Willys-Overland produced more Knight- engined cars than virtually all other manufacturers in the world combined.

Willys-Knight were in the middle-market range. In 1929, at the New York Automobile Show, an upscale edition was introduced. It wore styling by designer Amos Northup, who was better known for styling the Reo Royale. He was responsible for its distinctive grid work on the doors, which the New York press labeled 'Plaidside,' and the name stuck. Around 400 cars were produced, all with bodywork by Griswold of Detroit, but only 13 survivors are known.

John A. Weierman, of Ogdenburg, New York, found this car, chassis number 48892, in the 1940s and carefully restored it in Polo White with Saddle Brown striping.

The car was originally purchased at the 1930 New York Auto Show at Madison Square Garden by a doctor in Massena, New York. That doctor was Dr. Charles F. Praire, who had bought it off the floor at the show.

Mr. Breed and his wife, Elba, purchased the Roadster in 1959, and after the purchase, they proceeded to restripe it in maroon and install complementary new upholstery, replacing what was, at the time, the original leather. The car stayed with the Breed's for the next two decades.

By 1974, the car had been driven fewer than 20,000 original miles. In 1976, Mr. Breed passed away and the car was inherited by his daughter, Loralee Lopez. At an estate auction, she was offered $18,000 for the car, but she could not part with her father's automobile, and when the estate was settled, the car was relocated to her home in Ridgecrest, California.

In the early 2000s Mrs. Breed's second husband, Larry Harstad, generously agreed to fund the car's body-off restoration, but only if he was allowed to drive it. The family agreed, and the Plaidside was restored, in the same colors chosen by its earlier owners.

In 2005, the Breed family finally parted with the car.

The car is powered by a Knight sleeve-valve six-cylinder engine displacing 255 cubic-inches and offering 87 horsepower. There is a three-speed manual transmission with synchromesh and four-wheel mechanical brakes.
By Daniel Vaughan | Oct 2014
For more information and related vehicles, click
here
LAND ROVER UNVEILS NEW PREMIUM COMPACT DISCOVERY SPORT AND LAUNCHES 'GALACTIC DISCOVERY' WITH VIRGIN GALACTIC
◾Land Rover unveils the 2015 Discovery Sport, the brand's new versatile and capable premium compact SUV, with a film captured at Spaceport America, the home of Virgin Galactic ◾The Discovery Sport features a 240hp turbocharged 2.0L, nine-speed automatic with four-wheel drive in a versatile seven passenger, 5+2 seating configuration ◾New Discovery Sport will go on sale in the U.S. in early 2015 with a starting price of $37,995* ◾Land Rover 'Galactic Discovery' competition to find four aspiring...[Read more...]
Italian thoroughbreds to feature prominently at Bonhams Quail Lodge auction
Numerous iconic and desirable models from Ferrari, Lancia, Lamborghini and more contribute to growing anticipation for this approaching sale San Francisco – Bonhams is delighted to announce its impressive assembly of Italian sports cars for its fast approaching 16th annual Carmel motorcar auction on August 16th. After announcing earlier this spring the consignment of some truly exceptional and noteworthy Italian cars – most notably the one-off 1954 New York Auto Show, 1953 Fe...[Read more...]
Star Automobiles Set To Astonish And Amaze At 7Th Annual Barrington Concours D'Elegance
BARRINGTON, ILL. – July 3, 2013 – The 7th Annual Barrington Concours d'Elegance will feature a wide variety of vehicle classes, including some of the most celebrated pre and post war collectible cars in the world, with stars and stunning examples from each group. An array of exquisite examples of automotive excellence will be shown on July 12-14, 2013, at the Makray Memorial Golf Club in Barrington, Ill. The Concours will celebrate over 100 fine autos with displays detailing the history o...[Read more...]
Blue-Chip Automobiles Set for RM's Ocean Front Sale at Amelia Island
– RM Auctions, the official auction house of the Amelia Island Concours d'Elegance, announced today its latest series of blue-chip automobiles set to cross the auction podium at its Amelia Island sale, March 10 in Florida. Held in conjunction with the famed Amelia Island Concours d'Elegance, the single-day sale will lift the gavel on more than 100 high-caliber automobiles, including ten examples expected to exceed $1 million. 'We're thrilled to be returning to Amelia Island and continuin...[Read more...]
GOODING & COMPANY ANNOUNCES ITS FIRST-EVER AMELIA ISLAND AUCTION
Concours-Winning 'Best of Show' 1931 Voisin Demi-Berline Headlines the Sale on Friday, March 12, 2010 Gooding & Company, the internationally-recognized auction house, is thrilled to announce that it will be hosting its first-ever auction at Amelia Island, Florida. Already starring a number of exceptional consignments including the Best of Show-winning 1931 Voisin C20 'Mylord' Demi-Berline, Gooding & Company's one-day auction will take place on Friday, March 12, 2010 at 4 p.m. on the g...[Read more...]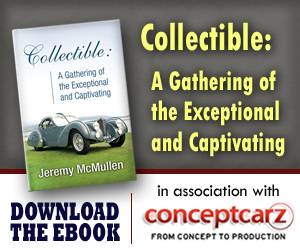 © 1998-2014. All rights reserved. The material may not be published, broadcast, rewritten, or redistributed.