1934 Rolls-Royce 20 / 25 HP news, pictures, specifications, and information

Tweet
The Rolls-Royce 20/25 Series was built from 1929 to 1936 and was aimed primarily at owners-drivers, although many of these motorcars were chauffeur-driven.

Production of the 20/25 was relatively high by Rolls-Royce standards. A total of 3,827 were built during its production run. As was the case with all Rolls-Royces, bodies were supplied by outside coachbuilders; in this case, Mulliner.

The motor was a Rolls-Royce-built in-line, overhead valve six-cylinder motor coupled to a four-speed gearbox. Both coil and magneto were used.

This motorcar is recognized as a Full Classic by the Classic Car Club of America.
This 1934 Rolls-Rocye 20/25HP Sedanca Coupe with coachwork by J. Gurney Nutting & Company Ltd., sits atop a 132 inch wheelbase and powered by a six-cylinder engine that produces 25 horsepower (RAC rating). It is finished in a light Dove gray and darker gray striping. The interior reveals leather seats with matching colors to the exterior with its tan wool carpets. This vehicle has undergone a full body-on cosmetic restoration. Much of its life it has resided in London, England where the right-hand drive configuration was aptly suited.

Located at the back of the vehicle is a custom built rear mounted spare tire compartment. On the front of the vehicle are optional Lucas center driving lights. The headlights are also Lucas lights.
By Daniel Vaughan | Sep 2007
This Rolls-Royce 20/25 Sport Saloon has been restored and includes a rare factory-conducted chassis renumbering, unique Freestone and Webb coachwork, and an early 1980s refurbishment. It rides on a long wheelbase chassis and is the second example of the D2 series of 20/25 cars. It was sold on March 1st of 1934 to Grimchaw Leather & Company on behalf of G.S. Houseman of Alnmouth, England. On June 14th, the car was delivered to coachbuilder Freestone & Webb of London. It was given a close-coupled sport saloon body with sweeping fenders. It was delivered to its owner briefly before returning to the factory for upgrades. It was 'modernized' by fitting governor controls, shock absorbers, and a new type carburetor. It was re-designated as chassis number GYD 42. By 1954, the car had come into the care of J.W. Cummin of Chathill. At some point thereafter, it was exported to the United States.

The current owner acquired the car in the late 1970s in disrepair. It was treated to an extensive restoration that was completed in August of 1981 and cost over $159,000. Since the work was completed, the car has never been exhibited.

Power comes from a 3,680cc overhead valve six-cylinder engine breathing through a single 2-Jet carburetor. There is a four-speed manual gearbox and four-wheel servo-assisted drum brakes.

In 2013, the vehicle was offered for sale at Gooding & Company's Scottsdale, Arizona auction. It was estimated to sell for $80,000 - $100,000 and offered without reserve. As bidding came to a close, it had been sold for the sum of $82,500 including buyer's premium.
By Daniel Vaughan | Feb 2013
This Rolls-Royce is the 'show car' displayed by Park Ward coachbuilders at the 1934 Earl's Court Automobile Show in London. The car is the first design featuring a 'fastback' body style, later adopted by most auto manufacturers in the late 1930's and early 1940's.
In 1929 the Twenty's replacement, the 20/25 HP was launched. This car used the Twenty chassis, virtually unchanged, but the engine was enlarged from 3.1 litres to 3.7 litres, giving a significant increase in performance. Improved power had become a necessity because owners often insisted on fitting elaborate and heavy coachwork, which severely affected the performance. This was an important change considering owners didn't like to be overtaken by what they believed to be inferior cars.
An 'Autocar' report in 1931 describes the 20/25 thus: 'Every single feature spells durability, the machine is on a plane altogether superior to the normal style of motor car'. This claim is backed up by the fact that this model was the choice of some of the most famous sporting drivers of the day. Tommy Sopwith owned one, as did the famous racing driver Prince Bira of Siam and racing driver and record breaker Sir Malcolm Campbell.
- Rolls-Rocye Motor Cars

Overview
The 20/25 kept the Rolls-Royce tradition of a two-model policy, being sold alongside of the Phantom II. It was offered as a more economical car and was smaller than its sibling. All of the 20/25HP were outfitted wîth custom coachbuilt bodies from legendary names such as Vanden Plas, Freestone and Webb, Brewster, Gurney Nutting, Park Ward, Coachcraft, and Thrupp & Maberly.

With nearly 4000 chassis created it is one of Rolls-Royce's best selling contemporary models, lasting from 1929 through 1936. During the production lifespan of the 20/25, the vehicle received many updates. The ignition, brakes, clutch, and carburetors were just a few of the mechanical areas to received modifications and improvements. In 1932 shock absorbers and thermostat controlled devices were introduced. The thermostats operated the radiator air-flow automatically eliminating the need to operate the radiator shutters by hand.
Source - Rolls-Royce Motor Cars
For more information and related vehicles, click
here
Russo and Steele Collector Car Auctions Kicks off 2014 in a Big Way with Outstanding Results and New World Records at Scottsdale
Phoenix, Arizona (January 22, 2014) – At Russo and Steele Collector Car Auctions, we are thrilled to announce the achievement of outstanding results and world-record sales at our January 15-19 Scottsdale, Arizona Sports and Muscle auction event. Throughout the event's five action-packed days, beautiful weather helped draw record attendance numbers, estimated at 35% higher than 2013 levels. At the time of writing, preliminary sale results exceeding $21 million were generated with a very st...[Read more...]
BARRETT-JACKSON & FOX ANNOUNCE MAJOR CROSS-NETWORK EXPANSION OF SIGNATURE SCOTTSDALE AUCTION
• Renowned Collector Car Auction Televised By Major Broadcast Television Network
• 'World's Greatest Collector Car Auctions™' To Reach Millions of New Viewers, Jan. 14-19, 2014
Scottsdale, Ariz. – Barrett-Jackson, The World's Greatest Collector Car Auctions™, today announced that FOX Sports has expanded its viewership reach for the Scottsdale, Arizona auction to include five channels within its family of networks – In total, there are 36 hours and six-consecutive days of...[Read more...]
Last Lap Pass Drives Maccachren To Victory In Sst Round No.4
San Diego, Calif. (May 4, 2013) – SPEED Energy Stadium SUPER Trucks invaded Qualcomm Stadium in San Diego, Calif., for a full night of racing action with four distinct divisions testing their skills on the uniquely prepared high flying dirt and asphalt course. Rob MacCachren, Dan Runte, Apdaly Lopez, and Myles Cheek were able to conquer the multiple challenges of the most difficult course this year to record wins in Round No. 4 of SST competition. Rob MacCachren, of Las Vegas, Nev., dr...[Read more...]
Barrett-Jackson Flavors Its January Scottsdale Auction With NASCAR Treats
• RACING HERITAGE, HIGH PERFORMANCE ARE RECIPES FOR CAR-COLLECTING FEAST
• SPEED™ SET FOR 39 HOURS of LIVE COVERAGE STARTING JAN. 15
The great Henry Ford once said, 'Auto racing began five minutes after the second car was built.' And for more than 60 years, there are few entities that better represent auto racing in America than NASCAR. From the hallowed grounds of Daytona International Speedway, to Sonoma, California's intricate and picturesque road course, the sp...[Read more...]
TOPLINE COLLECTORS PLACE SPOTLIGHT on SPEED'S BARRETT-JACKSON BROADCAST FROM SCOTTSDALE
• TOPLINE COLLECTORS PLACE SPOTLIGHT on SPEED'S BARRETT-JACKSON BROADCAST FROM SCOTTSDALE
• 'LOST' SHELBY DUAL PROTOTYPE, HAGERTY GIVEAWAY & SALON COLLECTION HIGHLIGHT 39 HOURS OF LIVE COVERAGE
The 42nd annual Barrett-Jackson Scottsdale (Ariz.) Collector Car Event, the first of four set for live coverage in 2013, kicks off the auction season in grand style as some of the world's most sought-after machines cross the block starting Tuesday, Jan. 15 at 7 p.m. ET/4 p.m. PT. SP...[Read more...]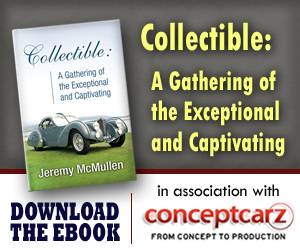 Rolls-Royce
Monthly Sales Figures
Volume
December 2014
75
November 2014
75
October 2014
75
September 2014
75
August 2014
75
July 2014
75
June 2014
75
May 2014
75
April 2014
75
March 2014
75
January 2014
86
(More Details)
© 1998-2014. All rights reserved. The material may not be published, broadcast, rewritten, or redistributed.