1953 Mercury Monterey news, pictures, specifications, and information

Tweet
This 1953 Mercury Monterey Convertible is painted in red with new chrome and stainless steel trim, a white power-operated convertible top, a white vinyl top boot, red painted steel wheels, and period correct wide whitewall tires. Inside, there is red and white vinyl interior, power windows, a dash-mounted clock and a CD player that is mounted within the glove box. The engine if a flathead V8 modified with period-style Offenhauser cylinder heads.

In 2009, it was offered for sale at the Vintage Motor Cars of Meadow Brook presented by RM Auctions. It was estimated to sell for $45,000-$65,000 and was offered without reserve. The lot was sold for the sum of $19,800 including buyer's premium.
By Daniel Vaughan | Sep 2009
An automobile marque of the Ford Motor Company, Mercury was founded in 1939 with the purpose to market entry-level-luxury vehicles that were slotted in between Ford-branded regular models and Lincoln-branded luxury vehicles. All Mercury models are today based on Ford platforms. The Mercury name is derived from 'messenger of the gods' of Roman mythology. In the beginning years, Mercury was known for performance.

The 1950 full-size near-luxury car Mercury Monterey represented a choice that the Ford Motor Company had to make. At the time General Motors and the Chrysler Corporation were producing a plethora of 'hardtop convertibles' and Ford realized that it couldn't convert its year-old bodies into hardtop models at a reasonable cost. Determined not to stand idly by as GM and Chrysler attempted to dominate the car market with its attractive new pillarless coupes.

Ford decided that the only solution was to customize existing two-door bodies into a new line of specialty models. These included the Ford Crestliner, Lincoln Capri and Lido, and the Mercury Monterey.

All of these vehicles were developed from the same formula with grained top coverings that were harmonized with a very limited number of pain colors. Color-coordinated interiors also matched the external theme, while special trim and badging were used both inside and out.

Responsible for the Mercury Monterey's special touches, William Schmidt took over the design work. A choice of either canvas or vinyl roof coverings were offered on the all new custom coupe, along with either fabric-and-leather or all-leather seats. A deluxe steering wheel was showcased, and bright trim edged the windows on the inside.

The base price of a 1950 Mercury Monterey was $2,146. Mercury's flagship sedan from 1950 through 1974, the classic 'Monterey' was considered to be '4,000 lbs. of Pure Decadence.' Still coveted even today, the sleek lines of those earlier models makes the Monterey a popular collectable classic.

Featuring the same chassis and running gear used on all other Mercurys, the Monterey featured a 118-inch wheelbase that ran between coil-and-wishbone suspension up front and leaf springs under a live axle in the rear. Achieving 110 bhp, the Monterey received its power from an L-head V-8 that displaced 255.4 cubic inches.

In early 1951, Ford decided to replace the Crestliner with the first hardtop, regardless of the cost. For 1952 Mercury and Lincoln came out with all-new bodies that were designed to include hardtops.

The Monterey name continued on, but on a premium series of Mercury's in three body styles. The Monterey later shared the same body style with the slightly more upscale Marquis, the Montclair, and the Park Lane. After the 1968 model year, the Montclair and Park were eliminated from the lineup. The Marquis-Monterey body eventually shared the same body as the Ford Galaxie, the Ford Custom and the Ford LTD.


From 1961 through 1963, the Mercury Monterey was sold in Canada as the Mercury Meteor. Available in three trim lines, the Meteor was sold as the LeMoyne, the Montcalm and Rideau. After the United States Monterey was retired, Canadian Meteors were still marketed from 1964 until 1976. They were re-badged Marquis models following the deletion of the U.S. model Monterey in 1974.

The Monterey nameplate was resurrected in 2004 for a minivan, though it was essentially a re-badged Ford Freestar with more features and newly modified cosmetic features. The Monterey comes with a high level of equipments and several styling cues from Mercury. These minivans were made to fill the gab in Mercury's vehicle lineup following the discontinuation of the Mercury Villager. Offered in only one trim level, for 2006 Mercury Monterey was offered in the fully-loaded Luxury edition.

The Luxury edition was featured in front-wheel drive, and is powered by a 4.2 liter V6 engine that was matched with four-speed automatic transmission and anti-lock braking system. The inside of the Monterey featured amazing standard features such as cloth upholstery, dual-zone air conditioning, first and second row captain's chairs, power sliding doors, tilting steering wheel and much more.

The all new Monterey also came with a great safety warranty. Standard occupant-sensing front passenger airbag, heated power-adjustable side mirrors that featured built-in warning/turn signals, perimeter anti-theft system, and Safety Canopy curtain and side-impact air bags. Optional features were Traction Control and Advancetrac electronic stability control.
By Jessica Donaldson
OFFENHAUSER HEROES AND MERCHANTS OF SPEED SEMINARS OFFER FANS A BACKSTAGE PASS TO AMERICAN MOTORSPORT
A pair ofthe Amelia Island Concours d'Elegance's popular seminars will offer 'backstage passes' to the history and the business of American motorsport. On Friday March 7, 2014 the celebration of Offenhauser-powered vehicles will begin in the Talbot Ballroom of the Ritz-Carlton, Amelia Island at 3:00 PM with the Great Offy Drivers and David Hobbs Seminar. Amelia's seminars are famous for their star power. On Friday Indy 500 winners Johnny Rutherford, Parnelli Jones and Al and Bo...[Read more...]
RK MOTORS ADDS 'LEGENDS OF MOTORSPORTS' COLLECTION OF HISTORIC RACING MACHINES TO UPCOMING AUCTION
Charlotte, N.C. – October 14, 2013— Only weeks after revealing plans to auction the 1977 McLaren M26 that James Hunt drove to his final F1 victory, RK Motors Collector Car Auctions (RKMCCA) today announced that four additional iconic racing machines will cross the block during its auction at the Charlotte Convention Center, October 31 to November 3. Furthering the auction's historic motorsports theme, RKMCCA will offer bidders an opportunity to own: Mario Andretti's 1974 Viceroy Gurn...[Read more...]
POTEET, CIZEK EARN TOP AWARDS AT GOODGUYS 16TH PPG NATIONALS
Columbus, OH – Tennessee's George Poteet and Nebraska's Ron Cizek collected the top two awards at the Goodguys 16th PPG Nationals in Columbus, Ohio last weekend. Under brilliant sunshine and in front of record crowds, Poteet's vintage NASCAR-inspired '69 Torino won the Goodguys 2013 Optima Batteries Street Machine of the Year while Cizek's popular Ridler award-winning '40 Ford coupe collected the Goodguys 2013 Classic Instruments Street Rod of the Year title. For Cizek, it's the second ma...[Read more...]
Texas-Sized Charlie Thomas Collection Brings $7.4 Million At Dallas Auction
• RM Auctions' sale of the Charlie Thomas Collection generates $7.4 million, with 100 percent of lots sold • Top sellers include a 1946 Chrysler Town & Country Roadster for $143,000 and a 1954 Packard Caribbean Convertible for $132,000 • Sale captures attention of global collector car community with bidders representing eight countries around the world and 31 states across the U.S. • RM wraps up its 2012 calendar with its annual London, England sale, October 31, followed by the John Staluppi ...[Read more...]
Pebble Beach Concours d'Elegance Introduces Its First Sport Customs Class
One-off Sport Customs designed to turn heads while tooling down Main Street USA will roll onto the 18th fairway of Pebble Beach Golf Links for the 2012 Pebble Beach Concours d'Elegance on August 19. This year, for the very first time, the Pebble Beach Concours d'Elegance is hosting an entire class dedicated to Sport Customs. 'These are one-of-a-kind cars built in the US, on modified American production chassis with American engines by individuals, designers and craftsmen,' explains auto...[Read more...]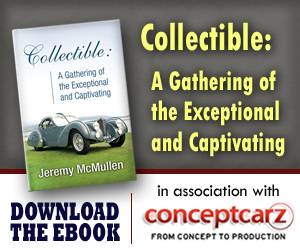 Similarly Priced Vehicles from 1953
Studebaker Commander Starliner ($2,400-$2,400)
Triumph TR2 ($2,448-$2,448)
Chrysler Windsor ($2,552-$3,285)
Volvo PV 444 D ($2,240-$2,240)
Ford Crestline ($2,120-$2,400)
Kaiser Manhattan ($2,595-$2,750)
Oldsmobile Ninety-Eight ($2,550-$5,717)
Pontiac Chieftain ($1,960-$2,800)

Average Auction Sale: $29,373
© 1998-2014. All rights reserved. The material may not be published, broadcast, rewritten, or redistributed.