1933 Cadillac 452C V16 news, pictures, specifications, and information

Tweet
Fleetwood Convertible Victoria
Coachwork: Fleetwood

Despite the ongoing depression in 1933, Cadillac announced that it would build a series of 400 V16 cars. In actuality, only 125 were produced. Each V16 had a name plate mounted on the dash honoring the owner. This Convertible Victoria, bodied by Fleetwood, was one of only two produced at a cost of $7,500 each. It rides on a 146-inch wheelbase. The engine displaces 452 cubic-inches, with sixteen cylinders. Interior details include burled walnut panels and pigskin leather upholstery. The original owner of this spectacular automobile was Hill Blackett of Chicago, owner of an advertising agency.
Fleetwood All-Weather Phaeton
Coachwork: Fleetwood

By 1933, the boxy look of the Twenties began to give way to the streamlined look of the Thirties. Featured were fully skirted, flowing fenders and a graceful 'wind split' veed grille, which boasted a painted shell that blended in smoothly with the bodywork.

In addition to a longer 149-inch wheelbase, the V-16's received a unique grille, a larger - and more elegant - 'Goddess' hood ornament, and massive 'four-bar' bumpers. Also, the three rectangular ventilated doors seen on the sides of the hood of the V-8's and V-12's yielded to three functional 'spears' on the V-16, a theme repeated on the lower front fenders.

Prices ranged from $5,540 for an Imperial Cabriolet to $8,000 for the All-Weather Phaeton. These prices exceeded Packard's priciest V-12's, and had to be staggering in the depths of the Depression, when a Chevy started at $445.

For 1933, Cadillac announced that V-16 production would be limited to 400 cars. These were to be serially numbered - the number and the owner's name to be displayed on a plate inside the car. Nearly seven body styles were suggested. Half this number of styles were actually built, but half of the total production of 126 cars were in the most conservative five- or seven-passenger sedan styles. Only three examples were ever built in this Convertible Phaeton bodystyles.
Cadillac introduced their V-16 engine nearly a year before Marmon introduced theirs. Marmon even had a head start over Cadillac. It is still unknown why Cadillac introduced a V-16 powerplant. Their company was well established as a builder of V8s, and was not 'threatened' by Marmon in terms of the American luxury car marketplace. One belief is that Cadillac wanted to continue its reputation (and to reinforce this belief) that they were built the finest motor car in the world.

This 452-D Convertible Sedan was purchased by Dr. Atwood from well-known Classic Car Club member Dick Gold of Minneapolis. It was purchased in October of 1984. It was in the original family and it was an original, unrestored car wearing its original paint, chrome and upholstery. While in Dr. Atwood's care, the car was given a restoration.

The restoration was finished in 1991. It had previously achieved AACA National Junior and Senior First status. Upon completion of its restoration, it was brought to the 1991 Pebble Beach Concours where it took a First in Class. From there, it was brought to the AACA Easter Fall Meet at Hershey, winning AACA's 1991 Chocolate Town Trophy. It achieved a Grand National First at Dayton, Ohio in 1992 and was nominated as AACA's Outstanding Vehicle for the year.

The car is painted in original yellow. There is a tan canvas top and the interior is brown leather. The odometer reads just 277 miles, probably the distance traveled since restoration. There is an authentic radio in the panel, its power supplied by a Cadillac 'B' Eliminator under the hood.

In 2009, this V16 Imperial Convertible Sedan was offered for sale at the Automobiles of Arizona auction presented by RM Auctions. It was estimated to sell for $300,000 - $400,000 and offered without reserve. The lot was sold for the sum of $473,000 including buyer's premium.
By Daniel Vaughan | Apr 2009
Fleetwood Convertible Coupe
Coachwork: Fleetwood

The V-16 Cadillac was the company's top-of-the-line car until production ceased in 1940. In total, there were just 4,076 examples built during the eleven years the model was offered. Most of the Sixteen's were built in the single year of 1930 before the Great Depression really took hold. For 1933, the boxy looks of the Twenties were giving way to the streamlined look of the Thirties featuring flowing, fully skirted fenders and graceful vee'd grilles with painted shells blending into the bodywork. The V16s featured a longer 149-inch wheelbase, unique grille, a larger 'Goddess' hood ornament and massive 'four-bar' bumpers. These cars were serially numbered with the owner's name displayed on a plate inside the car.
The five-passenger Convertible Victoria, also known as the Convertible Coupe, rested on a 149-inch wheelbase. There were just two examples originally produced in 1933, originally priced at $7,500.

This example is largely unrestored and is a California car from new and retains its original engine, chassis and body. The original owner was Hollywood film star Robert Montgomery, who was honored with two stars on the Hollywood 'Walk of Fame' for his achievements in both film and television.

The car has a pair of side mounted spare tires, dual rear view mirrors, a single Pilot-Ray driving lamp, a rear luggage rack and a set of painted steel wheels with hubcaps and period style wide whitewall tires. The interior features an inlaid wooden dash with metal insert panels housing Art Deco-inspired instruments. The odometer reads just 74,000 miles since new.

In 2009, this car was offered for sale at the Vintage Motor Cars of Hershey presented by RM Auctions where it was estimated to sell for $350,000 - $450,000. The lot was sold for the sum of $412,500, including buyer's premium.
By Daniel Vaughan | Oct 2009
Cadillac planned to build a series of 400 V-16 cars during 1933. In fact only 125 were produced and just two of these Convertible Victoria 452Cs were built that year. This car was once owned by actor Robert Montgomery. This is a very original car that has never been restored, and it has lovely period touches like the art deco instruments and the inlaid wooden dash. The Fleetwood Metal Body Company designed and built most of the luxury bodies for Cadillac during this period. The coachbuilder had been in business in Pennsylvania from 1900 but was2 absorbed into General Motors in 1931. Cadillac is one of the only two manufactures to ever build a series of V-16 engines for their road cars (the other being Marmon), and they remained in production for eleven years.
The large 452 cubic-inch sixteen cylinder engines, banked at a 45-degree angle, was largely the work of Cadillac Chief Engineer Earnest Seaholm. The engine offers 175 horsepower and even more impressive was low speed torque, 320 lb-ft at 1,500 rpm, assuring low-speed operation that was silky smooth and super silent, thanks to the engine's hydraulic valve lifters. Another impressive feature of the Cadillac's V-16 program was the roughly 70 body styles offered.

This Cadillac Sixteen Cylinder Fleetwood Limousine is in near-original condition. It was built for Mrs. H.A. Springle and was delivered through General Motors Products of Canada on May 25th of 1933. It currently shows just 29,500 miles. It was also shown at the Pebble Beach Concours in 2003.

Fleetwood built just 32 of this body style on the V-16 chassis in 1933. This example is number 18. At year's end in 1933, just 126 Sixteens had been sold.

In 2011, this car was offered for sale at the St. John auction presented by RM Auctions. The car was estimated to sell for $130,000 - $160,000. As bidding came to a close, the car had been sold for the sum of $159,500 including buyer's premium.
By Daniel Vaughan | Jun 2012
In an attempt to create demand by exclusivity Cadillac announced it would build only 400 V16 automobiles for 1933. In fact only 126 examples were built, of which 8 were Fleetwood convertible sedans. Three of the convertible sedans still exist, including the famous Al Jolson car at the National Automobile Museum in Reno. This car was built for Montgomery Ward of Chicago at a cost of $8,000 - twice the cost of the comparable Fleetwood V8 all-weather phaeton. The unique body style, 5579-A, includes a built-in trunk, and other detail differences. Its ownership has included Bill Pettit, Jim Groendyke and Roy Warshawsky who had it restored by Fran Roxas. In 1990 it won First in Class at Pebble Beach and 100 points in CCCA judging.
In 1933, Cadillac produced 125 V-16 cars. They are identifiable by their four bar bumpers. Each was built to the customer's individual taste and they allowed Cadillac to out-perform rival Packard's 12 cylinder models. The introductory brochure proudly proclaimed that 'Sixteen-cylinder powering, complete individuality in style that, in brief, is the story of the Cadillac V16.'

In the 1930's custom coachwork was a symbol of status and wealth. The Cadillac V-16 chassis became the most revered way to display that coachwork. Cadillac wanted the engine as vibration free as possible, eight combustion cycles per crankshaft revolution and balanced internals combined to make that a reality.

1933 represented the final year for the All Weather Phaeton body style. This car is one of seven made, it was the most expensive Cadillac model and sold for $8,000 new.
The 'Great Cylinder Race' was started in 1930 with Cadillac's introduction of their V16 followed by Marmon with their V16 in 1931. Cadillac added a V12 in 1931; by 1932 builders such as Lincoln, Packard, Pierce Arrow, Auburn and Franklin had added V12 engines.

The Cadillac V16 was a beautiful 45-degree OHV design, with unique hydraulic lash adjusters, with 452 cubic-inches produced 185 horsepower. 1933 models had a 149-inch wheelbase, making them one of the longest cars of the era. The 45-degree V16 continued in production through 1937.

A new flathead 135-degree V16 was produced 1938-1940 but many consider this later engine to be inferior, and certainly not as beautiful as the earlier engine. Only 126 1933 V16s were built.

This Fleetwood Imperial Sedan was originally ordered by George Washing Shroyer, the mayor of Dayton, Ohio, and equipped with so many custom features that the build sheet required two pages. When it was found the car was in remarkably good condition, with no rust anywhere and no rotted wood; the body and doors were in good alignment. The odometer showed 85,000 miles and based on condition it was concluded this was the original mileage.

Even though the car was in overall good condition a ground-up, body-off, bolt-by-bolt restoration was done to bring it up to its current mint condition.
In 1933, despite the Great Depression, Cadillac planned to build 400 V-16 cars. In fact only 125 were sold compared to over 3,500 in 1932, and just two of the 452Cs had a Fleetwood Convertible Victoria body. The list price was $7,500, an incredible sum for such economically dismal times. The Fleetwood Metal Body Company, which had been in business since 1900 and built many luxury bodies for Cadillac, had been absorbed into General Motors in 1931. Once owned by actor Robert Montgomery, this car has been completely restored with period features like Art Deco instruments and an inlaid wooden dash. The distinctive coachwork with its Vee-shaped radiator and skirted fenders was built on a 149-inch wheelbase. Cadillac is one of the only two manufacturers to ever build a series of V-16 engines for their road cars (the other is Marmon), and they remained in production for 11 years. The V-16 engine was rated at 165 horsepower but offered closer to 200.
Henry Martin Leland and his son Wilfred were partly responsible with making Cadillac one of the finest of all American Automobiles. Henry was renowned for his precision engineering and for standardizing manufacturing. He helped make Cadillac into one of the finest of all American Automobiles. Later, he founded Lincoln. Even after the Leland's departed from Cadillac, the marque remained a top-of-the-line figure.

Cadillac did not rely on four- or six-cylinder power. Every one of the company's cars was fitted with a V engine of 8, 12 or 16 cylinders. They were smooth and powerful.

During the late 1920s, the cylinder race was in full force. Cadillac's engineer Owen Knacker was tasked with developing a V16 engine that would keep Cadillac at the fore-front of the race. Their hopes were to displace Packard at the top of the luxury car market.

From 1930 through 1940 Cadillac produced a monsterous sixteen-cylinder engine. It was first displayed to the automotive community at the Detroit Opera House prior to the Detroit Auto Show. This was the largest number of cylinders to power an automobile of all time. The hood that housed the engine was intimidating, larger and longer than any other vehicle. Up to this point, there were only a few manufacturers that produced a twelve-cylinder engine, mechanical achievements in their own right. The introduction of the sixteen-cylinder engine was historical and seen as revolutionary at the time.

Up to the 1990's there have only been three manufacturers of a sixteen cylinder engine. The Bugatti Type 47 never made series production while the Marmon Corporation offering was short lived. In comparison, the Marmon built V-16 was more powerful. By using aluminum, the 491 cubic-inch engine with its overhead values weighed just over 900 pounds. The engine was formed by merging twin-eight cylinder engines in a 45-degree angle, giving the engine an impressive look and an astonishing 200 horsepower. The use of steel cylinder sleeves added to the longevity and durability of the engine. The V-16 engine earned Howard Marmon the Society of Automotive Engineers annual design award.

The Cadillac V-16 was the first and remained in production for eleven years.

A new sixteen-cylinder engine was introduced by Cadillac in 1938. This was not their first V16 enigne; their first had been designed by engineer, Owen Nacker of Marmon fame. It had an overhead valve design and mounted at a 45-degree to one another. Each back of the sixteen cylinders had their own exhaust and fuel system. The engine featured hydraulic valve adjusters that helped with the silent valve train operation. The exterior of the engine was equally as impressive, with all the wiring and hoses concealed under cover and finished in chrome, polished aluminum, porcelain and baked enamel. The result was a 452 cubic-inch engine that was nearly unmatched in the industry at the time.

A V12 version followed shortly after the introduction of the V16; it displaced 368 cubic-inches and was basically three-quarters of a V16. Both of these engines remained in production through 1937. The V12 did not resume production for 1938. A new engine was introduced in 1938 and that very different than its predecessors. It was an L-head design, cast in a 135-degree vee, and featured a monobloc design. The was easier and more economical to manfacutre and it weighed 250 pounds less, had 21 fewer cubic-inches, but developed the same power.

The V12 engine was used to power the Series 85 for 1937. The Series 75 and Series 85 were the same vehicle, with the exception of the powerplant. The Series 75 used a V8 engine. In 1938 the V12 was discontinued, and the V16 took its place. The sixteen-cylinder cars were shortened to a length similar to the Series 75, and the chassis and bodies were interchangeable.

There were twelve bodystyles available, including coupes, convertible coupes, and sedans, as well as the larger seven-passenger sedans and limousines. These larger vehicles were called Formal Sedans or Imperial sedans depending on whether they had a division partition.

The Series 90 experienced its best year in 1938 with 315 examples built. The five-passenger Touring Sedan was the most popular, with 41 sold.

In 1939, the front of the V8 Cadillacs were midly updated. The grille was raked back and the headlights were now mounted to the nose and flush with the top of the grille. Chrome moldings were added to the running boards and the fender ornamentaion was now fully chromed. The rear license plate was moved from the left fender to the trunk lid.

There were a total of 138 V16 cars produced in 1939. Few changes or modifications to the car followed for 1940. A total of 61 V16 cars were built this would be the final year for their production. A total of 4,400 examples were built over an eleven year period.
By Daniel Vaughan | May 2008
For more information and related vehicles, click
here
RM Group of Companies Celebrates Record-Setting 2013 With $442 Million in Sales and 'Best of Show' at Pebble Beach
• RM group of companies, including RM Auctions and Auctions America, realizes an outstanding $442 million in auction sales in 2013 • RM Auctions secures 78 individual million-dollar-plus transactions and redefines the high-end collector car auction experience with record Monterey and New York sales • Auctions America expands national footprint with highly successful California debut and live broadcasts on NBC Sports Network • RM Auto Restoration confirms status as world's premier restorati...[Read more...]
2014 Honda Odyssey Arrives At Dealers July 2 Delivering More Value To Customers With Refreshed Styling
06/25/2013 - TORRANCE, Calif. The 2014 Honda Odyssey minivan arrives at Honda dealerships nationwide on July 2, refreshed with a host of powertrain, styling, interior, feature and safety upgrades, all designed to meet the needs of today's family. Key changes to the 2014 Odyssey minivan include the addition of a standard 6-speed automatic transmission on all trims resulting in class-leading fuel-economy ratings, enhanced safety equipment, cleaner front and rear exterior styling, plus revis...[Read more...]
Magnificent Series of Coachbuilt Classics To Grace RM's Amelia Island Concours D'Elegance Sale
• RM Auctions returns as the official auction house of the Amelia Island Concours d'Elegance, March 9, 2013 • Single-day sale features breathtaking roster of more than 80 investment-quality collector cars • Notable highlights include an outstanding series of coachbuilt classics headlined by a multi-million-dollar 1935 Duesenberg Model SJ Walker-LaGrande Convertible Coupe and a trio of Cords from the personal collection of Jim Fasnacht • Frequently updated list of entries available online at r...[Read more...]
Auctions America 2012 Auburn Spring Auction Offers Full Range of Convertibles
Just in time for summer fun, Auctions America by RM will offer an array of open-air collector cars during its June 1-3 Auburn Spring auction,including a one-of-a-kind concept car that cost Ford Motor Co. more than a half-million dollars to produce. During the three-day event, more than 600 American muscle cars, Classics, foreign sports cars and hot rods will cross the block at the historic Auburn Auction Park, the company's national headquarters in Auburn, Indiana. 'It's that time of year wh...[Read more...]
Consignments now invited for RM St. John's
RM Auctions, the official auction house of the Concours d'Elegance of America, returns to the Inn at St. John's, July 28, 2012 for its firmly rooted Michigan sale. A featured attraction of the Concours weekend and a longstanding summer tradition for collectors, the single-day sale has established a reputation for offering outstanding American classics. In 2011, the sale enjoyed a very positive response to its new venue at The Inn at St. John's, realizing more than $7.6 million in sales with ...[Read more...]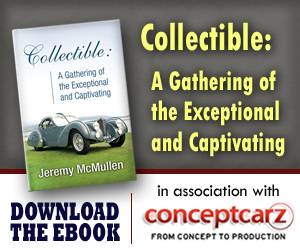 Cadillac
Monthly Sales Figures
Volume
December 2014
16,150
November 2014
13,148
October 2014
13,615
September 2014
13,829
August 2014
16,650
July 2014
15,241
June 2014
13,941
May 2014
14,688
April 2014
13,900
March 2014
14,765
February 2014
13,437
January 2014
11,386
(More Details)
© 1998-2014. All rights reserved. The material may not be published, broadcast, rewritten, or redistributed.