1936 Rolls-Royce Phantom III news, pictures, specifications, and information

Tweet
Gurney Nutting Coachwork At its Finest
Frederick Henry Royce made his first car, a 'Royce,' in his Manchester factory in 1904. He met Charles Stewart Rolls on May 4th of that year, and the pair agreed to a deal where Royce would manufacture cars, to be sold exclusively by Rolls. A clause was added to the contract stipulating the cars would be called 'Rolls-Royce.' The company, formed in 1906, moved to Derby in 1908. The Silver Ghost (1906-1925) established the company's early reputation. It had a six-cylinder engine; 6173 cars were built. In 1931, the company acquired rival car maker Bentley, which could not weather the Great Depression.

The Phantom III was the final large early Rolls-Royce. Introduced in 1936, it replaced the Phantom II. The III was distinguished by its unique all-aluminum V12 engine. The new 7.3-liter twelve was a pushrod engine with overhead valves, hydraulic lifters and a single camshaft. Another major feature was an independent suspension in front, based on a General Motors design. This coil spring-based suspension with adjustable ride control was complemented by a carryover semi-elliptical spring unit in the rear. A four-speed manual transmission with synchromesh on gears 2,3, and 4 was used. A 4-wheel servo-assisted brake system was also specified. In total, there were 710 of these great 7,338cc V12's built by 1939. As was the company's tradition, only the engine and chassis were produced by Rolls-Royce. Coachwork of this beautiful Phantom III is by Gurney Nutting Ltd, which also built the famous 1931 land speed record car for Sir Malcolm Campbell, the 'Bluebird.'
This 1936 Rolls-Royce Phantom III Saloon has an unusual design and history of ownership. It was originally ordered to the specifications of Alan Samuel Butler, the chairman of the de Havillard Aircraft Company. The chassis was sent by Rolls-Royce to coachbuilder H.J. Mulliner on November 20th of 1936. The design was to satisfy Mr. Butler's nuanced understanding of aerodynamics and included features such as a forward-sloping V-split windscreen, a swept tail, an internally contained spare tire, and a dash console highlighted by a Smith Aneroid altimeter.

Mr. Butler bequeathed this unique Rolls-Royce to the British army for use by the chiefs of the British General Staff in 1940. Stipulations accompanied the car, such as routine maintenance by qualified Rolls-Royce personnel, and that it would never leave the country.

The car came under the command of several lesser-known generals for the following few years, until June 5, 1944, when it was allocated to General Bernard Montgomery ('Monty'). A year after receiving the car, he rode it into the streets of Berlin, reportedly making it only the second British car to enter the city. After the war, General Montgomery persuaded officials to allow him to purchase chassis 3AX79. He would use the car until the death of his long-time chauffeur, Sergeant Cedric Parker, in 1962.

The car was sold a year later to an individual from Muskogee, Oklahoma, who would exhibit the car in his personal 'Leake Museum.' It has been shown at many museum exhibits and concours events, including the 2003 marque centenary celebration at the Petersen Automotive Museum.

In 2009, the car was offered for sale at the Gooding & Company auction held at Pebble Beach, CA. It was expected to sell for $250,000 - $350,000. The lot would leave the auction unsold.
By Daniel Vaughan | Jan 2010
The 6200 pound Rolls-Royce Phantom III was driven by a 7.3-liter twelve-cylinder engine producing 160 horsepower, making it capable of 16-second 0-60 mph dashes. W.A. 'Roy' Robotham was responsible for the decision to build the twelve-cylinder PIII after visiting Detroit and being impressed by the multiplicity of cylinders Cadillac, Packard, and others were making at the time. Sir Henry Royce began development on the engine, but died in 1933 before work was completed. Despite its complexity and ultimate expense to manufacture, his team continued work and brought it to production. Robotham was also impressed with GM's independent front suspension design by Maurice Olley, who had formerly been supervising engineer of Rolls-Royce of America. Rights to the GM suspension design were acquired and adapted by Rolls engineers to the new car. The first Phantom III made its debut in 1936.

This vehicle is chassis number SAZ174. It is a 1936 Phantom III Rolls-Royce Drophead Coupe wearing coachwork by Freestone and Webb, and the only one of this body style by them in 1936. Some of the unusual features include a blue glass windshield visor, no side-mount spare tires but is fitted with a rear continental type spare tire and Marchal headlights. The engine is a V-12 (7,338cc / 448 cubic-inch) with 180 horsepower. Only 727 examples of the Phantom III were produced by Rolls-Royce between 1936 and 1939.

This car came to the United States in 1956 and the current owner's father purchased it in 1962. The car has remained in the family since then. A preservation restoration was completed by The Motorcar Company of Staunton, VA in 2010.
Sedanca deVille
Coachwork: Binder

In 1884, Frederick Henry Royce started an electrical and mechanical business and made his first car, the 'Royce', in his Manchester factory in 1904. He met Charles Stewart Rolls that same year and the two agreed to a plane in which Royce would manufacture cars, to be sold exclusively by Rolls. The cars would be called 'Rolls-Royce.' The 1906 6-cylinder Silver Ghost made the company's early reputation with 6,173 cars built.

The Phantom III was introduced at the 1935 Olympia Motor Show and was the most technically advanced car in the world. It is powered by a 7.3L V12 overhead valve engine with a one-piece aluminum crankcase and cylinder block producing 165 horsepower. It featured a twin ignition system with two distributors, two coils and 24 spark plugs.

The cars rode on a 142 inch wheelbase. Only 727 (perhaps as few as 710) were built before production stopped in 1939.

This car could be regarded as a 'barn find.' The previous owner had acquired the car in 1961, but never registered it and had driven it less than 500 miles until the current owner acquired it in 2006. It is one of two Sedanca-bodied Phantom IIIs by Binder and was originally owned by Marquis de Villeroi and driven with the Marquis and King Karel Roman. The Marquis de Villeroy, Paris, France was an industrialist and uncle of Monsieur von Boch (Villeroy & Boch) and was married to Marquise Suzanne.

Body number 5916 with right-hand drive is powered by a V12 engine and a four-speed manual transmission. Shipped from London to France in 1937 onboard the SS Mallard, it was dispatched to Franco Brittanic Automobiles and bodied by Henry Binder Coachbuilder (one of two Sedanca de Villes). It returned to England later in 1937 where it remained for the duration of the war. Sometime between the late 50s and early 60s it was shipped to New York by an American serviceman.
This Hooper-bodied Phantom III Enclosed Limousine was delivered to its first owner, Sir Walter Rea of London, in January 1937 after its coachwork had been completed. The car was finished in beige and black with grey cloth in the rear passenger compartment and black leather in front, and fitted with a center privacy divider. The Phantom III received UK registration number DGT 369, a plate which it still wears to this day.

Its next recorded owner as of September 1949 was noted as A.E. Satchell Esq., of Cadogan Square, London. The interim history is not known; at some point the Rolls-Royce came to the United States and into the care of Ted bacon of Minden, Nevada.

The car remained in the Bacon collection for many years until recently being donated to Reno's National Auto Museum. The car has received a repaint in the current yellow and black scheme many years ago. The car retains its original matching-numbers engine and many original finishes.
By Daniel Vaughan | Jan 2014
The Phantom III was the first Rolls-Royce to be fitted wîth a V12 engine, which was probably an inevitable development as the company was already manufacturing aero engines in this configuration.

When the Phantom III was unveiled at the 1935 Olympia Motor Show it was the most technically advanced car in the world and many believe the best car ever made. The 7340 cc. V12 overhead valve engine had a one-piece aluminum alloy crankcase and cylinder blocks and cast-iron wet cylinder liners and aluminum head.

The Phantom II was the first Rolls-Royce to have indendent front suspension; this was of the wishbone type and was controlled by coil springs and hydraulic dampers. The new suspension enabled the radiator and engine to be moved further forward on the shortened chassis, giving coachbuilders scope to build very spacious bodywork.


In chassis form the car cost 1,850 pounds, just 50 pounds more than the far less sophisticated Phantom II this was presumed to have been possibly because the swiftly selling smaller models subsidized the top of the range Phantom III.

During the design process of this car Henry Royce's poor health was failing further and he worried that he would not live to see the outcome of his work. Tragically this proved to be correct.
Source - Rolls-Royce Motor Cars Limited
The Phantom series culminated with the marque's only 12-cylinder chassis, the Phantom III. These great cars were built from 1935 until 1939, when World War II ended production, with only 710 produced. The extremely complex design was the last Henry Royce had any involvement in before his death in 1933, and borrowed heavily from Rolls Royce's experience building airplane engines.
By Daniel Vaughan | Sep 2007
For more information and related vehicles, click
here
THE 2014 BMW 740LD XDRIVE
• The first BMW Advanced Diesel 7 Series in the US.
Woodcliff Lake, NJ – January 24, 2014 . . . BMW announced today that the BMW 7 Series would become the latest model line to benefit from BMW Advanced Diesel technology in the US in the form of the BMW 740Ld xDrive Sedan. The new model will feature BMW's 3.0-liter TwinPower Turbo diesel engine in the long-wheelbase 7 Series body and will include xDrive, BMW's intelligent all-wheel drive system. The 2014 BMW 740Ld xDrive Sedan wi...[Read more...]
BOND CAR SURFACES! 007 LOTUS ESPRIT 'SUBMARINE' CAR TO BE SOLD AT RM'S FORTHCOMING LONDON SALE
• RM Auctions lifts the gavel on the one and only functional submarine car, used in the James Bond film The Spy Who Loved Me, at its eagerly awaited central London sale, 8–9 September • Fully functioning submarine car was designed and fitted to propel underwater • The actual car seen, on screen, driving underwater; one of the most famous movie cars of all time • Never before offered for sale • Amazing story of 'lost and found' LONDON (at a top secret location) 28 June, 2013 – 'P...[Read more...]
Ford Mustang Adds To Nearly 3,000 Credits With Leading Hero Car Role In Upcoming 'Need For Speed' Movie
◾A one-of-a-kind, customized Ford Mustang plays a prominent role in the upcoming film from DreamWorks Studios, 'Need for Speed,' based on the long-running video game series ◾Mustang fans have crowd-sourced a list of about 3,000 Ford Mustang appearances on the large and small screen over nearly five decades ◾Mustang made its silver screen debut in the 1964 James Bond film 'Goldfinger' just months after its launch DEARBORN, Mich., June 10, 2013 – From appearances in James Bond's 'Goldf...[Read more...]
TOPLINE COLLECTORS PLACE SPOTLIGHT on SPEED'S BARRETT-JACKSON BROADCAST FROM SCOTTSDALE
• TOPLINE COLLECTORS PLACE SPOTLIGHT on SPEED'S BARRETT-JACKSON BROADCAST FROM SCOTTSDALE
• 'LOST' SHELBY DUAL PROTOTYPE, HAGERTY GIVEAWAY & SALON COLLECTION HIGHLIGHT 39 HOURS OF LIVE COVERAGE
The 42nd annual Barrett-Jackson Scottsdale (Ariz.) Collector Car Event, the first of four set for live coverage in 2013, kicks off the auction season in grand style as some of the world's most sought-after machines cross the block starting Tuesday, Jan. 15 at 7 p.m. ET/4 p.m. PT. SP...[Read more...]
Four more legends join Gooding & Company's 2012 Pebble Beach Auctions, its greatest collection of automobiles ever assembled
Gooding & Company, the official auction house of the Pebble Beach Concours d'Elegance acclaimed for selling the world's most significant and valuable collector cars, is thrilled to present four automotive icons at its Pebble Beach Auctions on August 18 & 19: the Clark Gable 1935 Duesenberg Model JN Convertible Coupe; the 'Green Hornet,' a 1931 Bentley 4 1/2 Litre SC 'Blower' Sports 2/3 Seater Boattail; the 1957 Ferrari 250 GT LWB California Spider Prototype and a 1932 Bugatti Type 55 Cabriolet. ...[Read more...]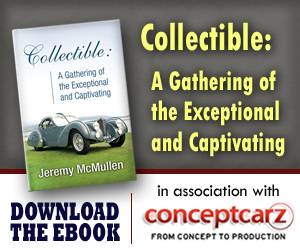 Rolls-Royce
Monthly Sales Figures
Volume
March 2014
75
January 2014
86
October 2013
84
September 2013
84
August 2013
84
July 2013
84
June 2013
84
May 2013
84
April 2013
84
March 2013
84
February 2013
84
January 2013
38
(More Details)
© 1998-2014. All rights reserved. The material may not be published, broadcast, rewritten, or redistributed.