1965 Jaguar Mark X news, pictures, specifications, and information

Tweet
Originally aimed at the North American market, the 'Mark Ten' succeeded the Mark IX in 1961 as Jaguar's large, extra wide, luxury saloon, first showing off the soon-to-be familiar, modern face of Jaguar - prominent grille between four headlamps. Production started with the iconic XK 6-cylinder twin-cam motor of 3.8 liters, to be superseded by the 4.2 liter in the 1965 model year. All North American market cars came with the Borg-Warner Typ-8 automatic transmission. Of the 5,137 4.2s made, few survive and even fewer in this restored condition. In 1966 the Mark X was re-named the 420G. Soon to come was the XJ6.
This 1965 Jaguar Mark X Saloon is finished in British Racing Green over Biscuit Connolly leather and sumptuous burl wood trim. The car has been restored and professionally re-engineered during the process of the restoration with a GM 350 cubic-inch 'Target-Master' V-8 engine backed up by a bulletproof Turbo-Hydramatic 350 automatic transmission. Unlike the later XJ6, the Mark X and earlier cars did not lend themselves to a pre-fabricated kit to install the GM engine, making this quite a unique conversion, while providing Jaguar elegance with dependability.

In 2012, this car was offered for sale at the Glenmoor Gathering Auction presented by Classic Motorcar Auctions. It was estimated to sell for $18,000 - $25,000.
By Daniel Vaughan | Nov 2012
The Jaguar Mark X, also known as the Mark Ten, was produced from 1961 through 1970 and offered in three variations during that time. The Jaguar was offered with a 3781 cc six-cylinder engine or a larger 4235 cc engine. The 3.8 liter engine was more popular with a total of 13,382 examples produced but by 1964 the 4235 cc ruled out by 1964 and became the only offering. The Mark X was the largest saloon vehicle produced by Jaguar and it was specially created for the United States and their big demands and large roads. At 4200 lbs, the 4.2 liter six-cylinder engine helped this vehicle roll down the road in elegant fashion. The vehicle sat on a 120 inch wheelbase and its 202 inch length provided plenty of room for its occupants.

By 1966 the vehicle was renamed the Jaguar 420G and continued in production until 1970.
By Daniel Vaughan | Sep 2006
Britain's widest car, the gargantuan Mk X set a record in 1961 that holds even still today. Pronounced Jaguar 'mark ten', the Jaguar Mark X was the largest saloon built by British manufacturer Jaguar, and was originally aimed at the U.S. market. Succeeding the Jaguar Mark IX as the company's large saloon model, the Mark X held the record for being the widest production Jaguar ever built. In many ways, the massive Mk X was a tour-de-force for Jaguar, as it incorporated many features unique for this size.

A luxury saloon with four doors and four seats, considered by all to be a majestic vehicle, the Jaguar Mark X was released the same year as the E-type. Launched in 1961, the Mark X was strangely renamed the Jaguar 420G in 1966. 25,000 units were manufactured during production. In 1970, it was discontinued as Jaguar XJ6 production increased. The Mark X had an overall length of 202 inches, over 6 feet wide, nearly 17 foot long and a weight of 4,175 lbs.

Designed with a strange blend of Jaguar and American styling influences, it was unbelievable that this vehicle was mass produced with its large bulging sides and hand-built appearance. The interior of the X was extremely opulent, and incorporated an over abundance of both leather and walnut. Owning the Jaguar Mark X was considered to be as much of a prestige as owning a Rolls Royce.

The Mark X was built on a unitary construction floor plan rather than the old Mk IX separate chassis. With coil springs at the front, the suspension of the vehicle was independent all round. Two engine sizes were available and offered with 3781 cc. The larger 4235 cc unit took over in 1964. Though most vehicles left the factory with the automatic choice of box, manual, manual with overdrive, and automatic transmissions were all options of the Jaguar Mark X. Able to rocket from 0-60 in about 10 seconds, the automatic gear change was situated on the steering column.
Based on the Mark X, the Daimler DS420 was a related model that was often called 'the Daimler Limousine'. The DS420 was produced until 1992 and utilized in various countries in both official capacities and by funeral homes as a hearse vehicle.
By Jessica Donaldson
Gooding & Company Adds Two Legendary Ferraris to Scottsdale Offerings Including a 1959 250 GT LWB California Spider
The two-day event will also drop the hammer on a 1962 Ferrari 400 Superamerica SWB Coupe Aerodinamico along with over a dozen other models from the Italian marque SANTA MONICA, Calif. (December 12, 2014) – Gooding & Company, the record-setting auction house acclaimed for selling the world's most significant and valuable collector cars, announced today the addition of two superlative Ferraris to its Scottsdale roster. New consignments include a 1959 Ferrari 250 GT LWB California...[Read more...]
Borgwarner Presents Trophy To Indianapolis 500 Winner Tony Kanaan
• BorgWarner EFR Turbochargers Boost Every Car in the IZOD IndyCar® Series for Second Year
AUBURN HILLS, Mich., May 28, 2013 - Following the 97th running of the Indianapolis 500, BorgWarner President and Chief Executive Officer James Verrier presented Tony Kanaan with the Borg-Warner Trophy™ in Victory Lane. Tony Kanaan's sterling silver image will be the 100th added to the prestigious and historic trophy, joining every winner of the 'Greatest Race in History.' 'The Borg-Warn...[Read more...]
CHEVROLET INDYCAR V6 ENGINE POWERS TONY KANAAN TO CAREER-FIRST INDIANAPOLIS 500 VICTORY
INDIANAPOLIS (May 26, 2013) – Tony Kanaan, No. 11 Hydroxycut KV Racing Technology SH Racing Chevrolet, had been denied a trip to victory lane many times at Indianapolis Motor Speedway (IMS), but as fate would have it this year, he was in the right place at the right time to capture his first Indianapolis 500 win. Kanaan, the 2004 IZOD IndyCar Series champion, started 12th and led 34 laps, but the key move came when he took the lead on a lap 197 restart, and was stretching his advantage ...[Read more...]
BORGWARNER INTRODUCES NEXT-GENERATION EFR TURBOCHARGING TECHNOLOGY AT 2012 SEMA SHOW
• BorgWarner Hosts 2012 Indianapolis 500 Winner Dario Franchitti on October 30
• Borg-Warner Trophy™ on Display October 30 - November 1
BorgWarner (NYSE: BWA) will introduce its next-generation EFR-7163 (Engineered for Racing) turbocharger as well as its current EFR and AirWerks™ Series turbochargers at the 2012 SEMA Show at the Las Vegas Convention Center on October 30 – November 2. Featuring an innovative light-weight aluminum bearing housing and mixed-flow turbine, BorgWarne...[Read more...]
ROB MACCACHREN- 'IT ALL COMES DOWN TO THIS'
The Lucas Oil Off Road Racing Series (LOORRS) heads to Firebird International Raceway in Phoenix this weekend for the final race of the season where the Pro2 Unlimited championship will be decided. After Rob MacCachren suffered a disappointing weekend in Las Vegas, where he was absent from the podium for the first time of any LOORRS racing weekend this season, he has slipped to third in points behind rivals Brian Deegan and Marty Hart. Never one to give up, MacCachren intends to put the ROCKSTAR...[Read more...]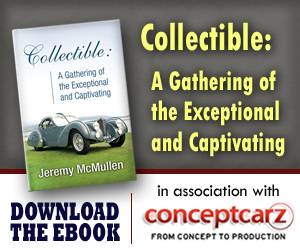 Jaguar
Monthly Sales Figures
Volume
December 2014
1,683
November 2014
1,253
October 2014
1,007
September 2014
1,142
August 2014
1,184
July 2014
1,187
June 2014
1,263
May 2014
1,304
April 2014
1,035
March 2014
1,816
February 2014
1,552
January 2014
1,347
(More Details)
© 1998-2014. All rights reserved. The material may not be published, broadcast, rewritten, or redistributed.